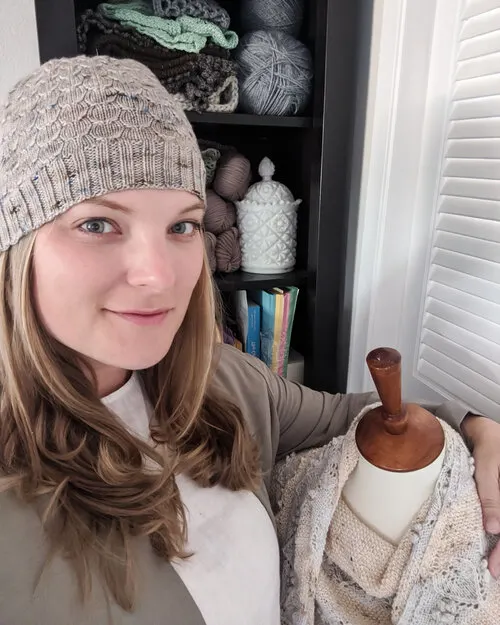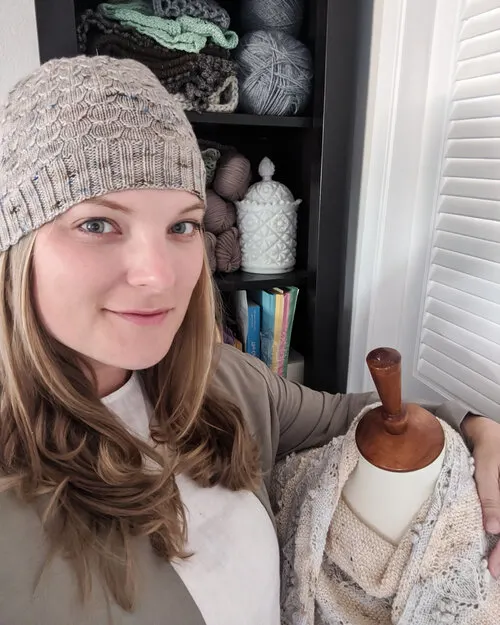 About Me and A Bee In The Bonnet
Thanks for stopping by! I'm Lauren Rad. I design soft, romantic knitting patterns for stitchers who want to escape the everyday. Most mornings, you can find me curled up in my pink wingback chair with a hot mug of tea and some handknit socks on my always-cold feet.
My knitting patterns are easily memorized and super soothing, so you can take them anywhere or work on them while doing other things. That's because, for me, knitting is a mental health tool. I use it as a mindfulness exercise and as a fidget, depending on what I need, and having to keep stopping to check the pattern doesn't work well for either of those purposes.
I know I'm not the only one who does this, so I write my patterns for you: the stressed knitter who needs to relax and who finds meditation helpful; the overwhelmed knitter who has trouble focusing or sitting still in long meetings; the fidgety knitter who wants to watch a movie but also wants to keep working on something. You're my people. I'm one of you.
Aside from knitting up a storm and chasing after my little kid, I'm a big fan of guided meditation and mindfulness, gardening, baking, and costume dramas (super accurate and terribad alike, I love them all). My husband and I renovated a disaster of a mid-70s tract house over the span of about six years, so I love following others' renovation journeys.
If you've read this far, I'd love to hear from you! Send me an email at abeeinthebonnet@gmail.com, and I'll get back to you asap.