I've embarked on my next phase of my crochet learning journey, and this time, I'm working an asymmetrical triangle shawl designed by my friend Rachy Newin. The Moonwake Shawl is designed to use a set of five minis and one full skein of fingering-weight yarn.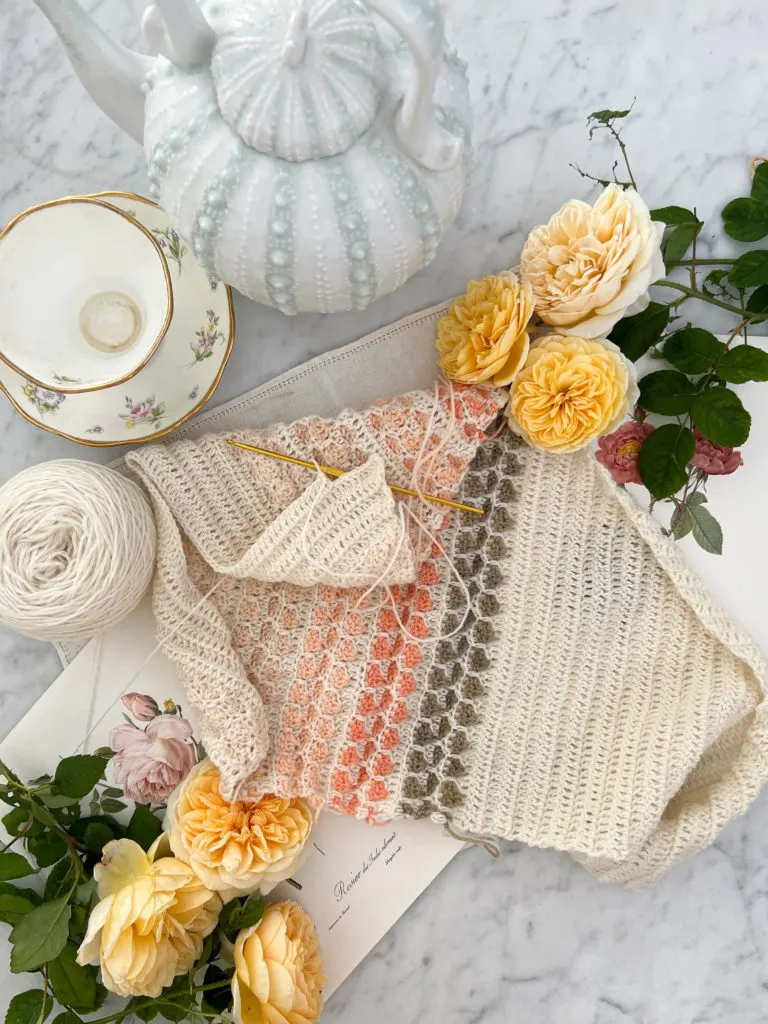 This project has already taught me some helpful new skills, and as you can see, I'm only about 40% of the way through it! Today's blog post will focus on those new skills and why I like them.
In case you've missed earlier posts in this series, here are links to those:
The Intentions Wrap and Making Mistakes
New Crochet Skill #1: The Chainless Starting Double Crochet
Like many (maybe even most?) crocheters, I learned to start a new row of double crochets by doing a chain 3. On the one hand, it's simple and easy. On the other, it definitely doesn't look like a double crochet, so it made the edges stand out a bit.
Then I started this project and learned about the magic of the chainless starting double crochet.
This is a stitch that creates a faux double crochet at the beginning of the row. It effectively eliminates the need for a chain 3. Because it's meant for the beginning of a row, you'll really only need to work it there. I suppose you could use it for decorative effect elsewhere in your work, but I think the visual effect would be minimal.
I struggled a bit with tension on this stitch, but once I got the hang of it, I loved it. It blends into the rest of my work much better than the chain 3 at the beginning of a row. I'm never going back.
In case you wanted to learn, too, here's the tutorial I learned from (recommended by Rachy herself):
New Crochet Skill #2: Crocheting Into the Row Below
This was my first project where, instead of always crocheting into the same row, I'd sometimes place a stitch into the row below. I love how this creates a textured look that reminds me of cobblestones.
In the Moonwake Shawl, this stitch effect creates the contrasting stripes that run across two portions of the shawl. It helps break up the stripes a bit and give them a softer effect.
I can also see how this technique would make a really cool texture effect in a monochrome color, though. This would be a neat way to create stripes in a garment without using color for the stripes.
Stay tuned as I fiddle around with it more.
Where Things Stand Now
Here's a peek at how things are going now. Still slow, but tension is improving!
I'll check back again as soon as this shawl is finished so I can share final thoughts and preview my next project for you. Spoiler alert: it's a garment!