I don't often have a chance to test knit a pattern for somebody else. When Norah over at Fox and Folk posted last month about a new bonnet pattern, though, I was all in. You see, I have a little niece who lives somewhere cold, and the bonnet featured a new-to-me technique I'd been meaning to try: roosimine.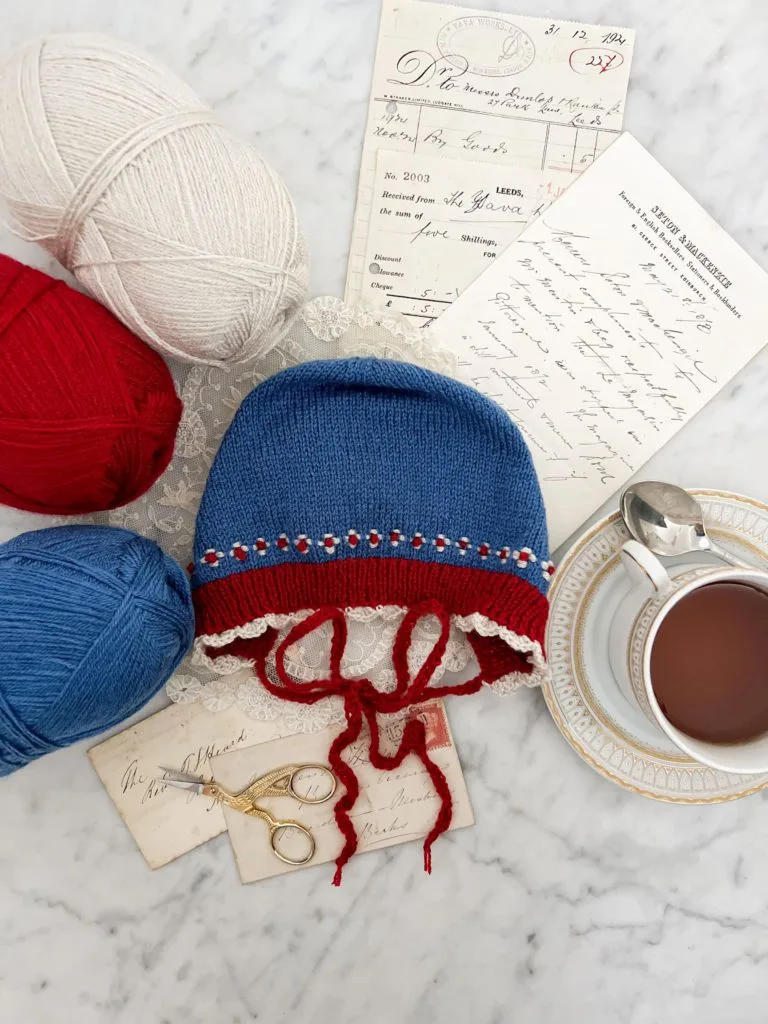 I love learning new techniques by working on patterns designed by others. It's a great chance to learn from somebody else and to think about knitting patterns from a new perspective. So often, I think about them from my position as a designer. Knitting someone else's pattern gives me the chance to think about them as a knitter, too.
What Is Roosimine, Anyway?
Roosimine is a technique that comes from Estonia. It uses contrasting strands of yarn draped across your working stitches to form intentional designs. These embellishments look a bit like the floats on the back of stranded colorwork knitting, but the design is more snug against the fabric and forms clearer, more obvious patterns.
You'll see it used a lot on mitts and socks, where tiny details can really shine. Like with stranded colorwork, you don't want your roosimine strands to be too long or they'll snag and pull. I have seen it sometimes used on garments, though, with spectacular effect. It creates bold embellishments with lots of texture.
In my research for this post, I've sometimes seen English-language sources use the words "roosimine" and "roositud" interchangeably. I don't speak Estonian, but I have seen other sources explain that "roosimine" refers to the technique itself, while "roositud" refers to the resulting design or embellishment. I've also seen sources that say "roosimine" is the verb and "roositud" is the noun.
If you speak Estonian and have some more insight into the distinction between the two, I'd love to hear from you so I can make sure I'm using the right terminology!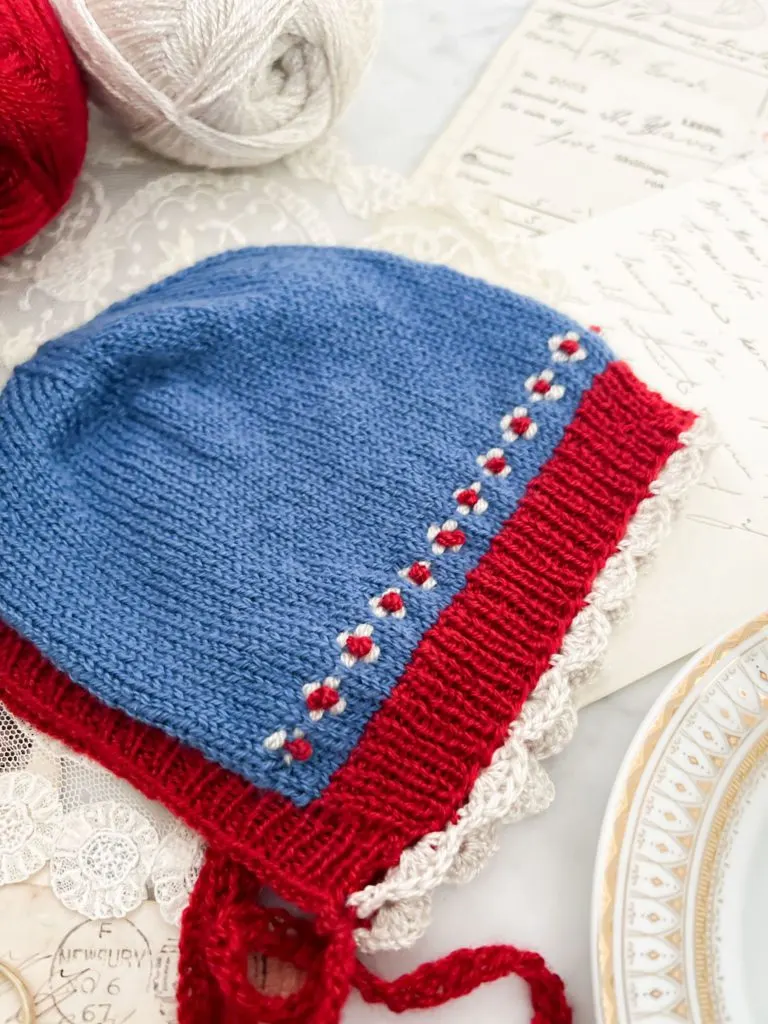 How My Roosimine Experiment Turned Out
I love learning new yarn techniques, but it's been a while since I picked up a new one. I tried out a boomerang heel last spring on a pair of socks that will be available soon, and I spent most of 2020 learning how to knit brioche more comfortably, but that's about it.
It was time to try something new.
I watched a few tutorials on YouTube first so I could get a better understanding of the mechanics. Three important things stood out to me.
First, it helps to choose contrast yarn that is very similar to your working yarn. Different colors on the same base are great for this type of work.
Second, I noticed that maintaining even tension is key. Because roosimine isn't secured every few stitches by knitting a stitch or two in the contrast color, it can be easy to tug the contrast yarn too tight or too loose as you work.
Third, it's common to do roosimine with the contrast yarn held double. This helps it stand out a little more against the background color. Ultimately this is a matter of personal preference, but I went with the double strand for my first project.
As you can see from the photos of this sweet little bonnet, things turned out okay! You can definitely see spots where the tension is somewhat uneven, especially on the middle row and at the ends of each row. I'd like to practice more on some additional projects, so I'll probably be working up some socks and mitts with pretty little details in them to refine my technique.
All things considered, though, I'm really pleased with how this turned out.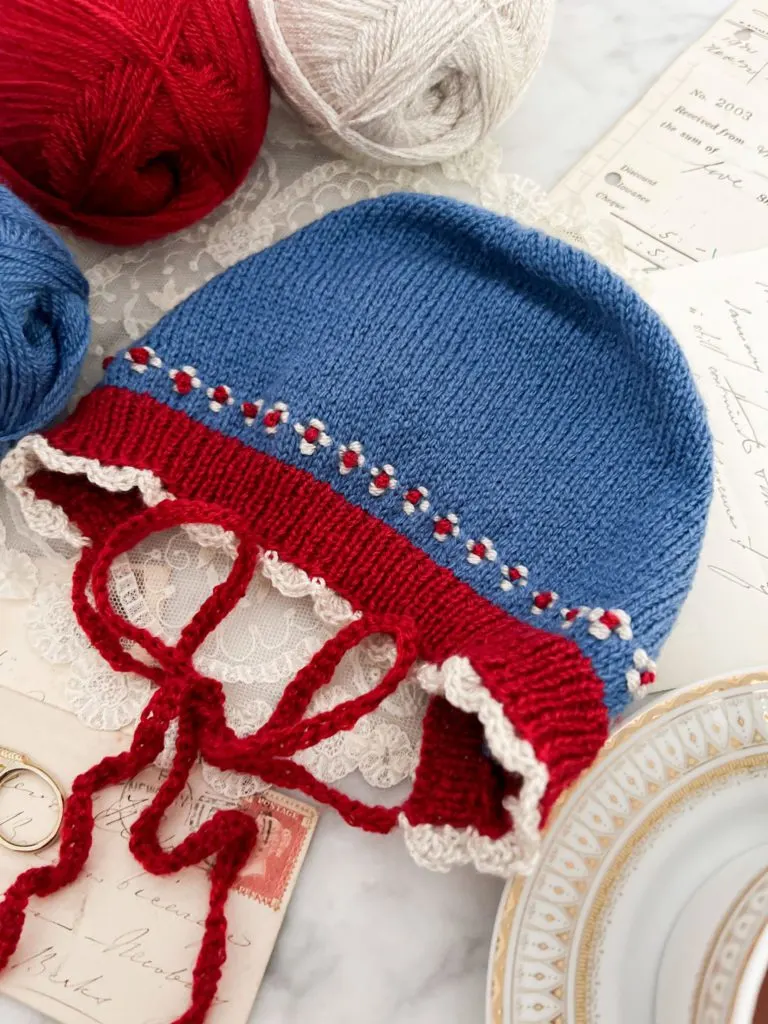 About My Version of the Sweet Everlasting Bonnet
As I mentioned earlier, I made this bonnet as part of a test knit for Norah of Fox and Folk. It'll be available in November 2022. If you'd like to make your own, be sure to sign up for her newsletter so you don't miss the announcement when it's available.
I knit my version with Loops & Threads Woolike because my sister requested machine washable fibers. I made the 6-month size, and the whole bonnet took just 17 grams of yarn.
To make the ties, I worked a crochet chain, secured it to the corner of the bonnet, and then worked single crochets all the way back down to the tip. I did that for both sides, tied them to the same length, and snipped off any excess yarn.
If you make a version of this bonnet, too, let me know! It was such a fun knit that I think I'm going to make a few more in different colors.