I had a great conversation with my friend and fellow designer Julie Robinson earlier this year about where we draw inspiration for our work. The truth is, I'm a bit of a magpie. I love Edwardian fashion plates and regency-period furniture, rococo churches and antique lace of all sorts, little frosted tea cakes and delicate china, cottagecore TikTok accounts and PBS costume dramas.
But one place I keep returning to again and again is children's books. There's a whimsy and freedom in the illustrations for children's books. They're allowed to explore more, express more, and dare more.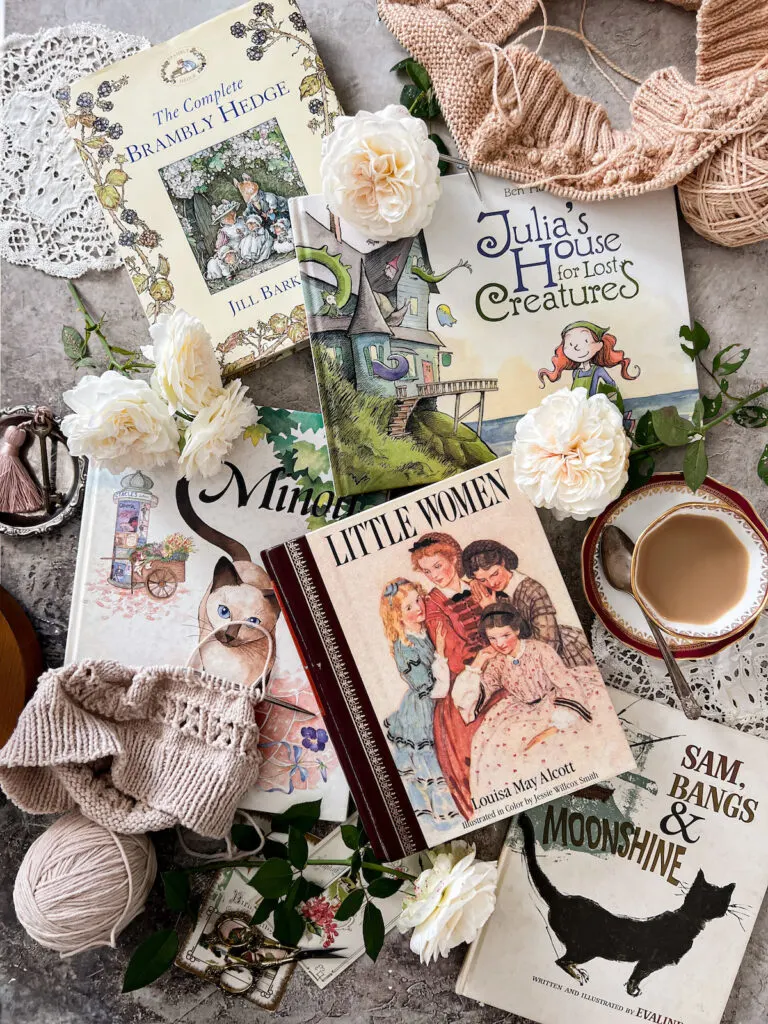 I've drawn a lot of inspiration from the children's books I loved when I was a small girl, and I still come back to them again and again. Newer books have supplemented the collection.
So I thought it would be fun to share some of these books, along with the pictures, so you can get a sense of what I mean.
This post contains affiliate links, which means if you choose to buy something through those links, I'll receive a small commission at no extra cost to you. I will always identify affiliate links for you by putting "(affiliate link)" next to them. Thanks for supporting my work!
Brambly Hedge: The Ultimate Cottagecore Series
I grew up reading the Brambly Hedge books (affiliate link), thanks to a kindly great-aunt who ran a small bookstore and had a real sense for special books. As a little girl, I spent hours poring over the intricate illustrations.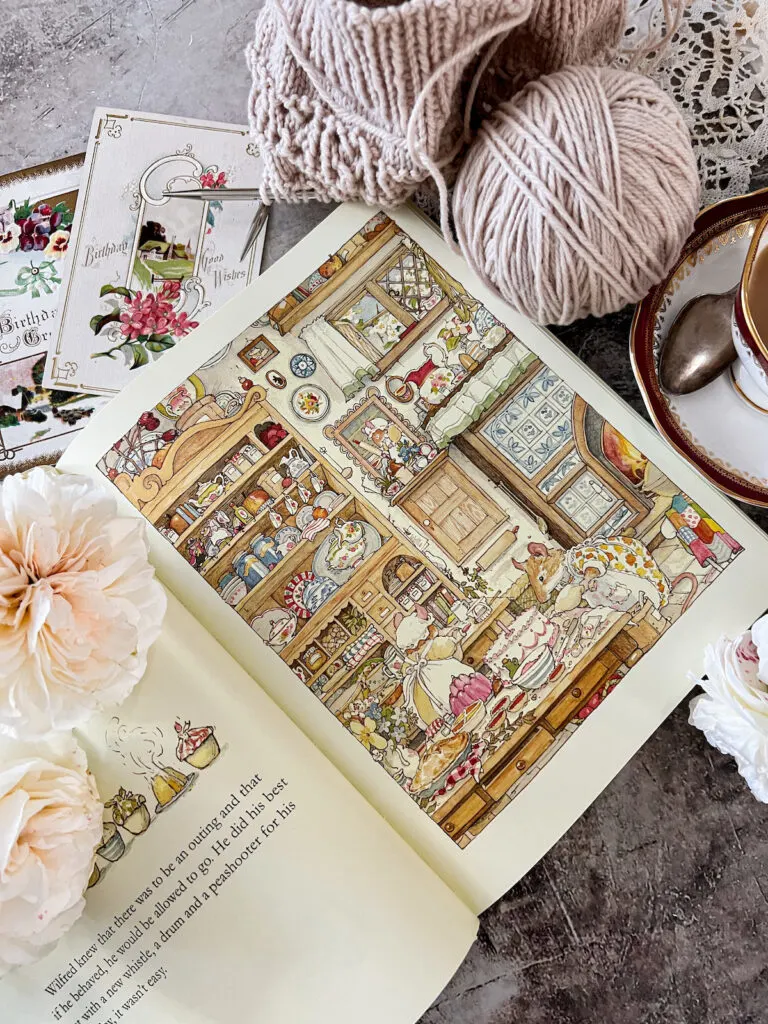 For the uninitiated, these books tell the tales of a small community of mice, voles, and other tiny creatures who live in a field near a stream somewhere in the countryside. They make rosehip jellies and host magical winter ice balls, build elaborate homes inside of trees, and have remarkably relatable adventures (Poppy's Babies, about a new mother's challenges wrangling her three tiny mice, hits especially close to home now that I'm raising my own little mouse).
But it's the illustrations that really make these books sparkle. The interiors of these little mouse homes are cottagecore dreams, full of jars of jam and mismatched crockery, lace curtains and rag rugs, and color, color everywhere. I used to wish I could live in a Brambly Hedge book.
Sometimes, I still do.
These books were the first time I remember seeing a joyfully cluttered, cozy interior that reflected my own preferences. The little critters of Brambly Hedge decorate every spare inch of their homes, and they do it with style. Flower crowns included.
Minou: For the Sophisticated Cottage
Minou (affiliate link) is a manifesto in disguise, and when I received it as an impressionable 4-year-old, I was enchanted. It tells the story of a pampered cat who lives with her human, Madame Violette, in Paris. Madame takes care of all of her needs, but Madame is also very old, and one night, she dies. Minou is left to fend for herself.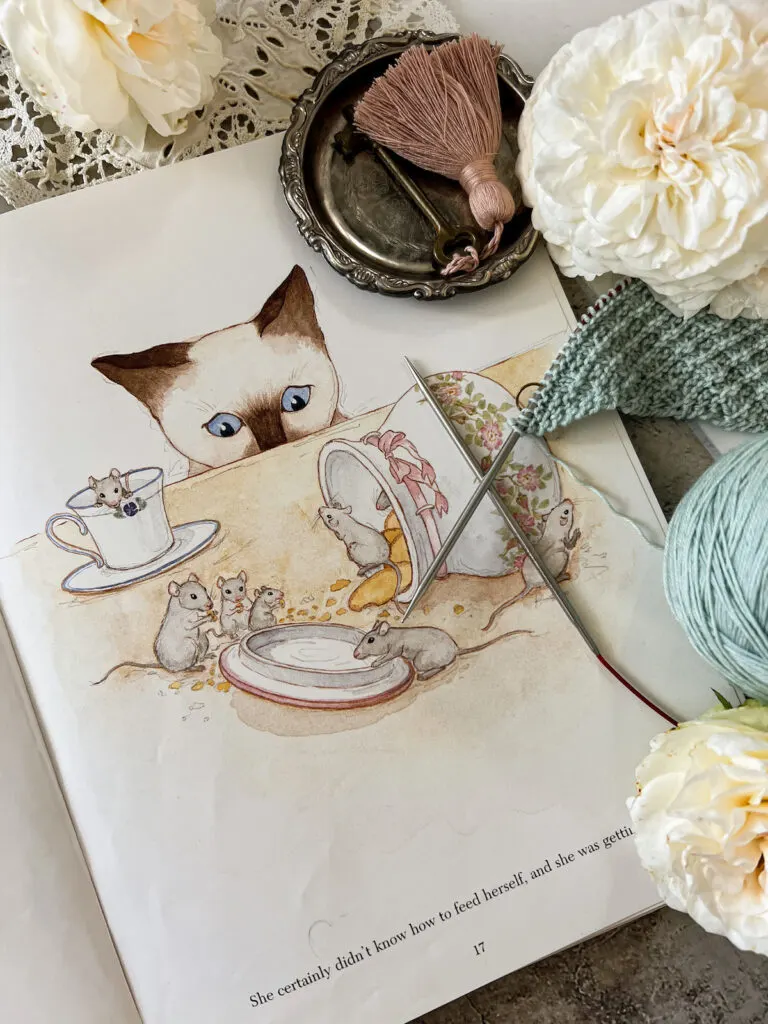 Minou quickly learns that being cute and cuddly isn't enough to survive on her own. Thanks to the help of a glamorous, fluffy cat named Celeste, Minou learns to bathe herself, hunt for food, cross the street safely, and ride the Metro. At the end of the book, she even gets a job as a mouser in the vestry at Notre Dame.
The watercolors in this book are stunning. Itoko Maeno, the illustrator, clearly knows her way around vintage Limoges porcelain and expressive cat faces. There's also an appearance from a glamorous woman in a large hat who looks suspiciously like Princess Diana.
This book is single-handedly responsible for my love of top knots and ballet flats, floral china and rose gardens. If there's anything delicate and refined in my work, it's probably rooted in these illustrations right here.
Sam, Bangs, and Moonshine: A Midcentury, Minimalist Cottage Vibe that Still Works
Normally, when we say "cottagecore," we mean the soft, cozy kind with chickens and a picket fence. Sam, Bangs, and Moonshine (affiliate link) belongs to a different world: a wind-swept cottage by the sea, battered by storms, worn by salt.
And yet, somehow, it still works.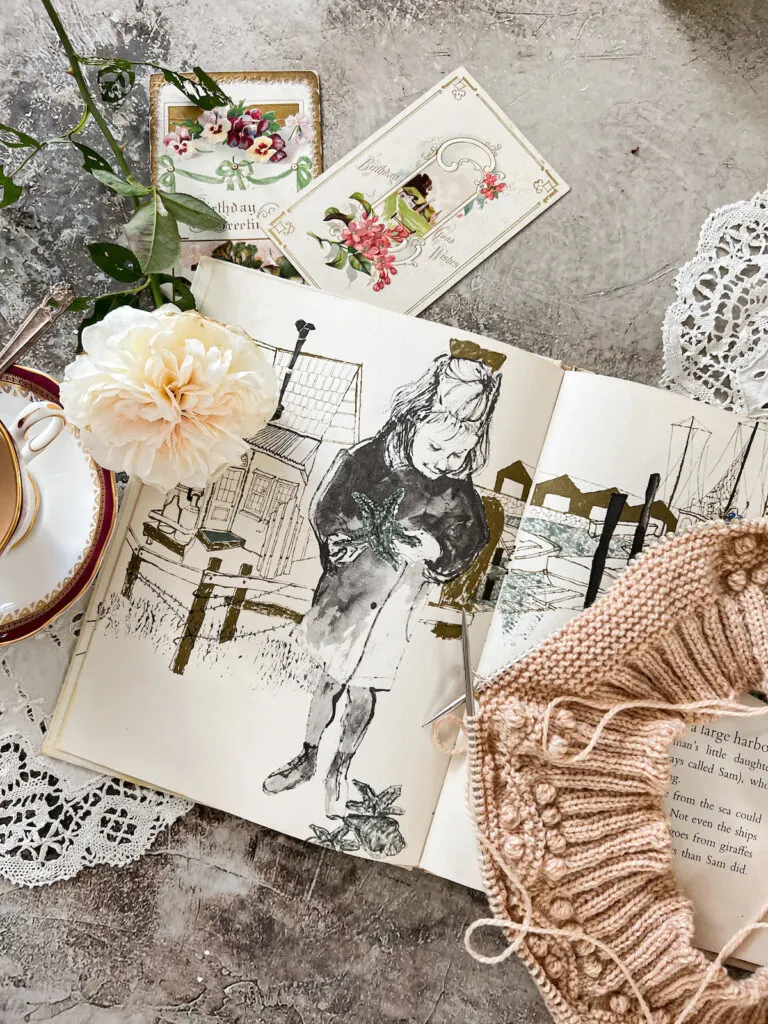 This book tells the story of a little girl named Sam who lives with her father and her cat, Bangs. Sam's mother died (it's unclear when), and Sam can't stop telling tall tales. Eventually, those tall tales get her into some real danger.
The illustrations in this book are sparse, but rich. Evaline Ness, who won a Caldecott Medal for her work on this book, uses a minimal palette and lots of strong lines to create a moody feeling that echoes my own experiences of living near the ocean on stormy days.
This is the book that keeps me from going overboard with the frills and lace and roses. It reminds me that simplicity is important and compelling, too, and there needs to be a balance.
A note for book shoppers: the modern re-issue of this book appears to have removed a lot of that delicious moody blue in the illustrations. The illustrations are still striking, but the ambience is very different. I've linked to a vintage edition above.
Little Women: When in Doubt, Go Historical
This one really needs no introduction. It feels a bit like cheating, though, because Little Women isn't really a children's book in the sense of thin, illustrated books with a picture on each page.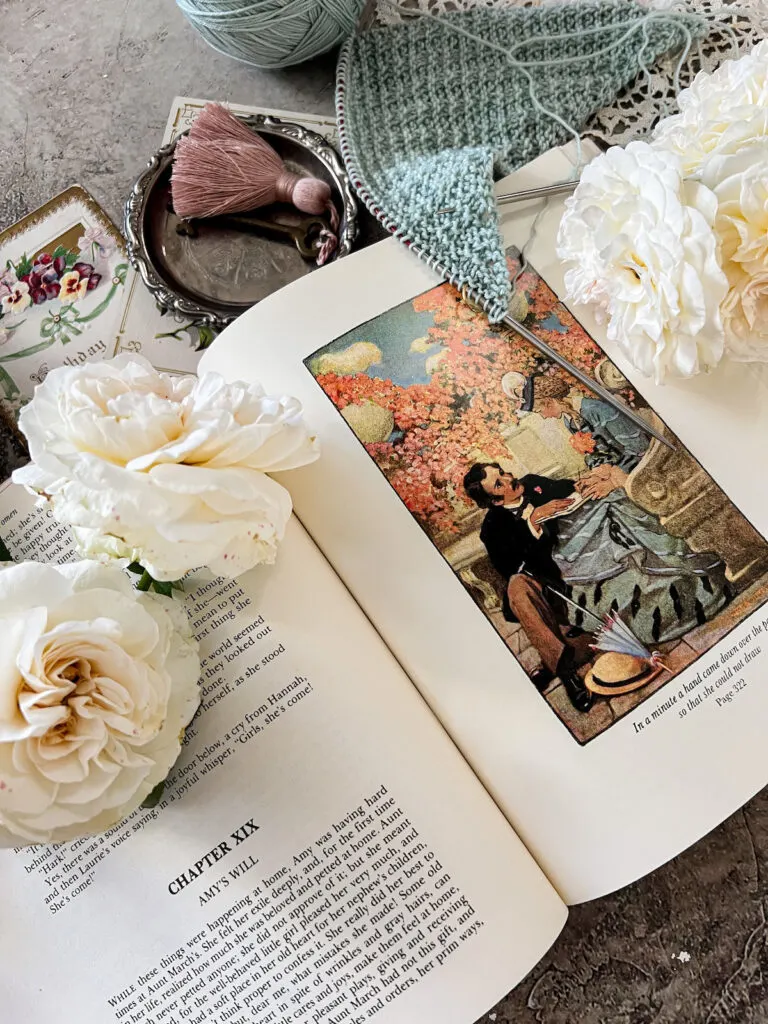 Nevertheless, when I was nine, my grandma gave me this gorgeous hardcover copy of Little Women with illustrations by Jessie Wilcox Smith. I read it so many times that I've lost count.
For me, Little Women started out as a little girl's book, and it grew into a book I loved as an adult woman, too. It's no accident that as I've aged, I've begun to relate more to Marmee and understand her better.
And throughout our adventures together, these illustrations have given me all sorts of inspiration. I love the soft floral prints on the girls' dresses, their upswept hair, the rakish tilt of Laurie's hat. When I was little, I didn't understand how anyone could be attracted to a mustache, but I get it now.
A note for shoppers: I tried to find this edition online but didn't have much luck. You may need to do some hunting. My apologies for the treasure hunt, but also, aren't treasure hunts so fun?
Julia's House for Lost Creatures: A Newer Book in a Long Cottagecore Tradition
The one book on this list that I didn't love as a child myself is Julia's House for Lost Creatures (affiliate link), and that's probably only because it hadn't been published yet. A friend gave me a copy of this book when my kid was born, and I've been reading it to her for years now. We're both big fans.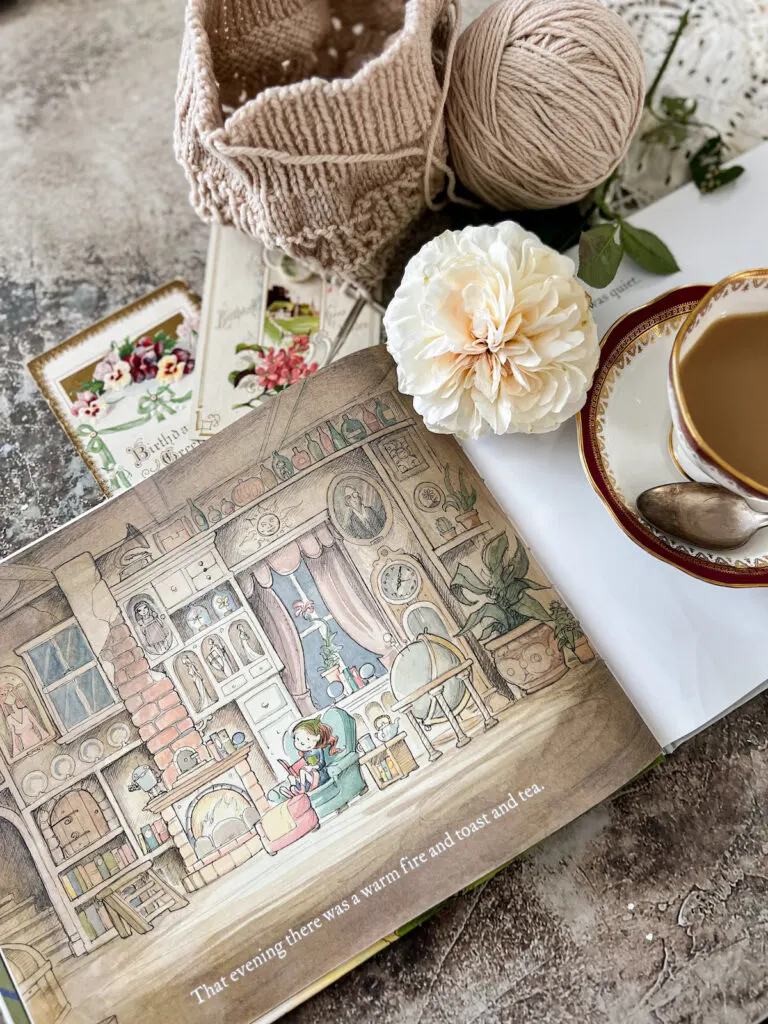 Julia is a girl who lives on her own in a whimsical house that travels on the back of a giant moving turtle. It's a cozy house, but she's lonely, so she puts out a sign. It says, "Julia's House for Lost Creatures."
Before she knows it, there's a troll and a mermaid, a dragon and some folletti, all congregating in her house and causing mayhem. The only thing that'll fix it? Another sign.
The charming interiors of this book remind me a lot of the Brambly Hedge books I loved so much when I was little, mixed with some Studio Ghibli and a hearty dash of modern whimsy. I love Julia's crowded shelves, mismatched linens, and sagging armchair. It was the perfect reminder that, even in my adult life, there's always room for more cozy, cottagecore books.
---
Of course, books aren't the only place I find inspiration. Want more posts like this? I've got movies, music, and travel sites galore, and it was awfully fun putting this together. Drop me a note in the comments and let me know if you'd like to see more.