I recently realized that I needed another ear warmer in my life. It's been an unusually cold winter here in Ventura, but I also like to wear my hair up a lot. I decided to knit an ear warmer so that I could keep my ears cozy but still have my hair up in a bun if I wanted.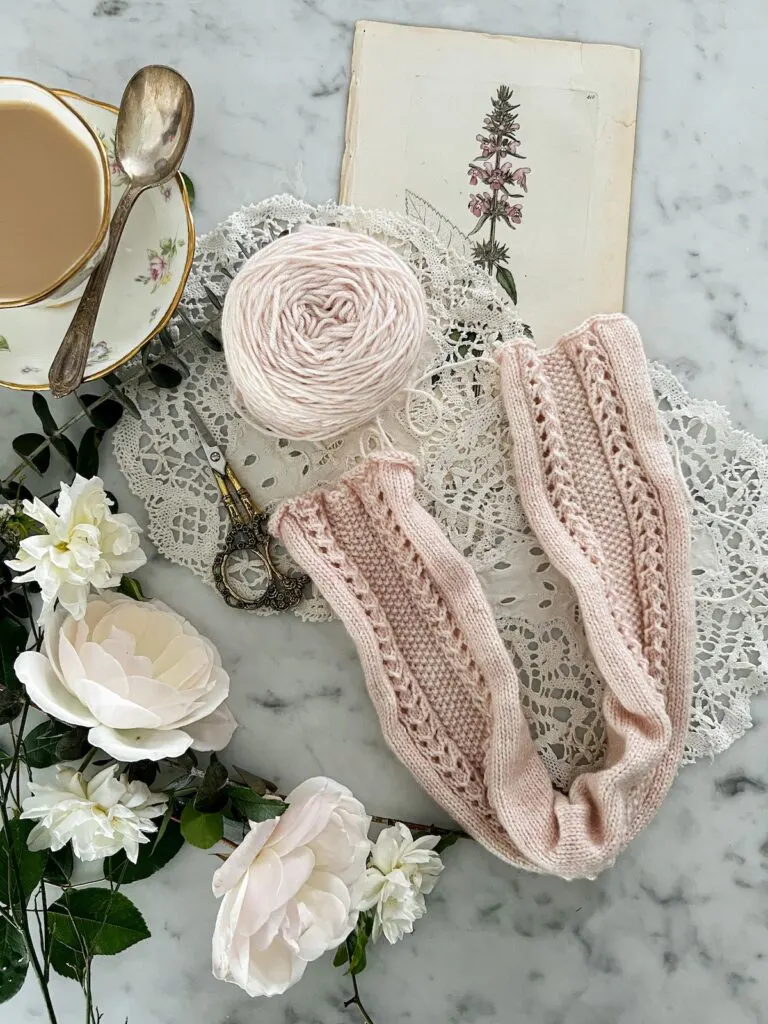 So first, I fooled around with a few ideas. I looked at some designs already out there, looked at my own pile of socks, and had a lightbulb moment. I could use somebody else's pattern, or I could make something that is a little more personalized.
You know me. I went with the latter.
When I realized how super easy this is, I decided I had to write up a blog post for you all. If you already own a sock pattern, you also already own the building blocks for your own cozy ear warmer.
To knit an ear warmer, first choose your yarn
Because you are going to be wearing this close to some pretty delicate skin, you want to choose a yarn that is nice and soft. I wouldn't recommend a really rustic wool for this project.
Instead, choose a yarn that will feel good against your cheeks. Your ear warmer will probably end up touching your cheeks and neck more than you expect.
For my project, I used a wonderful merino-cashmere blend that I bought from Blu Fiber Company almost 3 years ago. I used most of the yarn to make myself a pretty little sweater, but I had enough left over that I knew I wanted to make something else special with it.
After you choose your yarn, choose a pattern
Your next step is to choose a pattern. If you only have one sock pattern, the choice is easy. If you have others, though, pick one with a design that will fill most of the top half of a tube.
For my ear warmer, I used the stitch pattern for my Crème Brûlée Socks, which I also used on the Arroyo Verde Mitts. What can I say? I like a matching set.
The thing I liked about this stitch pattern is that it's designed to be knit in front and back panels down the sock. Because the backside won't be visible when it's worked as an ear warmer, I only worked the front panel and knit the back panel.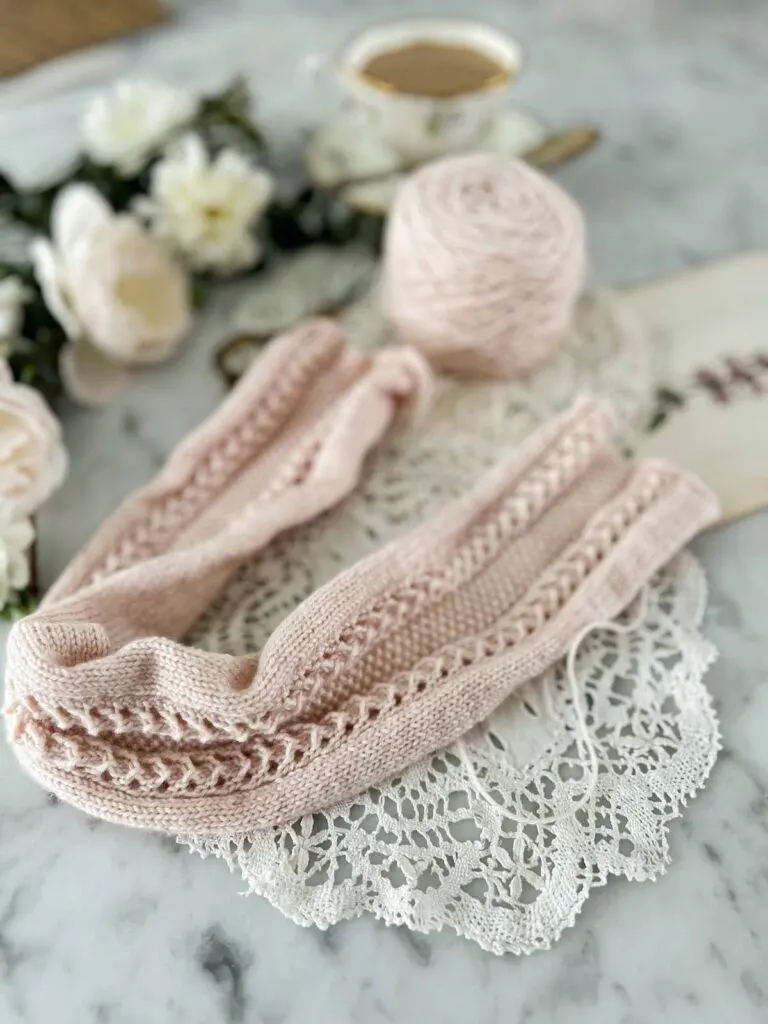 Now the fun part: knit a long tube
To start, cast on the same number of stitches that the sock pattern recommends. Most of my sock patterns have a range of sizes, so you can make your ear warmer wider or narrower. I did mine with 60 stitches, which comes out to about 7.5 inches wide.
Skip the ribbing part. You can knit a few rounds in plain stockinette if you want, but the ribbing will just make your headband a little lumpy and be extra work that you don't need to do.
Then start working in pattern across the first half of the stitches in your tube and knitting the second half plain. You're going to do this for a long time. Like, a long time. A loooooooong time.
Every now and then, measure your tube by gently wrapping it around your head. You want to get the tube long enough that it wraps around your head and over your ears, and is at the length where when you touch the tips to each other, it is just slightly too tight. It should feel a little uncomfortable at this point.
When you finish the tube, seam the ends together
Now this part gets a little tricky. Because it's pretty hard to explain everything in words, I've made a video for you, too.
Essentially, you are going to fold your headband in half so that the patterned portion is facing itself and the plain stitches are wrapping around on the outside. Fold each of the two tips in half, and sandwich them together. Then you'll seam along the edges of the two ends of the tube as they're folded together. After you finish seaming, flip the headband so that the seam is on the inside and the textured stitches are on the outside again.
Like I said, the video is probably easier. Here you go.
Soak your ear warmer in lukewarm water
I know, I know. People don't like to block stuff. But the thing is, your ear warmer is going to need to be washed.
When you put it on, it's going to rub against make up on your face. If you don't wear make up, it's still going to rub against your hair oils. If you have any hair product, that's gonna get on your ear warmer, too. You'll need to wash the thing.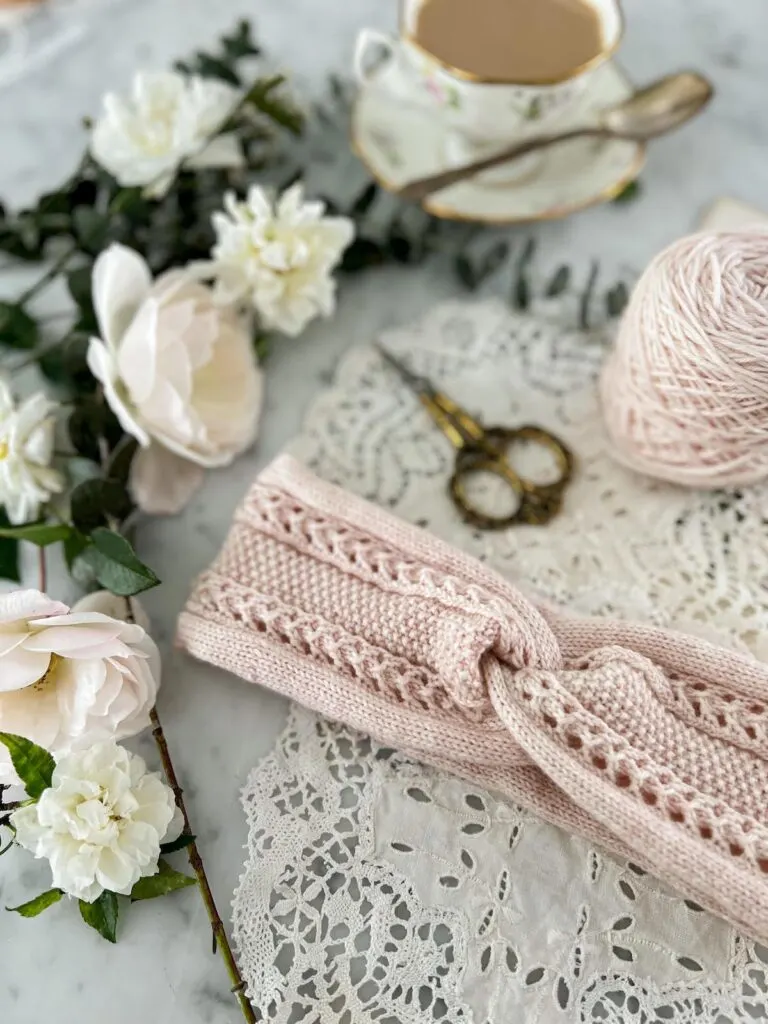 And that means that you should set it up for success by first giving it a good soak in lukewarm water, gently squeezing out the excess water, and laying it flat to dry. During this drying process, you should take the opportunity to shape your ear warmer a little bit.
If your ear warmer has lacy stitches in it, this is extra important. You will want to make sure those stitches have been opened out nicely so that people can actually see your hard work when you wear your ear warmer.
Show off your fabulous knit ear warmer
After your ear warmer has dried, you can wear it anytime and anywhere. I mean, I might advise against wearing it under a bike helmet or something like that, but otherwise, you're good to go.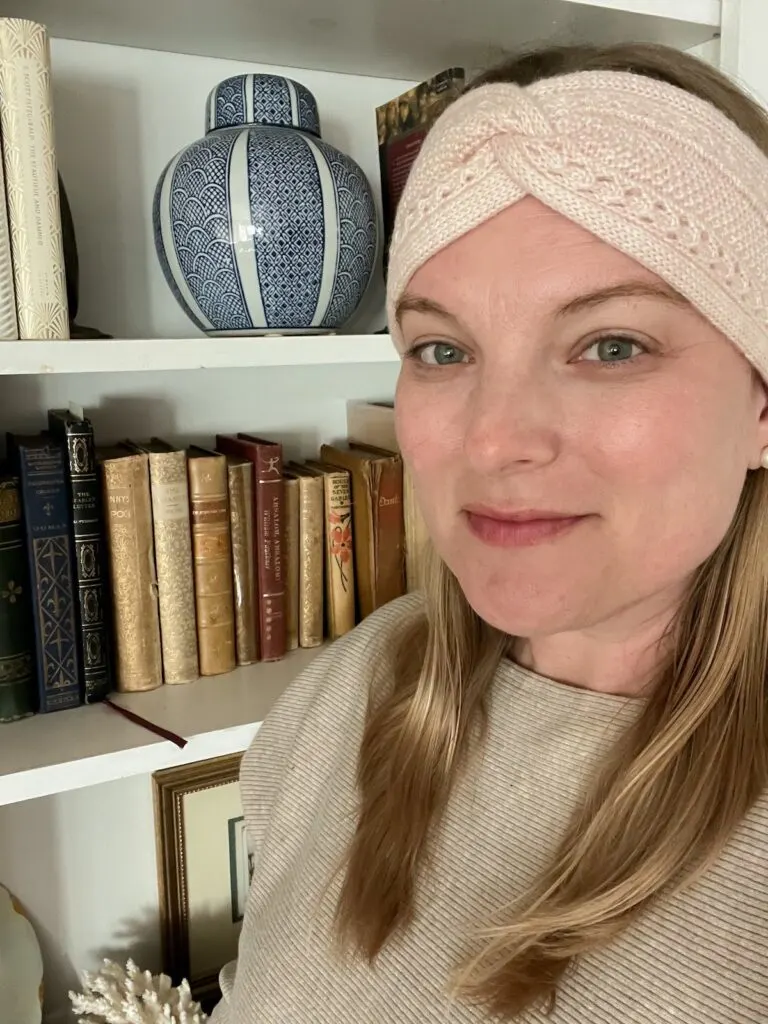 You can dress it up or dress it down, and you can make one in every color of the rainbow. This one is a soft pink, but you better believe there's a purple one already on my needles.