I don't often make resolutions at the start of the new year, especially those that require me to start a new routine or regimen in January. Winter is a hard season for me, so I try to keep things as mellow as possible. But when it comes to knitting resolutions, well, that's a different story.
That's partly because the resolutions for my knitting can take slightly different forms and don't necessarily need to start right away. It's also because I don't resolve to do things that require everyday work from January 1 onward. These are slower, easier resolutions that can be worked on sporadically.
Maybe you're feeling the need to make some small changes in your knitting life, too. Here are my five knitting resolutions for 2022. If they resonate with you, I'd love to have you join me.
Knitting Resolution #1: Make a Few Mistakes
I'm a recovering perfectionist, and based on the number of comments I got in response to this post, it sounds like many of you are, too. Knitting is a safe place to make mistakes, so let's try making a few of them this year.
That's good for us. It gives us a chance to experiment, grow, and learn. It also gives us space to learn that mistakes aren't the end of the world. Come join me in screwing up our knits, and let's see what we can learn in the process of fixing them.
And frogging can even be kind of fun, when you look at it from a certain angle.
Knitting Resolution #2: Try Some New Techniques
I started working on this last year with my adventures in learning to knit toe-up socks, but in 2022, I really want to dive deep into learning new knitting skills. I'd like to try mosaic knitting, intarsia, and a fleegle heel.
That's because knitting can be this amazing adventure where you never stop learning. I fully expect that someday I will be in my 80s, having spent the last 60+ years knitting, and I'll still be discovering new things. What a treat!
The neat thing about this resolution is that you don't have to have reached a certain level of proficiency before you make it. Maybe you're a brand new knitter who wants to learn to purl and do decreases. Maybe you're a pro who wants to master colorwork with five colors at a time. Wherever you are in your journey, there's a new skill for you.
Knitting Resolution #3: Don't Let Fear Drive the Bus
This one goes hand-in-hand with the recovering perfectionism. Maybe you'll relate, too. See, sometimes, I'm so afraid of doing something badly that I don't try at all. That's not particularly helpful when I'm trying to grow as a designer and tackle new kinds of designs.
So this year, I'm going to work on not letting fear hold me back. I've been working with Tian Connaughton over the past year, and last time we had a chat, she flat-out asked me, "Why are you scared? What are you so afraid of?" And she's right: the fears really aren't that big when I actually stop and look them in the face.
It's okay to be scared, but let's work on not letting that scaredness stop us from doing what we want to do.
Knitting Resolution #4: Savor the Process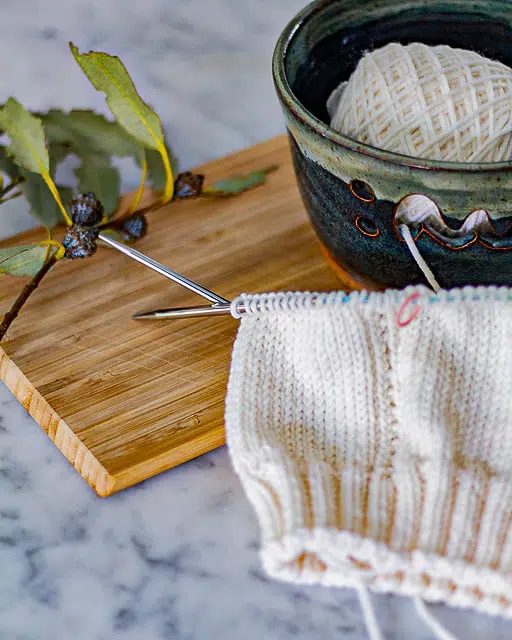 For the past couple years, I've kept a pretty brisk design schedule. It means that sometimes, I get a little behind on my work and find myself rushing to finish samples. I get a little stressed about the knitting, and even sometimes find myself not enjoying it very much.
Maybe you've felt that, too, in different circumstances. If you've ever knit to a deadline or felt pressure to have new knits to show off on Instagram, you know this feeling, too. It's not awesome.
So in 2022, I'm trying to give myself space to enjoy the knitting. That might mean slowing down my pace of production or being more selective about which projects I choose. You can give yourself that space, too.
Knitting Resolution #5: Say "No" When You Need To
The online knitting world, in particular, is full of pressure to participate in things: to buy the limited-release yarn, to join the KAL, to make gifts, to churn out makes for new content.
That can get exhausting, and it doesn't have to be that way. It's okay to look at your schedule and your budget, prioritize what's best for you, and jettison the rest. No reasonable person is going to fault you for that.
For me as a designer, this means to take a deep breath before agreeing to collaborations, to prioritize which designs I really want to finish and which ones can keep, and to leave space for fun knits, too. I often find that I'm overflowing with ideas, and I want to knit them all RIGHT NOW. That's just not realistic, though, so I'm working on saying no to things, or even just a "yes, but later."
---
And of course, if the idea of knitting resolutions stresses you out, there is no need to make them! Enjoy your crafting life the way you prefer it. We're all just doing our best to get through things, one day at at time.
I hope the year ahead brings you joy, adventure, and lots of soft fibery goodness.