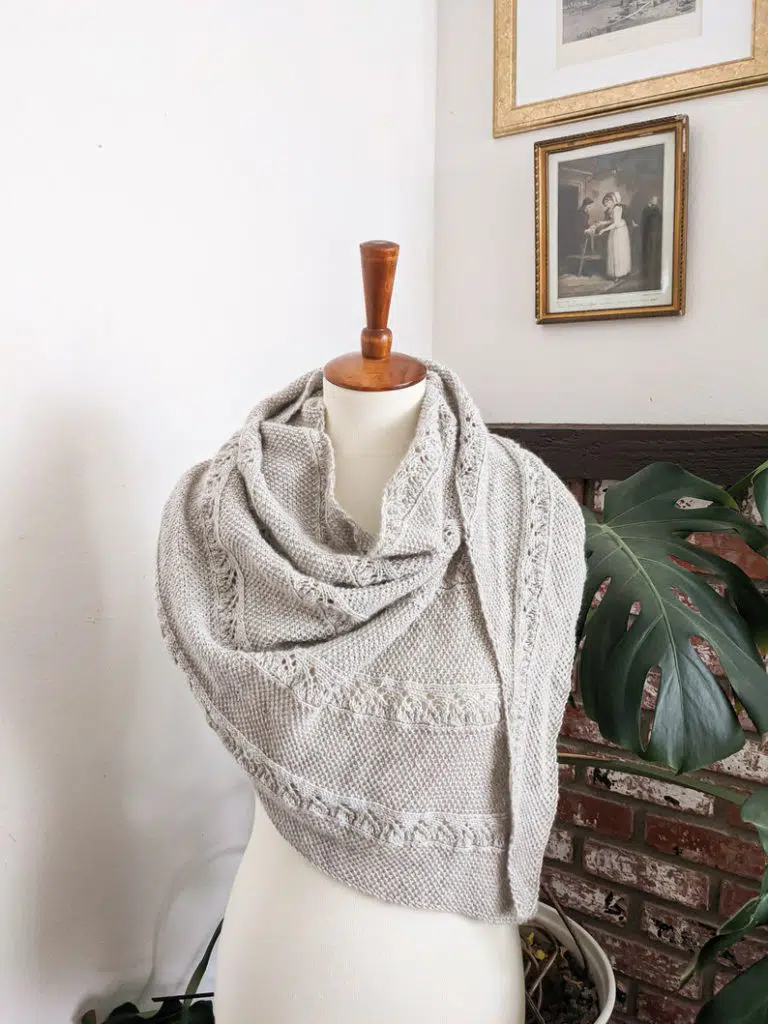 Here are links to find the Plenitude Shawl on Payhip, Etsy, and Ravelry. Read more below to learn about the inspiration behind the shawl and all the details that will help you decide whether this pattern is a good fit for your knitting needs.
PAYHIP:
Here's where you'll find the Plenitude Shawl.
ETSY:
Here's where you'll find the Plenitude Shawl.
RAVELRY:
Here's where you'll find the Plenitude Shawl.
ABOUT THE PLENITUDE SHAWL
Plenitude (n) – 1: the quality or state of being full : COMPLETENESS
2: a great sufficiency : ABUNDANCE
This soft, lacy shawl, which is knit from a side point outward, is full of texture and warmth. It features repeating bands of seed stitch and lace to create a striped effect that is both strong and soft. With its easily memorized pattern and short repeats, this shawl is perfect for soothing stitch sessions.
I hope its softness brings you an abundance of comfort and contentment. I hope its brings your handknit wardrobe closer to a state of completeness. Most of all, I hope it brings you a great sufficiency of happy knitting time, those hours spent quietly moving from stitch to stitch in a semi-meditative state.
I knit my sample using two skeins of Camellia Fiber Company's CFC Sylvan Fingering yarn. This is one of the softest, lightest yarns I've worked with in a very long time, and every time I put on the shawl, I sigh with happiness. Thank you for the yarn support and for being such a great collaborator, Silbia! It was a joy every step of the way.
Although this shawl is written in one size, you can easily make yours bigger or smaller by adjusting the number of times you complete the repeat section. Just know that adding or removing repeats will affect the amount of yarn you'll use, so if you plan to make yours bigger, stock up on some extra yarn.
WHAT TEST KNITTERS ARE SAYING
"I knit anywhere and everywhere, and this has been so enjoyable because I don't have to take the pattern. I'm so excited for it to be winter (2nd day of Autumn in Oz) and to wear it!!" Laura Stephens, @dr.elbyknits on Instagram
"I loooove seed stitch and the combination with the easy going lace pattern repeat made the Plenitude Shawl a terrific knitting experience." Lena Mossin, @made_by_mossin on Instagram
"I LOVED this knit! While I adore the look of seed stitch I often avoid it because it can be hard in my wrists but because these panels are broken up by the strips of perfectly simple lace it was so simple to do. The pattern emerges so beautifully and because it's worked on the diagonal the lace looks a little different depending on how you drape it. I was so impressed with how beautiful it looks in a solid, I was pleasantly surprised in how beautiful it turned out in my variegated yarn and I already want to know what it would look like in speckles. With a little yarn knowledge you could easily make this in a different weight yarn for an even cozier and squishier version. Mine has already been added to my rotation 😍." -Kristin Blair, @krismblair on Instagram
PLENITUDE SHAWL DETAILS AND SPECS
Here's where you'll find all the information about the Plenitude Shawl to help you decide what yarn and needles to use, which size to make, and whether this pattern is the right one for you.
SIZES
One size, 50" (127 cm) wide by 27.5" (70 cm) at its widest point
MATERIALS
Fingering weight yarn, held double, 750-800 yds (686-732 m)
Sample shown knit in Camellia Fiber Co. CFC Sylvan Fingering, 70% gray alpaca, 20% silk, and 10% cashmere, 437 yds (400 m) per 3.5 oz (100g)
GAUGE
4" (10 cm) square = 31 stitches and 34 rows in seed stitch
NEEDLES
One set of needles in a size to match gauge listed above
Suggested needle size: US 4 (3.5 mm)
TOOLS
Optional stitch markers between pattern repeats
Tapestry needle for weaving in ends
SKILL LEVEL
Adventurous beginner to intermediate
Techniques: twisted stitches, increases, decreases