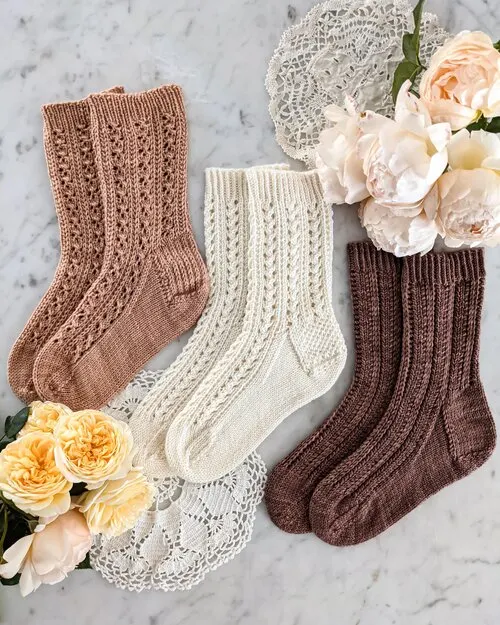 I knit a lot of socks, and designing socks might be my favorite thing to do as a designer. They're a marvelously versatile project that can be knit in several different weights of yarn for different purposes, and I love the puzzle of each new pair.
It might surprise a lot of people to know, then, that I don't really wear them very often. I live in Southern California, so most of the time, I'm wearing sandals. If a situation is too dressy for wearing sandals, usually I'll be wearing other shoes that you don't wear socks with. It means that generally, when I wear socks, it's because it's bedtime and my feet are cold.
But I love knitting socks. Oh, gosh, how I love knitting socks. Here are just a few of the reasons why I can't get enough of making them, even if I don't get to wear them as much as I would like.
Handknit Socks are Portable Projects
I do a lot of my knitting on the go, while my little one is playing at the playground or I'm waiting in a long line. That means that most of the time, I can't be hauling around massive projects like blankets and sweaters. I've already got a beach bag full of toys and towels, or a shopping cart I'm wrangling, or whatever other things I need to keep my kid entertained, fed, and warm while we're out and about for the day.
When I'm working on a sock, though, I can just pick it up and shove it in my purse. I don't need to switch to a larger bag, carry a separate project bag, or anything else like that. I just pick it up and go. Most socks require just a single 100g skein of fingering-weight yarn, which is only a small amount of added weight and a small amount of added bulk. I knit my socks with 9" circular needles, too, so I don't even have to worry about the DPNs getting knocked out in transit.
Considering how much extra stuff I'm already hauling (ah, life with a small kid), it's nice to know I've got hours of entertainment stashed in my purse without having to add a ton of extra bulk or weight.
Handknit Socks Show Off Pretty Yarn
I am a sucker for beautiful yarn. I love subtle tonals and speckles and softly variegated yarns. I obsess over soft fibers and springy wools. Beautiful yarn makes my heart sing. Bonus? I love supporting the hard-working indie dyers in the fiber world.
But knitting a whole sweater out of fingering-weight, hand-dyed yarn is usually outside of my budget, unless I'm collaborating with a dyer on a design.
A pair of socks, though? Now that I can manage.
I love that socks are a great way to show off the pretty speckles in hand dyed yarn. Across the relatively small canvas of a sock, you can see a wide range of color variations and little specks of color. Whether it's a tonal yarn with subtle changes or a variegated yarn with some serious contrast, socks will provide a compact vehicle for displaying the beauty of that yarn.
Handknit Socks are a Design Challenge
As a designer, I think socks are a delightful puzzle.
Socks are small items, and they have small stitches, and it takes a real effort to figure out how to make interesting, satisfying stitch patterns for them. Things are made more complicated by my commitment to using stitch patterns that are easily memorized but still fun to work.
Whether I am doing a small motif repeated over the whole sock or a large panel that runs down the front and back of the sock, the riddle of assembling the stitches in a way that works on this small scale is highly satisfying.
So yes, I may not have them on my feet very much, but I've almost always got a pair of handknit socks on my needles. If you catch me standing in line with some tiny circs clicking away, feel free to say hi!