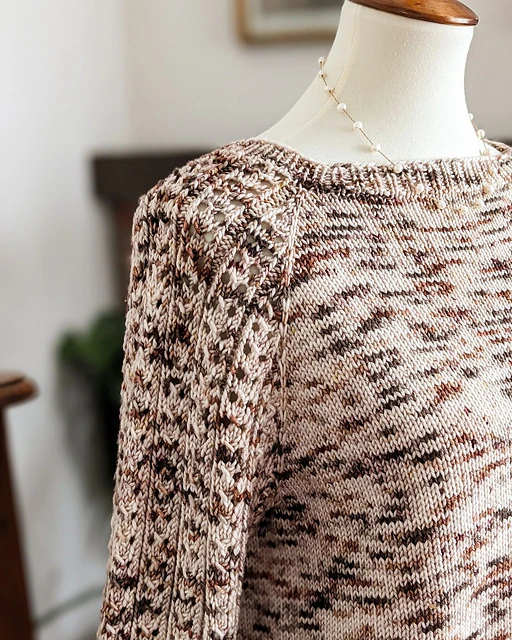 For today's design feature, I wanted to focus on something that matters a lot to me: sweater details that improve the fit and function of a garment.
Here's a close-up peek at the lace on the sleeves for the Geniality Sweater. This sweater is a top-down raglan that I've scheduled for release in mid-June. You can sign up for my newsletter here if you want to make sure you (a) don't miss the release and (b) snag the subscribers-only 30% discount on release weekend.
For this design, I teamed up with Erin Bartel of Coast to Coast Yarn Company. I used her DK wool base for this sweater. If you're in a hot place and want to wear it right away, and wool just doesn't sound great right now (though tbh, don't get me started on how great wool is in warm weather), I made some design decisions that make it a good one for subbing cotton or linen. You can learn more about yarn substitution here and set yourself up for success.
Now, about those design decisions.
Sleeve Texture: An Intentional Design Feature
The lace makes the sleeves light and airy, but the ribbing keeps them from getting droopy. That's a problem I often have with cotton and linen—they can feel heavy if not used right. This will also help counteract a common problem with raglan sweaters. Often, the sleeves can sometimes be a little too spacious where they join the body. Ribbing will help contract that space and make it fit more snugly.
Sweater Gauge: A Slight Tweak for Summer Knits
This is knit at the loosest gauge I could manage while still having a fairly smooth, durable fabric. I wanted this to be a sweater you can wear for years, and so a gauge that was too loose wouldn't be good for that because it would be easier to wear holes in. This is the perfect compromise gauge between durability and airiness.
Sleeve Length: An Important Tool for Keeping Cool
I designed this sweater with a 3/4 sleeve to keep it breezy and comfortable. Here in Ventura, a cool breeze often picks up off the ocean in the late afternoon, so even during summer, it's good to carry a sweater. The shorter sleeves, though, keep it from feeling too dense and overwhelming.
The shorter sleeves are also helpful for all the increased hand-washing we've all been doing. I don't know about you, but cold, wet, clammy sleeve cuffs are one of the most unpleasant sensations I can think of.