The Grumpy/Sunshine Socks, which are the second pair of socks in the Golden Honey Sock Club, are now available! Read on for more information about where to buy the pattern, details and specs, an easy shopping list, and more.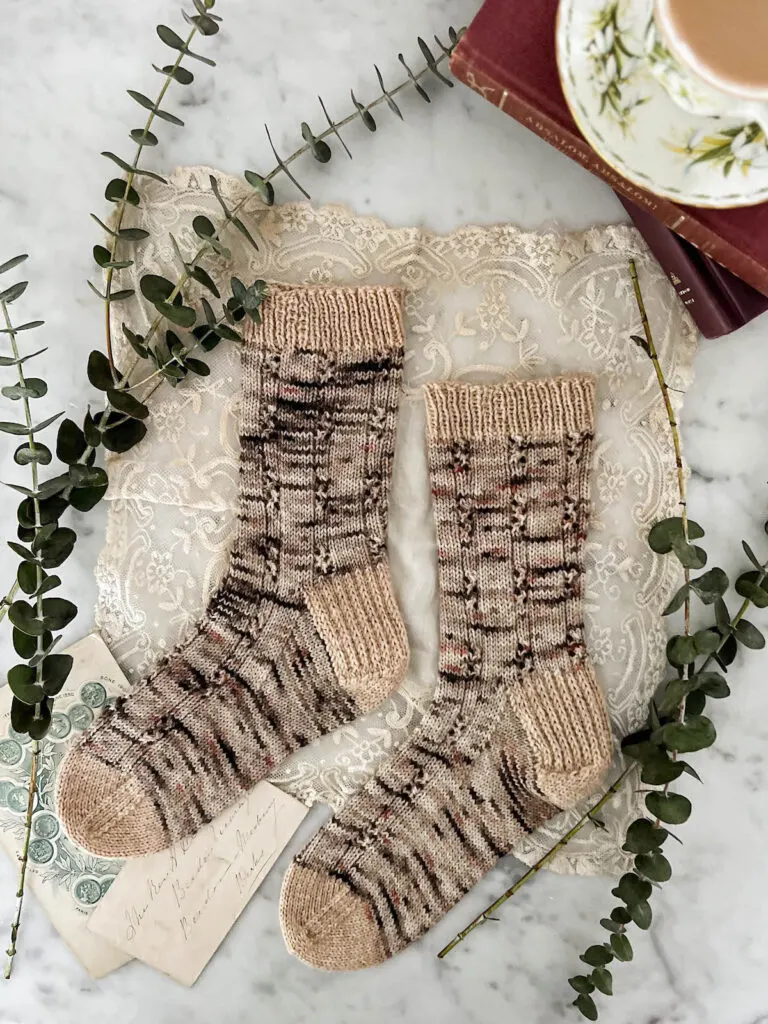 Golden Honey Sock Club
You can find listings for the Golden Honey Sock Club membership in my Etsy shop and in my Ravelry shop. This is the most cost-effective way to buy this pattern along with four other patterns, a private Slack community, and monthly Zoom knit nights. For more information about how the sock club works, learn about the Golden Honey Sock Club here.
Etsy
Here's where you'll find the Grumpy/Sunshine Socks on Etsy.
Ravelry
Here's where you'll find the Grumpy/Sunshine Socks on Ravelry.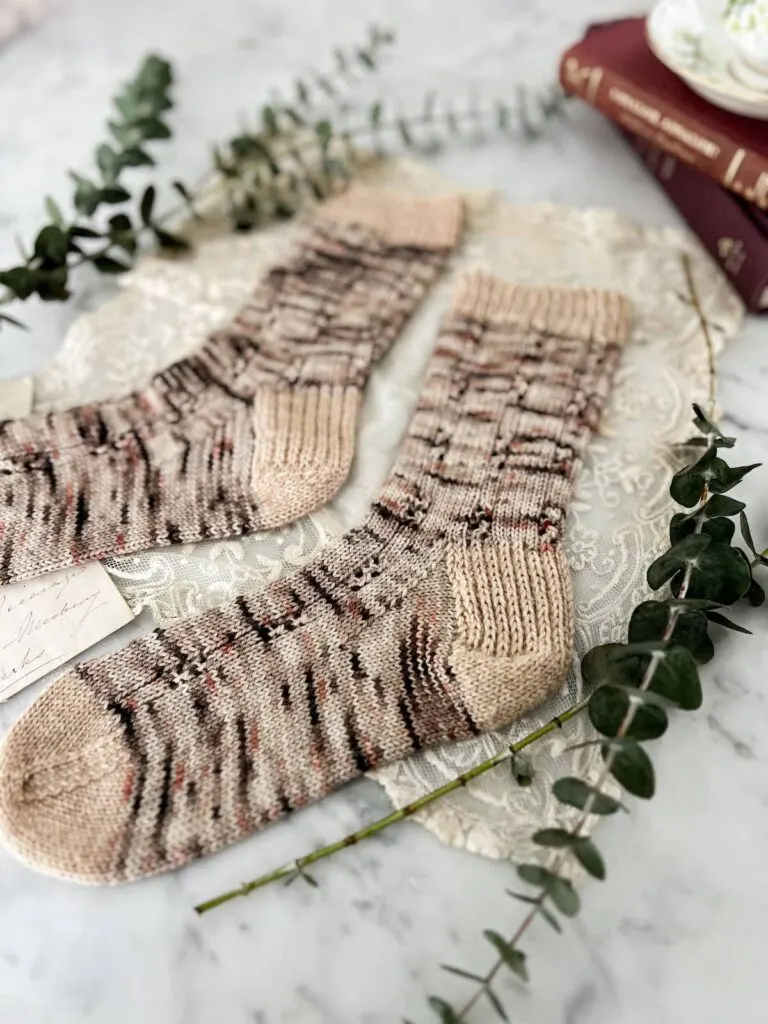 About the Grumpy/Sunshine Socks
I love a good grumpy/sunshine pairing, which is where one half of a couple is an incorrigible curmudgeon and the other half is overpoweringly cheerful. Many of us carry elements of both personalities within us, and they emerge at different times. It's extra fun to explore how that dynamic plays out when love and longing get involved.
When I started playing with design ideas for this sock, I knew I wanted to use this skein of beautifully speckled yarn. I also knew, though, that those speckles would make it too strong for a highly textured sock design. In fact, this gorgeous yarn was decidedly grumpy when I started working with it. It needed some sunshine for balance.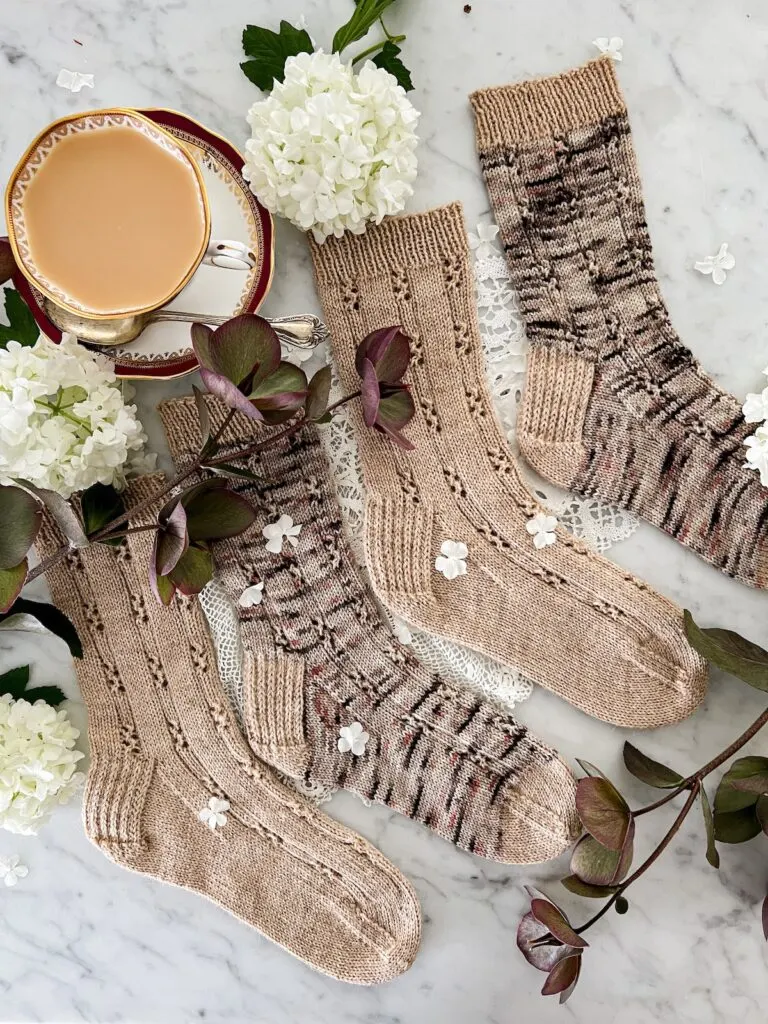 So I added a contrast cuff, heel, and toe on the main sample, and then I worked a second sample in the plain yarn. These two pairs of socks together are the perfect grumpy/sunshine partnership, and I plan to keep them together forever. What a splendid happily ever after!
These socks are knit from the cuff down and graded to five sizes. They feature a simple ten-stitch repeat that is very easily memorized. A heel flap and gusset provide an adjustable fit, while the socks are finished with a classic wedge toe.
Easy Shopping List
In case you want to knit these socks using the exact materials I did, here is a shopping list with easy links for you. Some of these are affiliate links, which means if you choose to buy something through those links, I'll receive a small commission at no extra cost to you. I will always identify affiliate links for you. Thanks for supporting my work!
cowgirlblues Proper Sock in colorway Barbra Streisand
Chiaogoo US Size 1.5 (2.5 mm) short circular needles (affiliate link)
The DPNs I've used since 2009 (affiliate link)
Stitch markers (budget option) (affiliate link)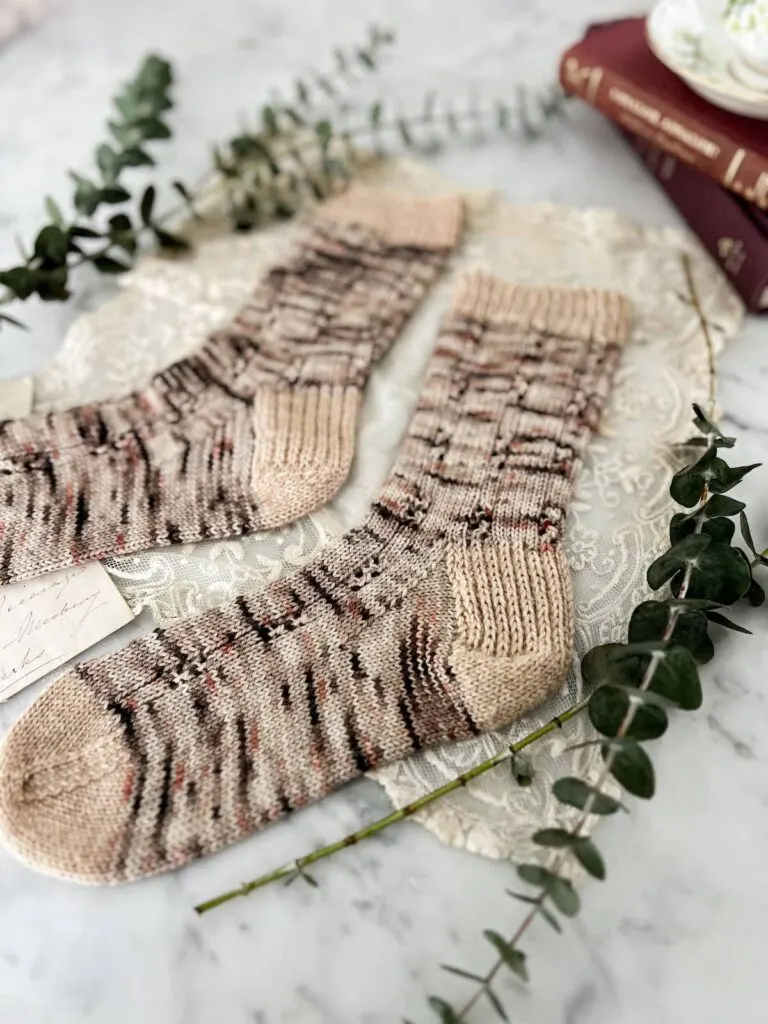 Grumpy/Sunshine Socks Details and Specs
Here are all the nitty gritty details about the Grumpy/Sunshine Socks including their dimensions, materials, gauge, needles, and more.
Sizes: 1, 2, 3, 4, 5. Finished sock dimensions: 6.25" (16 cm), 7.5" (19 cm), 8.75" (22 cm), 10" (25.5 cm), 11.25" (28.5 cm) circumference (Note: most people like their socks snug, so choose a finished sock size that is slightly smaller than your actual foot)
Materials: Two-colored version uses fingering weight yarn, main color 260-420 yds (238-384 m), contrast color 1 mini skein for a maximum of 115 yds (105 m) (sizes 1-3) or two mini skeins for a maximum of 230 yds (210 m) (sizes 4-5)
One-colored version uses fingering weight yarn, 280-440 yds (256-403 m)
Two-color sample shown knit in Cowgirl Blues Proper Sock, 75% Superwash Wool, 25% Nylon, 400 yds (366 m) per 3.5 oz (100g), colorway Barbra Streisand (main color); Regia 4-ply Solids, 75% Virgin Wool, 25% Polyamide, 459 yds (420 m) per 3.5 oz (100g) (contrast color)
Single-color sample shown knit in Regia 4-ply Solids, 75% Virgin Wool, 25% Polyamide, 459 yds (420 m) per 3.5 oz (100g)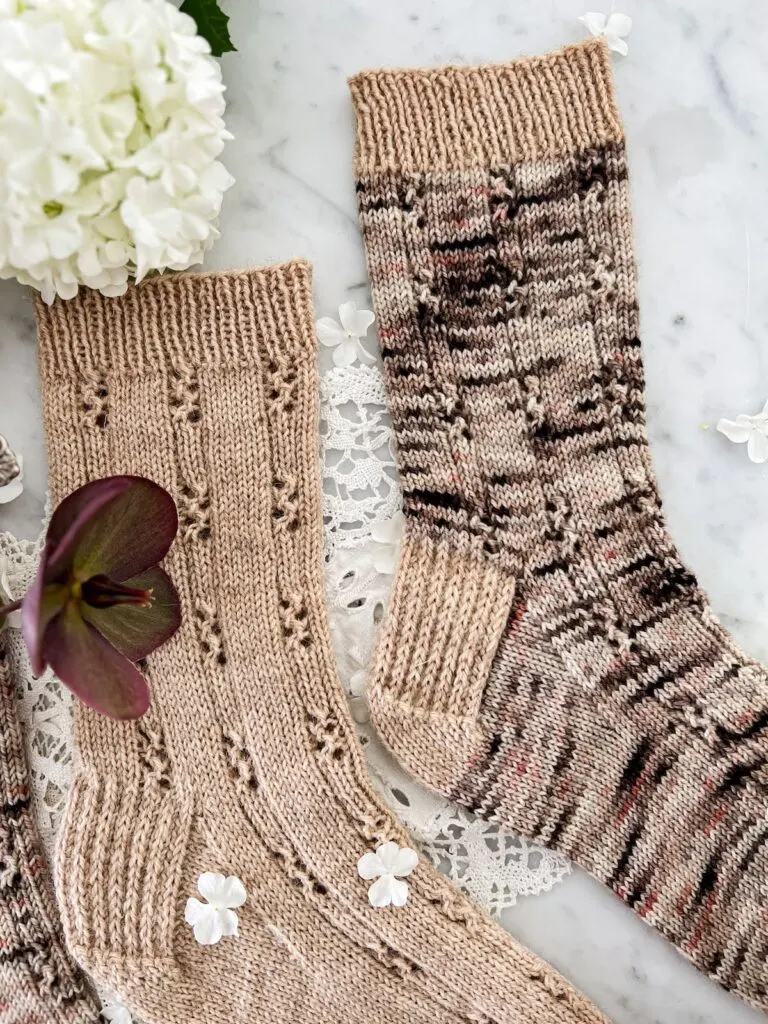 Gauge: 4" (10 cm) square = 32 stitches x 41 rows in stockinette
Needles: One set of needles for your preferred style of small-circumference knitting in a size to match gauge listed above. Suggested needle size: US 1.5 (2.5 mm).
Tools: One stitch marker for beginning of round; optional additional markers between pattern repeats. Tapestry needle for weaving in ends.
Skill level: Intermediate. Techniques: decreases, knitting in the round, stockinette stitch grafting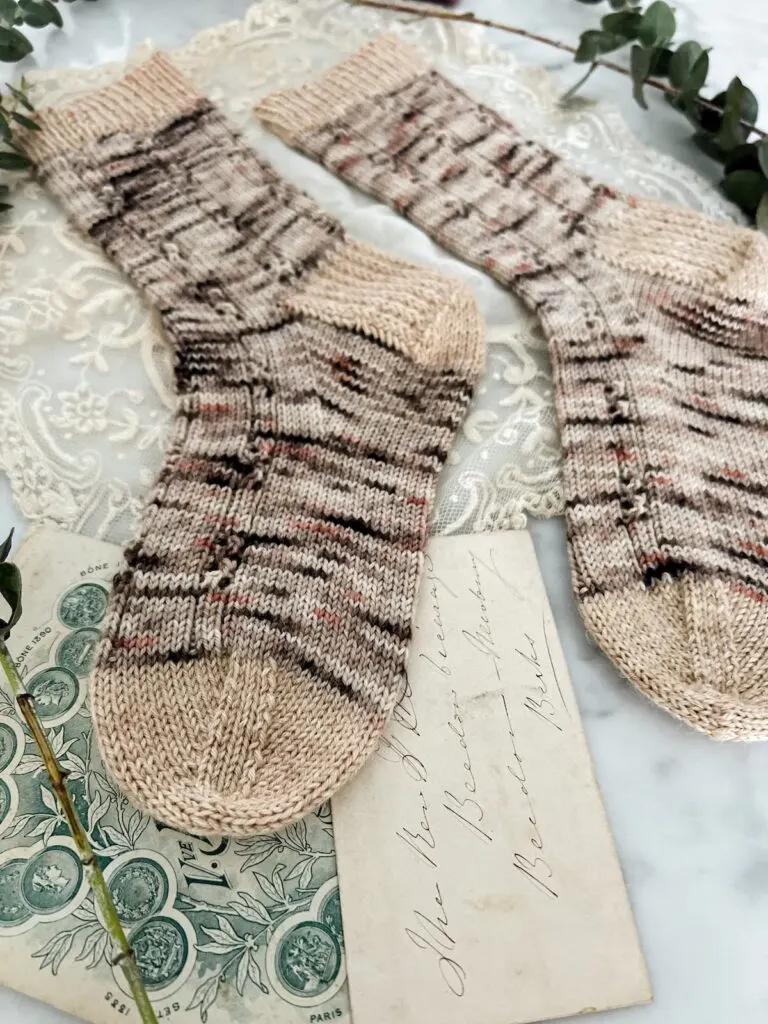 If You Like This Pattern, You'll Also Like…
If there's one thing I've discovered in my years as a knitter, it's that many of us have favorite motifs we like to revisit. In case you're the same, here are some suggestions based on this pair of socks.
The Comity Socks, which also use a style of ribbed eyelets in an unusual and visually pleasing way
The Plenitude Shawl, a similarly soothing knit punctuated by brief bits of pattern
The Abalone Socks, another pair of socks with a simple stitch pattern that's one step up from a vanilla sock