As the weather starts to cool off here in the Northern Hemisphere and warm up in the Southern Hemisphere, knitters turn to knits that are good for unpredictable weather and days that start off cold but warm up quickly. Here is a collection of some of my favorite patterns for the tricky transitional weather in September.
Transition Slipover – Aimee Sher @aimeeshermakes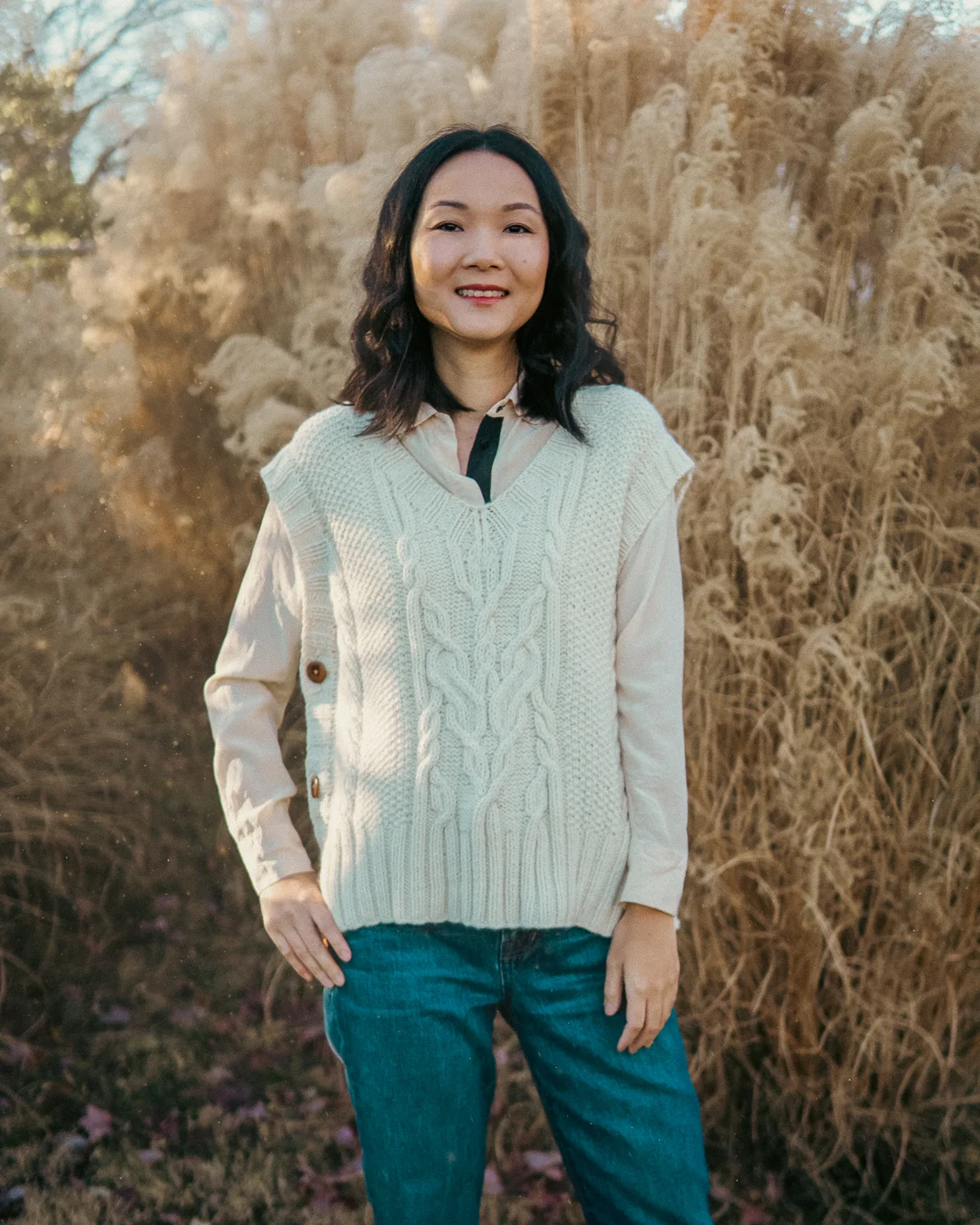 Transition can be beautiful or difficult. In either case, it is often unavoidable. In life and in weather, we are all better served by finding ways to make transitions less challenging. For those transitional fall and spring days, this intricately designed reversible cable vest allows just that.
Aimee's Transition Slipover Vest is perfect for changing seasons. It offers a stylish and simple way to add comforting, cozy layers and easily remove them when the warmth of the day peaks. The button detail also adds a stunning detail to this lovely vest. One of my favorite parts of the slipover is that it features a scoop neck on one side and a dramatic V neck on the other. The direction of the day is in your hands. You are in control of the transition.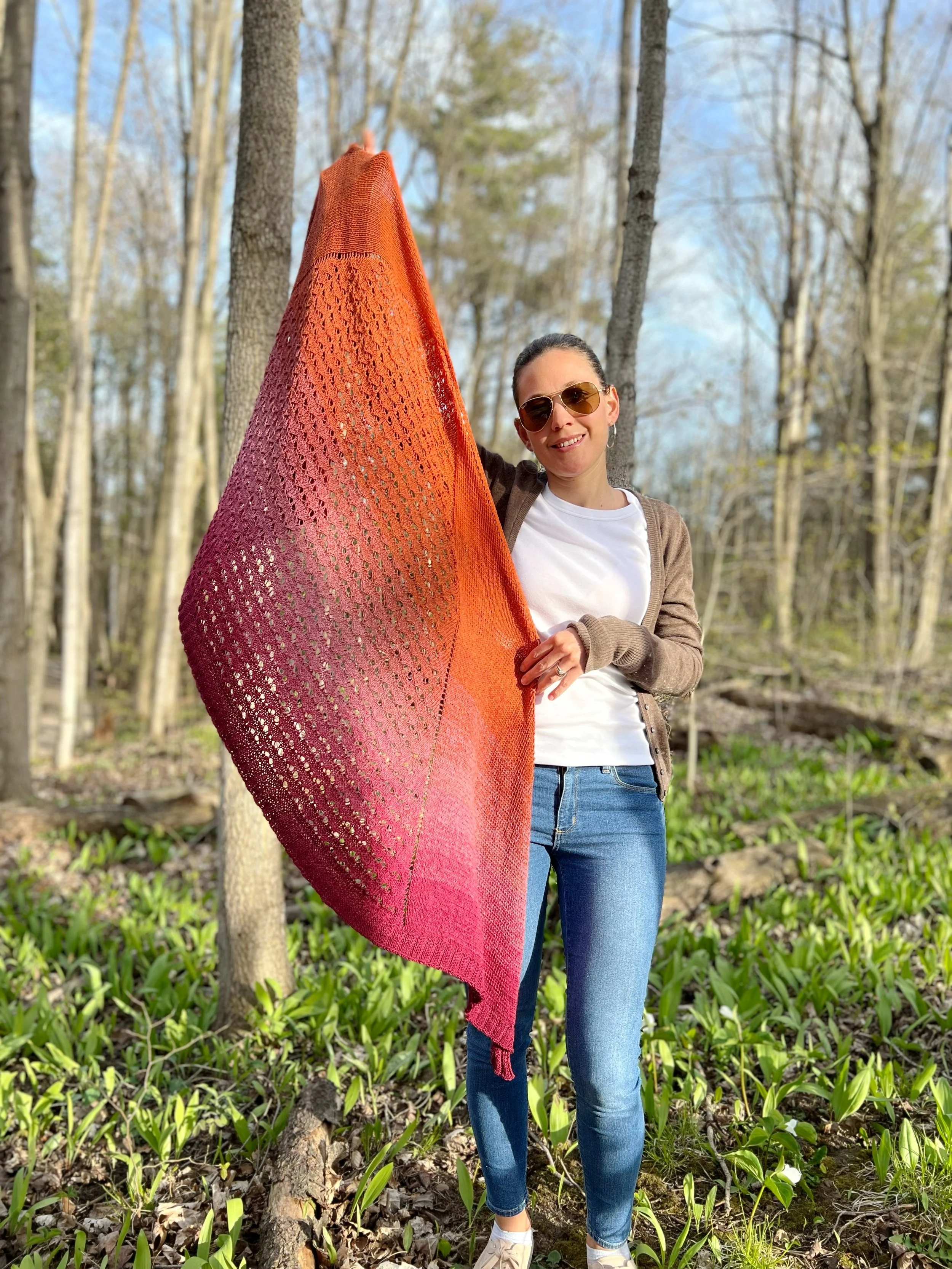 I love patterns with a story behind their names. Amistad is the Spanish word for "friendship." The colors in this gorgeous shawl speaks to a beautiful and intimate melding representative of deep camaraderie. Orange is often associated with warmth and joy, and the color pink is linked with love and kindness. These colors laced together on Kam's shawl paint a beautiful picture of time well spent among loved ones.
This beginner level design would be an excellent gift for a friend, perhaps even using colors or yarn that particularly speak to your relationship. Because this shawl is perfect for transitional weather, it can be layered on top of shirts or even jackets as an added layer of warmth, then easily slipped off if the day's weather calls for it.
Twisted Beret – Julie Robinson @julieatwork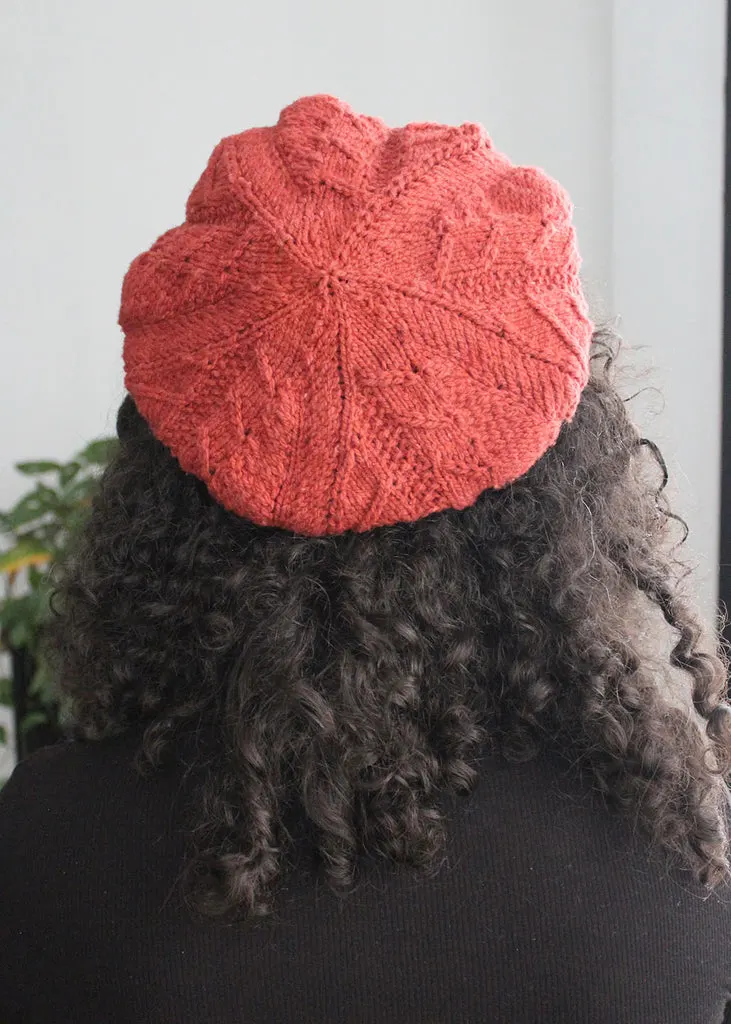 This beret is eye-catching from all angles! Julie's intriguing design would make for a spirited accent to any wardrobe and look amazing in any color. While beautifully textured, this beginner-friendly pattern is less complex than it looks. It utilizes a smart pattern of right and left twist stitches to create a mock cable knit pattern.
I love berets for transitional weather because you can take your hat off when it warms up and your hair isn't squished flat. As a result, this is one design I could see myself knitting several of to match the day's mood.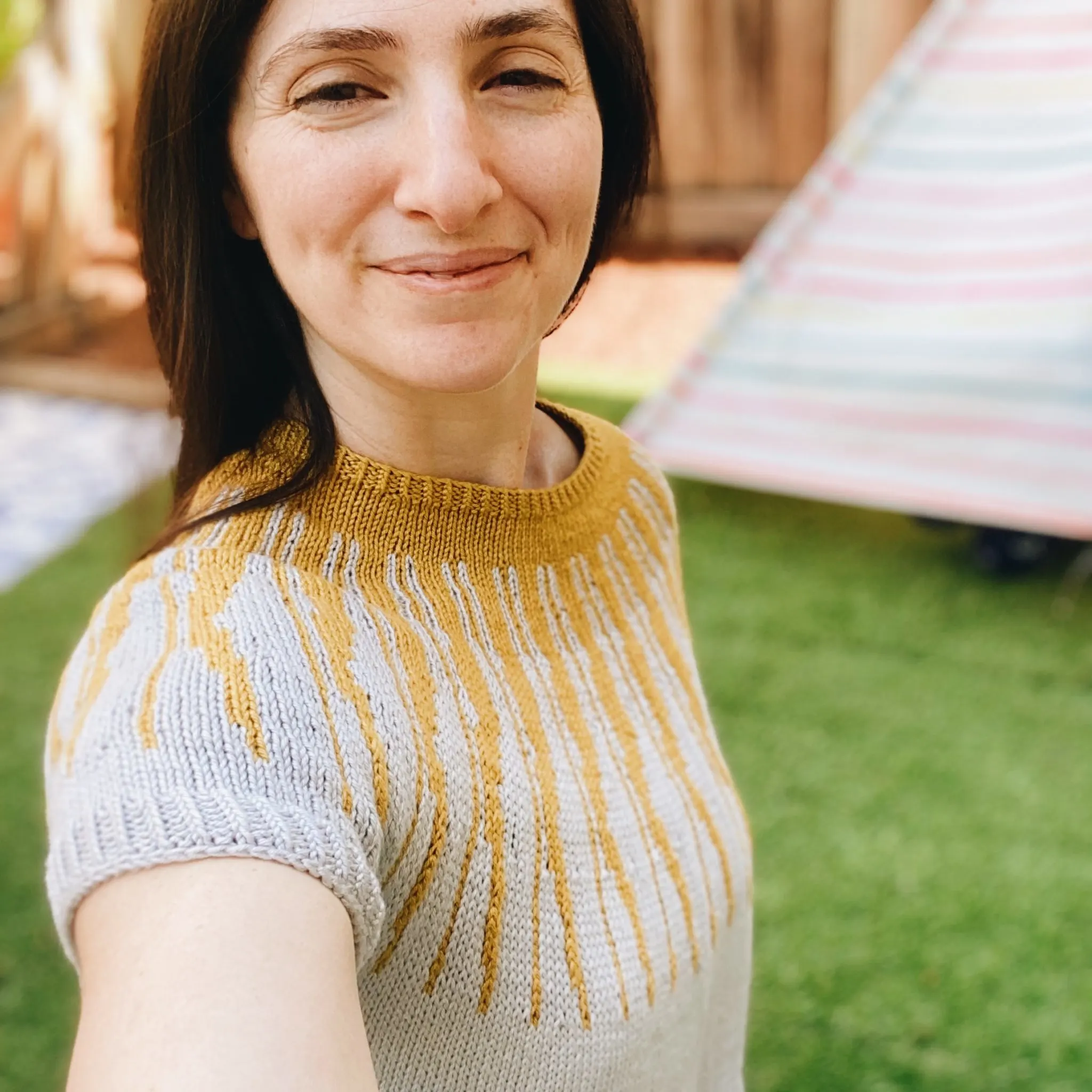 If you're someone who loves the peacefulness and possibilities ushered in by mornings, the Aurora Tee pattern is for you. Aurora is the goddess of the sunrise, and when you're wearing this tee, knitted rays of sunshine extend downward as if they're an extension of the sunshine that your smile exudes.
This pattern has both long and short sleeve options, both of which end in a twisted rib pattern. This option makes it a great transitional weather piece. For example, you can use this tee as a top layer or as a short sleeve, warmer tee option for spring and summer months. As you take the time to create your unique piece, let the simple shifts in colors engage you and act as a reminder of life's quiet and simple gifts.
Farmers Market Mittens – Victoria Burgess @victoriouswool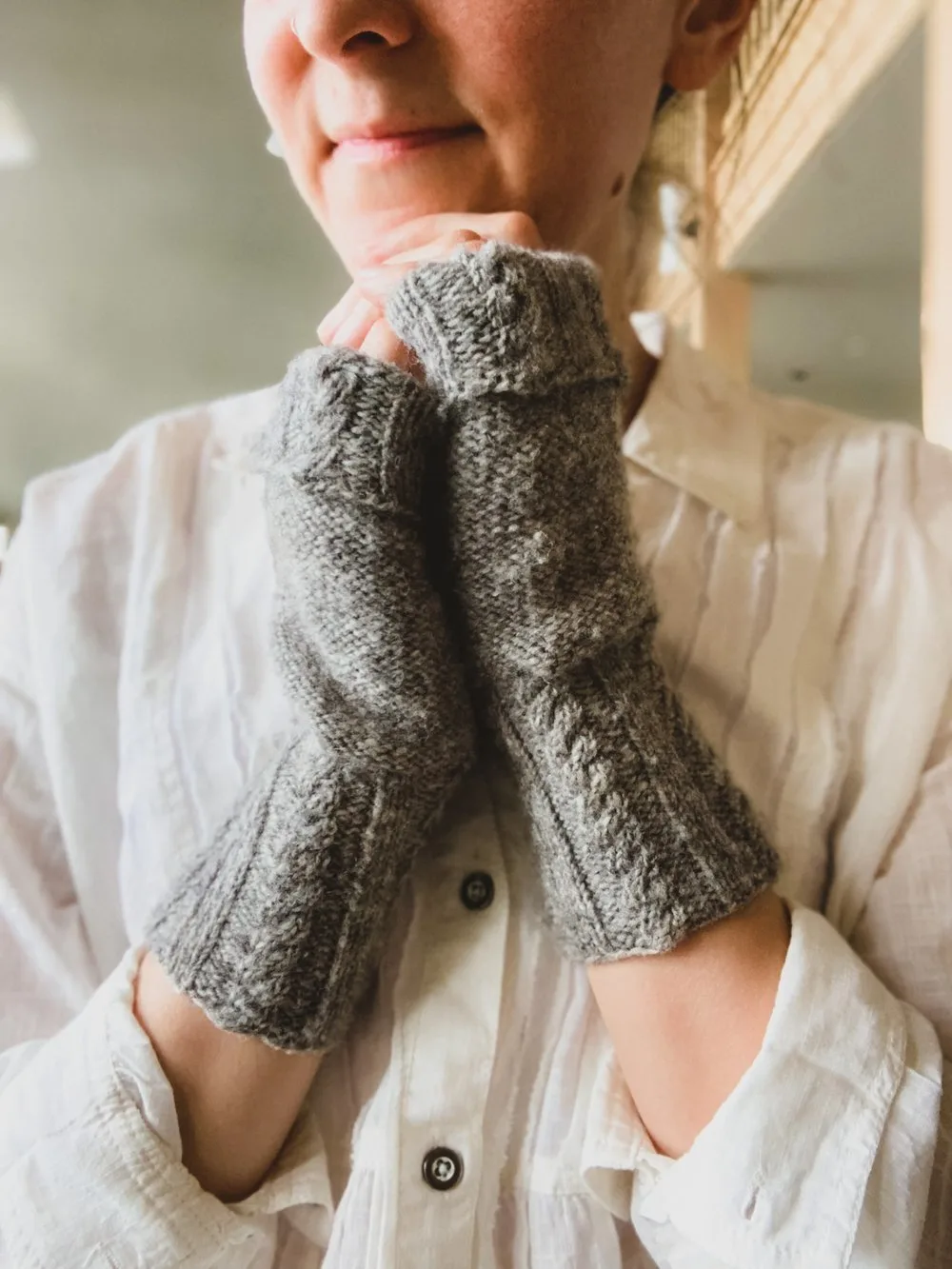 As the weather turns cooler, the in-between period offers a great opportunity to enjoy the outdoors before the deep cold of winter fully sets in. The Farmers Market Mittens are the perfect accessory for everything from long, brisk walks to apple picking outings and everything in between. These mittens begin with a cable-ribbed cuff and are worked from the wrist toward the fingertips.
This pattern is perfect for knitters with intermediate skill level and those familiar with German short rows and cabling. These mittens are warm and efficient as well as compact so you can tuck them into your bag for any unpredictable day.
The Catalina Eddy Blanket – Lauren Rad @abeeinthebonnet
Sometimes, when the weather changes suddenly, the best option is just to grab a warm blanket. The Catalina Eddy Blanket is a soothing, simple knit with a relaxing stitch pattern that is perfect for blustery evenings or gloomy mornings. It uses worsted-weight yarn held double, which also makes it a great stash buster project.
I always keep a blanket or two in the back of the car just in case a stiff breeze picks up off the ocean. The Catalina Eddy Blanket is one of our favorites and has gotten lots of use, even during the summer! Because it's graded to five sizes from baby to king, you'll be sure to find the size that's just right for your needs.