When I first started making and wearing shawls, I played around a lot with how to get them to stay put. I tried draping them and tying them and all sorts of other strategies. After almost fifteen years of experimenting, here are my favorite techniques for keeping handknit shawls from slipping.
Use the Shawl's Own Weight
My favorite strategy for keeping a shawl in place is to just knit it big enough that the shawl's own weight holds it.
This requires a little bit of understanding of drape. If you knit the shawl too stiffly, the shawl won't be able to wrap fluidly around your shoulders, and then it will fall off. The stitches need to be loose enough to allow the fabric to flow.
To make sure your shawl has enough drape, experiment with needle size. A larger needle size will increase the drape, while a smaller needle size will make the fabric more stiff.
Some materials also have more drape than others. For example, if you mix wool with a bit of silk or bamboo, it will drape more than just the pure animal fiber on its own. That's because of the properties of those other fibers that have been mixed in.
Using the shawl's own weight also requires knitting a shawl that is big enough to drape effectively. I have broad shoulders, and I often find that many shawl designs are just a bit too small for my shoulders. I tend to either size up the needle or add a couple repeats before I bind off.
Curious about the shawl in these photos? This is my birthday shawl, which will be available on January 12. It'll be available for newsletter subscribers at no additional cost. You can sign up for that here.
Pin the Shawl with a Vintage Brooch
Another favorite technique I use is to pin my shawl with a vintage brooch.
I love vintage brooches, and I haven't always had lots of ways to put them to good use. They can be excellent for securing souls, as you see here in this picture.
This is a particularly effective strategy for shawls that are really lightweight or knit at a very fine gauge. One of the most common complaints I see from shawl pins, which we'll discuss below, is that the stick for the shawl pin is too thick and the entire thing is overall too heavy, so it drags and pulls on the shawl or leaves holes that need to be massaged out.
With a vintage brooch, you have generally a lighter weight item. Some of them can be quite heavy if it is, for example, a cameo or a large stone, so be sure to check the weight before you go for it.
With vintage brooches, you also have a finer pin. These are meant to go through finely woven fabrics, not just knits, so they will be much sharper and narrower than a shawl pin.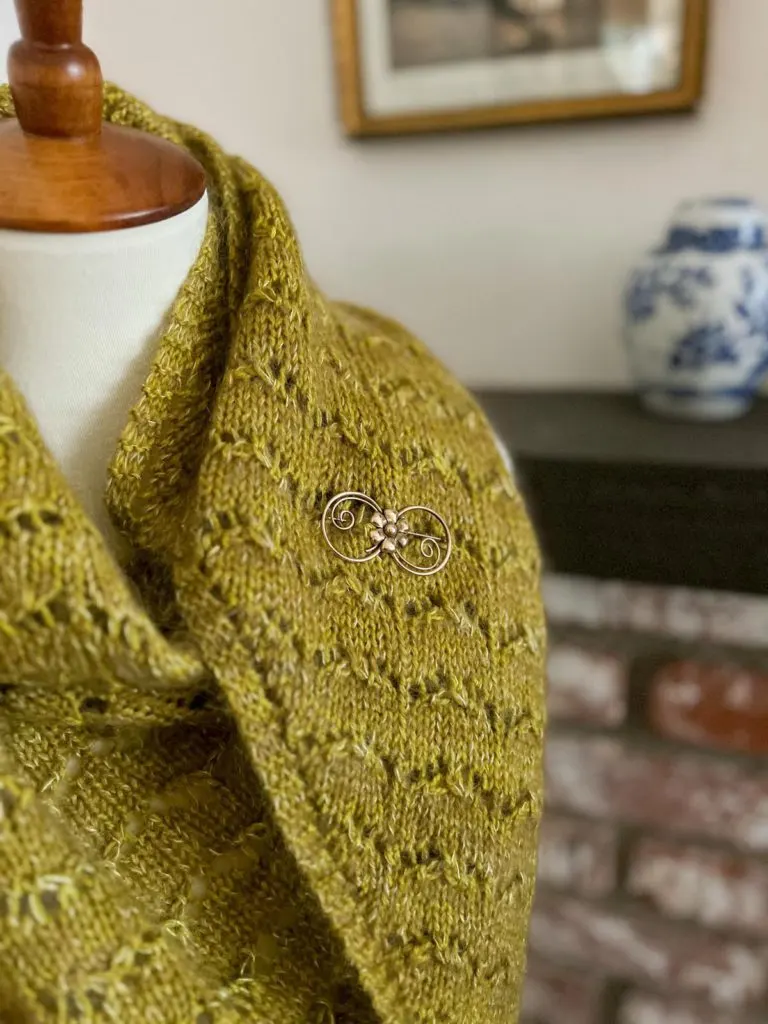 Of course, the risk with a vintage brooch is that you will snag your knit on it. Pay attention to the closure for the pin and whether there are any sharp points either on the front or the back that could catch your knitting.
The last thing you want to do is spend hours and hours on a handknit shawl only to find that you have snagged it on a brooch used to hold it in place.
Secure the Shawl with a Shawl Pin
Shawl pins are really popular among some knitters, and they come in all sorts of shapes and sizes and styles. Some shawl pins are really rustic and made with wood or horn. Others are elaborate, delicate, silver filigree with semi precious or even precious stones.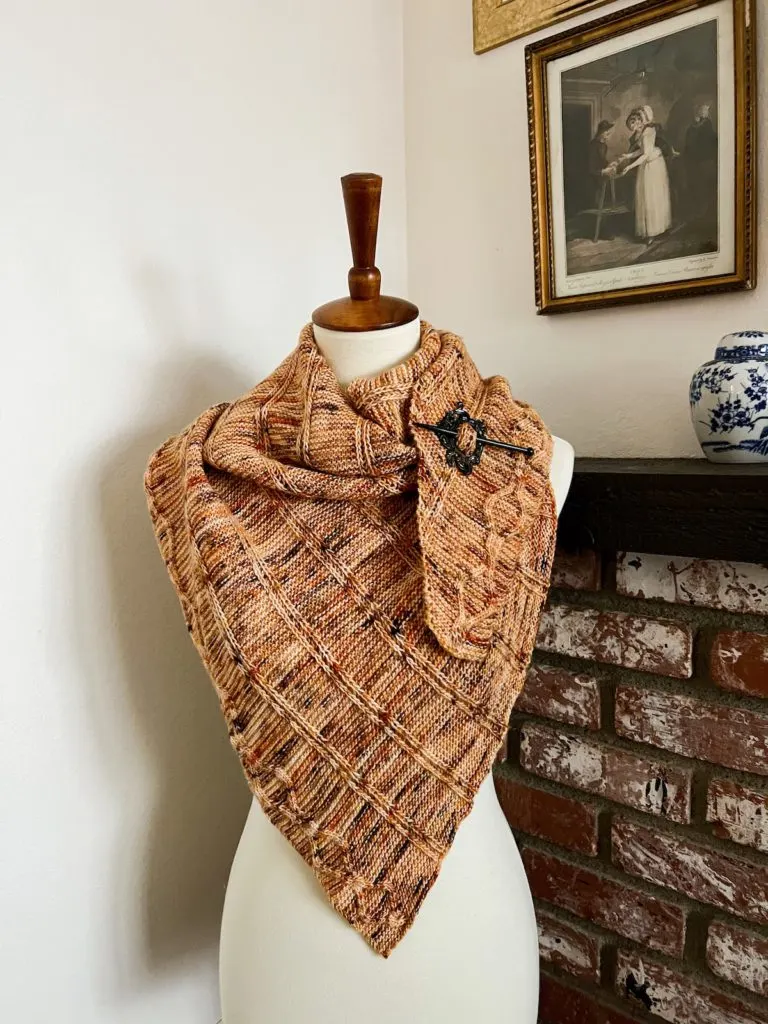 Mine is kind of in between. It's a brass, art nouveau-style depiction of calla lilies with a wooden pin. I bought it from this Etsy shop. (That's an affiliate link, which means if you choose to buy something through it, I'll receive a small commission at no extra cost to you. I will always identify affiliate links for you. Thanks for supporting my work!)
Shawl pins are great for heavier shawls or thicker shawls. As I mentioned above, shawl pins can sometimes be too substantial for really delicate shawls. When, in doubt, test your shawl pin at the corner of your shawl to see whether the stick part goes through the fabric easily and whether the whole apparatus is too heavy for your shawl.
Curious about the shawl in this section? That's my Auklet Shawl. You'll love it if you like simple cables and pattern repeats that dovetail with each other in really pleasant, symmetrical ways.
Tie the Shawl in Place
Finally, you always have the option of tying your shawl in place. This is an especially common strategy for rectangular wraps, but it also works for triangular shawls or other shapes.
Simply take the longest part of your shawl, wrap it around your shoulder, and tie the pieces together in front. There are different ways to tie the shawl, just as there are different ways to tie a necktie, and you can find lots of fun tutorials online.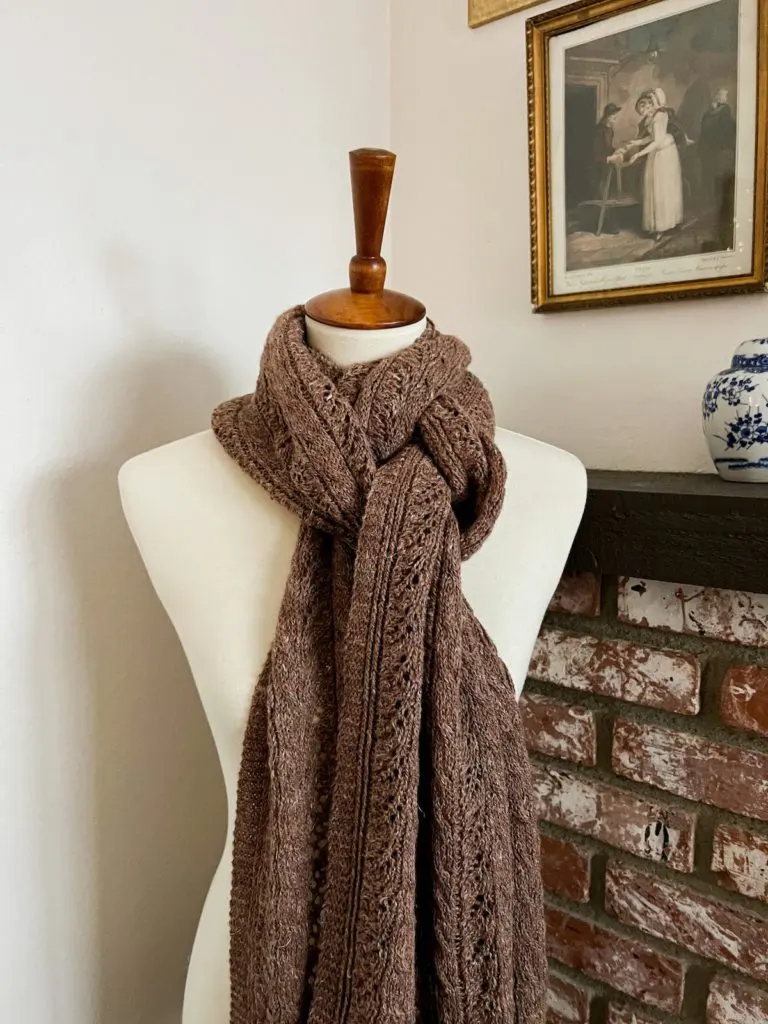 I love some of the ideas for tying silk scarves and adapting them for the bulk of a shawl.
Curious about the shawl in this section? That's my Overbrimming Wrap. It's great if you want a slightly more complex lace that's still easy to memorize after just a few repeats.
---
Between these four strategies. I'm able to get quite a lot of use out of my handknit shawls, especially during the winter time. During the summer, though, I always keep a shawl in my bag, too. The breeze picks up pretty quickly here, and I burn in the sun pretty easily. Having a shawl to cover my shoulders comes in handy.
Do you have a favorite technique for wearing shawls that I haven't covered here? I'd love to hear about it! Drop me a note in the comments.