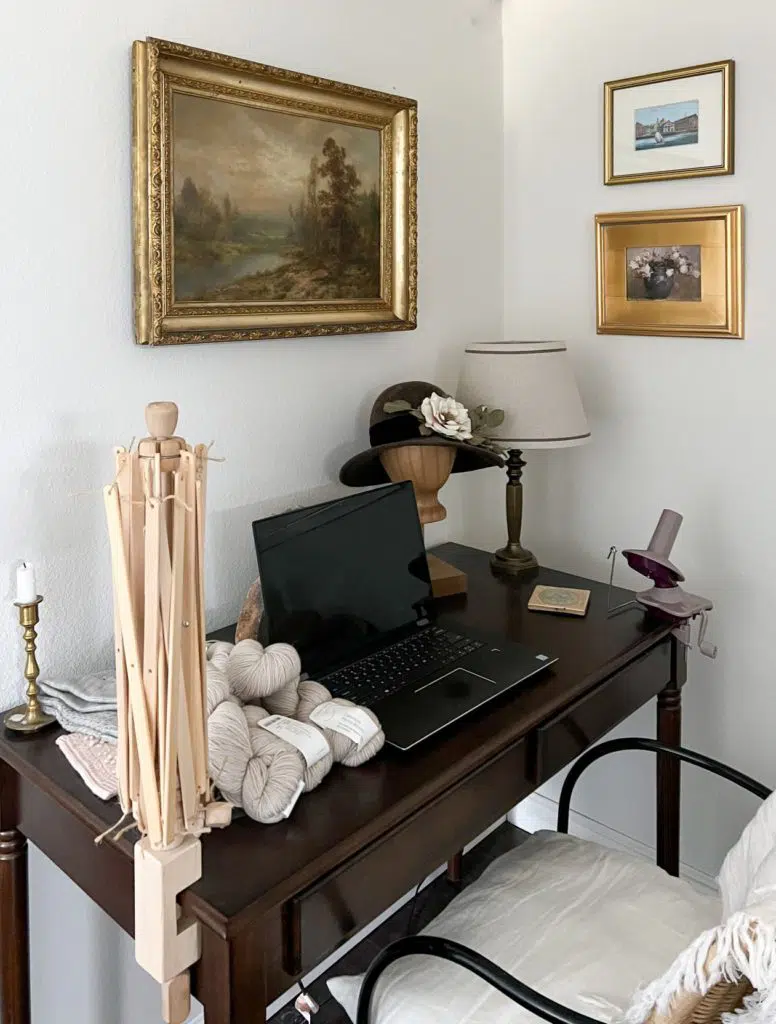 If you've been following me for a while, you know that I am a fan of home decor. I love puzzling over different historical design periods, hunting for bargains on Craigslist and Facebook Marketplace, and working with what I have to create the aesthetic I want.
Some people might call my aesthetic grandmillennial style, but I don't think that quite hits the mark. If I'm honest, I want my home to look like a townhouse belonging to the genteelly cash-strapped third son of a minor nobleman ca. 1830. You might call it great-great-great-grandmillennial style.
But like just about everybody else in this world, I have a budget, and that budget does not extend to buying original Hepplewhite cabinetry and Old Master paintings to hang in the bathroom.
So when it came time to decorate the walls in my design studio (let's be real here, it's just an alcove in my bedroom), I had to get creative. I've come up with some clever workarounds, and I thought I would share my very favorite tips for inexpensive home art here.
Step One: Visit the Smithsonian.
And when I say that, I don't mean the physical museum. I mean their website, where they have digitized images of almost their entire art collection and have made most of those images available for any use with a CC0 license. That means you can download the images in high resolution and turn them into artwork for your home. The database is searchable by keyword, by medium, by time period, by theme, by artist, by place of origin, and so much more.
Nothing screams grandmillennial wall art quite like a sweeping landscape or an elegantly detailed still life. Heck, even a nice portrait will do, though it helps to research the person in the portrait and make sure you're not hanging a picture of someone who was objectively terrible.
So spend a little time sifting through the database, find a few pieces you like, make sure each has a CC0 license notation on it, and download. You're on your way to beautiful walls.
Step Two: Get Your Art Printed Cheaply.
I have two favorite resources for getting prints made in an inexpensive way.
First is CVS photo. If you're patient, their canvas prints frequently go on sale for 50% off, which means you can get a reasonable size canvas print within an hour for about $20. If you don't mind updates in your inbox, you can sign up for their email alerts, or you can just check the website periodically like I do.
The other option for printing grandmillennial wall art is Shutterfly. They have a lot of in-app specials, including frequent deals on free poster-sized prints and small canvases so you only have to pay shipping costs. I'm sure the shipping costs are slightly inflated, but it's still a pretty sweet deal. Last time, I got a poster-sized print, a 14×20 print, and two 8x10s for about $20 total.
Step Three: Get Some Frames.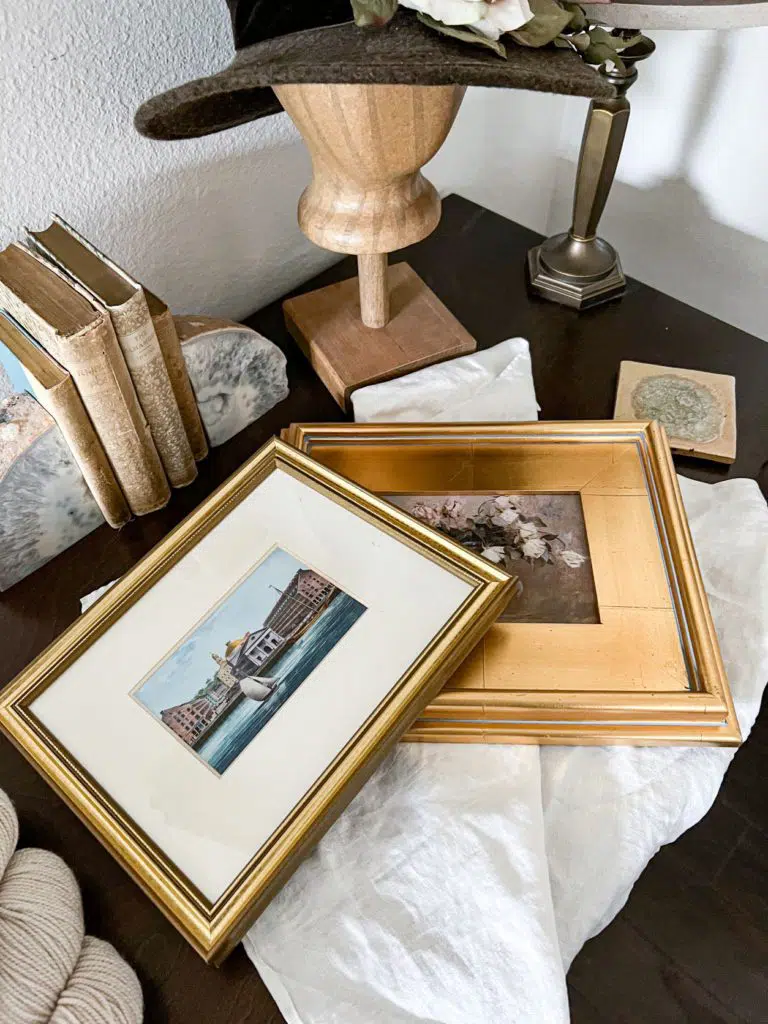 First, for framing your canvases, check out Dick Blick. They have both modern and traditional frames for lots of different canvas sizes. It's a way to add some polish to your canvas prints if you don't want to just hang the raw canvas on the wall. They can also help give your canvas prints a more old-fashioned air, if that's the aesthetic you're going for (and we all know I definitely am).
Second, for elegant picture frames for your prints, check out Craig Frames on Etsy. Again, they've got both modern and traditional styles in lots of different sizes, from small 4″ x 6″ all the way up to sizes large enough for poster prints. You can also buy mats from them to really give your print a professional look.
Here are links for the two exact frames I've shown in this post:
Dick Blick Simplon Plein Air Frame (This is an affiliate link, which means if you choose to buy something through this links, I'll receive a small commission at no extra cost to you. I will always identify affiliate links for you. Thanks for supporting my work!)
Stratton Aged Gold Picture Frame
The Price Breakdown
So let's do a cost comparison. I like doing the numbers on these things because it helps me gauge whether I'm actually saving money or just feeling better about myself.
For a large, mid-19th century landscape painting in decent condition, you're generally looking at a minimum of $850, and most will be well north of $1,000. That's a very reasonable price considering age and quality and condition, but that's out of budget for many.
But let's do the breakdown on a print using this process. If you print a large poster from Shutterfly using one of their freebie deals, you'll pay about $10 in shipping. Then you'll pay about $50 for the frame if you want one of those, and you can throw in an optional $20-$30 for the mat. That puts you at about 10% of the price you'd pay for an original.
That's not half bad, though still something many will want to plan and budget for.
Bottom line is, you can create the aesthetic you want for your home for much less than you might have initially thought. It may not be exactly the same as the originals, but it'll be close enough that you'll have the atmosphere and style you were hoping to create. Grandmillennial wall art doesn't have to break the bank.
I can't wait to see what art you hang on your walls.
P.S. – That landscape on the left in the first photo is an original, but I somehow managed to score it for an absolute song on Etsy. The listing said, "Signed: A E Hodges but although very talented not a major contributor to the genre." Somehow, that makes me love it even more.