Earlier this summer, I met Dawn of Twice Sheared Sheep at H+H Americas. We had some wonderfully meaty chats about our work, getting to know our communities, and making friends in the fiber industry. When Dawn suggested she send me some of her knitting tools to try out, I gladly accepted her offer. Then I hovered over my mailbox to see what surprises she'd send (I love surprises!).
It's been nearly two months since that care package arrived. After giving everything a thorough road test, I thought I'd review and share links to some of my favorites here.
Each of us has specific needs that we consider when assembling a knitting kit. It's a good idea to keep those in mind when thinking about whether these notes are helpful to you. There are very few things that are truly essential knitting tools, but when you're trying to find the best knitting tools for yourself, it sometimes helps to have recommendations from a friend.
This post contains affiliate links. That means if you choose to buy something through those links, I'll receive a small commission at no extra cost to you. I will always identify affiliate links for you, and I will never recommend something to you that I haven't tried. T​hanks for supporting my work!
​Copper Swan Embroidery Scissors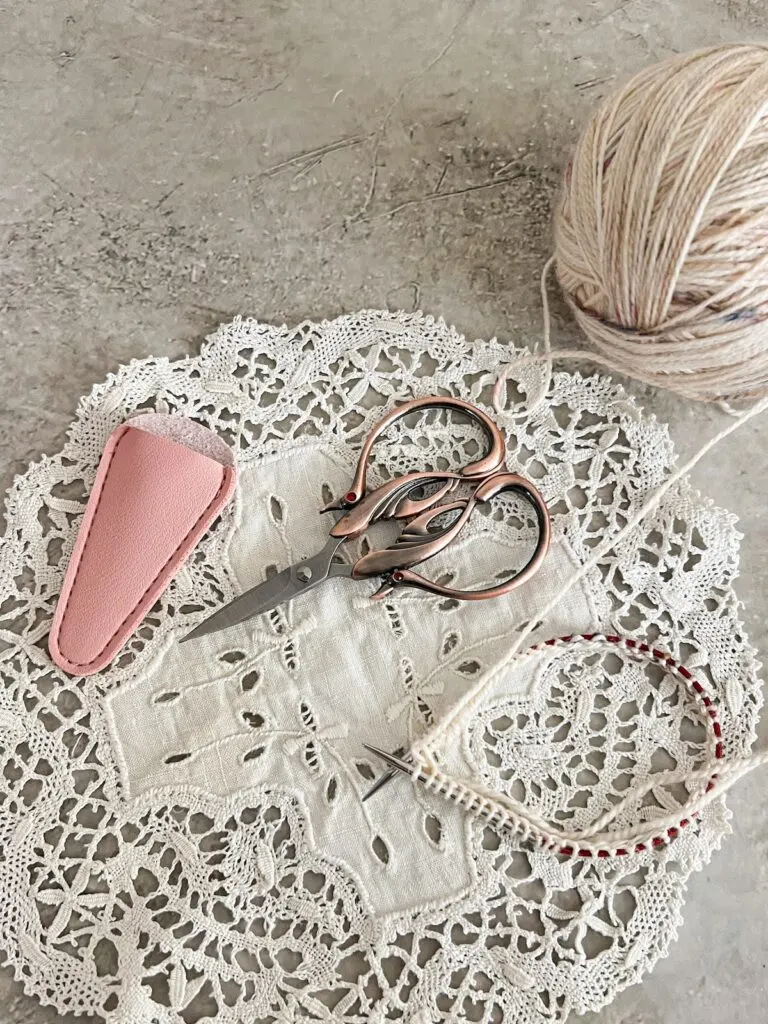 I'm always on the lookout for a good pair of scissors to keep in my project bag. My criteria are simple: they need to be sharp, feel good in my hand, and have very pointy tips. The Copper Swan Embroidery Scissors (affiliate link) fit the bill perfectly. Scissors are a handy tool for every phase of your knitting adventure, but they're especially useful when you get to the end of your project and start weaving in the ends. Then, it helps to have very sharp scissors for snipping off all the dangly threads.
Bonus: I love the pretty jewel eyes on the swans. I'm also a fan of the soft pink case to keep the scissor tips from poking holes in my knitting projects. Why use ordinary, utilitarian tools when I can use fancy ones instead, right? Especially if the fancy ones do the job just as well.
​Enamel Bunny Crochet Clip Marker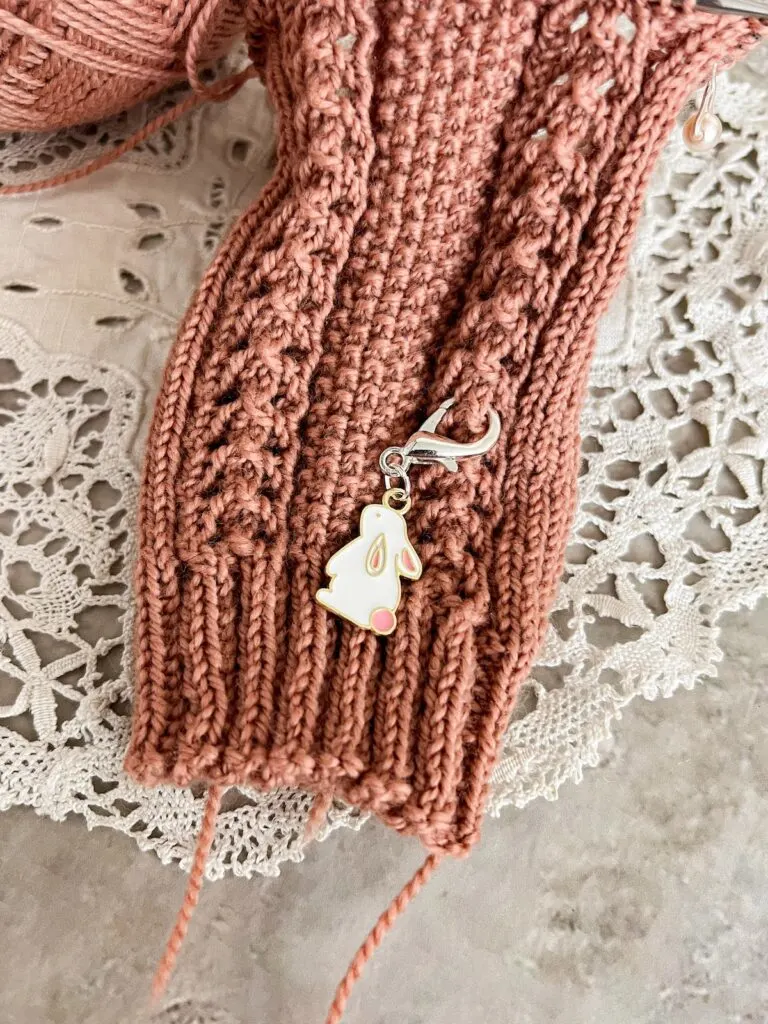 This darling bunny stitch marker (affiliate link) was technically designed for use in crochet projects. I think it's also the perfect progress keeper for sock projects or anything else where you need to track how many repeats you've done. As you can see in the photo, I can just clip this marker around a spot in my work where I can easily identify the beginning of a new repeat. Then it's a great way to see whether I've worked 21 or 23 repeats.
The bunny marker is pretty popular, so if it's sold out when you read this, check out the other clip style stitch markers (affiliate link). There are all sorts of colorful enamel markers, plain metal markers, and more. It's taking a lot of self control to keep myself​ from starting a collection here.
Cable Locks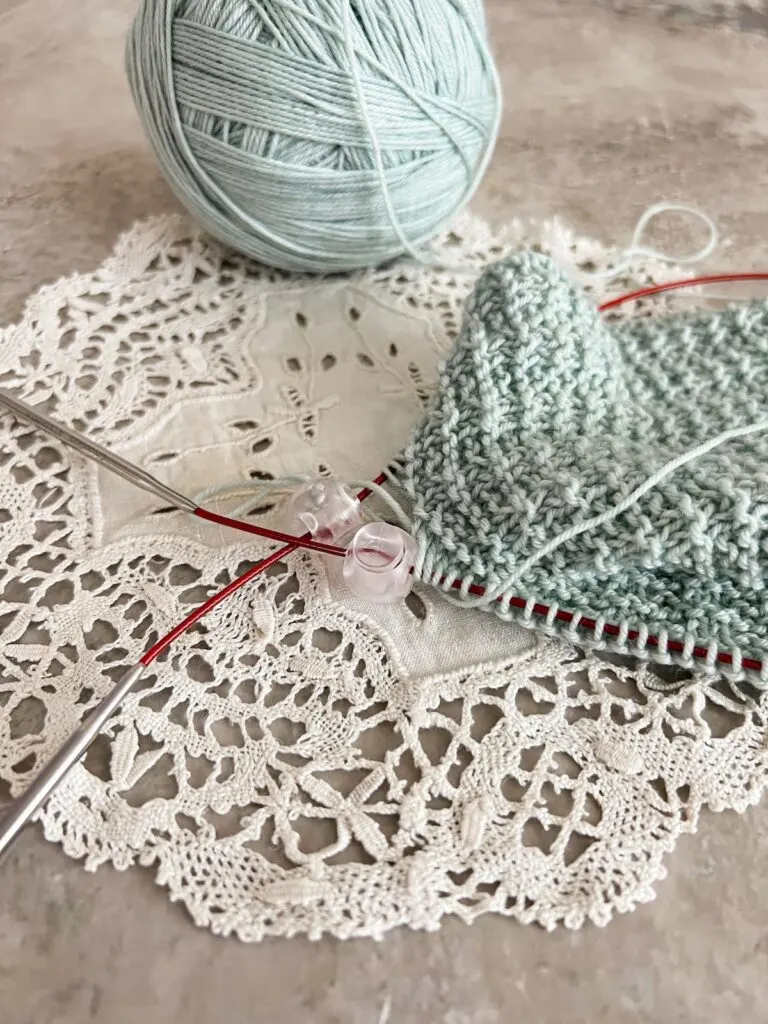 I had never used cable locks (affiliate link) before Dawn sent them to me. To be perfectly honest, I'd never even heard of them. When the package arrived, I stared at them in confusion for a minute, carefully read the instructions, and felt a lightbulb go off above my head. They're brilliant. They're so useful. I'm a convert now.
Cable locks are like the plastic beads with a spring-loaded button that keeps your drawstring bags from coming loose. Instead of serving that function, though, they slide onto your circular knitting needles and grip the cable between them. That keeps your work from sliding off your circular needles while you're not actively stitching.
Because let's be very honest: dropped stitches are the worst.
They're also great to keep stitches in place while you swap out needle sizes or cable lengths when using interchangeable needles. That way, your cables can serve as stitch holders, too.
​Pearly Sheep Stitch Markers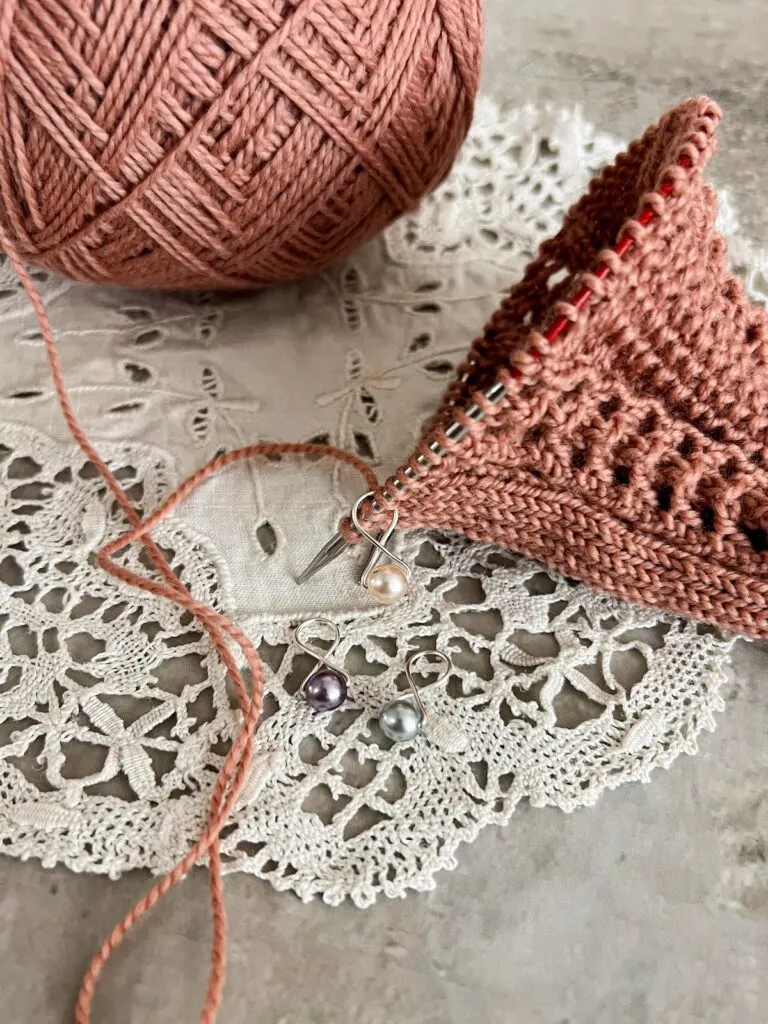 Stitch markers are some of my favorite knitting supplies. I love how they feel like dainty jewelry for my projects, and I like collecting them in different colors to use with different yarns.
When I need a stitch marker to keep track of where I am in a round, I prefer a traditional closed-loop marker. These stitch markers decorated with pastel glass pearls (affiliate link) were the perfect match for my high-femme aesthetic. I think these markers are particularly well suited to knitting socks​ because they're lightweight and not too large.
My markers are in the infinity loop style, but you can also get them in a removable melody ring style. They're also available in a range of sizes. Depending on your needle gauge, you may want to try different sizes until you see which you like best.
Chain Row Counter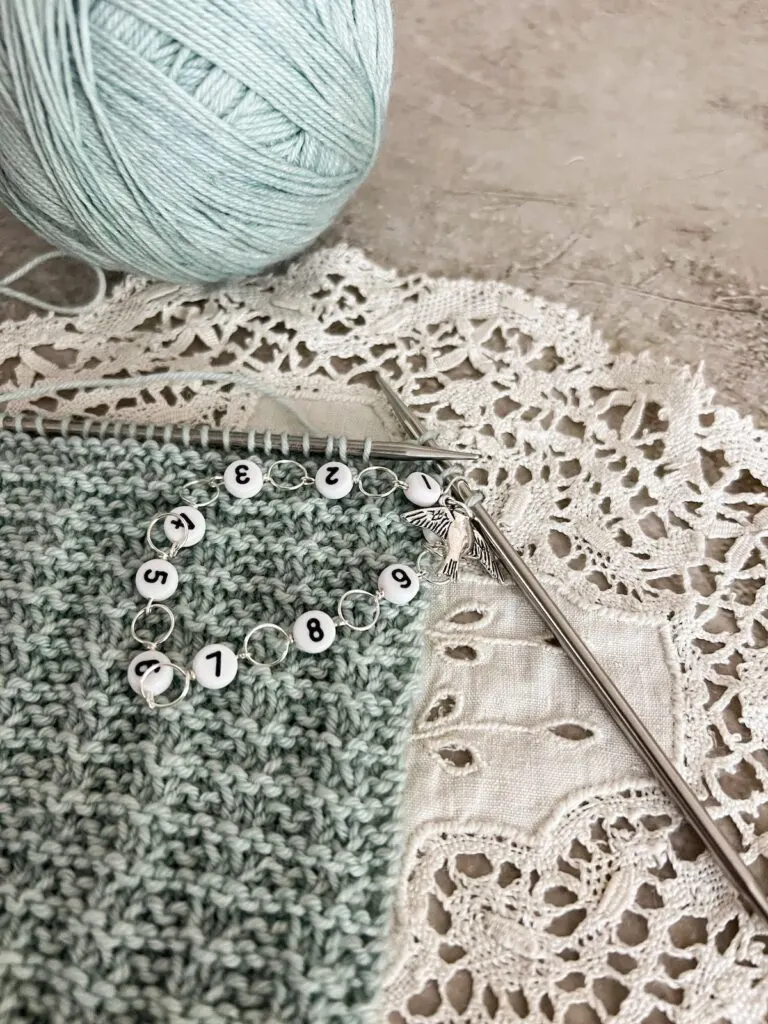 I've been knitting since 2007, and somehow, had never used a chain row counter (affiliate link) until this summer. Wild, right? I've been doing this the old-fashioned way. It's either counting my rows by hand or tracking chicken scratches on a piece of paper or keeping a log in my phone. This is so much simpler.
I've been using this chain row counter on a shawl I've been working on. The stitch pattern is relatively simple, but I do need to keep track of which row I'm working. Using this tool has saved me some real headaches.
And sure, the phone apps can serve this purpose well, too. But what happens if you're trying to cut down on screen time or (gulp) your phone battery has died? I love an analog solution that's both elegant and ornamental.
​Although these row counters look like they only go up to 10 rows, they're actually great for larger projects with longer repeats, too. Each row counter has a removable melody ring. That ring can be clipped onto different parts of the chain to account for longer repeats. There's a helpful tutorial on the product page.
Finally, this type of row counter is really helpful for those knitting patterns that give an instruction like, "Decrease one stitch at the beginning of every fourth row." No need to worry about how you'll count those rows. This will help keep you on track.
Flower Alpaca Notions Tin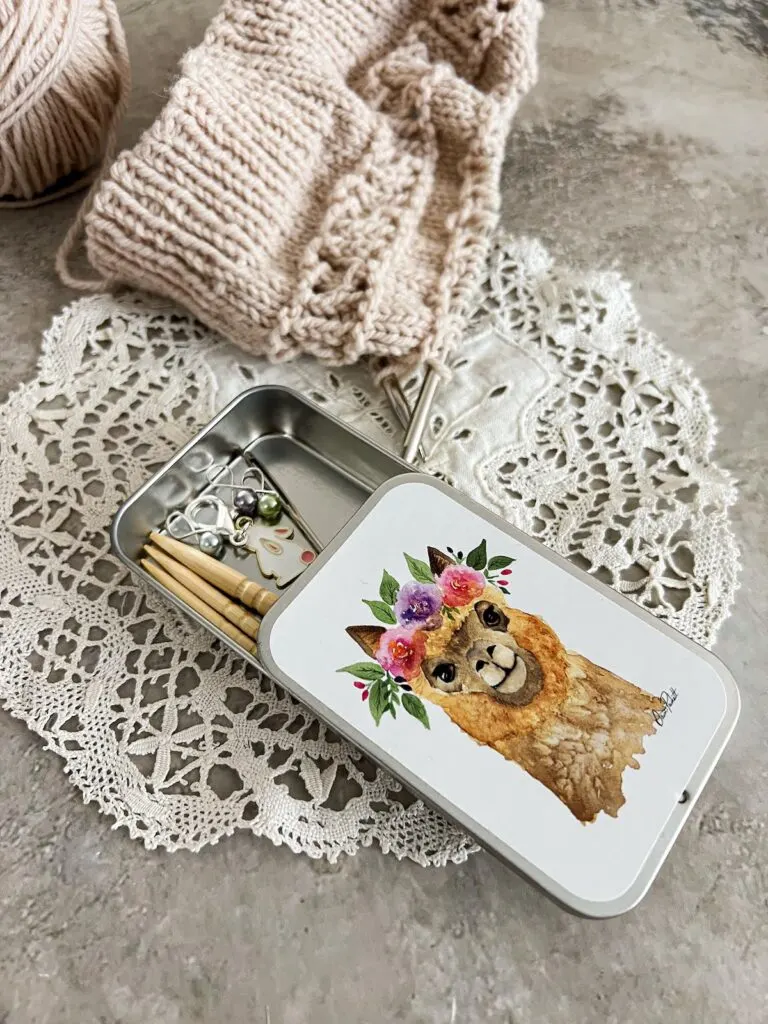 This will probably not come as a surprise to you, but I adore alpacas. I think they are deliciously funny creatures. You can imagine my delight, then, when I opened my package from Dawn and found a notions tin with the cutest alpaca in a floral crown on it (affiliate link). Bonus: Dawn drew the alpaca herself.
Notions tins are super handy because so many of the tools we knitters need are very small little things. Stitch markers, bulb pins, a tapestry needle or two, cable needles, sewing needles, and more can disappear into a knitting bag and never come back out again. A notions tin will help keep track of everything.
A notions tin is also a great place to keep scrap yarn for mending projects once you've finished. It can be easy to loose yarn leftovers in big yarn bins. As we wear our projects, though, we sometimes need to fix little snags and holes. Keeping a notions tin with a few yards of each yarn is a great idea to help streamline that process.
Shortie Bamboo Cable Needles
These bamboo cable needles (affiliate link) are in a style that's new to me, and I really like them. In the past, I've used cable needles that either were u-shaped or had a bump in the middle of an otherwise straight needle (there are also some that come in a spiral shape, but I've never used them).
These cable needles, instead, are shaped just like double-point needles and use grooves in the middle of the needle to hold stitches in place. I like that because you can put one stitch in each groove and easily see whether you have the right number of stitches on the needle.
This is a great mini tool for the newer knitter making their first project with cables or for the more experienced knitter doing very intricate cable work.
---
If you're working on assembling your knitting tool kit, especially for beginner knitters, then I hope these reviews and recommendations are helpful for you. For more ideas, you can also check out the general categories of knitting tools I carry in my project bag. While there are definitely pre-assembled knitting tool sets out there, I find it it can be nice to assemble your own with just the right tools for you.
And if you've lost, broken, or used up your favorite knitting tools, this might be your sign that it's time to get some new tools to fill those gaps in your project bag.
O​f course, if you've tried these tools, I'd love to hear your experiences, too! I'm tempted to start a charm bracelet with some more progress keepers. Too much? Maybe, but that's never stopped me before.