Well, my lofty goals for making the Sip and Stitch a monthly post have clearly fallen by the wayside, but I am committed to making it at least a semi-regular thing! So we've got that going for us.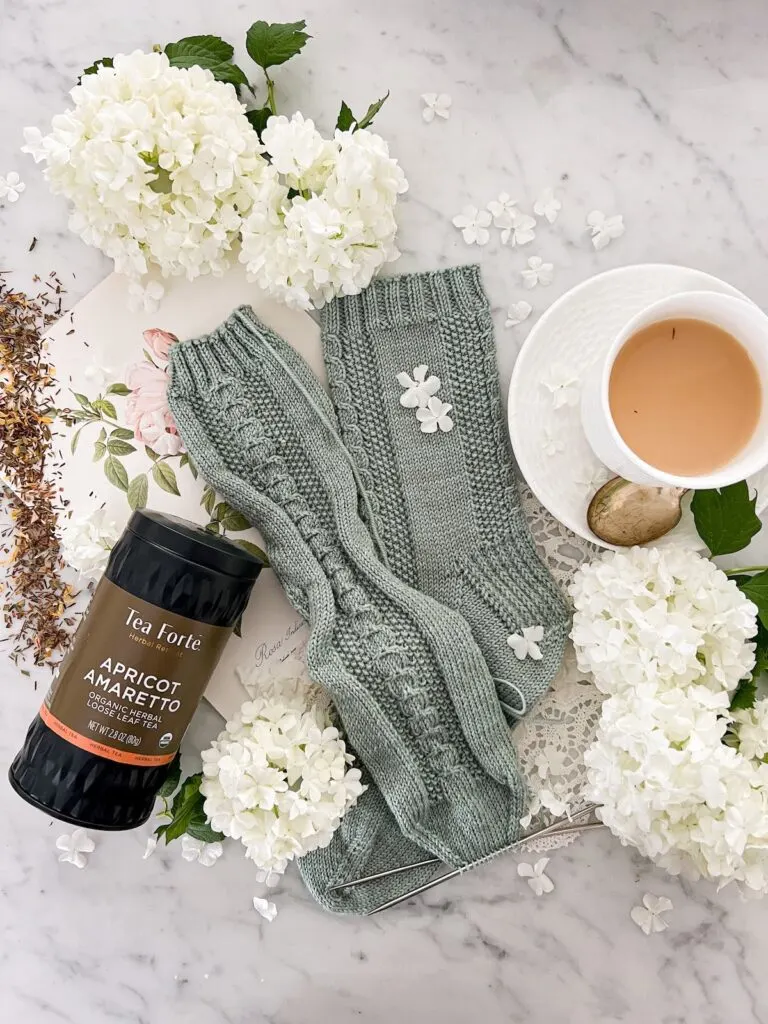 In today's post, I've got an intoxicating herbal fruit blend, a long-awaited conclusion to a popular TV series, and a pair of socks that round out a collection for me. So let's dive in!
Tea of the Month: Tea Forte Apricot Amaretto
This month, I'm drinking Tea Forte's Apricot Amaretto tea. This herbal blend includes honeybush and rooibos along with dried marigold blossoms and pieces of dried apricot. Natural almond flavor tops it off.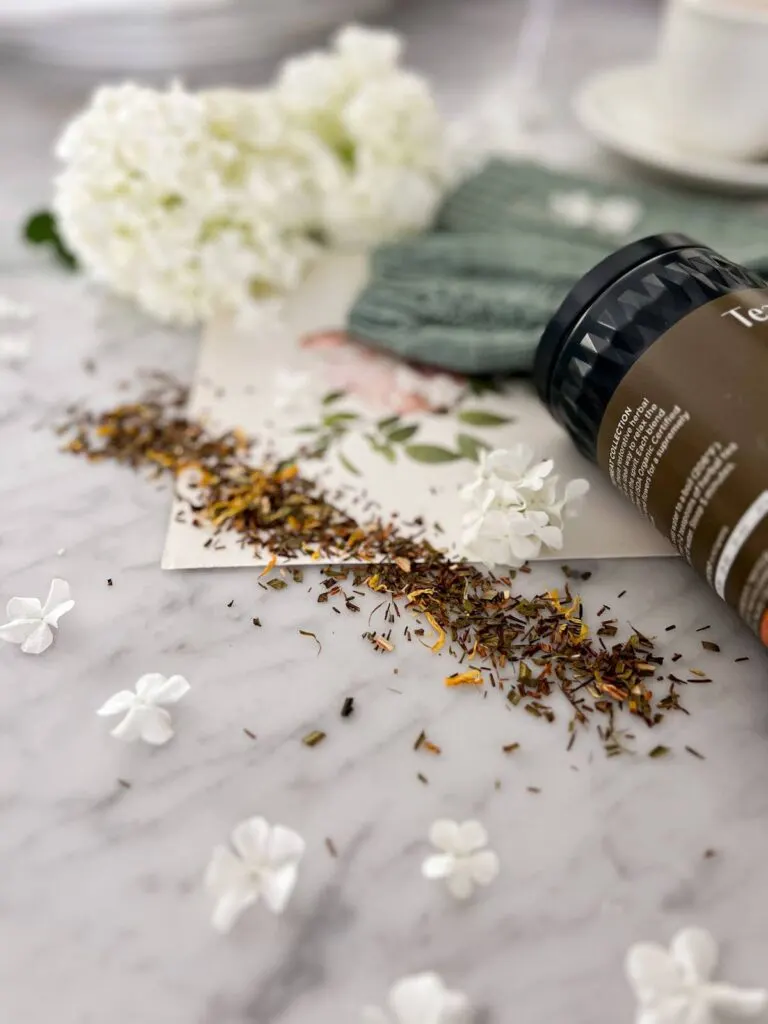 If you like mixed drinks with amaretto or almond flavored cookies, you're going to like this tea. I especially like it in the evenings when I am settling down at the end of a long day.
I like to add a little milk to it, which gives it a richer mouthfeel without altering the flavor too much. Because of the apricot and rooibos, this tea is already sweet on its own, so I don't usually add sugar to it.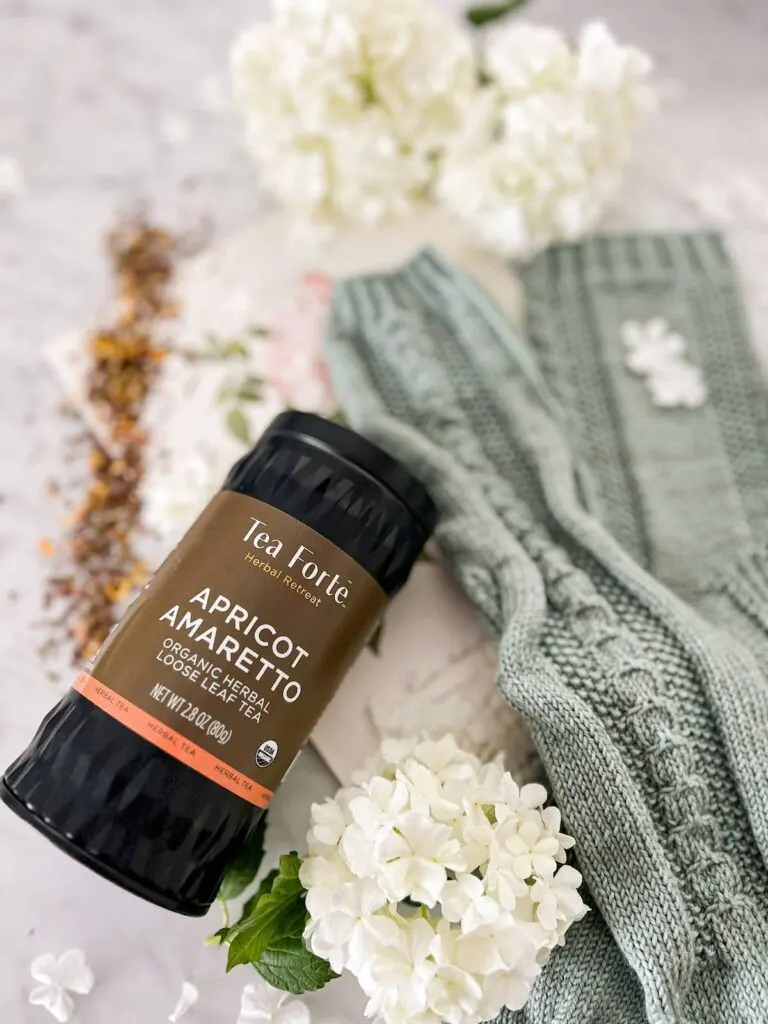 On the Knitflixing Agenda: Finishing Sanditon
HERE BE SPOILERS! Skip to the end if you haven't finished Sanditon and don't want to be spoiled.
Last month, I plowed through the final season of Sanditon in about two days. You see, I discovered that I could watch the whole thing with my PBS Passport subscription rather than wait until the entire series finished airing one episode a week.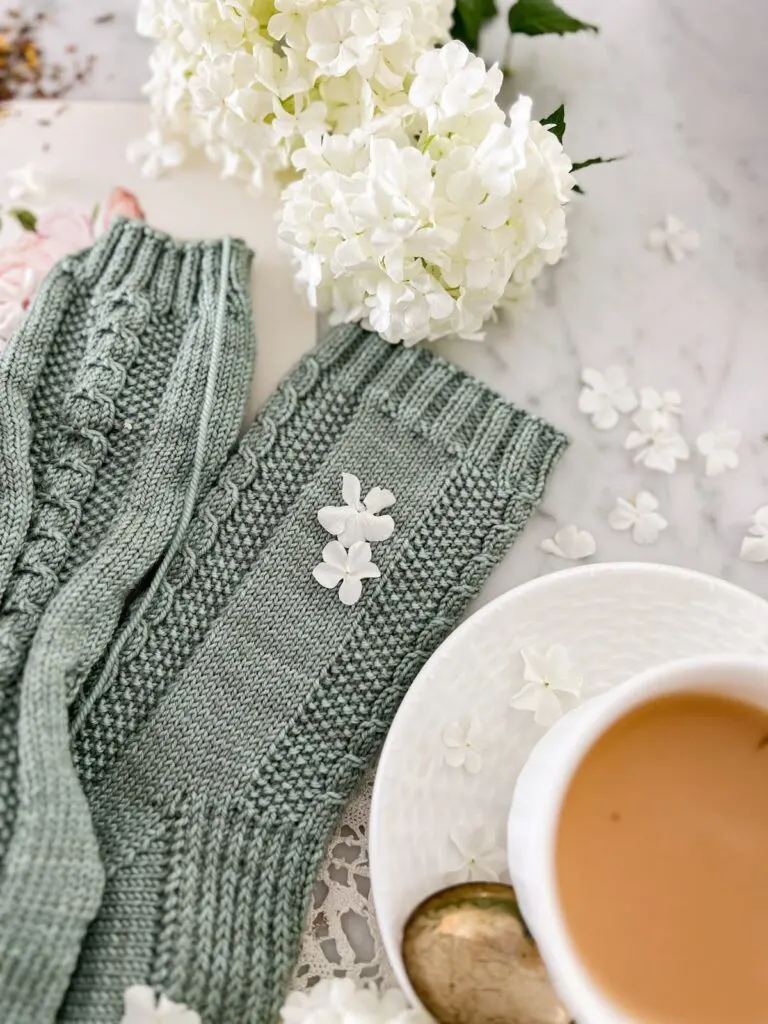 And well, I couldn't help myself. Once I started, I just kept on going.
You know what? I was overall pretty satisfied. I felt like sometimes the nods to previous Jane Austen adaptations were a bit literal, especially when Mr. Colbourne's big speech was essentially lifted from Mr. Darcy's speech, but I also appreciated that they understood the genre they were working in and honored that. When TV shows do fan service with love and not resentment, it feels pretty good.
Now, you all know I love me a good romance novel. That means I'm a real sucker for a happy ending. I can gladly report that the finale of Sanditon delivered that for everyone. Even irredeemable scoundrels, while not completely redeemed, showed an occasional flash of unexpected decency. Not too shabby.
And of course, there were plenty of fun little twists and turns, unexpected sparks of romance, and pretty scenery. The older I get, the less bothered I am by historical inaccuracies, so I didn't even mind some of the decisions involving hair and wardrobe that have historical costumers in a froth.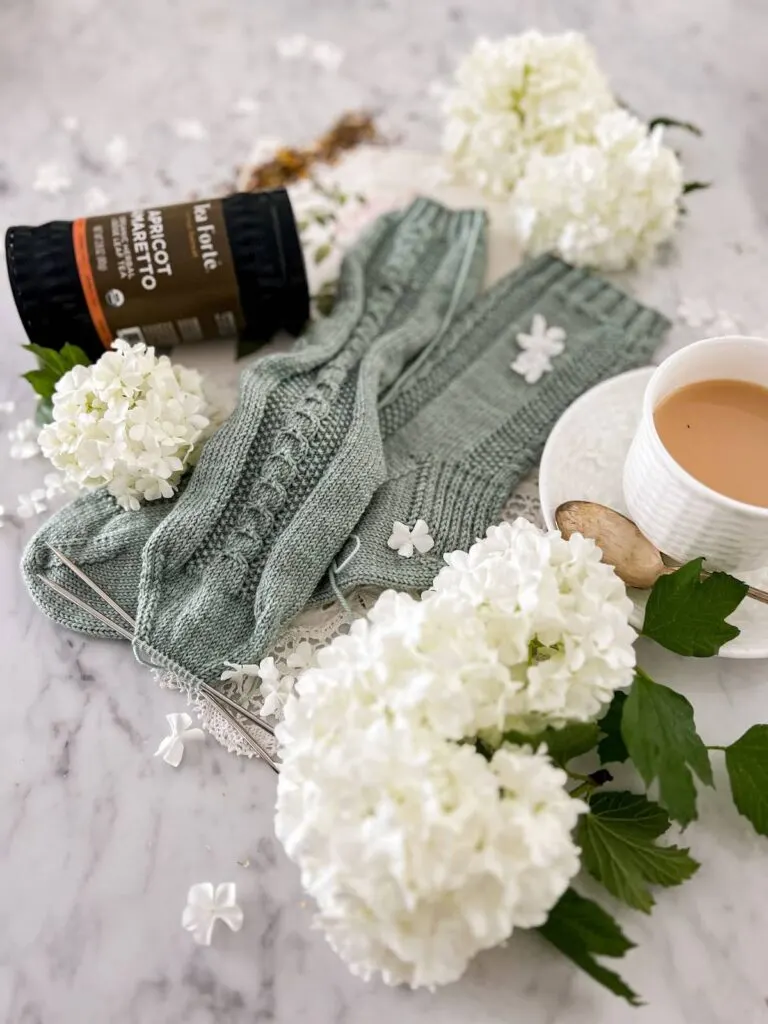 Essentially, if you've been watching from the beginning, you will probably find the ending scratches an itch you've had for years now. That feels pretty satisfying.
What I'm Stitching: The Madeleine Socks
Back in February, I went up to Portland for the Rose City Yarn Crawl. While I was there, I picked up several skeins of pretty yarn. By the time I was on the plane home, I had already cast on with one of them.
It's this beautiful Farmer's Daughter Fibers yarn that has a deliciously squishy hand feel. This base is a custom base only available at Starlight Fibers in Portland, but you can order it from their website.
The yarn is technically a sport-weight. It's quite fine for sport, though, and worked up great on my usual sock needle size. It didn't affect the finished size of my socks too much, and I kind of like the extra thickness.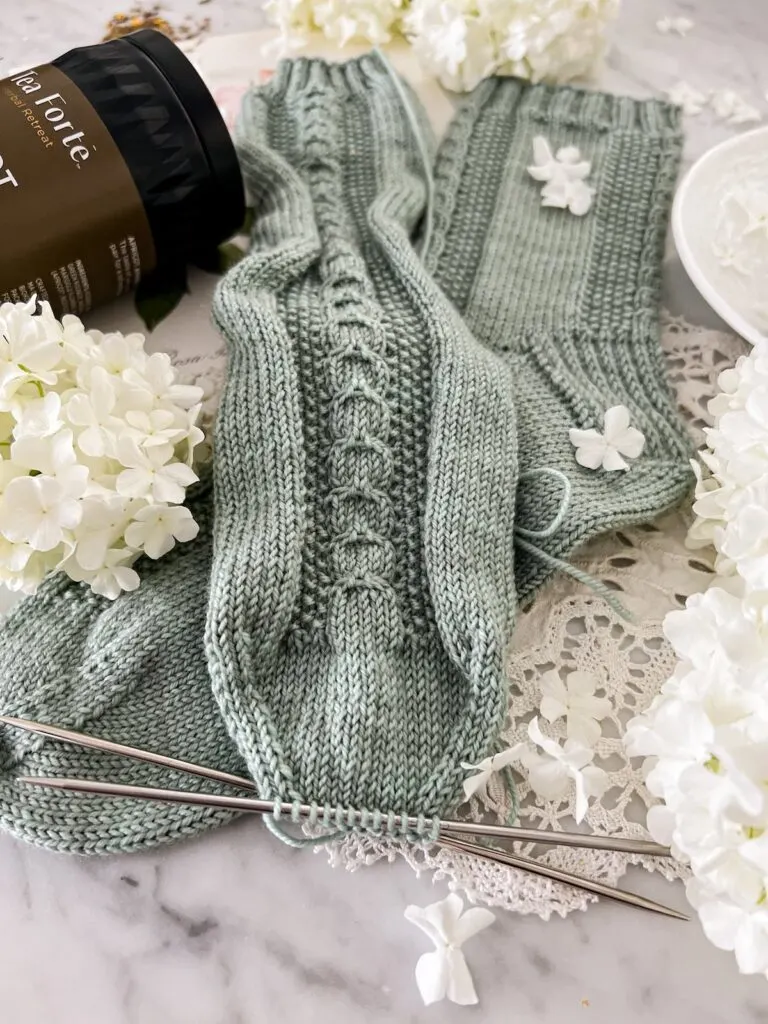 I used the same stitch on the socks that I used on the Madeleine Mitts and the two Madeleine Hats. That means, naturally, that now I'm debating whether or not to write up a pattern for them. Originally, I planned this as a fun knit just for me. I like just knitting sometimes without any goal in mind, and it's not often I get to do that.
I do think, though, that it might be nice to have a well rounded collection using this stitch pattern, and the socks would really polish it off. What do you think? Should I write up the pattern?
And if you're interested in knitting more socks, be sure to check out my top 5 sock yarn recommendations.
In the next installment, we can revisit whether I decided to release that sock pattern. Also, I'll hopefully have a garment or two in progress to share with you. I bought a couple new releases from my friends Aimee and Kirsten this month, and I think they will both be perfect for my knitted wardrobe. Can't wait to start.