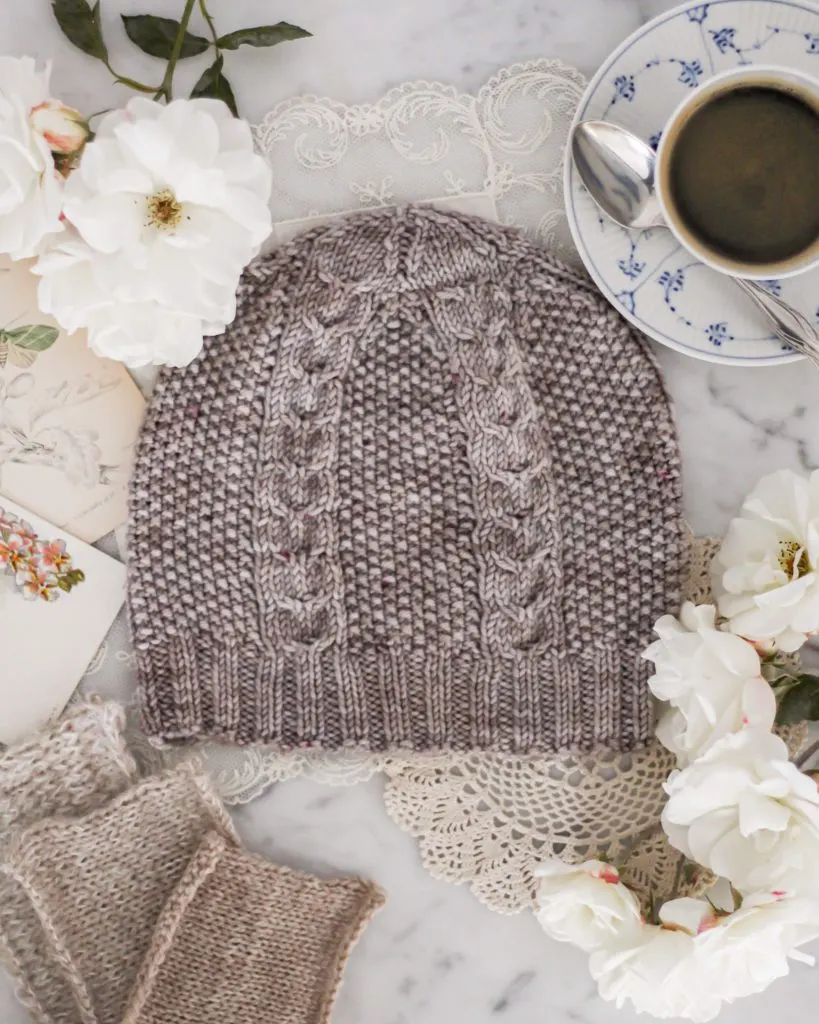 The Madeleine Hat DK is the thicker, warmer version of my popular Madeleine Hat, and it doesn't disappoint. This squishy knit is graded to four sizes and features lots of seed stitch, some very simple cables, and elegant crown decreases that form a flower-like shape with the stitches at the very top. Here you'll find more information on where to buy the pattern, what yarn you'll need, what needles you'll need, and more.
PAYHIP:
Here's where you'll find the Madeleine Hat DK.
ETSY:
Here's where you'll find the Madeleine Hat DK.
RAVELRY:
Here's where you'll find the Madeleine Hat DK.
About the Madeleine Hat DK
The Madeleine Hat has been one of my most popular hat patterns, but I've heard from a lot of people that they prefer hats in a heavier weight. An informal survey of my Instagram followers showed that people preferred their hats in DK-weight yarn by a significant margin, so I decided to update the Madeleine Hat so it can be knit in DK-weight yarn, too.
This pattern preserves the original character of the Madeleine Hat, including its distinctive rose-like crown, while making some adjustments for the heavier yarn. It comes in four sizes and is still the same soothing, meditative knit you love—now in a form that's a little thicker, a little warmer, and much faster to make!
Specs and Details
SIZES
S, M, L, XL. Finished hat dimensions: 16.5 (18.25, 20, 21.5) in / 42 (43 cm, 51 cm, 54.5 cm) circumference (Note: most people like their hats snug, so if that's what you're looking for, choose a finished hat size that is somewhat smaller than your actual head.)
MATERIALS
DK weight yarn, 140 (165, 190, 215) yds / 128 (151, 174, 197) m
Sample shown knit in Third Vault Yarns Sinaya DK, 80% SW merino, 10% cashmere, 10% nylon, 232 yds (212 m) per 3.5 oz (100g)
GAUGE
4" (10 cm) square = 24 stitches x 30 rows in stockinette (note: much of this hat is knit in seed stitch, so keep that in mind when choosing a size if your gauge loosens up significantly in seed stitch)
NEEDLES
One set of needles for your preferred style of small-circumference knitting in a size to match gauge listed above, plus one set of needles two sizes smaller (for the brim).
Suggested needle sizes: US 5 (3.75 mm), US 7 (4.5 mm)
TOOLS
One stitch marker for beginning of round; optional additional markers between pattern repeats
Tapestry needle for weaving in ends
SKILL LEVEL
Intermediate
Requires cabling, decreases, and knitting in the round
If You Like This Pattern, You'll Also Like…
The original Madeleine Hat and Madeleine Mitts, which can both be made from a single skein of fingering-weight yarn.
For more cables and a great project for using up leftovers, check out the Prograde Orbit Mitts.
For another hat that knits up quickly in DK-weight yarn, check out the Gingersnap Hat.
My Favorite Part: The Quick Knit
This hat works up really quickly. That's a good thing, because I found myself severely behind schedule and had to put out a tester call for a very short period of time. Amazingly, a whole crew of testers stepped up to help, and I am eternally grateful to them.
They managed to finish this hat in just a few days each, and now, several of them have already started another. They're reporting that loved ones have already claimed the first version and others are clamoring for one of their own. A few are knitting several for gifts.
So if you're in the market for a quick knit because you're behind on your gift knitting, the Madeleine Hat DK is a great start.