It's no secret that I absolutely love knitting socks, and the month of October is an extra special time for that. In the fall, we knitters celebrate Socktober with knitalongs, new patterns, stash-down knitting races, and more. Here are seven sock knitting patterns to help you gear up for some Socktober fun.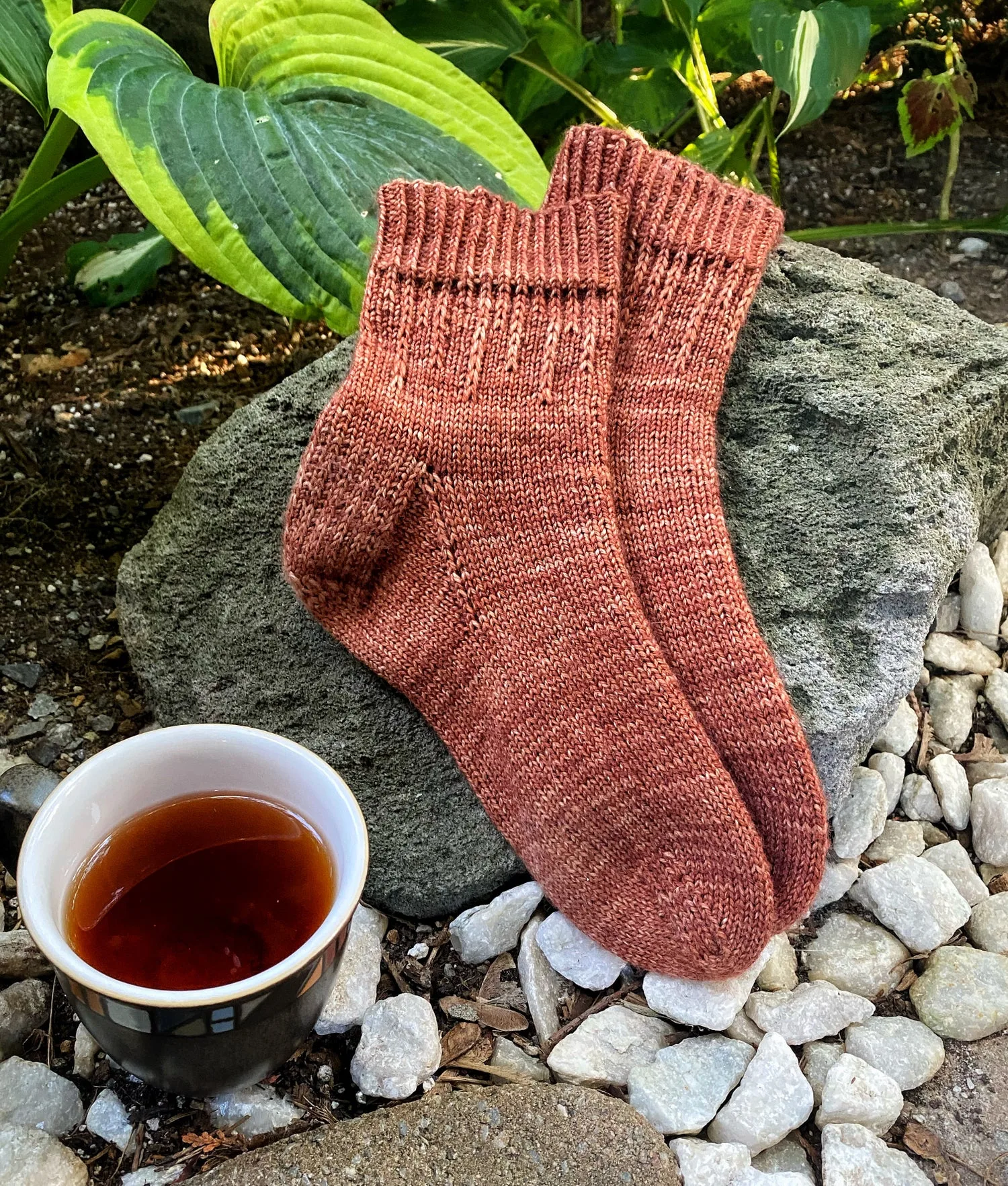 Payhip: https://payhip.com/b/Gfr0I
Ravelry: https://www.ravelry.com/patterns/library/coffee-break-11
These gorgeous socks serve as an all-day reminder of the warmth and comfort that comes from the perfect cup of coffee. The delicious pattern not only represents the rich, bold flavor of a good cup of joe but also the relaxed yet energized boost that comes from a coffee break for one.
This pattern is perfect for any skill level, so you can craft your own cozy coffee break regardless of how experienced you are with knitting. It allows you the option to choose leg length for a longer or shorter sock and is customizable to three sizes. This pattern is a great introduction to knitting socks if you're just getting started.
Wisp Socks by Kerri Blumer @kerriknits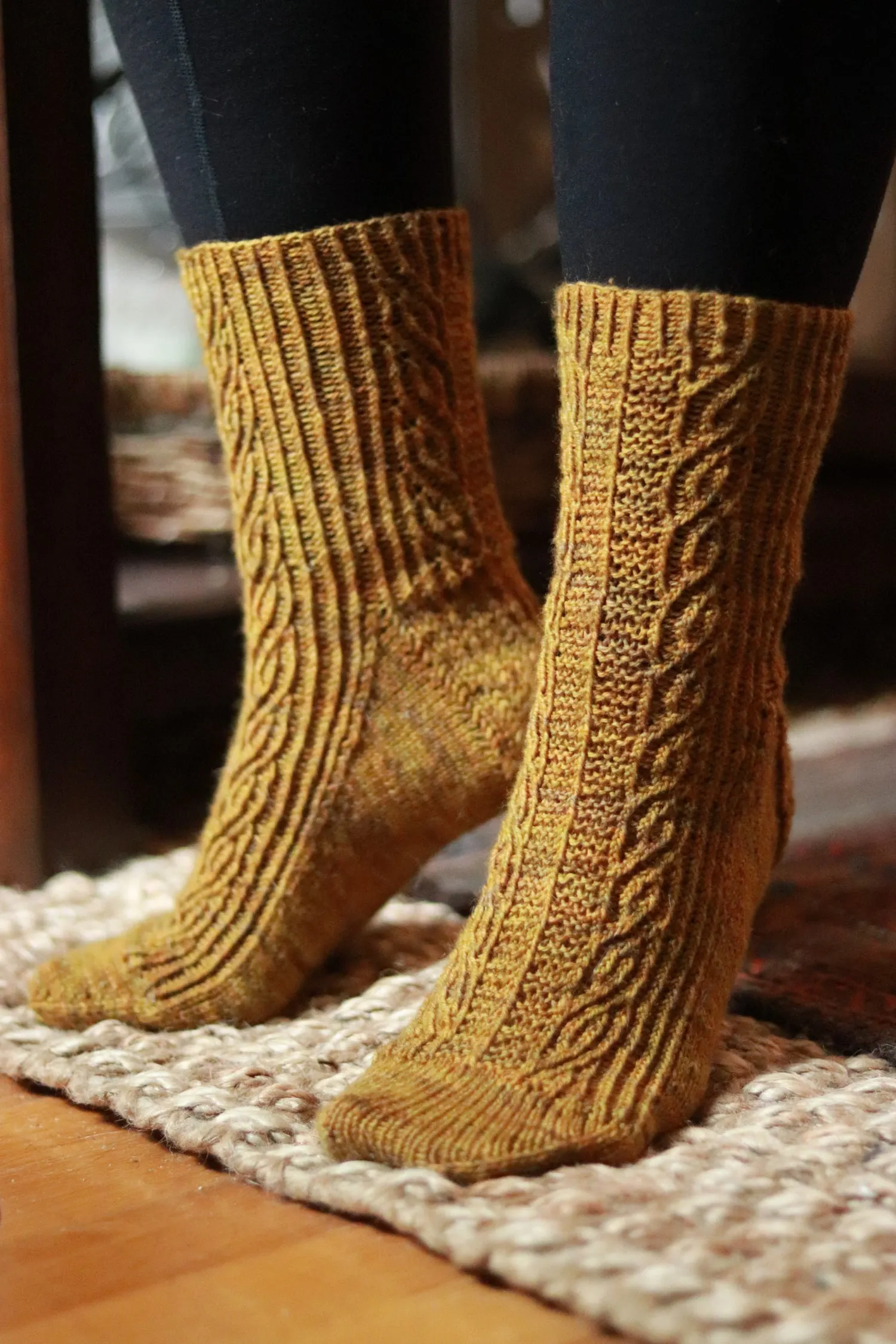 Payhip: https://payhip.com/b/F4eZ
Ravelry: https://www.ravelry.com/patterns/library/wisp-socks
Texture is the name of the game when it comes to the Wisp Socks. This pattern is fun and wavy, perfect for any loved ones in need of a pair of cozy socks. One of the best things about this pattern is the cable design that is cleverly stitched without the need for a cable needle. The increases and decreases give the illusion of cables but without the extra work.
These socks are available in five sizes and because they use twisted ribbing, you can trust that they will be the perfect comfy fit. Kerri also recommends a solid or semi-solid color to help make your stitches pop. If you love knitting socks with lots of texture, give this pattern a try.
Winsome Socks by Melissa Georges @homebodyfibers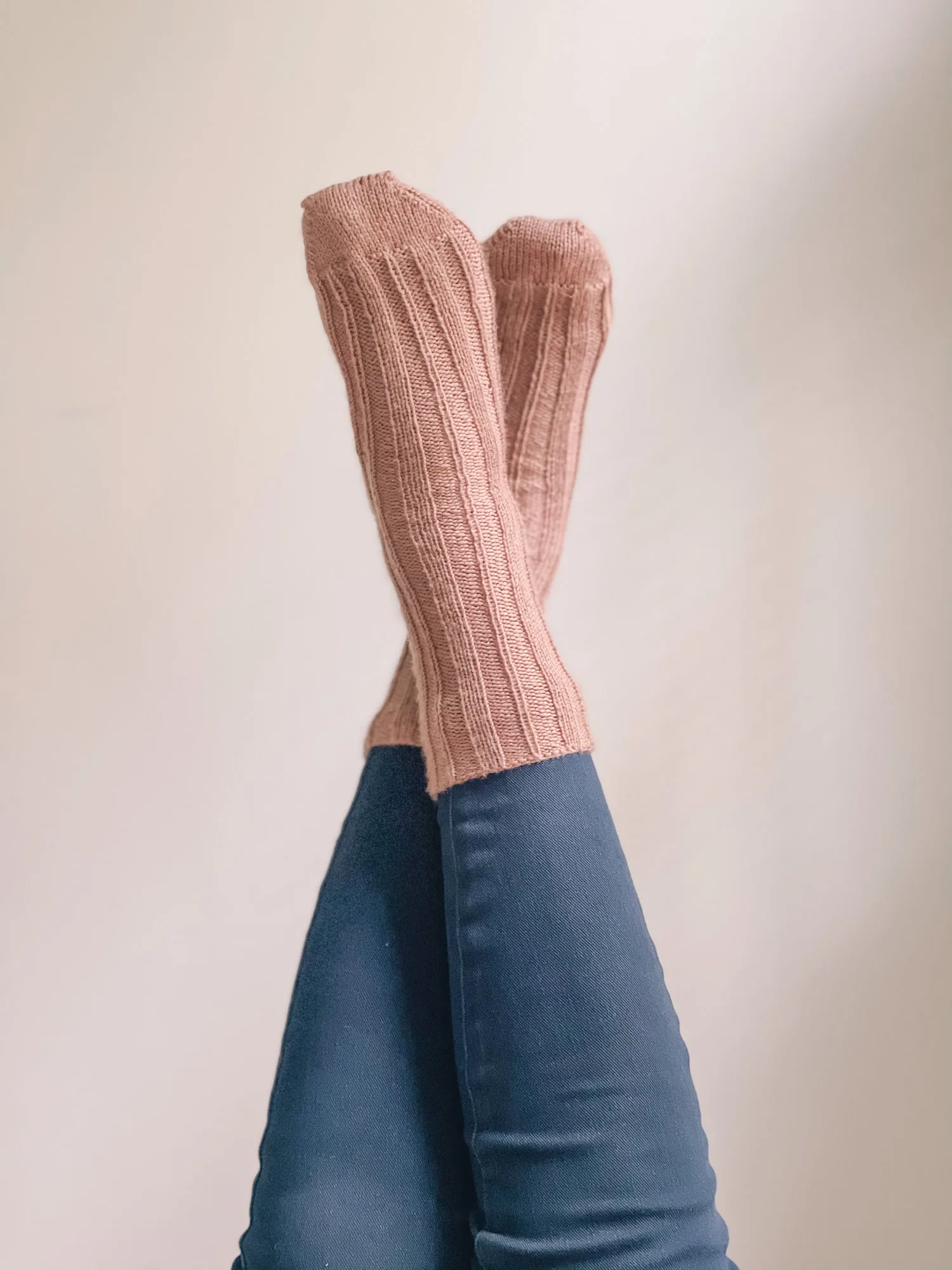 Payhip: https://payhip.com/b/Nu1pc
Etsy: https://www.etsy.com/listing/1042554961/knit-socks-winsome-socks-sock-knitting
Ravelry: https://www.ravelry.com/patterns/library/winsome-socks
If you love clean and defined lines, these socks are for you. These charming socks feature an alternating ribbed pattern that's both streamlined and elegant. Perfect for the advanced beginner, this project is great for those with a bit of experience in knitting socks who are now up for something more challenging. The German short-row heel makes these socks look even more refined and gives them a snug fit. A range of neutral and muted colors would be so pretty for these socks and allow the texture to truly shine.
Designer's website: https://www.tifhandknits.com/socks/2ucpdcqohg2b0efh47eu0ezip41o7c
Ravelry: https://www.ravelry.com/patterns/library/for-joy–comfort
These gorgeous socks offer two design options for the ankle: Joy or Comfort. While you'll have to choose between the two for the ankle design, Tif encourages you to choose a color palette that sparks both. These socks have a contrasting toe and textured heel that add a touch of classic character. For this project, you'll need 2-3 different colors, so it's an excellent opportunity to flex your creativity and try exciting color combinations, perhaps from a skein you've been waiting to find the perfect project for. These socks are quick to knit and excellent for a range of skill sets.
Wheat by Faye Kennington @ukeeknits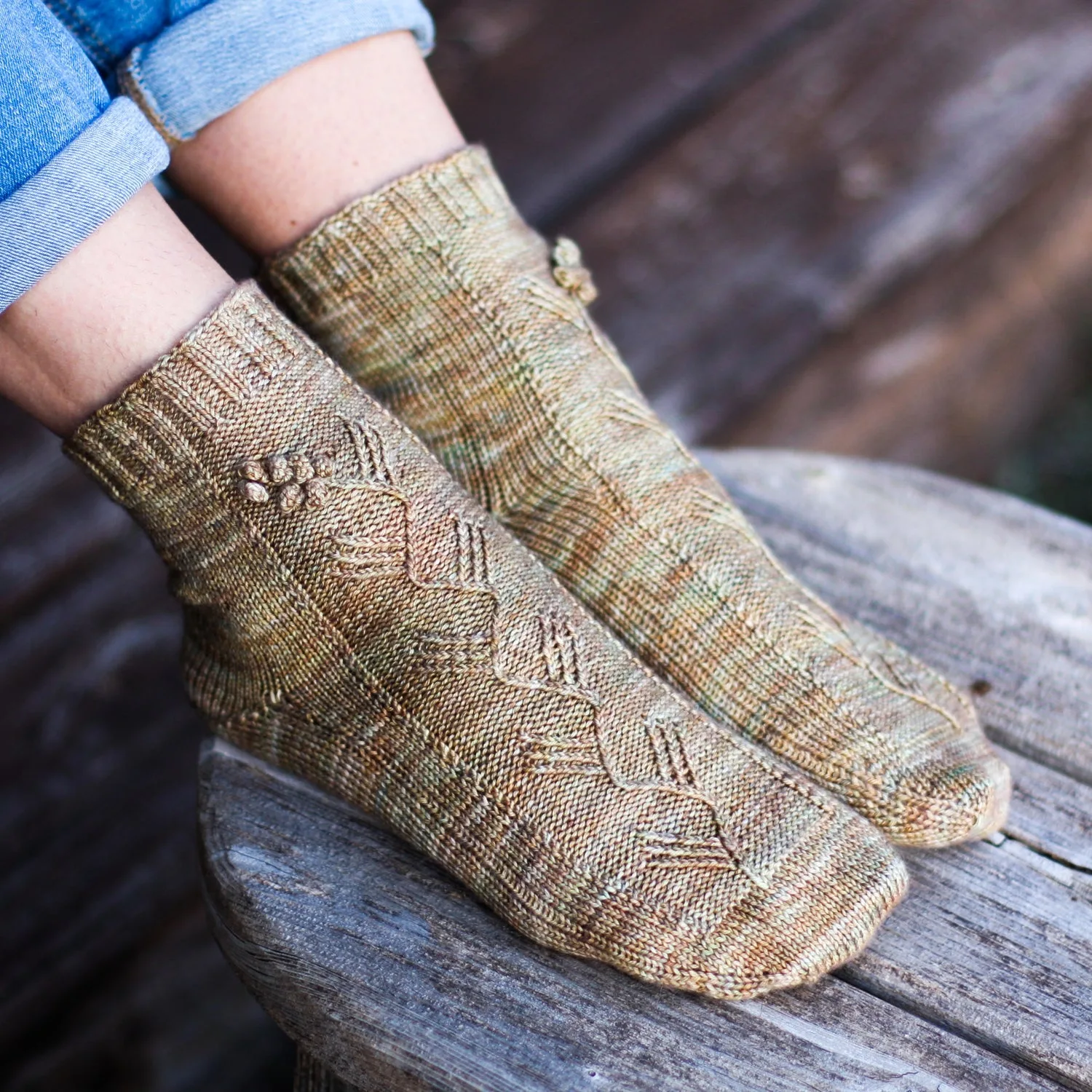 Payhip: https://payhip.com/b/jnxc
Ravelry: https://www.ravelry.com/patterns/library/wheat-9
Wheat is thought to symbolize abundance. What better way to welcome abundance into your life than by knitting a pair of these adorable socks?
This design is a reminder that even the smallest of things can have a substantial impact on our lives. They may be small but these socks can bring you so much happiness and coziness. They feature crisp cables that draw attention to a delicate wheat strand. I absolutely love that Faye used bobbles for the wheat but made sure to only have the bobbles on the part of the sock that wouldn't be rubbed by a shoe. Additionally, the yarn she thoughtfully chose reflects the heart of the pattern with mixes of brown and gold tones.
Nostalgia Socks by Emma Janet @bloom.create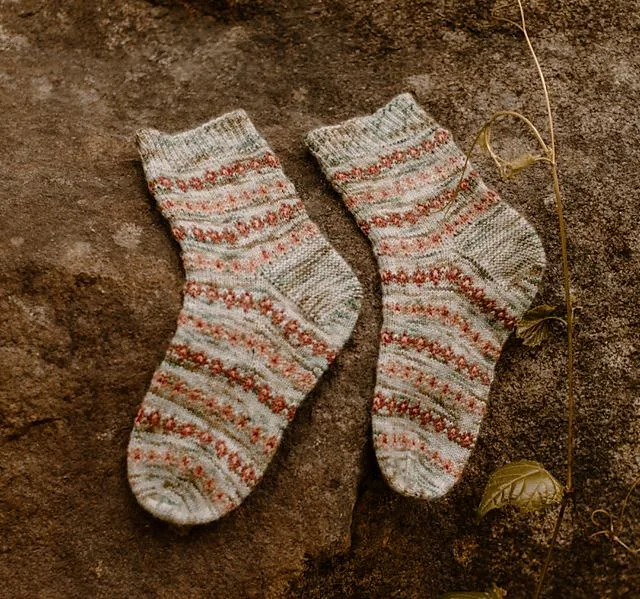 Etsy: https://www.etsy.com/shop/Bloomcreate?ref=shop_sugg
Ravelry: https://www.ravelry.com/patterns/library/nostalgia-socks-2
These classic socks warm your feet while representing the warmth of a loving friendship. The patterned design is inspired by the friendship bracelets of yesteryear that we would make to eternally bind us to our pals from camp, where we spent those endless summer days. I
love that this pattern comes also comes with a journal prompt to encourage the knitter to explore the significance of their yarn choices. It's the perfect gift for yourself or those who may just be starting out and want to make their knitting journey a more meaningful experience.
Resilience Socks by Aimee Sher @aimeeshermakes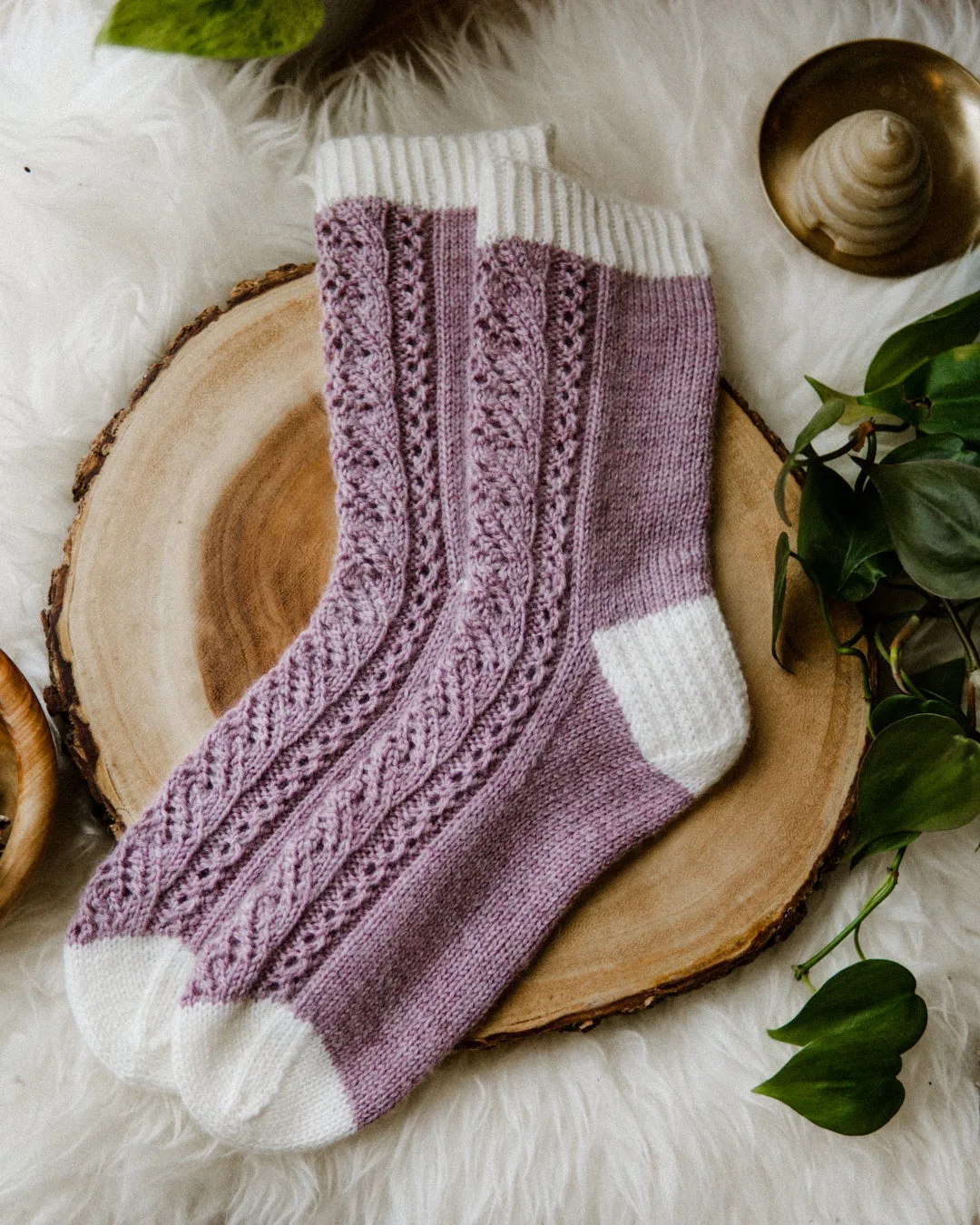 Designer's website: https://www.aimeeshermakes.com/resilience-socks/
Ravelry: https://www.ravelry.com/patterns/library/resilience-socks-2
The Resilience Socks symbolize your ability to stand tall in the face of difficulties and bend with the winds of life without breaking. Let these socks inspire you to move forward in joy and take solace in knowing that there's always a cozy spot for you to recharge.
These socks offer both an ankle-length and crew-length pattern so you can choose the size that best fits your style and comfort. Find inspiration in this delightful pattern to press on firmly through the changing seasons of our world.