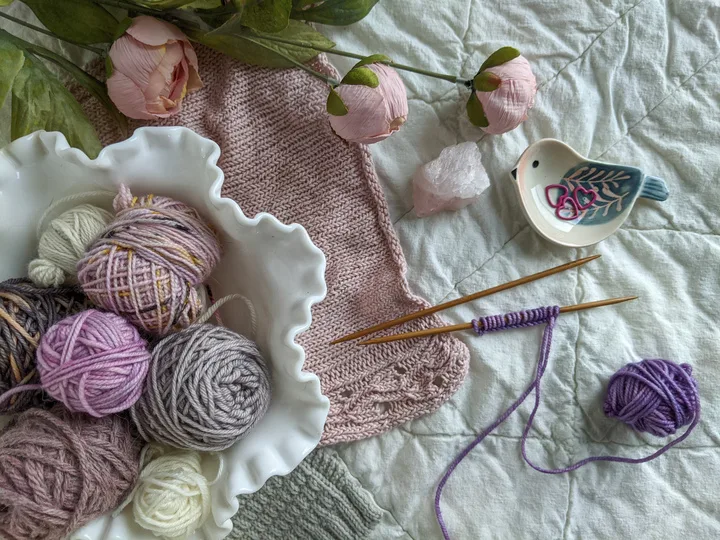 We're talking about yarn substitution all month long here on the blog, but I knew when I was planning out these posts that I had a weak spot: I'm primarily an accessories designer, not a garment designer. The things to consider when you're subbing yarn for a knit sweater are slightly different from the considerations for accessories.
So I called in a ringer.
Here's a guest post from Jen Parroccini of JP Knits Things. Jen is a wonderfully thoughtful designer who's known for her detailed, wearable, knitter-friendly knit sweater patterns. I knew that if any of my friends would have some helpful thoughts on substituting yarn for knit garments, she would.
---
Most patterns recommend a specific yarn. Maybe you like to use the recommended yarn when you can, or maybe you always like to put your own spin on things – but at some point, you're going to want to have the tools to make a successful substitution. Working as a designer has given me some new insights into what makes a swap sing, and I'd love to share some of that thinking with you!
What's on My Mind When I'm Choosing Yarns
As a designer, I assume that most knitters will not use the same yarn I used – and I want everyone to be able to knit my designs! Yarn choice has several aspects, some technical, some aesthetic, and some based on values:
Will knitters be able to access a yarn this weight?
Many international knitters have fewer options than US knitters. Sport weight yarn is having a big moment right now, but I have knitters in South America who struggle to get DK weight yarn – will sport weight be easier or more difficult for them to find?
Is this a yarn with properties that are common?
If I use a super lofty, grippy handspun yarn that's thick and thin, that would be difficult for knitters to substitute commercially. If the texture only pops with a certain dye pattern, that also might be difficult for knitters to substitute.
Can this yarn be replaced by yarns at different budget points?
I love working with and supporting small independent dyers, but I think about the choices I had in college. Would 'past me' be able to knit this pattern?
Is this yarn choice making my community stronger and healthier?
As a very small business, I can feel overwhelmed by the inequality in the world, and powerless to do much about it. I feel like our creative ecosystem is healthier with many voices, and prefer to work with peers and other small businesses who can be engaged with the creative process and co-create with me. Choosing yarns sourced and dyed by makers with values in alignment with mine or who have been historically marginalized by this industry is a way for me to stay focused on putting one foot in front of the other when it comes to making change.
Effective Yarn Substitutes
In her post on September 15, Lauren talked about how to understand the properties of different fibers. To make an effective substitution, it's important to know the properties of the recommended fiber – and why they matter. The designer may be recommending a yarn that's lofty and light because the garment is long and has a lot of fabric, like an A-line tunic. The yarn might also be single ply, but if that's not critical to the design's integrity, you don't need a yarn with that property. So let's talk about the key properties of yarn that a designer might be weighing as they move through the design process.
Slippery
These yarns are smooth and silky, and often very soft. May be glossy.
Examples: superwash merino, baby alpaca, blue face leicester
Reasons to use: Often considered 'softer' and therefore chosen for against-the-skin wear, or for children. Has a uniform texture. Because of the gloss and uniformity, performs well in elegant or formal designs. Has good drape, works well for garments with waist shaping.
Exercise caution: Slippery nature makes this a poor candidate for colorwork which may sag or become misshapen. Garments with lots of material, sweaters without seams or other structure, and garments that hang entirely from the shoulders (instead of resting on the hips), may stretch lengthwise with wear. Designs with textures may get lost in the sheen.
Lofty
These yarns are full of air, floaty, and light for their circumference.
Examples: woolen spun wools, single ply.
Reasons to choose: Creates a very light garment for the size, very warm, not as much drape and therefore not very body conscious. Suitable for outerwear, even at a light gauge.
Exercise caution: These yarns may be more fragile than their tightly spun counterparts. For the same reason, they are more likely to pill. May be too warm for indoor wear in all but the lightest weights. Single-ply yarns often bias as you knit (twist or lean to one side, so that your sweater twists on your body and does not hang straight).
Grippy
The scales of the wool are intact and the yarn wants to stick to itself slightly. These yarns are textured, rustic, wooly, or sheepy.
Examples: Targhee, mohair, churro, rambouillet
Reasons to choose: Excellent for colorwork (it won't sag or stretch out of shape). Offers texture and depth to knitting. Best choice for sweaters with little seaming or other structure (such as dense cables or areas that are bound off and picked up). Any sweater will pill, especially under the yarns, but these are likely to pill less and for less time.
Exercise caution: May be difficult for some wearers against the skin, depending on the fiber. Some of these yarns may have vegetal matter. Can have a ruggedness – may be unsuitable in style for more delicate knits.
Inelastic
These yarns have no bounce or spring.
Examples: Bamboo, cotton, linen, silk, Tencel
Reasons to choose: These fibers tend to have great drape, can have a sheen, and can create very classy and formal layering tanks or tees. They're often cool and easy to wear against the skin.
Exercise caution: These fabrics tend to be heavy and dense, and to stretch as they're worn, and are not suitable for long garments or garments with lots of fabric. They do not grip together at all, so they are not suitable for colorwork. Also, this might just be my experience, but I find that cotton and linen stain very easily.
About That 'Scratchy' Yarn
Many knitters – and their children! – find wooly-wools scratchy or itchy. A substitution might help but if you truly love the look of those yarns, consider working with a scratchy yarn by being strategic about how you'll wear it – read more on my blog post Knitting Success: Wears-Per-Sweater.
Using the Pattern to Make an Informed Decision
Start with the recommended yarn
Obviously, check out the recommended yarn and take a peek at the yarn facts on the manufacturers/dyers webpage. If you feel like you just can't get enough info and you can use Ravelry, you can review other knitters' projects using that yarn to see how it wears. Ideally, the designer will also describe the yarn within the pattern to give you the information you need.
Look at the schematic
Reviewing the final measurements will give you information about the amount of fabric you'll be using. If you won't be making a lot of fabric, you can probably get away with a more slippery yarn! If you'll have a lot of fabric in the underarm, you might want to think about the likelihood your yarn will pill.
What's the construction?
The more structure in the pattern, the safer it will be to use a delicate or slippery yarn. If you have some super soft baby alpaca in your stash, you'll want to match that with a pattern with some seams or cables, or something like a lightweight tank that won't be weighed down. Similarly, a seamless raglan with colorwork will do best with a nice grippy, lofty yarn.
Shall We Work Through an Example of Yarn Substitution for a Knit Sweater?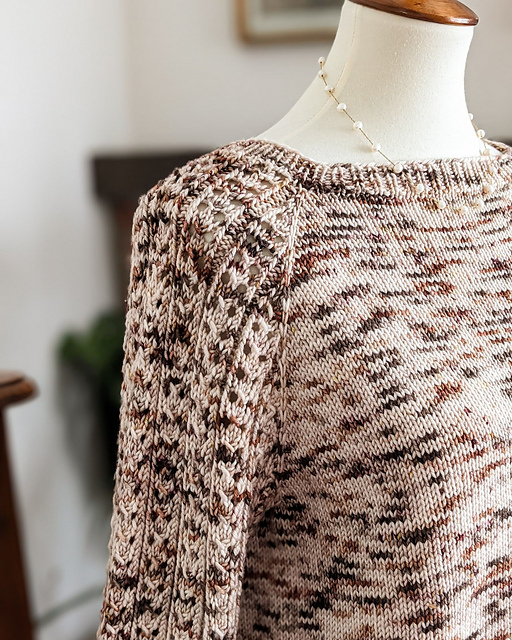 Let's take a look at Lauren's Geniality Sweater. I love this piece for indoor wear, or for layering over a tank top at the end of an early autumn day. Lauren used DK-weight superwash merino, and the sweater is seamless and has a lace detail on the sleeves. The construction is raglan.
How Sweater Construction Interacts with Fiber Content
This sweater is good for slightly slippery yarns – as Lauren wears it, it's fairly trim. Patterns that hug the body don't have as much weight on them, because of the friction from your body or clothes beneath. Because the arms are three-quarter length and lace, they have less yarn in them, and the ribbing also helps them hug the body. Geniality probably looks best in an elastic yarn, because it relies on that cling and bounce, and the ribbing would be flat and lifeless in an inelastic yarn. It makes sense to stick with a good yarn for against-the-skin, because the lace detail in the arms makes this more of a three-season/indoor sweater.
How Yarn Construction Interacts with Knit Sweater Construction
The superwash that Lauren used isn't particularly lofty here, but because that property isn't critical to the design, you could absolutely use a yarn with more loft. It would be warmer and fluffier and have a different character. Similarly, Lauren is already demonstrating that the pattern looks amazing with a 'busy' yarn (variegated, or densely speckled), but it would also look stunning in a tonal or solid yarn.
Finally, she's used a yarn with no halo or fuzz, and if you choose a haloed yarn, you might lose some of the lace detail in the sleeves. Again, because she's already showing the sweater in a busy yarn, I would feel confident that a semi-solid haloed yarn would still show the contrasting stitch pattern in a way that would be totally lovely.
Overall, a knitter could make a successful substitution here with most soft, animal-based yarns that give them the right gauge! You can see several successful substitutions in the versions made by test knitters over on Instagram.
Go Further
To get very intimate with the properties of yarn, check out the book A Fine Fleece: Knitting with Handspun Yarns by Lisa Lloyd. This book covers spinning technique and choosing patterns for handspun – but the book also includes a portfolio of patterns worked up both in handspun and in a commercially spun yarn. Even if you don't spin, an exploration from this perspective helps make tangible the different properties of each yarn.
For a series of accessories designed to help you experiment with yarn and understand yarn properties better, check out Lauren's Good Things Collection. This hat, mitts, and cowl set will walk you through knitting with the same yarn at different gauges and with/without an added strand of silk mohair so you can see how each small change makes the same stitch pattern look different. If you're not ready to knit a sweater with your new yarn substitution skills yet, accessories are a good place to practice.
Slow Knitting: A Journey from Sheep to Skein to Stitch, from Hannah Thiessen, is a lovely, thoughtful meditation on different fiber types, different ways of approaching knitting around the year, and garments written for specific, special yarns. Hannah's love of special yarns shines through, and I know I felt like I was really 'getting to know them' personally!