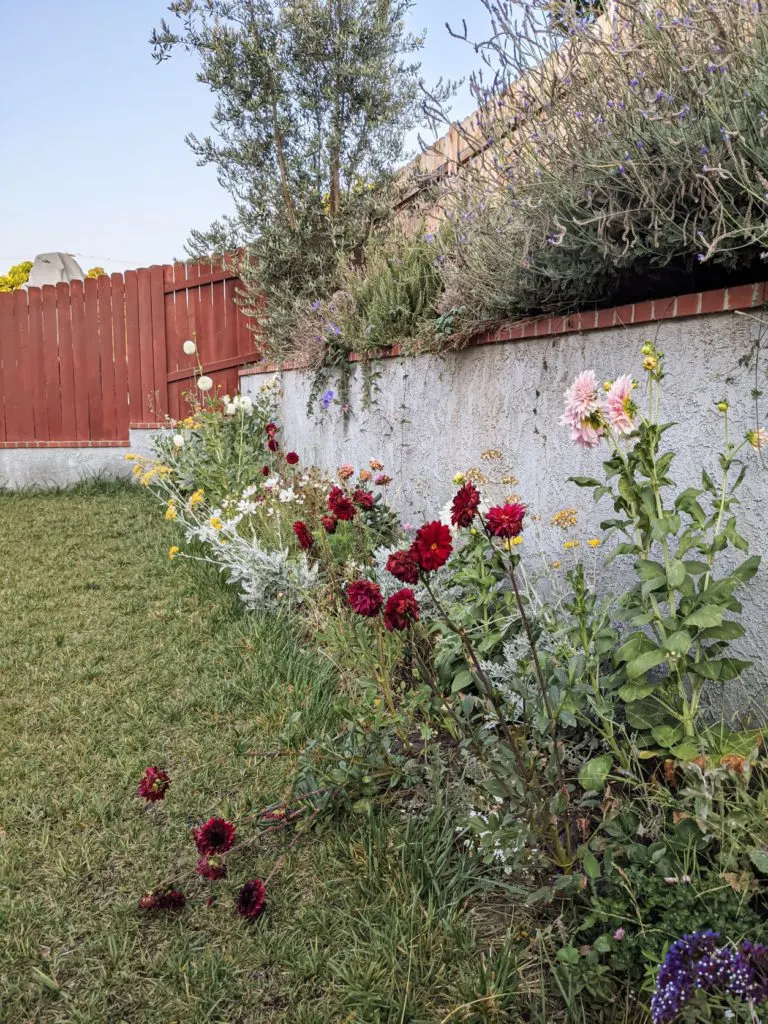 Most of my writing about gardening centers on my roses, but I have a soft spot for dahlias, too. I love the big dinnerplate ones and the smaller pom poms. I even like the itty bitty ornamental dahlias, though I tend to prefer larger plants that can hold their own in the garden. That's because the companion plants for dahlias that I like to use can grow to be pretty full plants, too.
When I first planted dahlias, I wasn't sure I'd be able to grow them well, so I tucked them into a small corner of the garden. They did well, though, so the next year, I brought them over to the flower bed along the lawn. Then I started wondering: what plants grow well with dahlias?
It wasn't a theoretical question. I didn't have enough dahlias to fill the entire bed, and I like a little variety in my garden. I wanted some smaller blooms and different-colored leaves scattered in there.
After some experimentation, I've hit a pretty great combination now that helps fill out the dahlia bed, especially early in the season when the dahlias haven't started blooming yet. Here are my favorites.
My Six Favorite Companion Plants for Dahlias
My favorite plants to partner with dahlias are coastal lavender, sweet alyssum, snapdragons, California poppies, dusty miller, and cosmos. Here's why.
Coastal lavender. Coastal lavender can get pretty big, but what I like about it is that its leaves don't grow too tall. Dahlias have leaves going all the way up the stalk, whereas coastal lavender's leaves are clustered on the bottom 12-18″ of the plant. Then the flowers grow on long stalks. That makes it a great filler plant for keeping the bottom of the flower bed feeling more sturdy and filled-in, while its massive purple and white blooms add a nice dash of color.
Sweet alyssum. Sweet alyssum is a low, wide plant that's great for filling in the bottom layers of your garden, too. It has tiny white flowers that grow in bunches on stalks, and its leaves look like little hearts. I feel cheered every time I see it.
Snapdragons. Snapdragons are an early-season bloomer here and usually run out of steam by about June. That's perfect for my garden, because June is generally when my dahlias start filling out and needing more space. The snapdragons are great for adding some temporary color and interest while you wait for the dahlias to come in, and they're small enough that they're not going to cause issues for other flowers you're growing.
California poppies. California poppies are self-seeding plants, so once you put them in your garden, you're likely to see them again each year. They don't require too much water and are relatively spindly, so they don't take up a ton of space, but they do have some nice height. They'll usually grow up to about 24″ tall, though mine have been on the smaller side lately.
Dusty miller. Dusty miller, also known as ragwort, isn't supposed to be a super tall plant. In most places, it can get up to about 24″ tall. When it starts blooming here in Ventura, though, those yellow flowers can shoot up until they're almost as tall as I am. I love the tiny yellow blooms on this plant, along with its soft, green foliage.
Cosmos. Cosmos, like poppies, can grow up to 24″ tall, so they're a great mid-height filler plant. I like to buy six-pack combos of pink, white, purple, and burgundy at my local Green Thumb nursery. The cosmos also have these beautifully spiky leaves that give an interesting texture to the garden.
A Closer Peek at This Year's Dahlias
I've got several different varieties of dahlias growing in the garden right now. Right now, I've got good blooms from Snow Country, Cafe au Lait (which is blooming quite pink this year), and Boom Boom White Ball. Take a peek!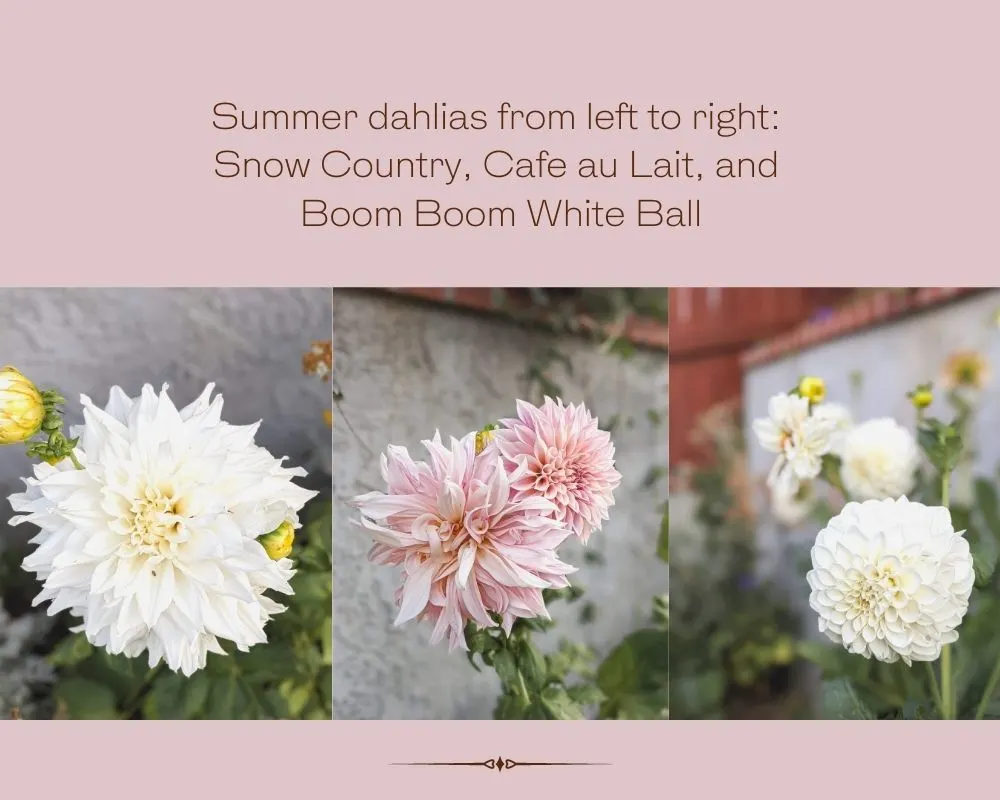 Other Garden Happenings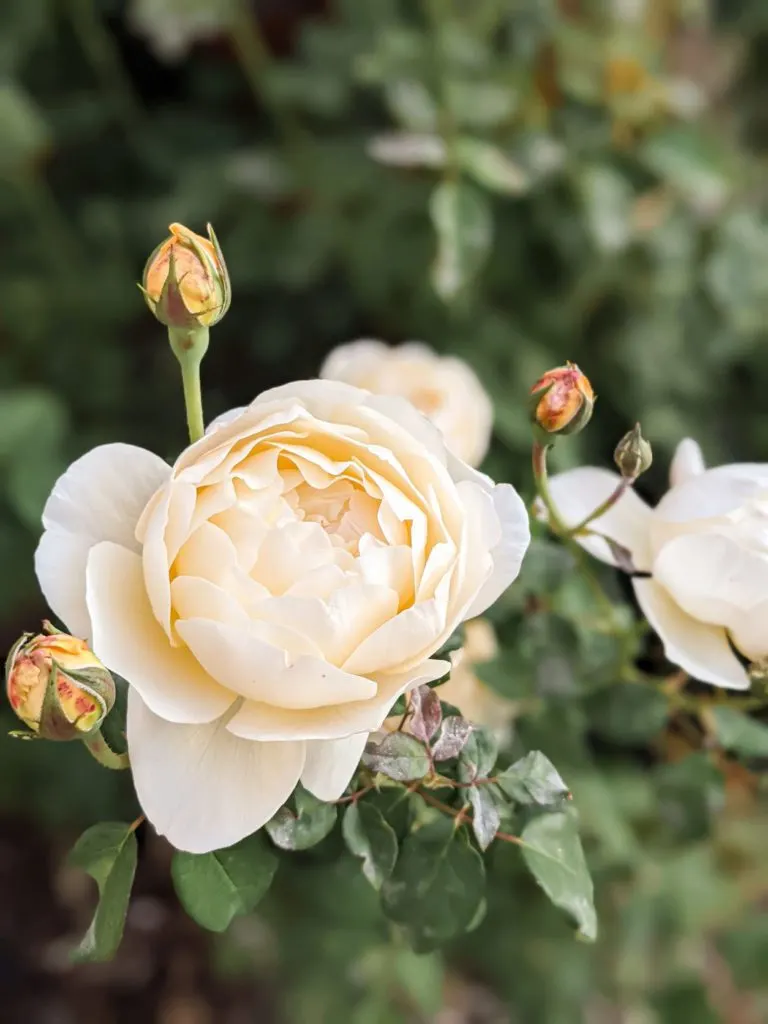 My Claire Austin is finally blooming the creamy color I had expected when I ordered it! It's been blooming very yellow because it's young and the weather was quite chilly for a while there.
This rose has been a real adventure. When it first started blooming, it was such a vivid yellow that I was convinced I had the wrong rose. I even reached out to the David Austin folks to confirm it. It turns out that nope, I had the right one, but Claire is notorious for being yellow in the early years.
I'm looking forward to watching this one in the coming years to see how it fills in even more.