This month, I'm resurrecting a long dormant blog series! When I first tried my hand at running this blog several years ago, I had it in mind to do a monthly knitting tea post where I'd talk a bit about what I'm making and drinking.
Well, I started it, got one post up and running, and then, as so often happens, life got in the way.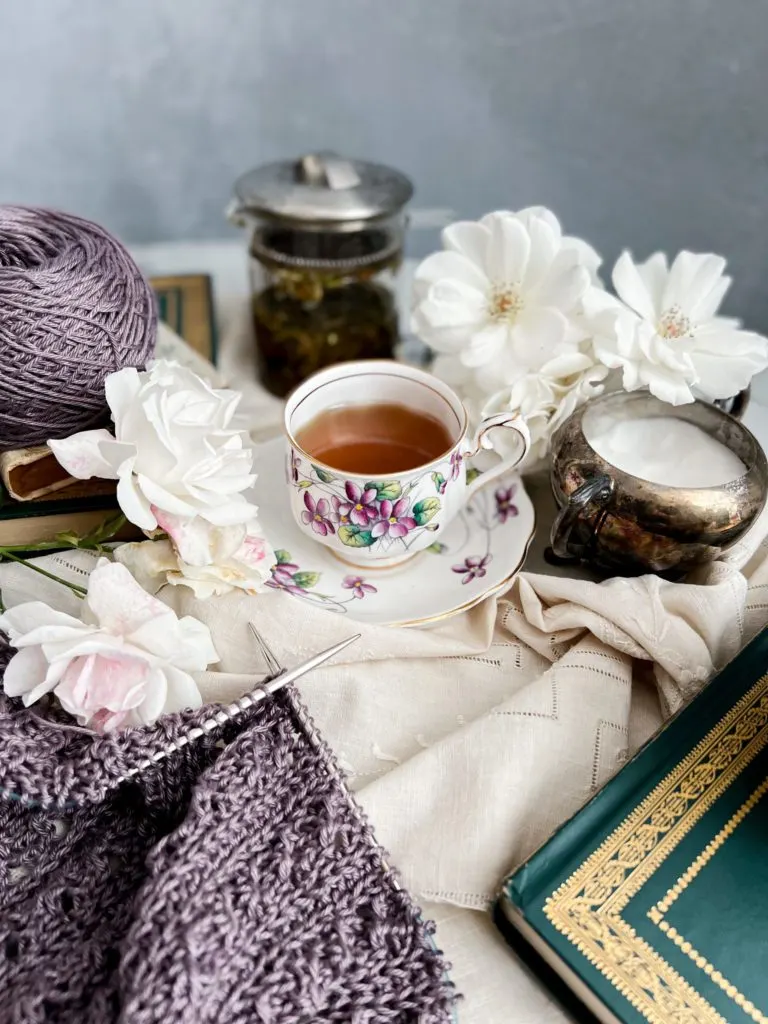 I haven't written a single post about tea since. But things are different now. As you can see from the level of activity around here, I've settled into a nice groove with the blogging. With all of that in mind, I'd like to bring back the monthly tea series.
We are going to call these the Sip and Stitch posts. In this monthly series, I'm looking forward to sharing a new to me decaf or herbal tea and chatting with you about what I've been up to while drinking it. It should be fun!
Why Post About Tea and Knitting, Anyway?
Back in 2018, I was still practicing law and consuming a ridiculous amount of coffee. I had a toddler at home who still wasn't sleeping through the night, and I was trying to build a book of business for myself.
Needless to say, I was not sleeping enough.
Eventually, it all caught up to me. I realized that the significant amounts of caffeine I was consuming were negatively affecting my mental health and driving some pretty severe anxiety issues.
So I knew what I had to do.
I quit caffeine.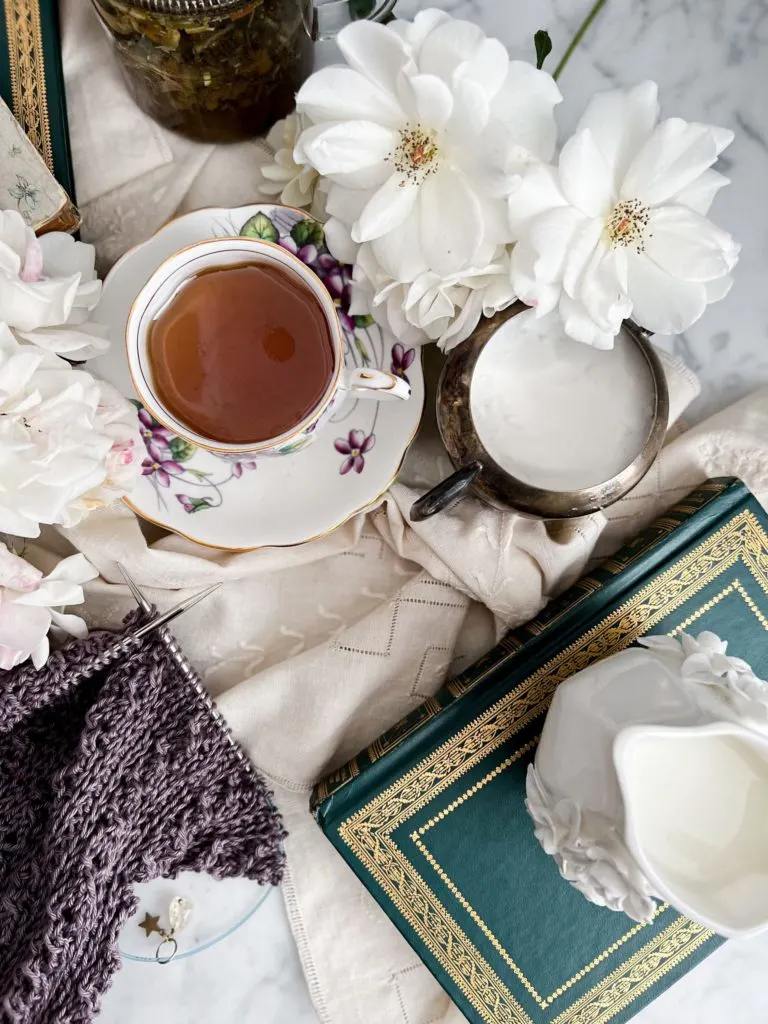 Decaf coffee has filled a lot of the space previously taken up by regular coffee, but I've also been drinking a lot of decaf and herbal teas. Every time I mention this situation online, I discover more people who've had a similar experience with caffeine.
I thought it might be nice to share recommendations with each other. That way, we can help each other find new, delicious, hot drinks that won't throw us into a mental tailspin.
As with my previous post, this post has some basic ground rules that I will repeat here for clarity's sake. You can check out that earlier post for more details on each of these.
This is not an expert manual for how to drink tea.
This is not a health guide.
This is not meant to shame or pressure anybody into changing their drinking habits.
Right then! Let's move on to this month's tasty beverage.
This Month's Knitting Tea: Mrs. Bennet's Nerve Tonic
When I decided to resurrect this blog series, I tweeted a request for recommendations of everyone's favorite decaf and herbal teas. I got a strong recommendation for Friday Afternoon Tea, which is a small tea company based in Seattle, WA.
They have a lot of charming options, but as I scrolled through the herbal selection, one immediately caught my eye. It was called Mrs. Bennett's Nerve Tonic.
I knew I had to have it.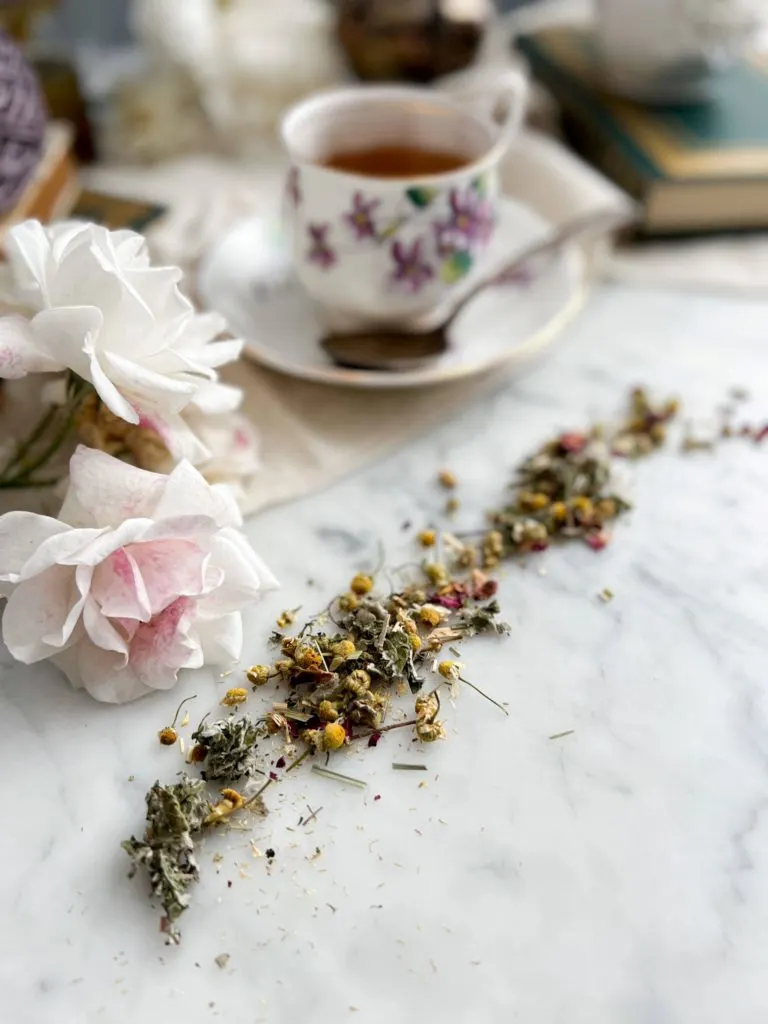 That feeling was only solidified once I looked at the ingredients list. This lovely herbal tea includes chamomile, rose, sage, lemongrass, and raspberry leaf. It's a light, delicate flavor that I prefer all on its own, even though I often like my teas with a little bit of milk and sugar in them.
This one is wonderfully soothing. It might even be enough to actually calm for Mrs. Bennett.
(Side note: the older I get, the more sympathetic I am toward Mrs. Bennett and her worries. She goes about things in a rather embarrassing fashion, but at the root of it is an entirely reasonable fear that her five daughters will be left penniless when their father dies. I can't blame her for that.)
Anyway, you can find this delightful tea along with plenty of other options on the Friday Afternoon website. Don't miss their beautiful photos, which pair their teas with charming vintage tea cups.
What I've Been Stitching While Sipping
As you might recall, I recently decided to stop designing garments and focus my design efforts on the accessories I prefer making.
It might surprise you, then, to discover I have been working on a sweater design while drinking this tea. The thing is, I don't have any plans to release this design as a pattern anywhere. It's just for me.
Of course, I had originally planned on releasing it as a pattern at some point. That's a big part of why it has sat, unfinished, in my knitting corner for months. Once I made the decision to stop publishing my sweater designs, I found a little joy in working on this one again.
Going forward, I will probably still knit some sweaters of my own design, but they'll be just for me. When so much of my crafting time is devoted to work that will eventually be part of my business, it feels just a little bit rebellious to make something that is purely for my own use.
Sip and Stitchflix: A Comfort Re-watch
While I've been working on that sweater and sipping on several cups of Mrs. Bennet's Nerve Tonic, I have also been re-watching the 1995 Pride and Prejudice. How fitting!
But of course, those of you who know me well know my embarrassing secret. I've never actually read a Jane Austen novel.
That's not to say I haven't tried. I've picked them up, but I usually get about half to 3/4 of the way through, put them down again, and then forget to finish.
It's a never ending source of embarrassment.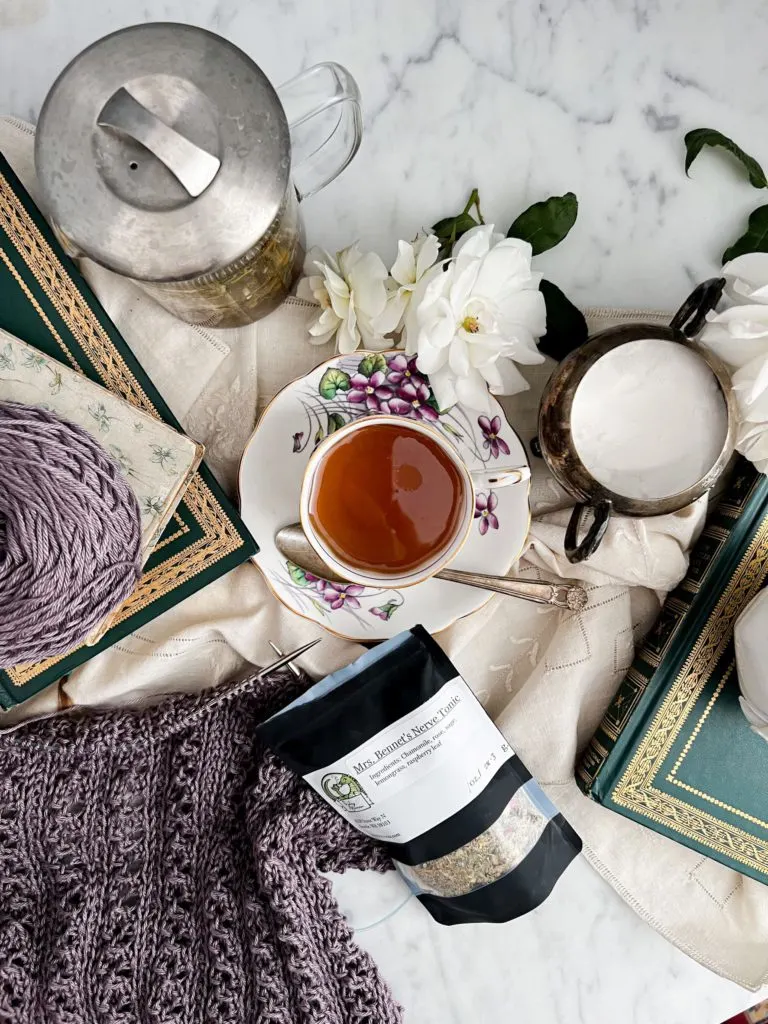 The nice thing about this personal failing of mine is it means I can enjoy all of the adaptations of her novels. I have no strong feelings about faithfulness to the novels or preferences for adaptation styles.
See, I love the '95 Pride and Prejudice, and I love the 2005 version, too, for entirely different reasons. I think the adaptation of Emma with Romola Garai is the best one, and it's for reasons that have absolutely nothing to do with the text of the novel.
Here's a doozy: I even enjoyed the new Persuasion. Gasp. I know.
But no matter what, I am always a sucker for a multi-part BBC adaptation of a 19th-century novel. Rest assured, I will always jump at the chance to re-watch this delicious, six-hour masterpiece. If you're having a watch party, let me know. I'll bring baked goods.
---
Right, then, that about does it for this month's Sip and Stitch! Do you have a favorite decaf or herbal tea that I should try and write about in an upcoming installment? Have you been enjoying comfort re-watches lately, too? Is there a project that you've been avoiding and could maybe use a little help getting started on again? Drop a note in the comments below!