Summertime is well and truly upon us here in the northern hemisphere, and that means a lot of us will be going on vacation. If you're like our family, most of those vacations tend to take the form of a road trip. Even if we're flying somewhere, we have to go all the way down to LA to get a plane, and that's still an extra hour to two hours in the car on each end of the trip. That means car knitting is going to be abundant.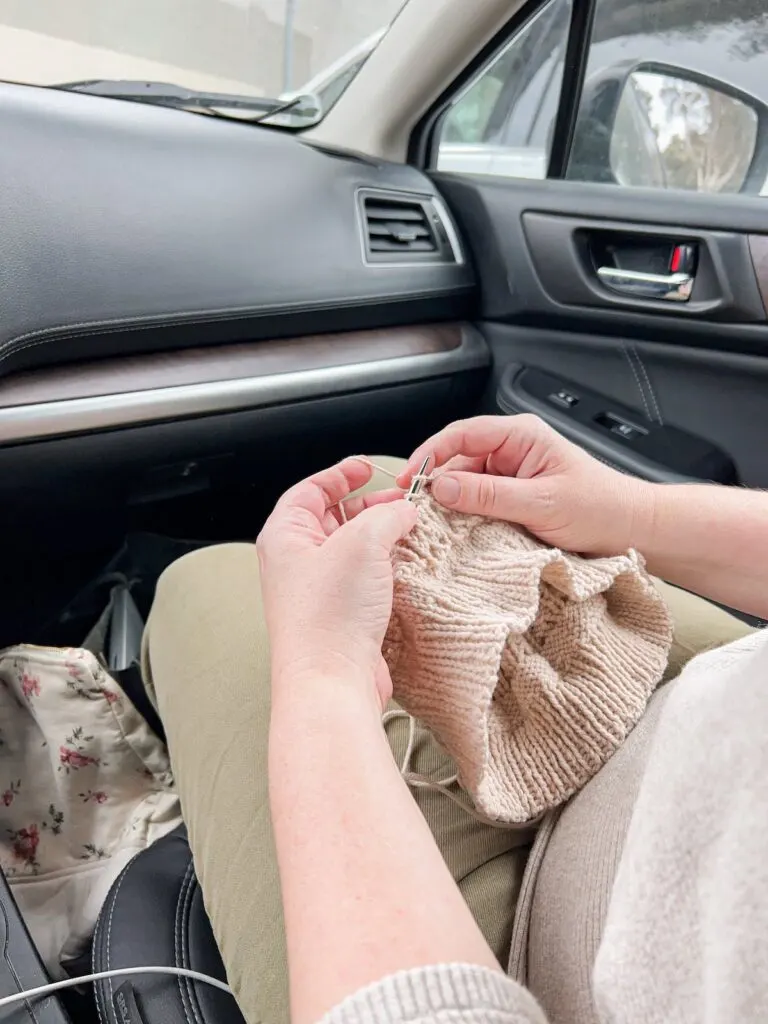 I've had a lot of time to think about what makes for a good car knitting project, so I thought I'd share some tips here.
Pick a small project
When you are knitting in the car, you're working in a confined space. This might be even more so if your car is also full of luggage and other items for a long trip.
Unlike when you're knitting at home, in the car, you don't have space to spread out. That means you're going to want a smaller project. A large blanket that has already grown to five feet long probably isn't going to be the best car knitting project, though if you're on a deadline or feeling particularly determined, you do what you gotta do.
For me, I tend to work on socks, hats, and fingerless mitts in the car. These are itty-bitty projects that take up almost no space and require me to pack very little yarn but will take hours of my time to finish.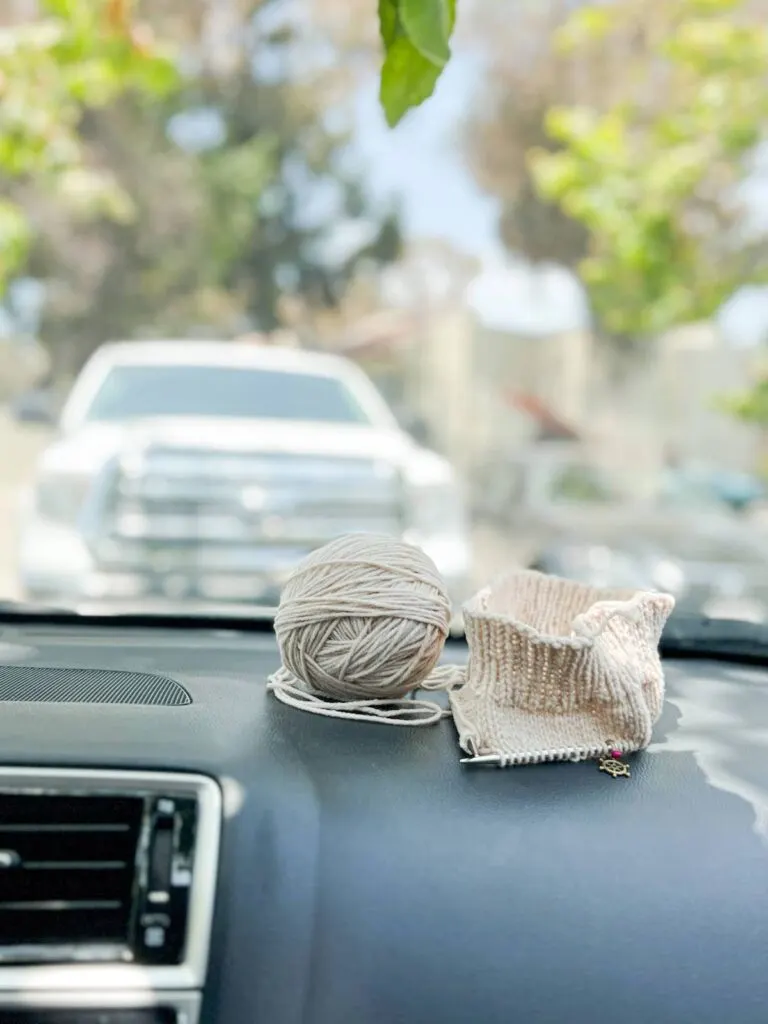 Pick a project with a relatively simple stitch pattern
Many people struggle with motion sickness. One thing that helps is being able to look up and out the window pretty regularly. If you are working on a really complicated stitch pattern on your project, though, you're not going to be able to do that.
Depending on the severity of your motion sickness, you might want to knit something that is plain vanilla stockinette in the round or garter stitch knit flat. That way, you can look out the window the entire time but still keep your hands busy.
If you have a stronger stomach but still don't want to live too dangerously in the car, you can choose a fairly simple stitch pattern and look up periodically when you're at a mellow part in that pattern.
Simple stitch patterns are also great for car knitting because you don't want to completely miss the sights outside. Sometimes you're driving through an absolutely beautiful part of the world, and it's nice to see what's passing by your windows. Having a relatively simple stitch pattern will allow you to look up regularly and enjoy the world around you.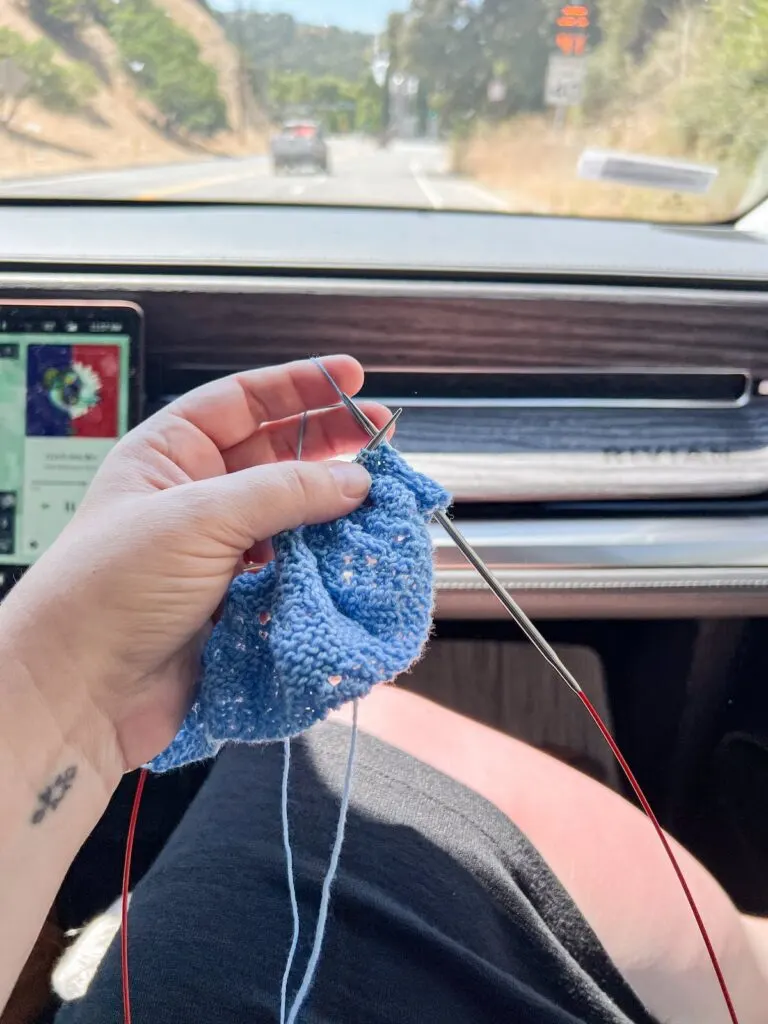 Pick a project that doesn't require too many needles
There is nothing worse than working on a project, dropping one of the needles you need, and not being able to fish it out. Then you're stuck. I have lost so many DPN's under car seats and not been able to retrieve them until eventually we stopped the car and I was able to move the seat around.
That's why I like to work on projects where I can use circular needles when I'm knitting in the car. Most of the time, if I'm knitting something flat, I'm knitting it on circular needles with a longer cable. I even knit my socks on tiny circular needles, so I almost never need to worry about losing a needle anymore. It's really only an issue when I am working the parts of socks where I still use double pointed needles.
Your preferences might be different, though, so this is worth taking into account when you are car knitting. If you tend to use double pointed needles a lot, that may not be the project you want to bring in the car. Then again, maybe you're willing to risk it—or you can mitigate the risk by packing some extra double-pointed needles in the size you'll be using. The call is yours.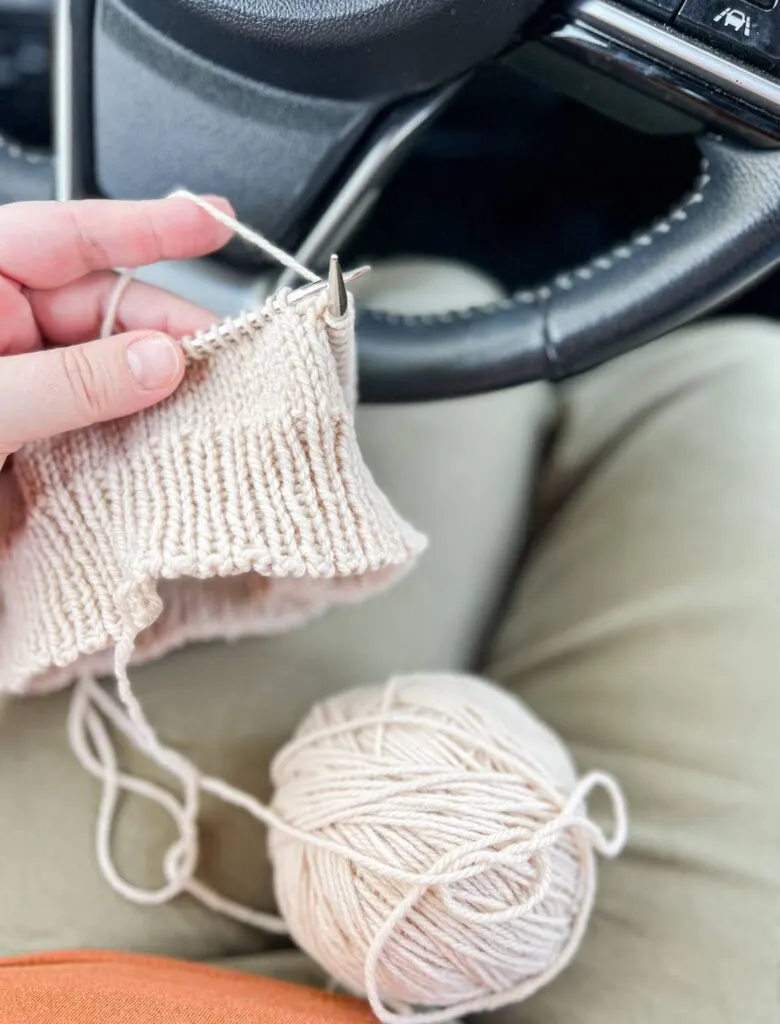 Pick a project that you can put down and pick up easily
When I'm car knitting, I'm usually riding shotgun while my husband drives. That means that I'm also the navigator, so there are times where I need to put down my knitting and pick it back up pretty frequently. If I'm needed for adding a pitstop to our route or seeing if we can find a way around something we don't want to get stuck in, I need to be able to set down my knitting pretty easily.
This is related to the suggestion that you choose something with a simple stitch pattern, but it's not quite the same thing. There may be projects where you have a relatively simple stitch pattern overall, but there are pieces of it that require your concentration. When you're car knitting, depending on your role in the car, you may find that the interruptions are wholly unpredictable and might come during one of the rare times when you have to concentrate more carefully.
This is why, for example, I don't like knitting garments in the car. Even if the sweater has a relatively simple overall stitch pattern composed entirely of knits and purls, if I am at the point where I am shaping the collar and decreasing the shoulder at the same time, I'm still going to have to concentrate on that. That's a project I can't put down and pick up quite so easily as a hat or a sock.
---
Summertime is prime roadtrip season. If you're hitting the road this summer, too, I hope these tips are helpful for you!
Got some other tricks that make car knitting easier for you? I'd love to hear from you in the comments.