I recently returned from a road trip with my little family, and it was my first chance to get in a decent amount of travel knitting in a while. My husband and I traded off driving duties, but whenever I wasn't driving, I was knitting in the passenger seat.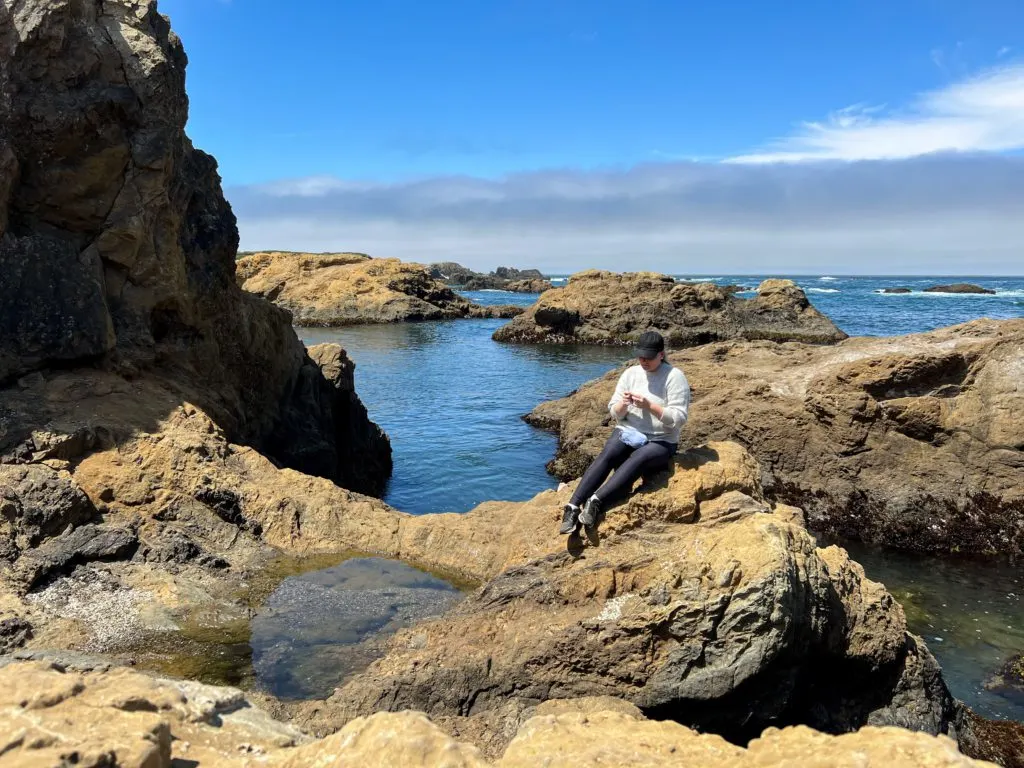 Knitters talk a lot about how to take our work with us when we travel and joke about how chaotic it can be, but there are some actual concrete steps you can take before you leave to make sure your travel knitting is a success.
Here are some ideas gleaned from 15 years of experience.
For travel knitting, I choose small projects with lots of stitches
Like many knitters, I struggle with figuring out how much yarn to pack on a trip.
She's a 10, but she packed two months' worth of knitting projects for a one week road trip.

So she's really a 12.

(It me. I overpacked on yarn. Again. I am a real catch!)

— Lauren (@BeesInTheBonnet) July 18, 2022
When I have limited luggage space, though, I know I can't pack a big project like a sweater or a blanket. To maximize my storage and knitting time, I like to pack projects that use relatively fine yarn and small needles.
Things like socks and fingering-weight shawls are great vacation knitting projects because they only take up a little bit of space in your suitcase but will provide you hours of knitting entertainment.
I prefer projects with simple stitch patterns and easy construction when knitting on vacation
When I'm on vacation, my brain is in vacation mode, too. The last thing I need when I'm knitting on vacation is a complicated knitting pattern that I have to think about all the time.
That's why, when I'm choosing a vacation knitting pattern, I look for patterns that have simple, easily memorized stitch patterns.
With the exception of socks, whose construction I have memorized, I like to work on flat projects or projects that have almost no shaping involved. That way, I can still get my knitting time, but I'm not forcing my brain out of its relaxation zone.
Think about the weather where you're headed: what sort of vacation knitting will work best?
When people think "summer vacation," they often think of hot places. That's sometimes true, but not always! On our trip, we went to the Mendocino Coast and the San Francisco area, both of which are notorious for being chilly during summer.
Which is exactly why I chose them.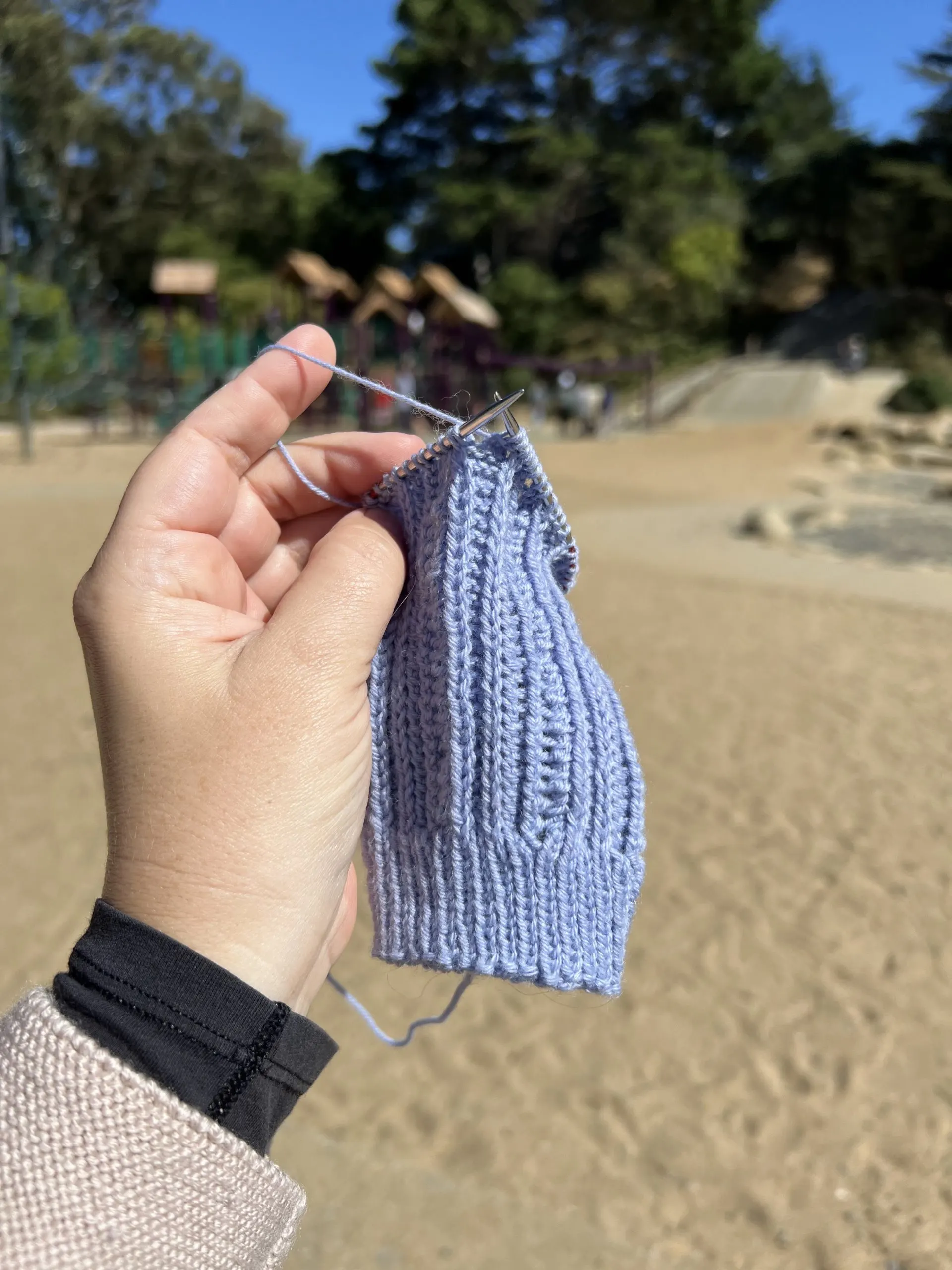 But this means the kinds of projects I brought would be different from projects I might take to, say, a hot and humid beach destination. Give some thought to whether the fiber mix in your project will be comfortable to work with where you're headed.
If you worry about dropping needles, try using circular needles while travel knitting
When I first started knitting, like many knitters, I started with two straight needles (Clover bamboo, size 19, thankyouverymuch). As I moved on to other projects, I got more needles, but I kept buying straights.
Until I flew home with my knitting one time, dropped a needle as I was working, and watched in horror as it rolled away under the seats in front of me. I was stuck.
So now I knit almost exclusively with circular needles, and when I need DPNs, I bring extras. If you're like me and tend to drop things easily, give that some thought before you choose your needles for knitting on vacation.
Don't forget to check airline rules re needles (and maybe fly with needles you don't care about)
We've been doing road trips since the beginning of the pandemic, but I imagine that someday, we will be back to flying places, too.
In the past, when I have flown with needles, I check the regulations for my departing locations to make sure it's okay to fly with my needles. I've never had any trouble flying domestically in the US with my knitting needles, but I have heard stories from friends elsewhere who have had needles confiscated.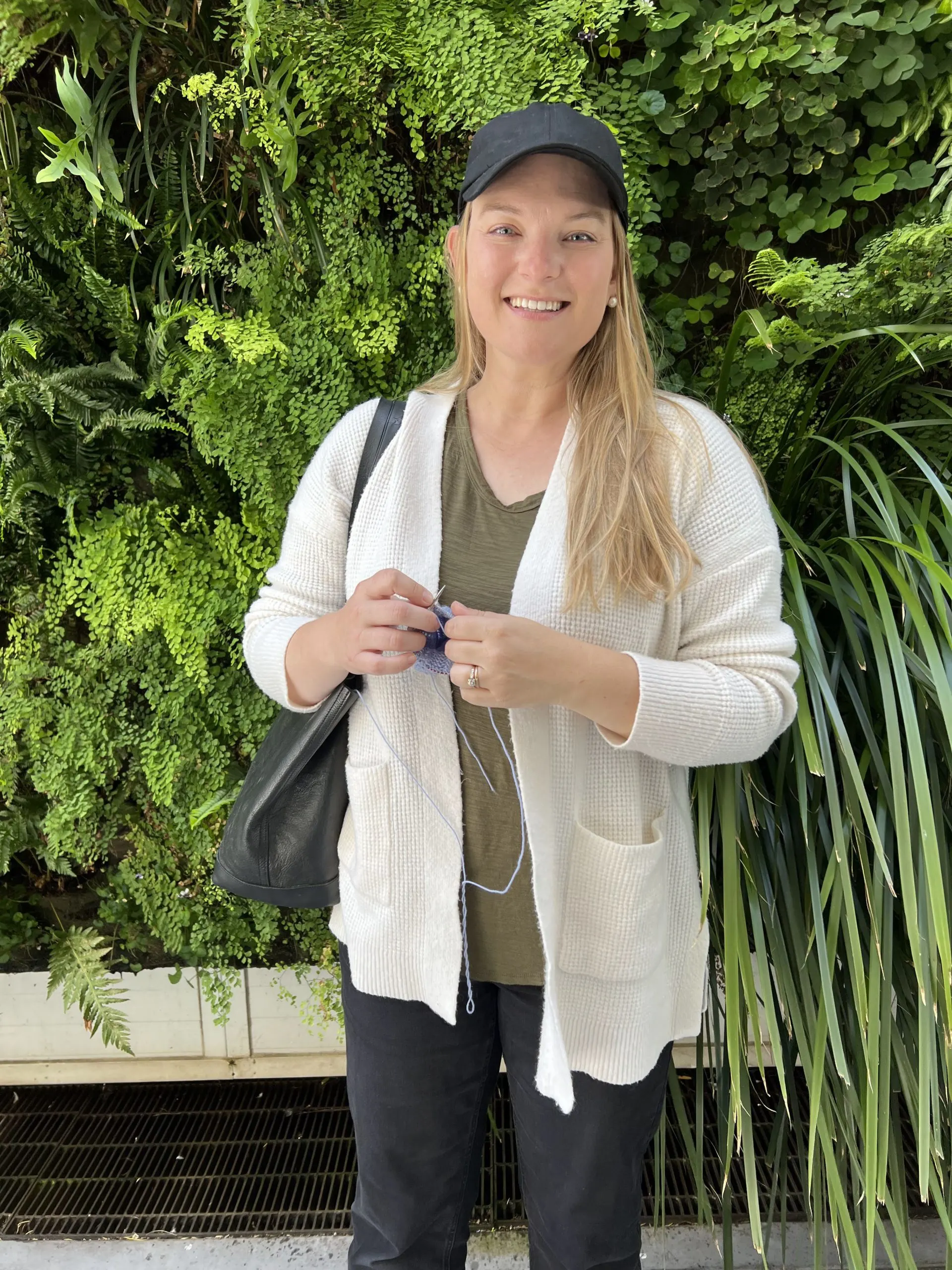 If you are feeling particularly cautious, you can bring a less expensive set of needles with you along with a darning needle and some waste yarn. That way, if airport security insists that you ditch your needles, you don't have to unravel your entire project, too.
But here's a helpful data point: I flew to the H+H Americas conference last June with a full set of interchangeable needles, three full sets of double pointed needles, and several circulars in my rollaboard suitcase. TSA didn't bat an eye.
Bring a small bag of notions in case you need to make a repair
When you're knitting on the road, things can sometimes go awry! It's easier to drop stitches when you're knitting in the car or distracted by fun things happening around you. Sometimes a project slips off the needles in your bag. Sometimes you just make a mistake and have to go back to fix it.
And when that happens, it helps to have all the tools you need to fix things on the go.
Here are the essential knitting tools I always carry. They've definitely saved my behind a time or two when I was vacation knitting.
Put Your Travel Knitting in a Small, Separate Bag
When you travel, you're often carrying a lot of things all at once. If you're like me, that means your purse or backpack is more full than it usually is. That, in turn, means there are more things to snag and spill on your knitting.
Which is why you don't want to just dump your WIP into that purse or backpack.
Instead, try to put your project into some sort of project bag. It doesn't have to be an actual project bag. One of my favorites is a waterproof pouch I got from The Honest Company 7 years ago when I ordered a bunch of diapers (we can talk another day about how I feel about marketing to first-time moms and how often it plays on their fear and sense of guilt). I also love Ziplog gallon bags for small projects like socks and hats.
Whatever you choose, the goal is just to have a smaller bag that can be tossed into your larger bag. That way, you can protect your knitting while you adventure.
---
If you have more tips and tricks for travel knitting, I'd love to hear from you! How do you make sure your knitting on vacation adventures go smoothly? Drop me a line in the comment box.