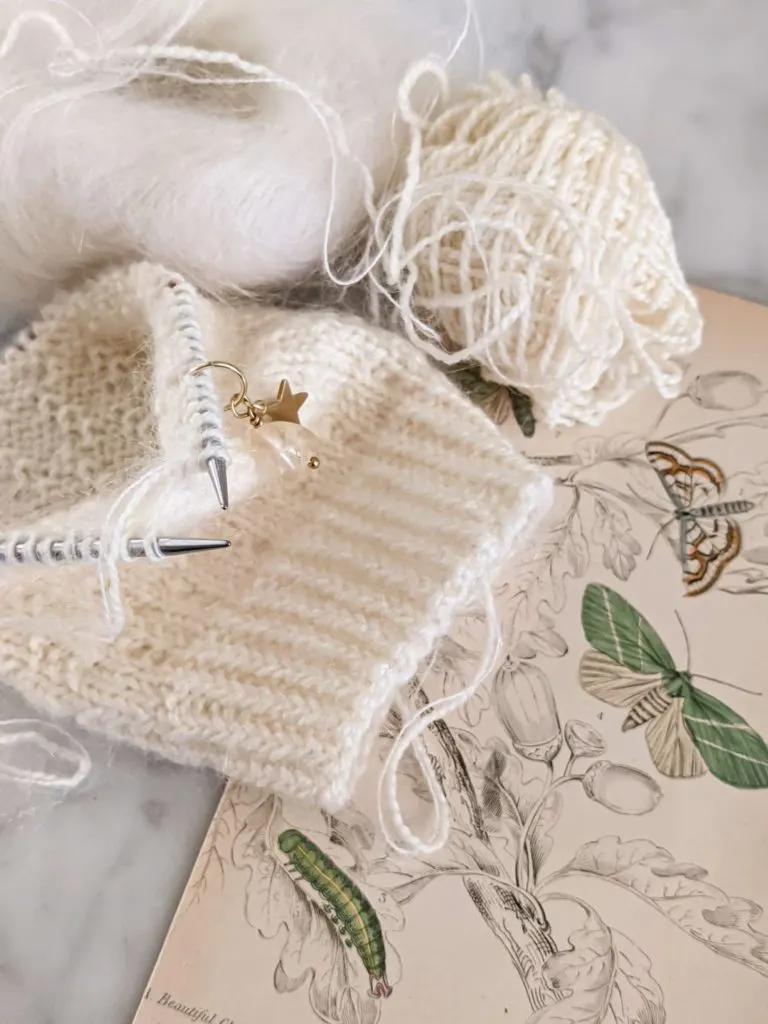 One thing a lot of knitters struggle with is picking the right needles for knitting socks. When you're working with such a small circumference, things can get fiddly.
There are a few different options for addressing that. I'm going to cover my two favorites in this post.
When I first started knitting socks, I only knew double-pointed needles. I used them for hats, for sleeves, for socks, you name it. If it was small and circular, I went to my DPNs.
Eventually, I discovered circular needles for the hats and larger items, but at the time, nobody was making tiny circular needles for socks yet. I tried magic loop and two circulars, but neither of those methods ever really clicked for me.
Until a few years ago, then, I was knitting all my socks on double-pointed needles. It was fine, and I got through quite a few pairs of socks that way, but the needles were always a bit fiddly.
Then, I saw somebody on the internet using a pair of teeny tiny circular needles to knit their socks. It felt like my world had been blown wide open. Where did these magical little tools come from, and how could I get my hands on some?
I ordered my first pair of tiny circular needles in the summer of 2018 and never looked back. Now, I knit most of my socks with small circular needles, and I use double pointed needles for heels and toes.
Here's why.
How I Fell in Love with Small Circular Needles
With the small circular needles, I have to do less adjusting as I move around the circumference of the sock. Less time spent on rearranging stitches means more time spent knitting. I find that the small circular needles have significantly cut down the amount of time I spend on each sock. Speed isn't everything, but when you're trying to keep up with a busy self-publication schedule, it's nice to have a way to streamline the process a bit.
It's also easier to toss a sock in my purse and go if it's on tiny circular needles compared to double-pointed needles. With the small circs, there are only two spots for the yarn to slip off your needles, as opposed to six or eight with the DPNs. I also don't run the risk of losing my working needle in the depths of my bag.
One thing to be aware of: the tiny circular needles have very small tips. Some knitters have reported that these small circular needles make their hands feel cramped. This isn't something I've experienced, but I also have small hands generally. For me, tiny needles were a little bit of an adjustment. Once I got the hang of them, however, my hands felt just fine.
I use the 9″ circular steel needles from ChiaoGoo. (This is an affiliate link, which means if you choose to buy something through those links, I'll receive a small commission at no extra cost to you. I will always identify affiliate links for you. Thanks for supporting my work!) They're great little needles, and I have them in several sizes now.
Why I Still Love Double-Pointed Needles for Knitting Socks
Tiny circular needles, however, have the same limitation that all circular needles have: the cable means you can't totally close up the tube you're working on. For closing toes, nothing beats my trusty double-pointed needles. When I first started out, I used bamboo needles. I'm a tight knitter, though, and I wound up snapping several of them. To avoid that problem, I switched to metal needles. I've been using this same set from KnitPicks since 2009 (affiliate link), and I've never needed to buy another set of DPNs since.
I also like double-pointed needles for working on heels. That allows me to leave half the sock resting on the small circular needle and have a wider range of motion as my heel flap or short-row heel grows. If I'm working an afterthought or peasant heel, which is worked much like a wedge toe, I also need the double-pointed needles so I can close the heel completely.
When It Comes to Sock Knitting, Do What Works For You
This system of two different needle types works great for me, but you might find you prefer a different style of sock knitting. Maybe you're a Magic Looper who loves doing toe-up, two-at-a-time socks. It could be you love old-school DPNs and don't see a need to fix what isn't broken. Perhaps you've mastered those new-fangled Flexiflips (I gotta try those out).
Whatever your preferred sock-knitting style may be, it's valid. Go forth and knit!
---
If you're curious about some of my favorite knitting tools, here's a round-up of the things I use most! These are affiliate links, which means if you choose to buy something through those links, I'll receive a small commission at no extra cost to you. I will always identify affiliate links for you. Thanks for supporting my work!
The 9-inch circular needles I prefer for knitting socks
The interchangeable needle set I've been using since 2011