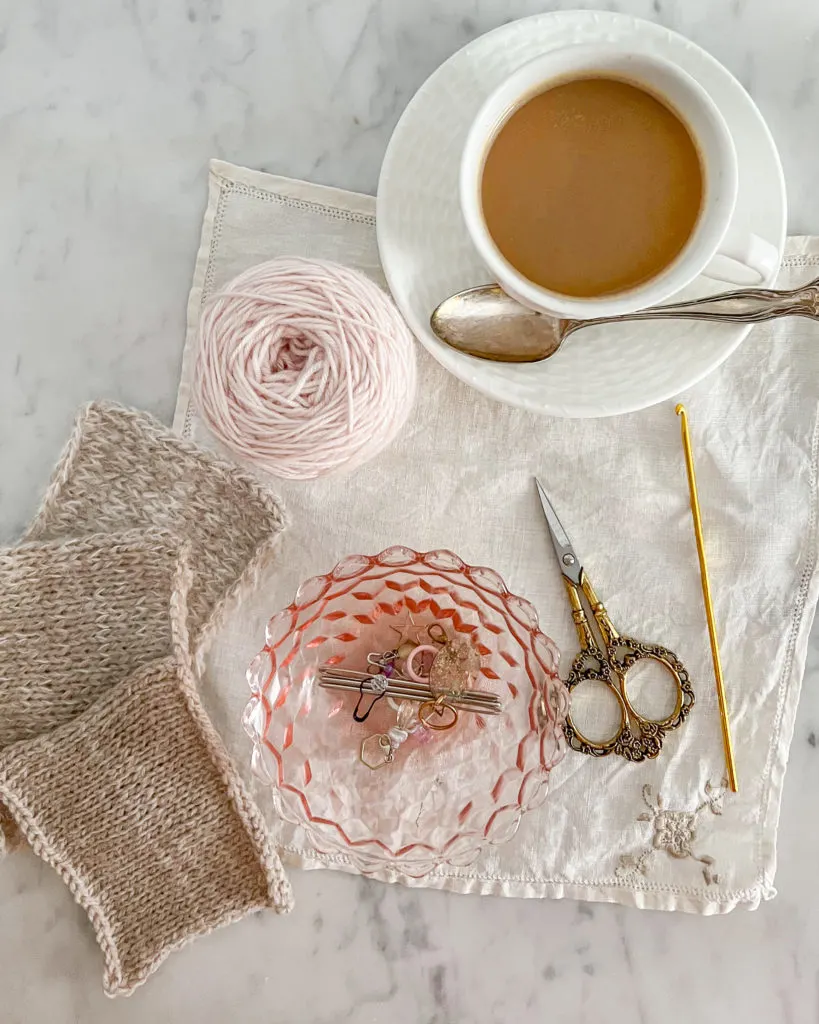 When I first started knitting, I knew I needed yarn and needles. That much was clear. What I didn't realize was that there was a whole host of knitting tools that would make my crafting life easier, too.
Over the intervening years, I've built up a little collection of all my favorite tools. I keep them in a small pouch inside my project bag and carry them around with me wherever I take my project.
In case you are also starting out, here are the tools that I always keep on hand, no matter what.
This post contains affiliate links, which means if you choose to buy something through those links, I'll receive a small commission at no extra cost to you. I will always identify affiliate links for you by putting "(affiliate link)" next to them. Thanks for supporting my work!
Scissors (or Nail Clippers!)
Some yarns are fragile enough that, when you are done with them, you could just grab them and break them. Many others, though, require some thing sharp to cut them. I like to carry a small set of scissors with me for those projects where my superhero strength just isn't enough.
My favorite scissors are these ones (affiliate link) with their lovely, scalloped handles . They have nice, sharp tips, too, which makes them great for ripping out seams when I'm sewing. I love a tool that can be used in many different contexts.
If you are flying with your knitting and concerned about having your scissors confiscated, though, you can be ultra cautious and take other cutting tools with you. They make specialized yarn cutters, like this one (affiliate link), but you don't have to splash out on that if you don't want to. I find that an ordinary nail clipper will do the trick just fine. You might want to use a fresh set of clippers that haven't actually been clipping your nails, but that's up to you.
Stitch Markers and Progress Keepers
Sometimes people use the terms "stitch markers" and "progress keepers" interchangeably, but they're actually two different knitting tools that serve two different purposes.
Stitch markers usually are used to keep track of the number of stitches in a repeat or to mark the end of a round. They tend to be on a fixed loop and move along with your knitting.
Progress keepers, on the other hand, are clipped onto your knitting and are used to keep track of the number of rounds or rows you have knit, or how far you've gone. They usually have a lobster clasp so you can clip them onto a stitch. Then they stay in the same spot as your knitting grows.
I like to keep both on hand in my project bag. If you are looking for some pretty stitch markers, here's a round up of some of my favorites. If you'd rather find some more utilitarian markers and progress keepers, here are lots of good options from KnitPicks (affiliate link).
Tapestry Needles
Listen, I hate weaving in ends. It is probably the single most tedious part of any project. Still, I need to do it, and often times I find I enjoy doing it while I am out and about.
That's because it is a simple, relatively mindless task, and I can do it while chatting with others or waiting in the car for a few minutes. To do that, though, I need carry some tapestry needles.
There's a huge range of tapestry needles out there, from the big blue plastic ones to the small metal ones. Some have bent tips, while others have more pointy tips.
I like to keep a range of sizes in my bag, because the larger needles aren't well-suited to weaving in ends on projects with a really fine gauge, like socks. Here are some of my favorite needles that I carry all the time.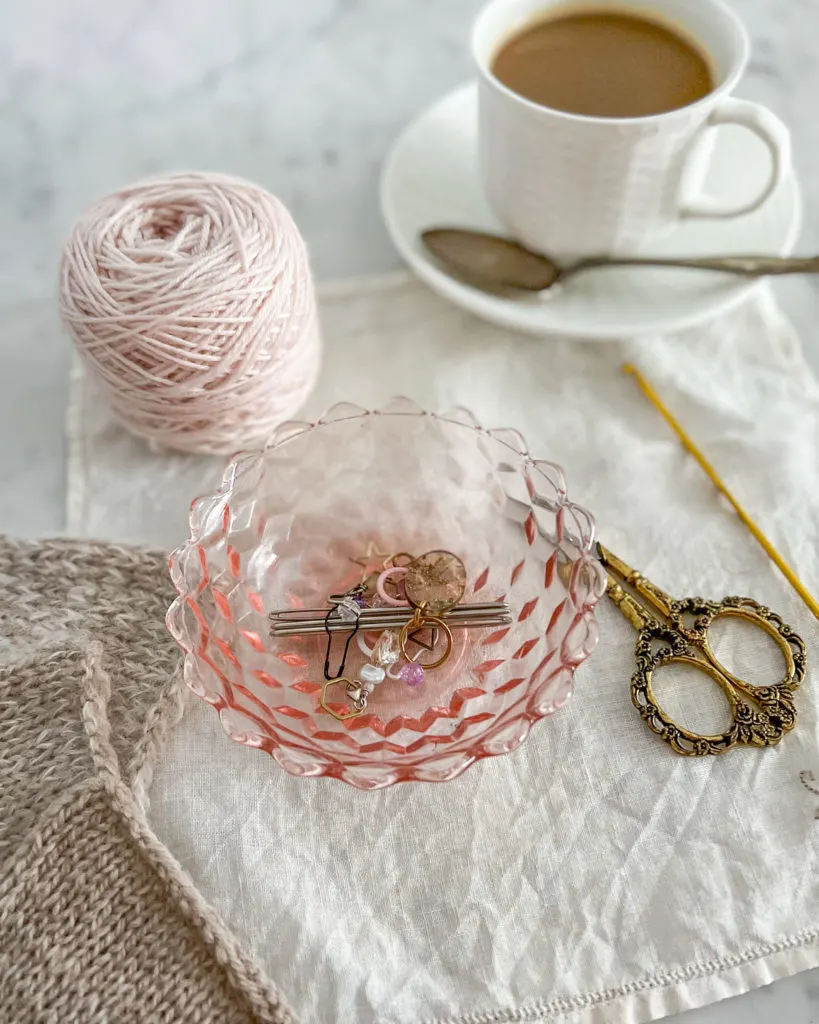 Measuring Tape
Often times, a project a pattern will say to knit for a certain length or until your project reaches a certain measurement. That's useful because it allows for slight differences in row gauge, but it can be tricky if you don't have some thing to measure your project with.
Having a small, retractable measuring tape helps a lot.
There's an inexpensive option at KnitPicks (affiliate link), or you can splash out on one with a pretty Liberty floral print case.
A quick note about vintage tape measures: I love buying vintage, but unless the tape measure itself is metal, I wouldn't buy a vintage tape measure. That's because fabric can stretch and distort over time. The older the cloth tape measure is, the less likely it is to still be accurate.
Scrap Yarn
Now, this isn't the only list of knitting tools out there, and a lot of the lists recommend having stitch holders. I'll be honest: I don't like stitch holders. I think they're bulky and stiff, and I don't like the way they sit in my project.
Instead, I like to put my stitches onto scrap yarn. This is another reason I always have a darning needle in my bag. I keep a few different scrap yarns in a few different weights in my project bag, so that no matter what I'm working on, I have yarn that I can use for holding thumb stitches, sleeves, or whatever else I need to hold.
When you are moving your stitches onto scrap yarn, make sure to use a scrap yarn that is a slightly lighter weight than the yarn you using for your project. Then it'll slide in and out of the stitches more easily.
Crochet Hook
People usually recommend keeping a crochet hook in a project bag for fixing drop stitches, but I actually use mine for a totally different purpose.
I like to crochet my bobbles in my projects. This means whenever I have a project with bobbles on it, which is often, I need to have a crochet hook handy. I usually keep a few different crochet hooks in a few different sizes in my bag, so that no matter what happens, I am ready.
Of course, you can also use your crochet hook to help pick up dropped stitches. If you're like me, though, you might find that it's just as easy to help ladder that stitch back up using your two knitting needles.
Gauge Finder/Needle Sizer
I have a combination tool that I carry everywhere with me to make sure I'm using the right size needles and to measure my gauge swatches. It's a lightweight little metal thing, and it's super helpful. I use it to make sure I swap out the right needles when I need to (I've worn away the printed numbers on my interchangeable needles) and to periodically check my gauge as I work.
These are great knitting tools that help make sure your project turns out the size you expect it to.
They come in all shapes and sizes, from the plain metal to the fanciful. Here are some fun ones I found!
Hand Cream
There are a few sensory experiences I like less than the feeling of yarn snagging on my dry skin in the winter time. I try to keep hand cream in my knitting bag so that if my hands are too dry, I can fix the problem and keep on stitching. I love the Sewrella hand cream (affiliate link), which is light and smooth but very hydrating. For really drastic situations, you might want to try this Eucerin cream (affiliate link).
An Emery Board
Along with yarn snagging on dry skin, yarn snagging on jagged nails is right up there on the horrible sensory experiences list. If I don't have something to file it down, I tend to eventually bite the nail off in frustration, and that's just not a good long-term solution. Emery boards will help fix the problem with less drastic measures.
---
If you have other knitting tools you love and never leave home without, I'd be thrilled to hear about them. Drop a note in the comments section!