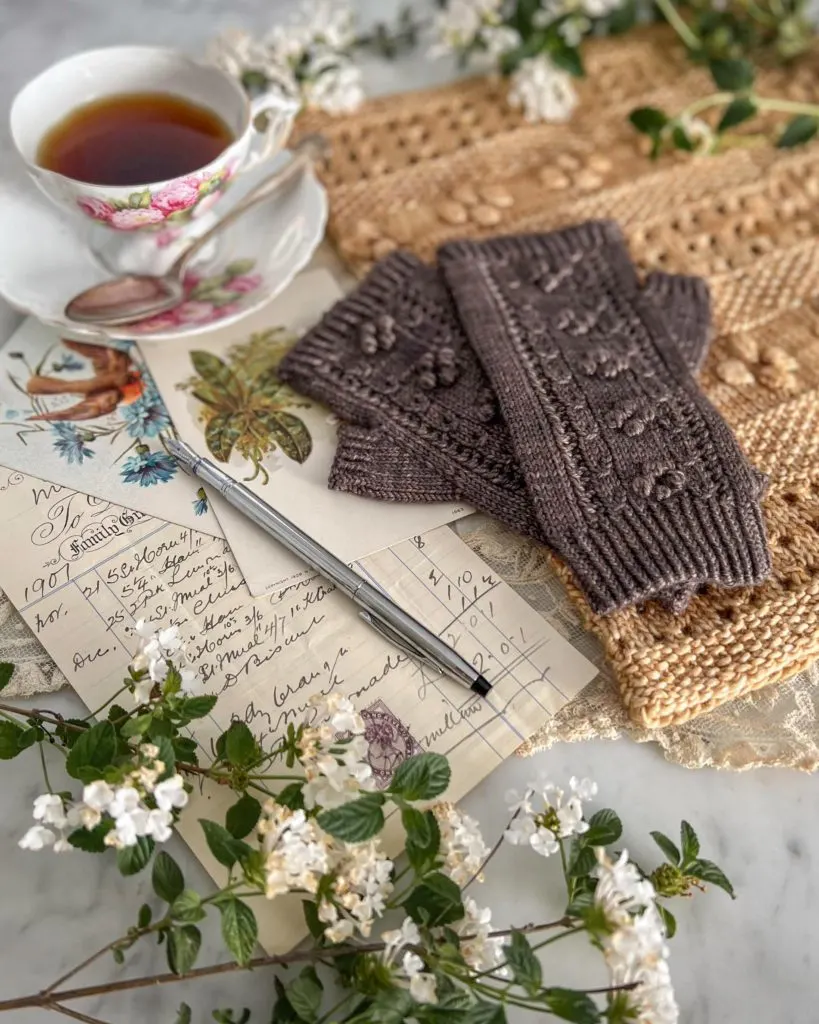 Earlier this month, Karie Westermann posed an interesting question on Twitter: what are your desert island yarns? What five yarns would you choose if that was all you could use for the rest of your life?
Karie gave us all a bonus (both Jamieson's brands) to add on top of our other choices, so I figured that was my workhorse yarns covered. With that in mind, I sat down and asked myself: what kinds of projects do I love making more than anything? What yarns do I like to use for them? What colors do I prefer to use, and which yarns tend to come in those colors?
Eventually, I narrowed down my list, and I'm feeling pretty pleased with my ultimate selection. I thought I'd share them here, along with my reasoning, in case you were curious, too.
This post contains affiliate links, which means if you choose to buy something through those links, I'll receive a small commission at no extra cost to you. I will always identify affiliate links for you by putting "(affiliate link)" next to them. Thanks for supporting my work!
Desert Island Yarn #1: Camellia Fiber Co. Sylvan Fingering
I knit my first project in Sylvan Fingering a little over a year ago, and am currently using it in another project. It's a fingering-weight, three-ply yarn with a truly magnificent fiber blend: 70% alpaca, 20% silk, and 10% cashmere. That makes it really warm without adding much weight or bulk. The three-ply construction adds durability, while the silk creates a really beautiful drape. This is a perfect yarn for shawls, wraps, and lightweight garments with lots of positive ease and a flowy silhouette.
I designed my Plenitude Shawl using two skeins of Sylvan Fingering.
Desert Island Yarn #2: Rowan Kidsilk Haze
I've tried lots of lace-weight silk-mohair yarns over the years (check out this blog post for more on that point), but nothing ever quite comes close to Rowan Kidsilk Haze (affiliate link). It's 70% super kid mohair, 30% silk, and comes in a fantastic variety of colors. I love mixing lace-weight silk-mohair yarns with other yarns to change up texture and color. It's also great for making really light, lacy wraps and garments and, when held double with other yarns, for knitting at a looser gauge than would normally be recommended.
Here are some of my favorite designs using lace-weight silk-mohair: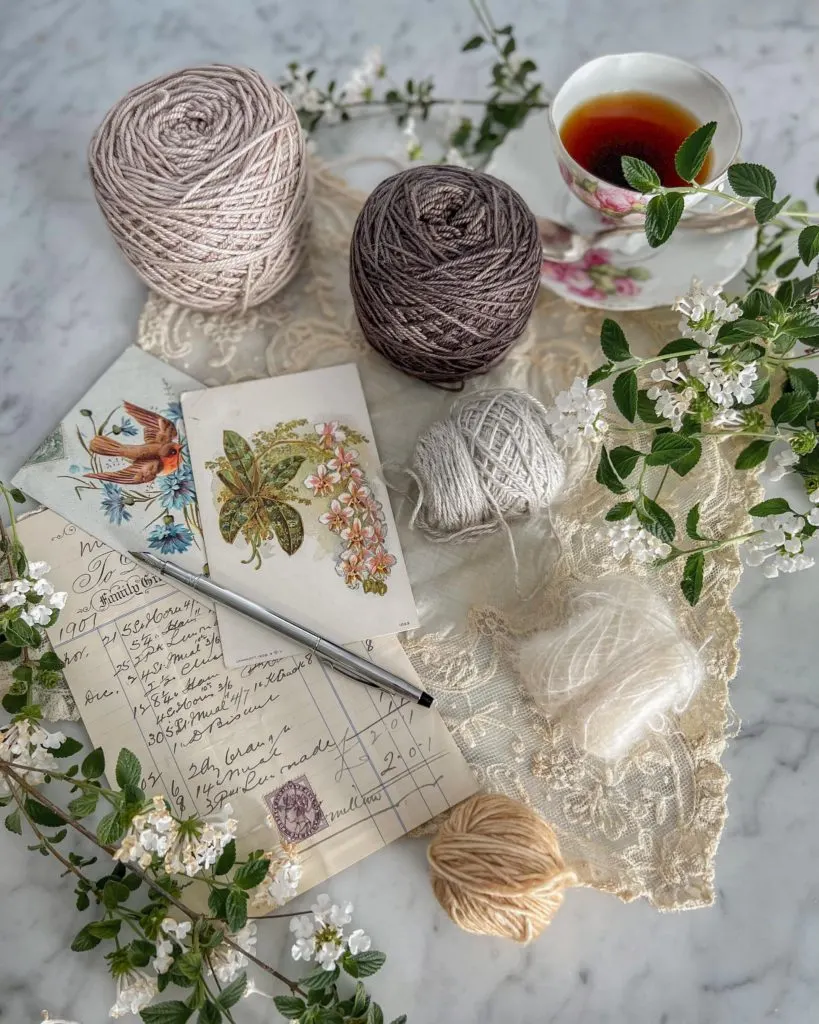 Desert Island Yarn #3: Malabrigo Silky Merino
I first fell in love with Silky Merino (affiliate link) over a decade ago when I was a fairly new knitter exploring colorwork. I bought two skeins at my now-defunct LYS (the wonderful Woolcott & Co. in Cambridge, MA) and couldn't get enough of the fluffy single-ply construction and the slight sheen from the silk. The silk also helps add strength to the yarn, improving its durability. While the single-ply construction still isn't great for garments that receive heavy wear, this yarn is otherwise perfect for hats, mitts, cowls, shawls, and special occasion garments.
I designed my Sycamore Canyon Cowl using two skeins of Malabrigo Silky Merino.
Desert Island Yarn #4: Magpie Fibers Swanky Sock
If you've been hanging out here for a while, you know I love knitting socks. I also prefer fingering-weight yarn for shawls and garments, so a good fingering-weight yarn is crucial for my stash. The Sylvan Fingering is great for soft, drapey projects, but when I want stitch definition, I turn to Swanky Sock. It's a high-twist yarn made of 80% superwash merino, 10% nylon, and 10% cashmere. This isn't a yarn you'll want to use for, say, backpacking trip socks that are going to take a real beating, but if you're like me and go pretty easy on your socks, this is a real gem.
I've designed two patterns in Swanky Sock. The Gladdening Socks are available to all, while the Campestral Mitts are currently only available to members of The Knitting Guild Association.
Desert Island Yarn #5: Julie Asselin Leizu DK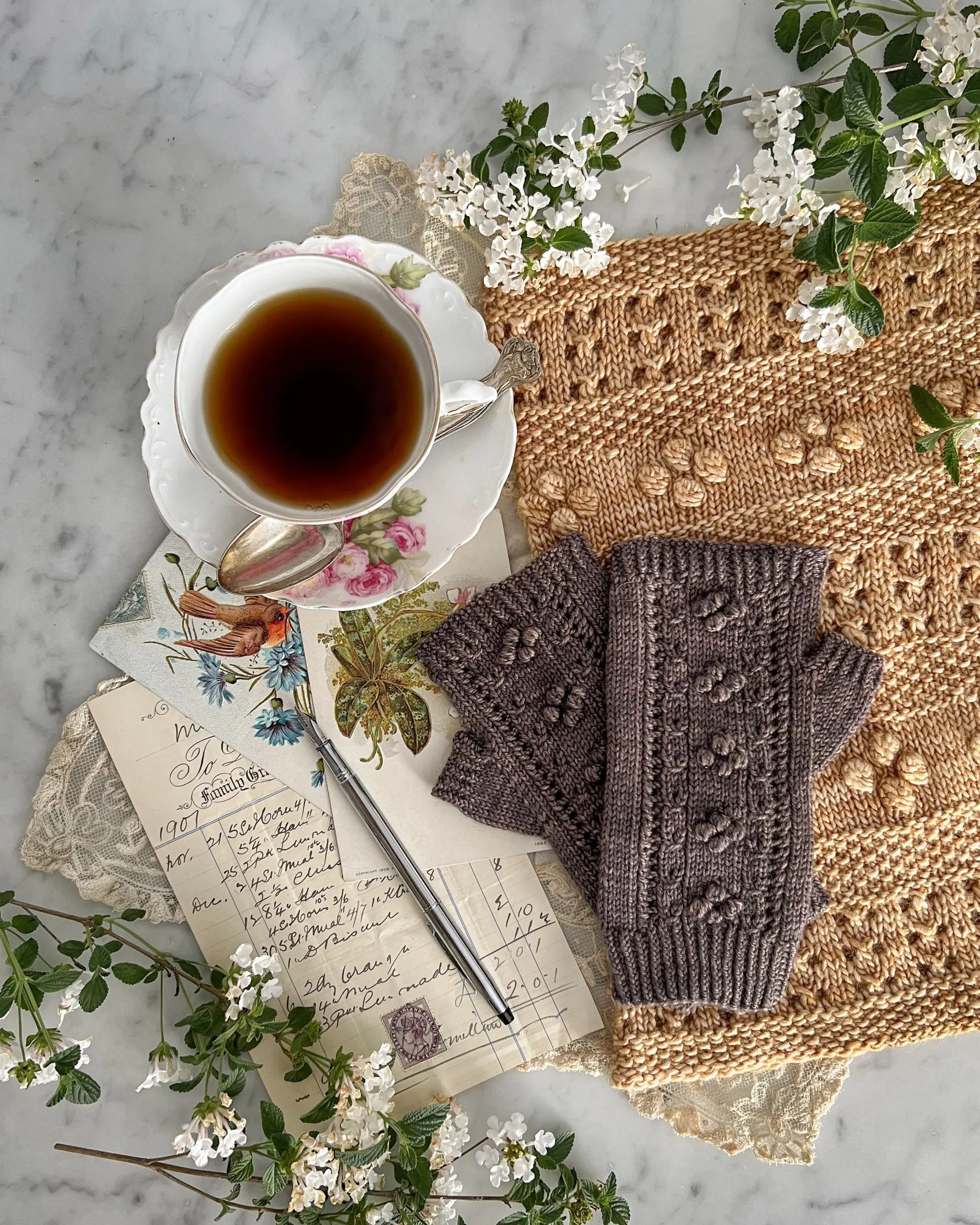 For a sturdy yarn with killer stitch definition that's thicker and warmer than the Swanky Sock, I'd turn to Julie Asselin Leizu DK, a stunning blend of wool and silk that makes cables and bobbles practically sparkle with their clarity. Leizu DK is great for heavier accessories and for knit garments that will get more wear. Its tightly spun construction with multiple plies along with the silk content makes it super durable.
I used Leizu DK in my Pandiculation Cowl and am itching to come up with another design for this gorgeous yarn.
---
So those are the five I'd take along with me. You can tell I love a good wool-silk blend and that I don't really enjoy bulky knits, huh? But with all these yarns, I'll have a great range of options for all my favorite project types.
How about you? Do you have a favorite yarn that you can't live without? I'd love to hear about it in the comments.