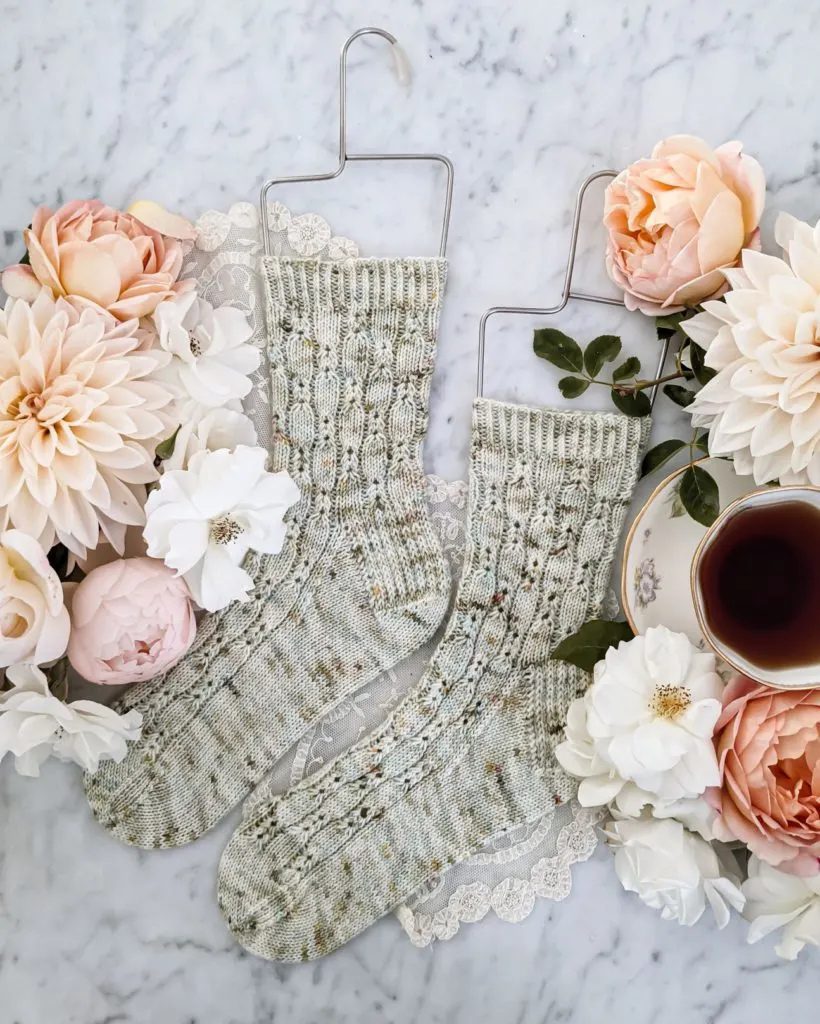 The pattern for the Comity Socks is now available! These socks are graded to three sizes and feature an all-over repeating texture around the leg. There is a heel flap with gusset for a snug, customizable fit around the ankle, and the socks are finished with a classic wedge toe. Here you'll find more information on where to get the pattern, what materials you'll need to make these socks, and much more.
PAYHIP:
Here's where you'll find the Comity Socks.
ETSY:
Here's where you'll find the Comity Socks.
RAVELRY:
Here's where you'll find the Comity Socks.
About the Comity Socks
comity (n.) – mutual courtesy; civility.
A little bit of mutual courtesy can go a long way when we're all feeling frazzled and stressed. While there are times and places when sharp remarks and direct action are appropriate, it's important to be able to distinguish those situations. When in doubt, I try civility, first.
And if I'm honest, I'm always better at being civil after I've had some stitching time. Knitting helps smooth my ruffled feathers and calm my overheated emotions, especially when I know I'm overreacting to a mild situation. Working on these socks helped keep me civil during a particularly cranky phase, and I hope you find them helpful, too, if you could use a little boost.
Specs and Details
SIZES
S, M, L
Finished sock dimensions: 7.5" (19 cm), 8.75" (22 cm), 10" (25.5 cm) circumference (Note: most people like their socks snug, so choose a finished sock size that is slightly smaller than your actual foot)
MATERIALS
Fingering weight yarn, 300-380 yds (274-348 m)
Sample shown knit in Stress Knits Yarn Favorite, 80% superwash merino, 20% nylon, worsted spun, 400 yds (366 m) / 3.53 oz (100 g)
GAUGE
4" (10 cm) square = 32 stitches x 40 rows in stockinette
NEEDLES
One set of needles for your preferred style of small-circumference knitting in a size to match gauge listed above
Suggested needle size: US 1.5 (2.5 mm)
TOOLS
One stitch marker for beginning of round; optional additional markers between pattern repeats
Tapestry needle for weaving in ends
SKILL LEVEL
Intermediate
Techniques: decreases, knitting in the round, Kitchener stitch grafting
If You Like These, You'll Also Like…
For more socks with a soothing, repeating, overall texture, check out the Amicus Socks.
If you like fingering-weight yarn but want to try something a little bigger, take a peek at the Shortbread Shawl.
If you like fingering-weight yarn but don't feel up to a shawl quite yet, take a look at the Madeleine Hat and Madeleine Mitts, which can both be made from a single skein of fingering-weight yarn.
My Favorite Part: The Mesmerizing Stitch Pattern
This stitch pattern is a real gem. It's a 16-row repeat, but it's really just a staggered 8-row repeat, which means you settle into a rhythm really quickly and soon find yourself flying along without realizing how far you've come. There is a little action on every odd-numbered row, so you never go too long knitting just plain stockinette stitch. This stitch pattern sits at the perfect sweet spot between relaxing and engaging.
Test knitters reported they had trouble setting their socks down, so beware! You could be walking into a "must knit all weekend, can't stop, won't stop" situation.
Then again, who am I kidding? That's me most weekends anyway.