Its hard to believe the Month of Socks is already over, isn't it? We've had some adventures! From working on my first pair of toe-up socks to releasing three handknit sock designs in one month to learning about blocking socks and my favorite needles for knitting them, there's been a lot happening here.
But I'm not quite ready to say goodbye to all the fun yet, so I'm back with one more sock-related post. Here's a round-up of five of my handknit sock designs.
Tressa Weidenaar's Painted Desert Socks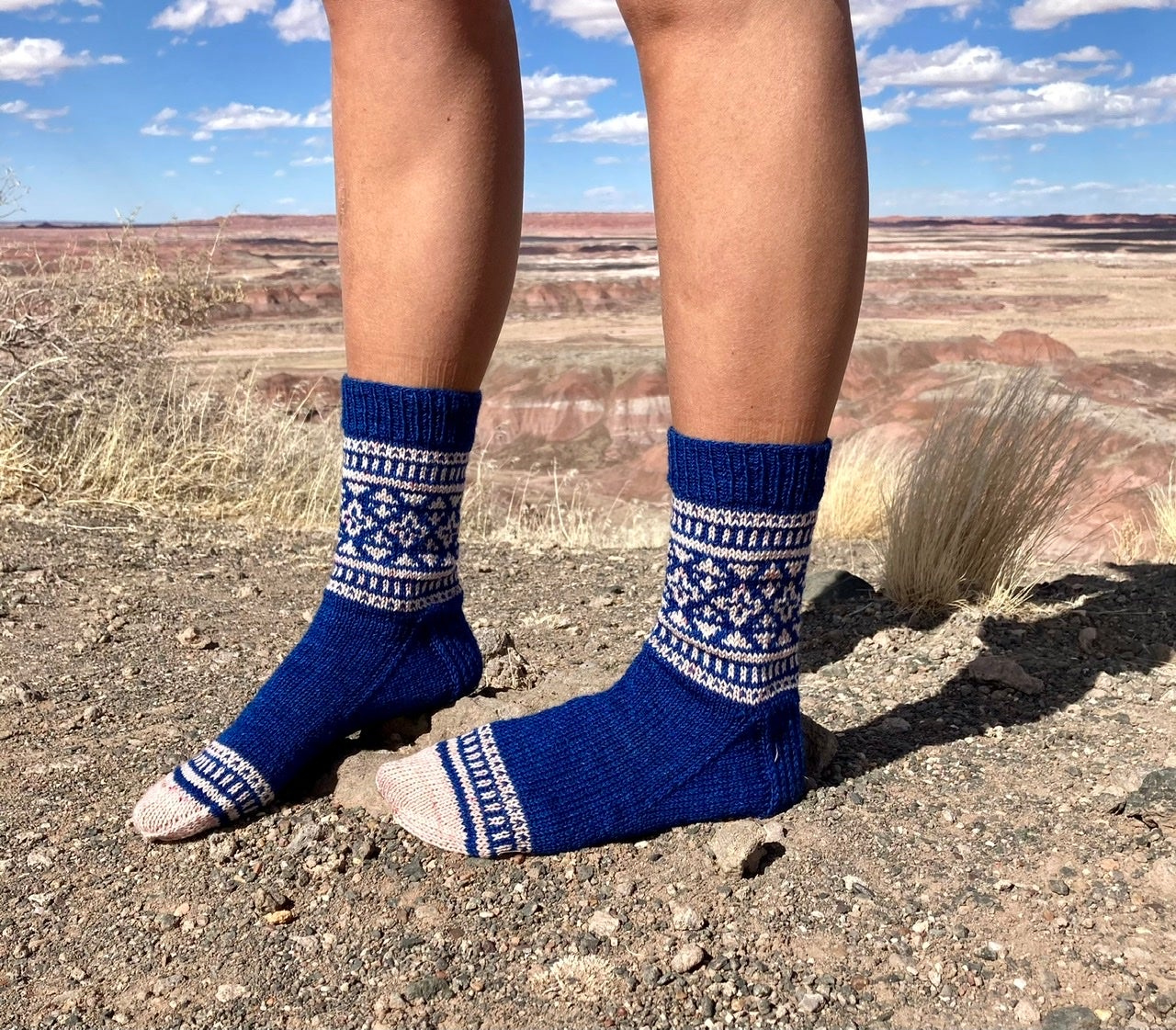 Colorwork socks have a special appeal, I think. They keep you extra warm and add a little fun into the knitting process. Plus, you can create patterns with colorwork that are harder to achieve with textured stitches.
Tressa drew inspiration for these beauties from the Painted Desert, a National Park in Arizona. You can see beautiful stripes in the stone there, which are echoed in the stripes of these socks.
Find the Painted Desert Socks on Payhip and on Ravelry.
Hygge Canyon's Brave the Seasons Socks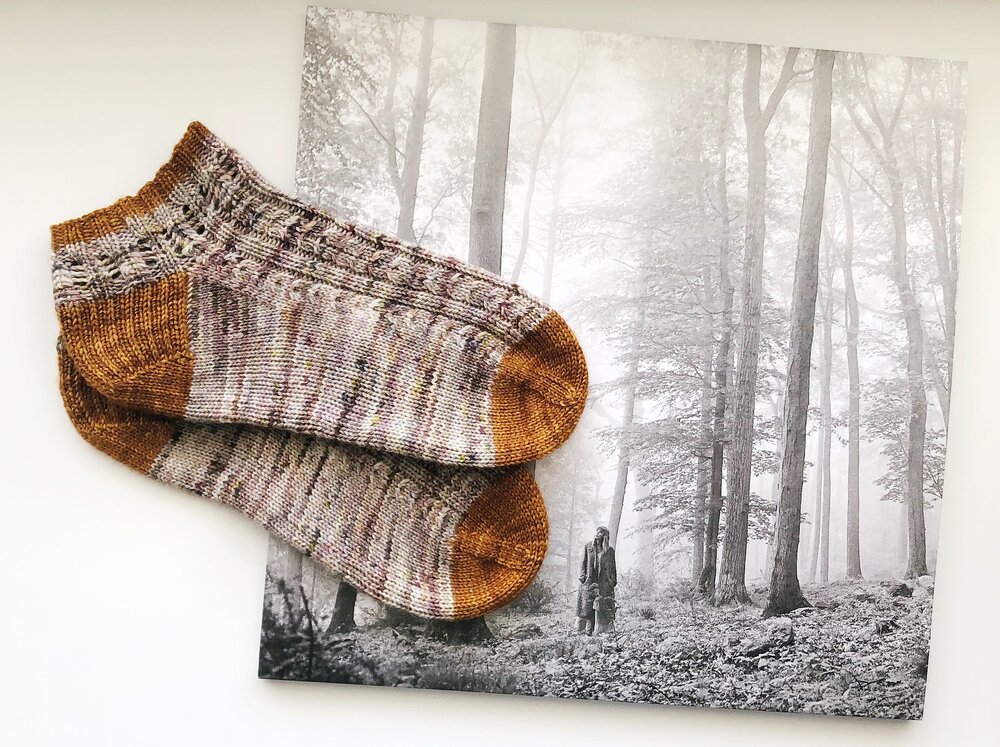 There are two really neat things about making shorties. The first, obviously, is that you're done quickly. The second is that they use less yarn. Depending on your foot size and whether you have contrast yarn available, you can often squeeze two pairs out of one skein of sock yarn.
These socks from Kim Jackson of Hygge Canyon also hit my sock sweet spot: just enough texture to be interesting, not so much that they're overwhelming.
Find the Brave the Seasons Socks on Kim's website and on Ravelry.
Aimee Sher's Wisteria Bloom Socks
I can't tell you how pleased I am to see Aimee stepping out into the design world. Aimee's attention to detail and eye for color made them one of my favorite Instagram follows ages ago. I'm thrilled to see those talents applied to design work now.
These socks incorporate a technique I love, where there is one pattern or texture around the upper leg of the sock, and a different applied to the rest of the sock. In this pair, Aimee also breaks things up by using different yarns for an even more charming effect.
Find the Wisteria Bloom Socks on Payhip, on Etsy, and on Ravelry.
Handknit by Kam April Showers Socks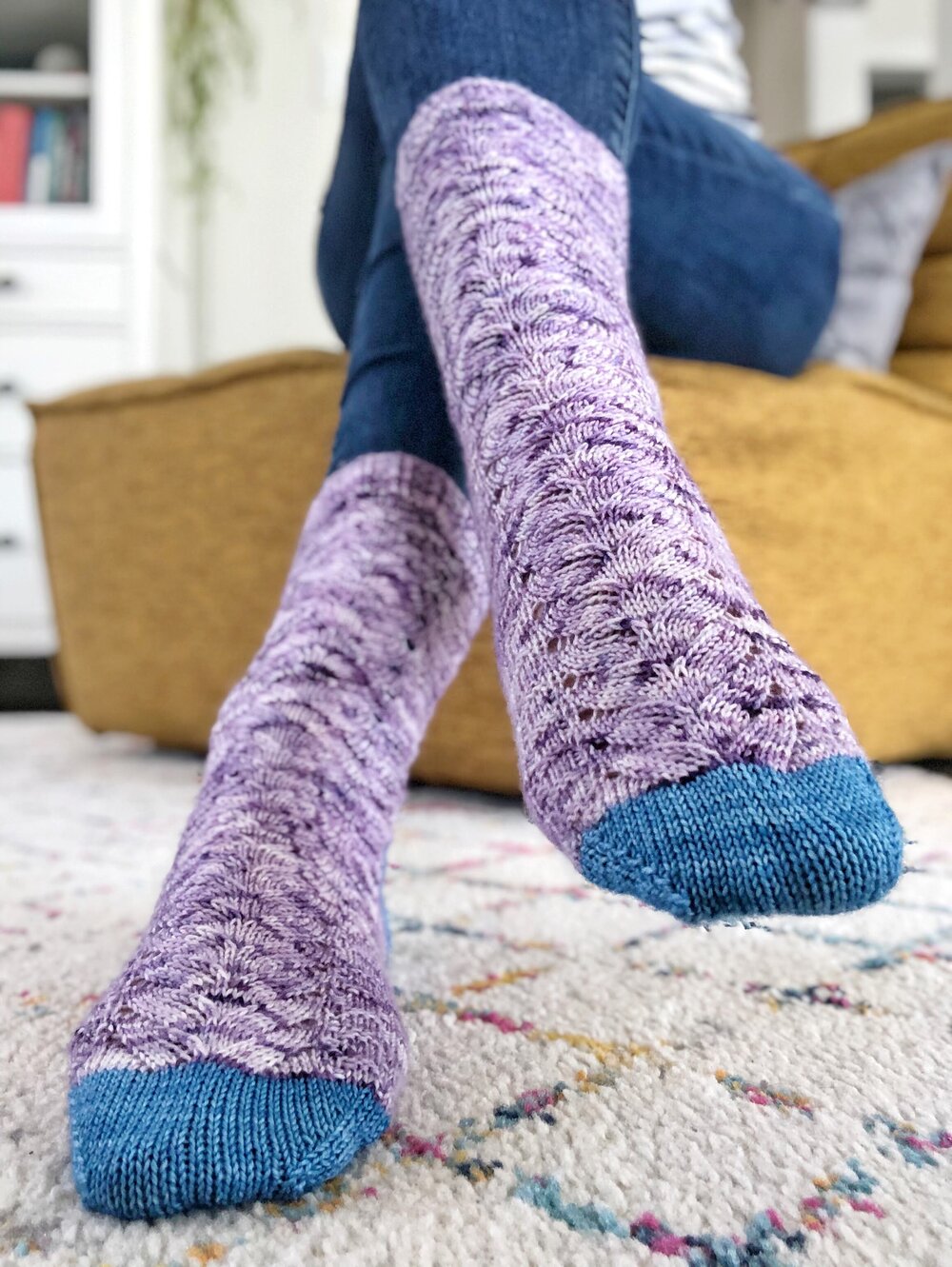 Kam has an eye for cheerful color that fills me with joy every time one of her projects appears in my feed. Whether it's a shawl mixing sock-weight yarn and mohair, a pair of vibrant socks, or a joyful cowl, Kam's knits always put a smile on my face.
These socks feature a symmetrical lace panel that really pleases my orderly side. It's a simple enough repeat that it would be easy to memorize, too, but still interesting to make. What a treat!
Find the April Showers Socks on Kam's website and on Ravelry.
My Creme Brulee Socks
Wanna know a secret? These socks were Aimee's idea! I originally created this stitch pattern for my Arroyo Verde Mitts, but Aimee saw that they'd work well on socks, too, and asked if I wouldn't mind if she made them into a pair of small socks for her kiddo. Of course I said yes, and then immediately sat down to turn this into a set of adult socks, too.
You can find the Creme Brulee Socks on Payhip, on Etsy, and on Ravelry.
---
And that's it for this round of Sock Month, but never fear! There's another round of sock-themed posts coming up in just a few months for Socktober, so if you can't get enough sock content, stick around.
In August, we'll be talking about photographing your knits and how to get the best possible pictures of your knit projects. We'll focus on lighting, framing, angles, and more. Can't wait to share with you.