In my previous installments of the monthly sip and stitch posts, I've focused on teas from smaller retailers. There are lots of lovely teas that I also like to pick up at the grocery store, though, and I thought this month's post would be a nice time to highlight some of them.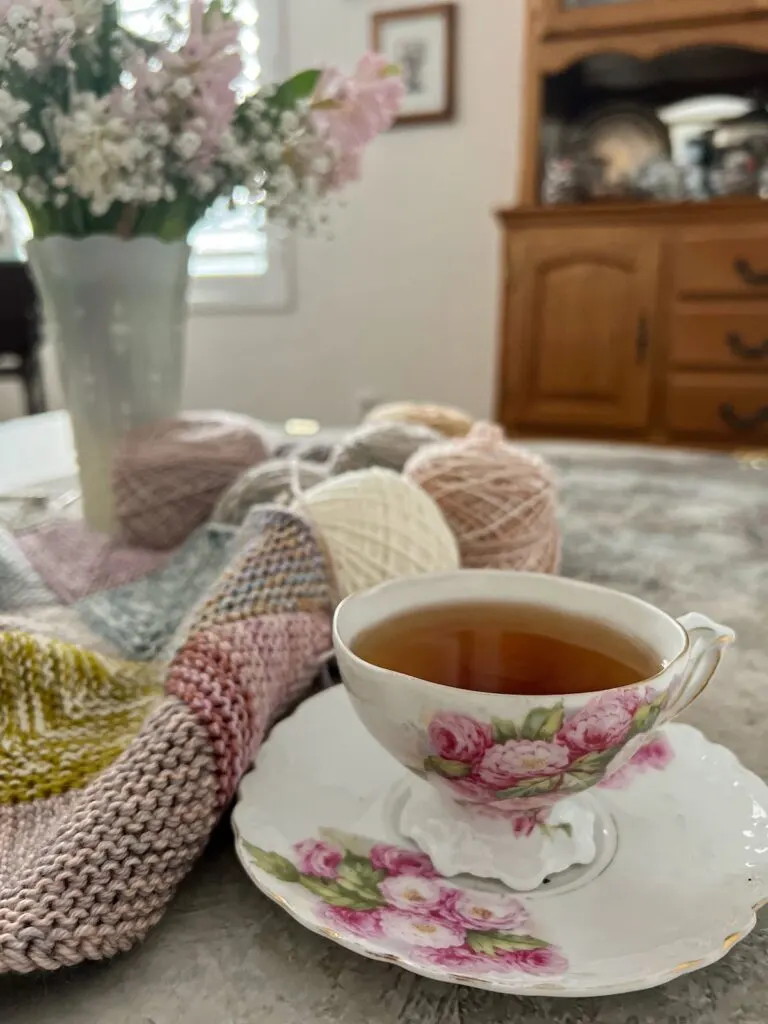 Also in today's sip and stitch: a scrappy project and some pirates, yar.
But first! Here are my five favorite grocery store teas.
Sip and Stitch Recommendations: Decaf Teas to Buy at the Grocery Store
Now remember, the Sip and Stitch series came about after I had to give up caffeine, so these posts will be focusing on decaffeinated and herbal teas. I'm sure there are lots of other lovely options with caffeine in them! But those are probably best suited to some other blog series.
A quick note that this section contains affiliate links, which means if you choose to buy something through those links, I'll receive a small commission at no extra cost to you. I will always identify affiliate links for you by putting "(affiliate link)" next to them. Thanks for supporting my work!
Celestial Seasonings Honey Vanilla Chamomile
I love a good cup of chamomile. It's wonderfully soothing and I'm always a fan of soft, floral flavors. This one, though, puts a really pleasant twist on a classic hot beverage. The Celestial Seasonings version (affiliate link) of this tea has honey and vanilla mixed in with the chamomile. It makes an already relaxing drink into something that feels warm, rich, and just a little bit decadent.
Harney and Sons Vanilla Comoro
If you like your tea with a little bit of sweetness and rich spice, Vanilla Comoro (affiliate link) is a great choice. It's a decaffeinated black tea with vanilla flakes and some added vanilla flavoring. Because it's a decaffeinated black tea and not an herbal tea, it still has trace bits of caffeine, so if you are very sensitive to caffeine, you might want to skip this one.
While I can't often find this one of my local grocery store, I do see it at Target pretty regularly. Bonus: if you really like a good tin, and I count myself among those people, you will love the gorgeous tins that this tea comes in.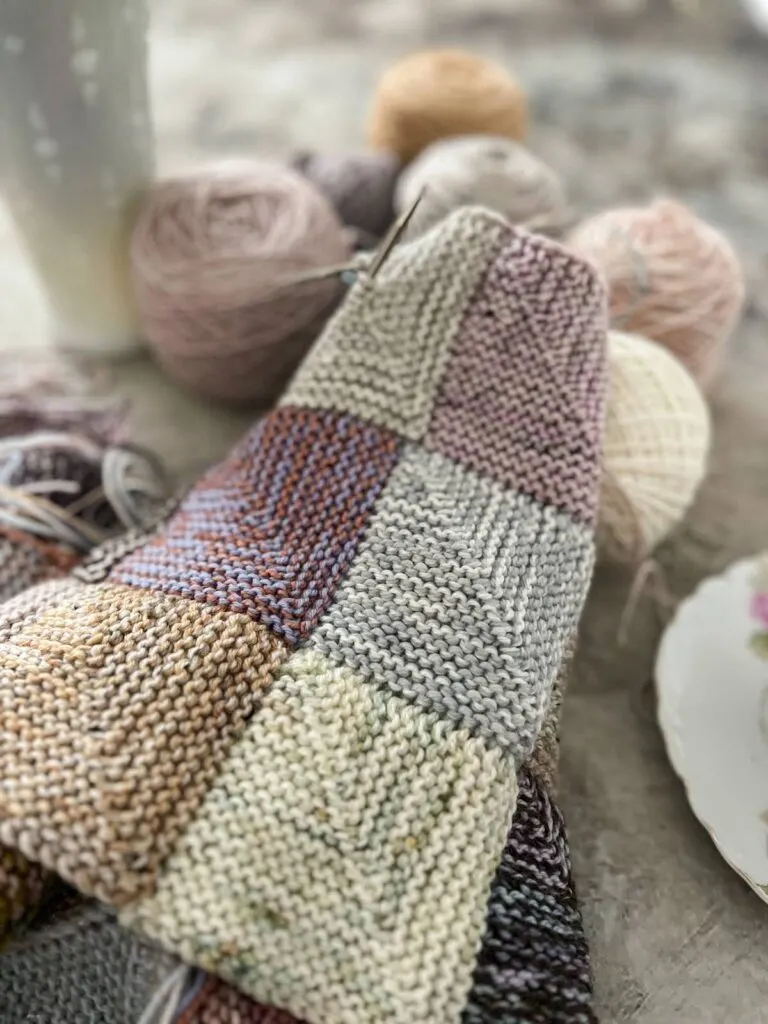 Bigelow Constant Comment Decaf
This tea was one of my favorites in college. The dorm dining halls always had it available next to the coffee, so I often made myself a cup after dinner and enjoyed it with a palmier for dessert (the dorm dining halls were fantastic). Now, whenever I brew myself a cup, I instantly feel comforted by happy memories.
Constant Comment and its decaf counterpart (affiliate link) are black teas (the latter has been decaffeinated), and it includes orange rinds and spices. The flavor is very autumnal, which is probably why I often find myself craving it when the weather gets chilly.
Stash Spice Dragon Red Chai
I love the natural sweetness in a rooibos tea, and this one is no exception. The Spice Dragon Red Chai (affiliate link) is full of cinnamon, ginger, and clove, which makes it taste a bit like a pumpkin pie without any pumpkin flavoring.
Like the Constant Comment above, it has a warm, spicy flavor, but it doesn't have the orange rind element. That means it feels a little smoother and a little less bright. I like the Spice Dragon Red Chai on weekend evenings when I'm curling up with a good book.
Ahmad Tea Rosehip, Cherry, and Hibiscus
I don't usually like hibiscus in my teas because it's a little tart, but tempered with the rosehip and cherry in this tea (affiliate link), it's splendid. Unlike some of the other teas on this list, there are no decaffeinated tea leaves in here, just bits of fruit and dried flowers.
I really like this one with a little bit of milk and sugar in it, which makes it sweet and creamy and a bit like a floral ice cream but hot and drinkable (please tell me that makes sense).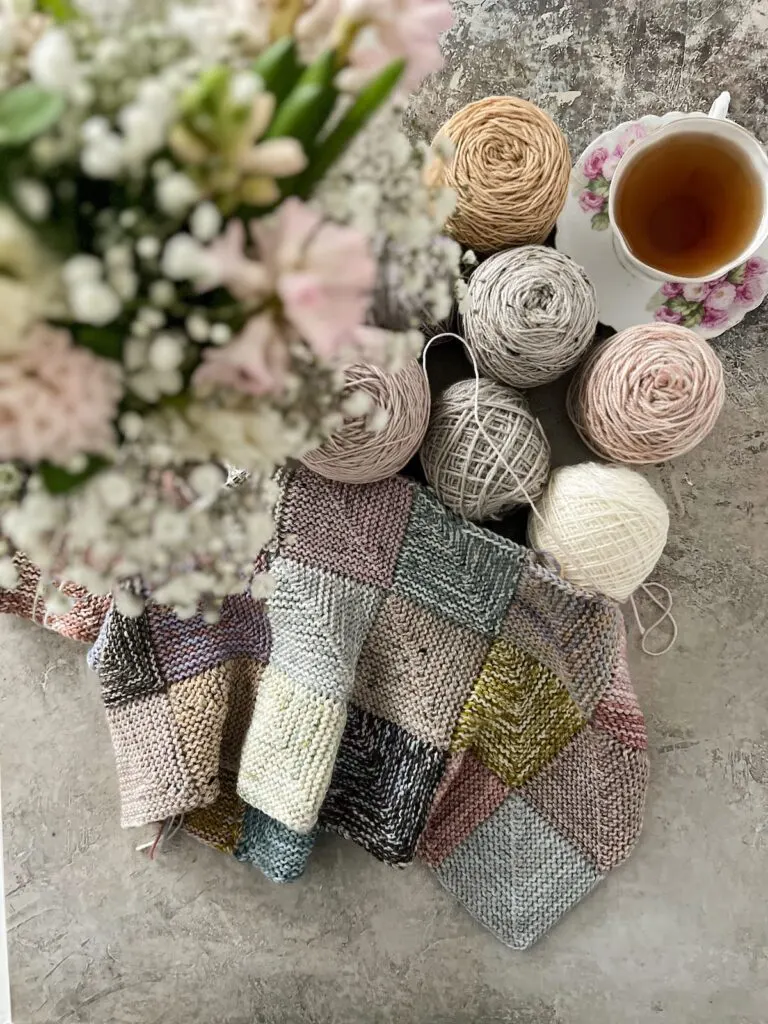 This Month I'm Knitting…
After getting hooked on mitered squares thanks to Woolly Wormhead's work, I took a look at my scrap cupboard and forced myself to wrestle with an unfortunate truth: I have too much leftover sock yarn.
I decided to do something about it.
So I pulled everything out, sorted it by colors that would work together and the very few that wouldn't, and make sure everything was balled up neatly. Then I got to work. The result is the beginnings of the mitered square blanket that you see pictured in this post.
It is a fun way to remember the many projects I have worked on over the last five years of my design career, and it's also a great way to use up scraps. I am holding the strands of yarn double and knitting on US size 6 (4 mm) needles. It's definitely still a finer gauge than I would normally do for a blanket, but I'm really pleased with how it's coming along so far.
As you can see, I've already made it onto the third row.
And that's because I spent the last few weeks of 2022 on winter break. When I wasn't adventuring with my small child, I was curled up in my armchair marathoning an extremely gruesome and yet utterly obsession-inducing pirate show.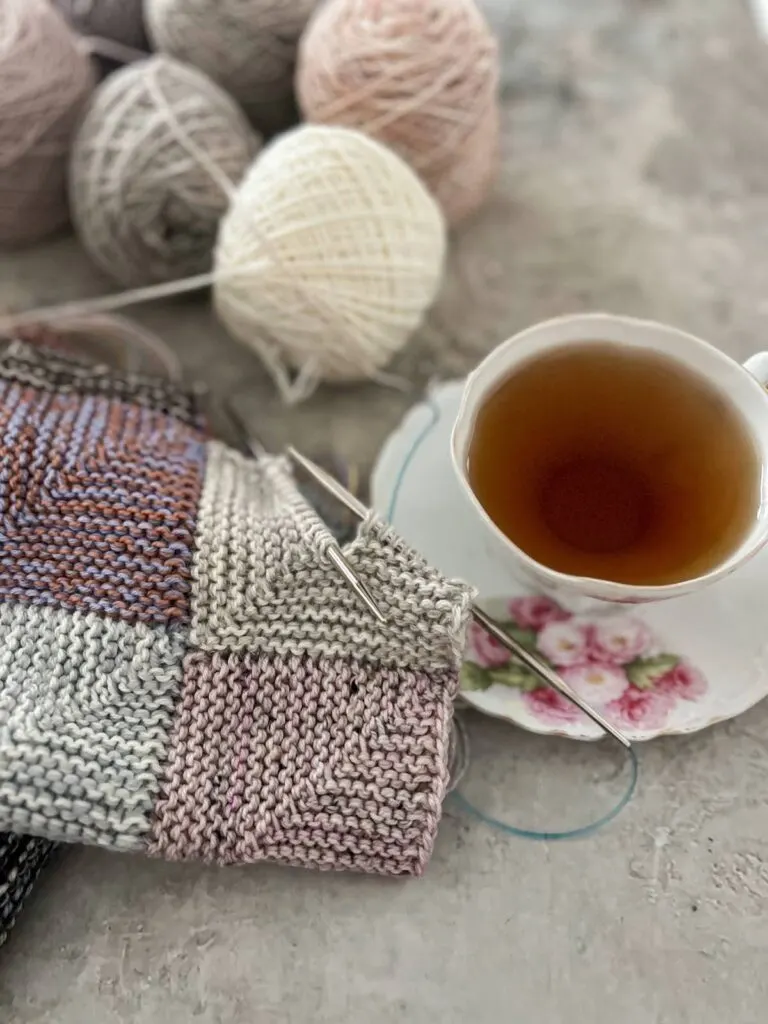 What I've Been Watching: Black Sails
Okay, friends. This isn't my usual sort of knitflixing material, but I watched two episodes and couldn't stop. I finished the first season in about four days.
Now, first, I have to tell you that this show needs all the content warnings. It is extraordinarily violent, as you would expect from a show about pirates made during the heyday of Game of Thrones. There is gruesome death, lots of battle, sexual assault in the first season, some pretty horrifying encounters with the slave trade, and torture galore. It's not easy watching. There's also a fair amount of nudity and almost constant profanity, so heads up if that's not your thing.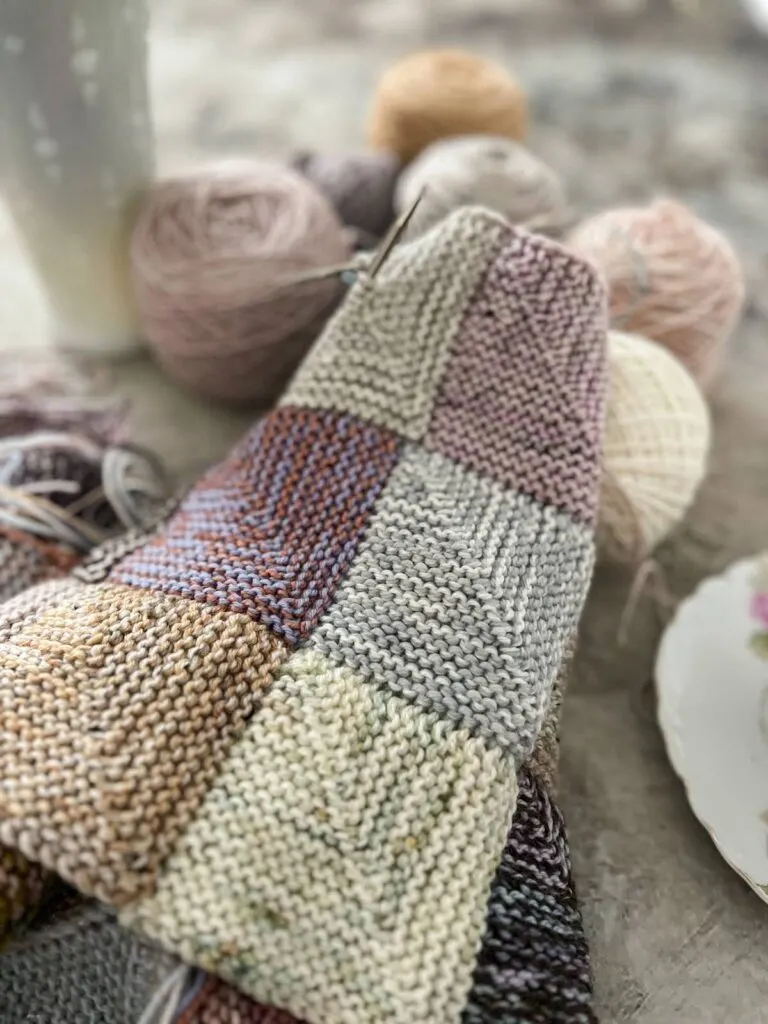 But! It is also absolutely fascinating and deeply engaging. The characters are fleshed out in complex and nuanced ways. The costumes are wonderfully fun even if not terribly accurate a lot of the time. There's even a hurdy gurdy involved in the musical score. When I finished the series, I actually went into a period of grieving and watched the cheesiest rom-com ever just because one of its stars was one of the pirates, too.
And if you happen to watch it and also decide that Billy Bones is your favorite, let's chat.
What are you sipping, making, or watching this month? Drop me a comment! I'd love to check them out.