I celebrated my birthday earlier this year with the traditional birthday sale on my self-published patterns, but I also wanted to do something else special. After giving it some thought, I decided I wanted to publish a new pattern and make it so my newsletter subscribers could access it without any payment.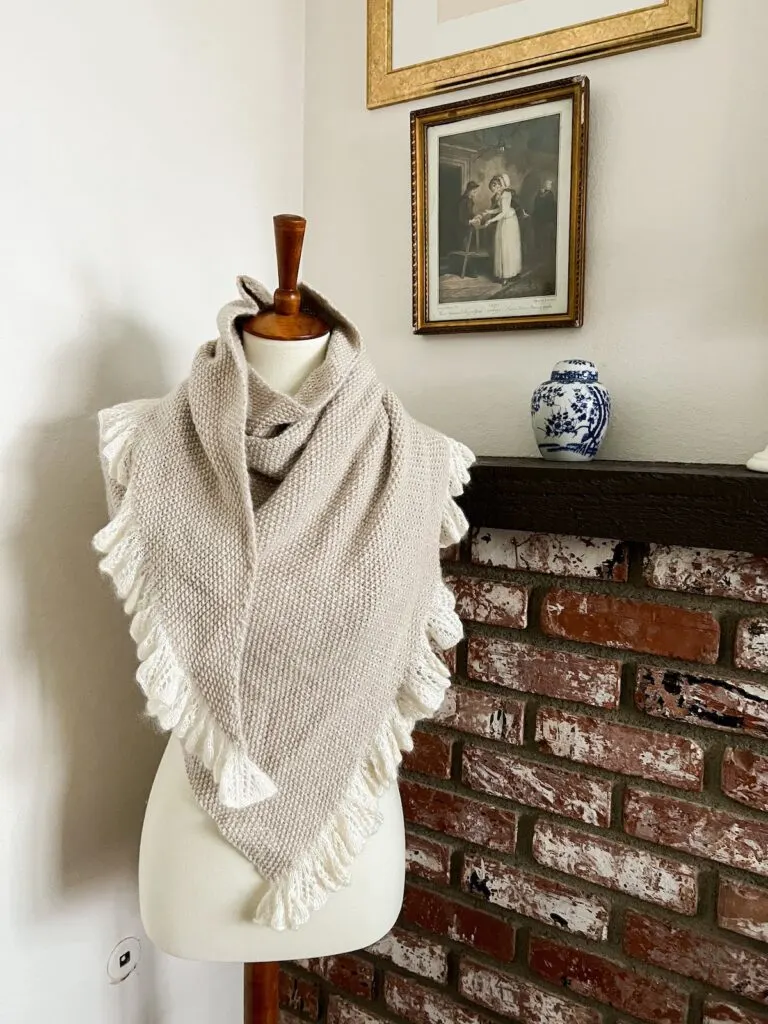 That's now a permanent feature of the newsletter, so whenever you sign up, you'll receive a link to download the pattern. Of course, if you'd rather not have another email in your inbox, that's okay, too. The pattern is still available for purchase on Etsy and Ravelry. Here are some links to help you find it.
Newsletter
Here's where you can sign up for the newsletter and receive a copy of the Grandmillennial Shawl pattern at no extra cost.
Etsy
Here's where you'll find the Grandmillennial Shawl on Etsy.
Ravelry
Here's where you'll find the Grandmillennial Shawl on Ravelry.
About the Grandmillennial Shawl
The name for this shawl came from a few different sources. In the first place, grandmillennial décor is an interior style that incorporates maximalism and classic design elements in a mashup style reminiscent of many grandmothers' homes. It's a décor style that has been embraced by some millennials and has drawn a lot of curiosity (perhaps confusion?) from others.
It's also a gentle poke at all the obnoxious news articles about how something is "not your grandma's knitting." Grandmas are cool! I like my grandma! And while my own grandma isn't a knitter, a lot of my designs do draw inspiration from previous eras. Around here, this is 100% your grandma's knitting, and I'm proud of it.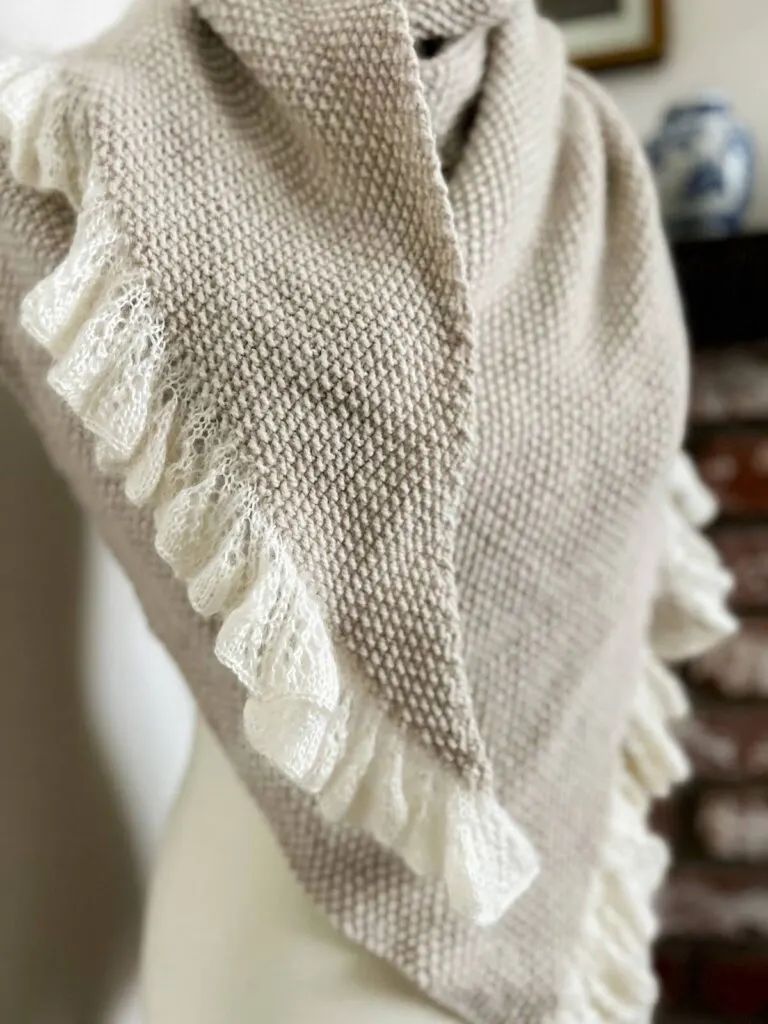 And finally, I'm releasing this shawl in celebration of my 38th birthday. I'm one of the oldest millennials and am perpetually amused by the think pieces trying to figure out what to do with my age cohort. In recent years we've been called "elder millennials" and, my personal favorite, "geriatric millennials." Know what? I'm embracing it. I've earned these gray hairs honestly.
The Grandmillennial Shawl is a simple, asymmetrical triangle knit in seed stitch with a dramatic ruffle border. It's inspired by opera coats of the late 19th century with their luxe materials and fur trim, and while I have no interest in working with fur, I'm very interested in mimicking the look. This shawl will be a relatively quick but meditative knit that is highly adjustable by size, and the ruffle at the end is extremely satisfying as it grows and pleats on your needles.
Easy Shopping List
In case you want to knit this shawl using the exact materials I did, here is a shopping list with easy links for you. Some of these are affiliate links, which means if you choose to buy something through those links, I'll receive a small commission at no extra cost to you. I will always identify affiliate links for you. Thanks for supporting my work!
Purl Soho Cashmere Merino Bloom
Addi size 7 (4.5 mm) circular knitting needles (affiliate link)
Chiaogoo size 4 (3.5 mm) circular knitting needles (affiliate link)
Stitch markers (budget option) (affiliate link)
Stitch markers (fancy option) (affiliate link)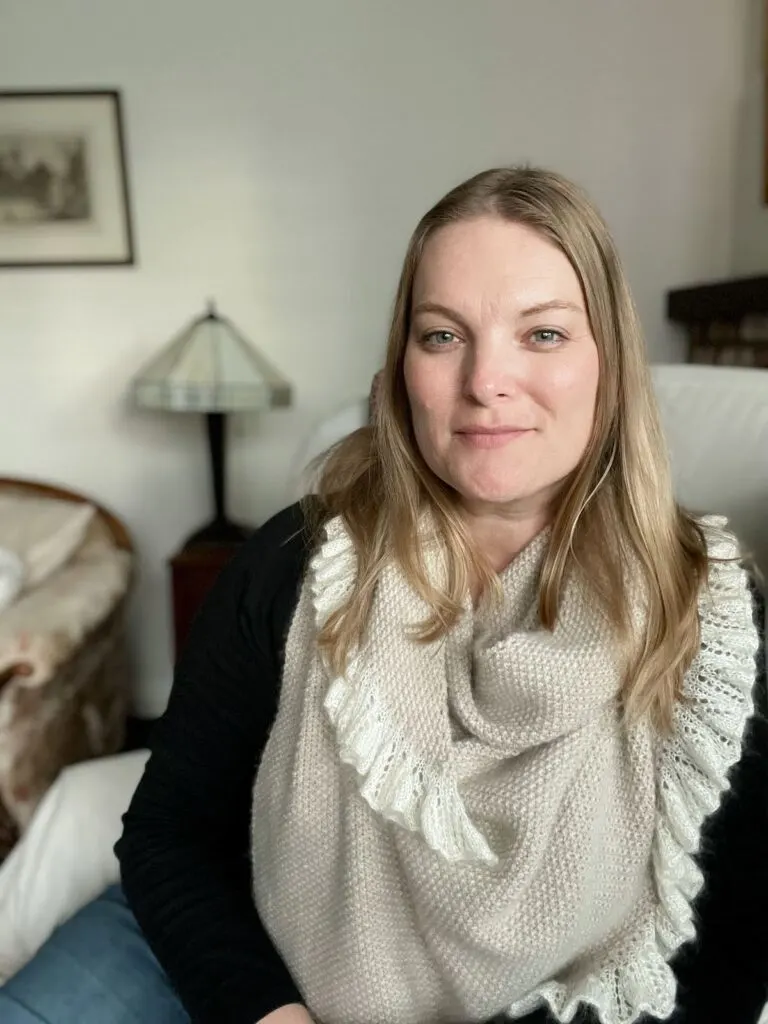 Grandmillennial Shawl Details and Specs
Here are all the nitty gritty details about the Grandmillennial Shawl, including its dimensions, materials, gauge, needles, and more.
Sizes: One size, adjustable
Finished shawl dimensions: 50" (127 cm) by 54" (137 cm) along the two sides that meet at a right angle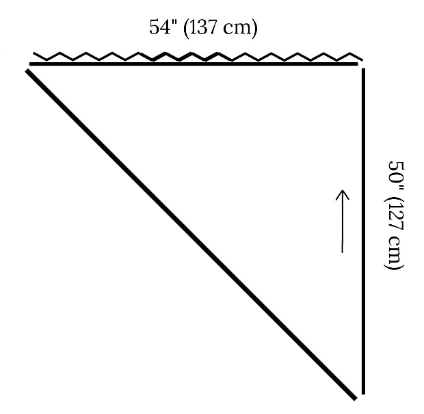 Materials: DK-weight yarn, 600 yds (549 m); lace-weight silk-mohair yarn, 550 yds (503 m) (held double)
Sample shown knit in Purl Soho Cashmere Merino Bloom, 75% extra fine merino wool and 25% cashmere, 218 yds (199 m) per 3.5 oz (100 g); and Purl Soho Tussock, 60% super fine kid mohair and 40% mulberry silk, 328 yds (300 m) per 0.88 oz (25 g)
Gauge: 4" (10 cm) square = 19 stitches by 36 rows in seed stitch
Needles: One set of 32" (81 cm) circular needles in a size to match gauge listed above. Suggested needle size: US 7 (4.5 mm)
One set of 32" (81 cm) circular needles in a size three sizes smaller than size used to achieve gauge. Suggested needle size: US 4 (3.5 mm)
Tools: One stitch marker for beginning of round; optional additional markers between pattern repeats on ruffle. Tapestry needle for weaving in ends.
Skill level: Adventurous beginner. Techniques: increases, simple lace.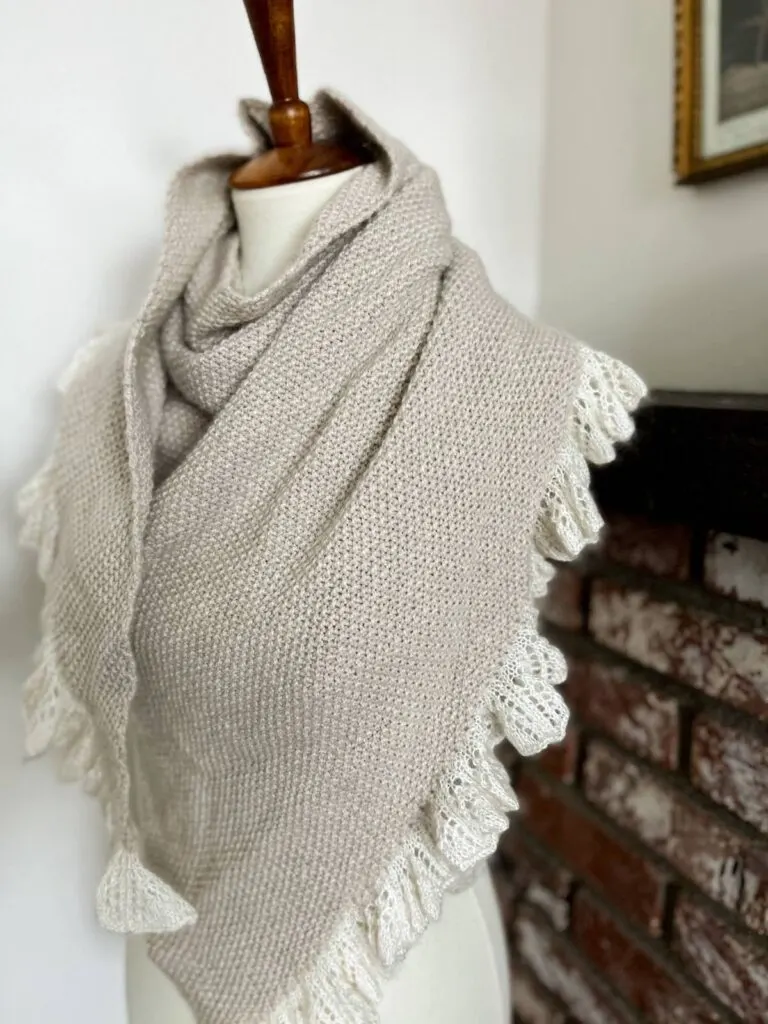 If You Like This Pattern, You'll Also Like…
If there's one thing I've discovered in my years as a knitter, it's that many of us have favorite motifs we like to revisit. In case you're the same, here are some patterns I can recommend for you.
The Madeleine Mitts and Madeleine Hat, which both use lots of squishy seed stitch
The Plenitude Shawl, another asymmetrical triangle with seed stitch and pretty details
The Catalina Eddy Blanket, which is also an oversized knit that's good for stash busting and relaxing
Some Frequently Asked Questions
This shawl pattern has been a really popular knitting pattern, but there've been quite a few questions about it, too. Here are answers to the most frequently asked questions.
Is this knit shawl pattern good for beginners?
Yes! Unlike most of my knitting patterns, which are intended for intermediate knitters, this knit shawl pattern is great for beginners. The majority of the shawl is knit in seed stitch, so you'll only need to know how to knit and purl for that section, plus work yarnovers for the increase at the end of each right-side row.
Once you get to the lace section, the pattern is still pretty simple. You'll need to work more yarnovers and keep track of where you are in the many, many repeats, but you can do that just by using lots of stitch markers.
Is this knit shawl pattern free?
If you're a newsletter subscriber, you've received a code to download this pattern for no payment via Ravelry. If you're not a newsletter subscriber, you have a couple options! If you decide to subscribe, your welcome email will contain that same code that you can use to download the pattern for no payment. Otherwise, you can purchase the pattern on Ravelry or Etsy.
Can this knit shawl be made in different yarns?
Absolutely! Although this knitting pattern is written for worsted-weight yarn, you can use any weight yarn you'd like. Just keep increasing until the shawl is as big as you'd like and you have a multiple of five stitches on the needles. Other knitters have made this shawl in DK-weight and even fingering-weight yarns.