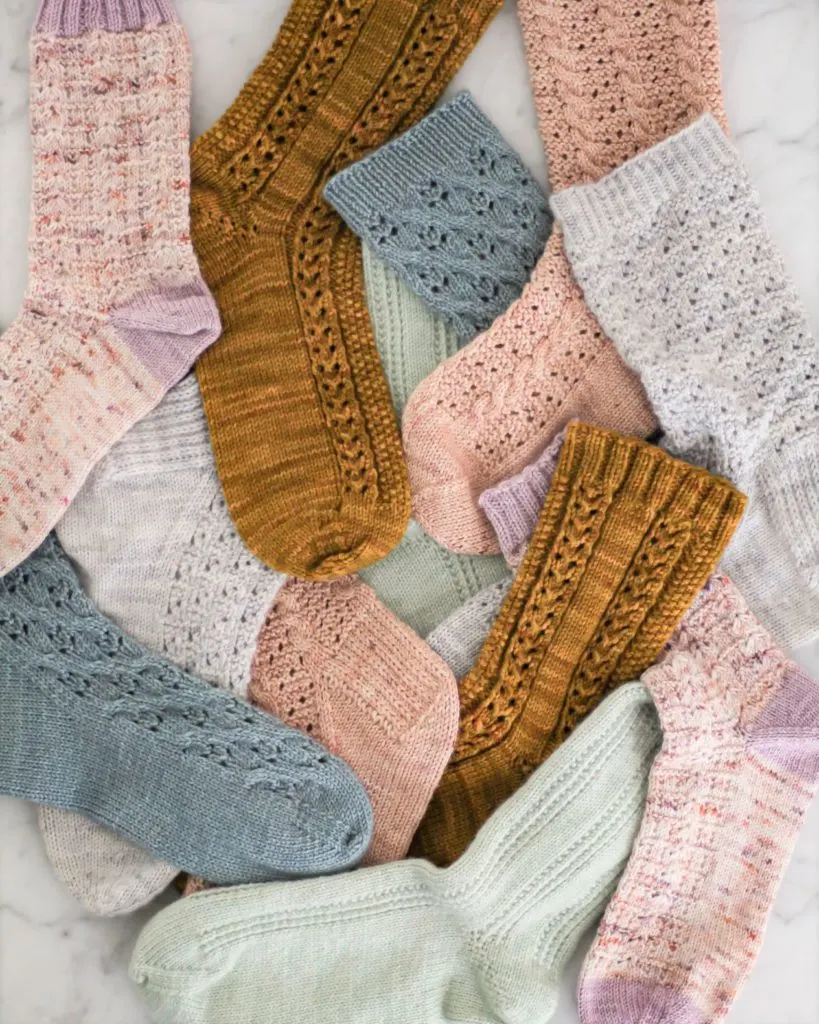 Until recently, I never paid much attention to the knitting toe-up socks vs. cuff-down socks debate.
When I decided to learn to knit toe-up socks this month, I already had a little bit of a bias. I'd tried toe-up socks before, and I knew I'd had a frustrating experience. I'd also been knitting cuff-down socks for over a decade, so I knew what I liked and was used to.
But knitting, for me, is about growth and learning as much as it is about having cozy things. I knew I wanted to learn toe-up socks, so I gritted my teeth and went for it.
If you're like me, you might be trying to figure out whether it's time to try a new sock technique, too. Maybe you've never knit socks before at all.
In case you're new here, I'll tip my hand: I believe knitting is a personal process. As a result, there's rarely a right or wrong way to do things. Does it get you the knit item you want? Then you did it right.
So this post isn't geared toward telling you which sock construction method is the objective best. That's because I don't believe there is an objective best. What it can do, though, is help you sift through some of the pros and cons of each technique. That'll help you decide which one meets your needs.
Because knitting toe-up socks vs. cuff-down socks is something we all need to decide for ourselves.
What are toe-up socks good for?
1. They help use up scraps effectively.
I'm primarily a cuff-down knitter, and because I have medium-sized feet, I usually only use about 2/3 of a skein of sock yarn for each pair. That means I have a lot of leftovers, and because I'm pretty consistent in the colors I choose, I have a lot of leftovers that coordinate.
I've been ogling Louise Tilbrook's scrappy socks for years, now. Louise uses leftovers to make socks and blankets, and the stripes are always a cheerful combo. When you knit those scrappy socks from the toe up, you don't have to worry about running out of yarn before you finish the sock. As long as you have enough to knit the foot through the heel, you can finish with a cuff and cast-off as soon as you run out of yarn.
A tip for this one: weigh your yarn and divide it into two balls, one for each sock, before you start knitting.
2. They avoid having to graft the toe.
A lot of cuff-down sock patterns have a wedge toe with grafting at the end, and a lot of people really dislike grafting. It can be fiddly, and the instructions can be hard to remember. Grafting isn't something I struggle with, but I struggle with multi-step processes generally, so I get it.
But if you work your sock from the toe-up, there's no grafting involved. Instead, you cast on at the toe, work your way to the cuff, and then cast off.
3. Some stitch patterns only work in one direction.
Many stitch patterns look the same from the top and the bottom, but not all of them. Lace patterns, in particular, are notorious for only looking right in one direction.
That means, if you have a lace motif that you want flowing from the toe upward toward the cuff instead of down from the cuff to the toe, you might need to work that sock from the toe up.
What are the drawbacks of toe-up socks?
1. It's harder to do a heel flap and gusset on a toe-up sock.
In the traditional cuff-down sock, a heel flap and gusset is fairly straightforward. You knit a square jutting off from the leg, turn the heel, pick up stitches along the heel flap, and decrease to form the gusset. This gives you a nice, snug fit.
But with toe-up socks, you're approaching the heel from the opposite direction. That means you'll need to work increases first to form the gusset, the turn the heel, then work the heel flap.
That's not an impossible task, of course, but it can be a bit of a tussle. If you're curious to try it, Kate Atherley did a great tutorial over on the Modern Daily Knitting blog.
2. The cast-on for a toe-up sock can be fiddly.
The three most common cast-ons for toe-up socks seem to be the Turkish cast-on, the figure-eight cast-on, and Judy's Magic Cast-On. I'll be honest: after a decade of trying and plenty of experience mastering other tricky techniques, I still can't get the dang Turkish cast-on to work.
Thankfully, Judy's Magic Cast-On works just fine for me, but getting the stitches onto the needles is only the first part. Growing the toe from that single cast-on line of stitches can be a challenge, too. I'm sure with more practice, this will feel less frustrating. For now, though, I spend a lot of time wrangling tight stitches and wrinkling my brow.
3. Some people struggle with the bind-off for toe-up socks.
Because the cuff of your sock is the finish point for toe-up socks, you need to make sure your bind-off is nice and stretchy. It has to be loose enough to get over your heel but elastic enough to hold the sock up once the sock is on. That can be a challenge. My current favorite bind-off involves knitting two stitches and then knitting them together through the back loop, but I'm still exploring options. Elizabeth Zimmerman's sewn bind-off is also popular.
Why might someone prefer cuff-down socks?
1. Cuff-down socks have an easier cast-on.
Because you're casting on more stitches and doing so in a loop, the cast-on for a pair of cuff-down socks is a bit easier than the cast-on for toe-up socks, where you are casting on a small number of stitches in a straight line and then growing a loop outward.
I use the trusty old long-tail cast-on for my cuff-down socks, but just about any cast-on method will work. Some knitters like to make sure they use an extra stretchy cast-on method, but I find that casting on loosely works just fine for me.
2. The heel flap and gusset are more intuitive on a cuff-down sock.
On a cuff-down sock, the heel flap really is a flap. You just work rows back and forth across one half of your sock for a specific number of rows. That makes it a little more straightforward than the construction methods for a toe-up sock, and because the heel flap and gusset are the best way to get a snug fit if you have a high instep, this is a factor worth considering.
3. This is an older method, so there are more patterns written for cuff-down socks.
Cuff-down socks predate toe-up socks, so more knitters are familiar with them and more designers have had time to write patterns for them. While toe-up socks aren't new, they are still less popular than the traditional cuff-down construction. As of the date of this blog post, there are about 43,000 sock patterns on Ravelry, but only about 9,500 of those have been tagged as having a toe-up construction.
Where do cuff-down socks fall short?
1. Cuff-down socks can be tricky for yarn usage.
As I mentioned above, I end up with a LOT of leftovers for my cuff-down socks. That's partly because my feet aren't very big. For other knitters, however, that can be driven by difficulty estimating how much yarn they'll need.
Many newer sock knitters are tempted to skimp on the cuff length. That's caused by a (totally reasonable!) fear of reaching the end of the foot and running out of yarn before the sock is finished. While you do eventually get the hang of estimating how long you can make your cuff without running out of yarn for the foot, there's always a little room for something to go wrong.
2. If you don't like grafting, you might not like cuff-down socks.
Most cuff-down socks feature a wedge toe. Generally, that means you'll decrease the foot until you have 20-28ish stitches left, then stitch them together. There are grafting methods that create a seamless closure, so you don't feel them against your toe, but they can be tricky for some knitters.
Of course, there are other sock toe constructions out there! I'm a fan of the star toe and the round toe. The comfort of these shapes, though, is very much affected by the shape of your natural toes. You may find that a wedge toe just fits your feet better, in which case, you'll be grafting if you work cuff-down. Most toe-up socks have the wedge toe shape without the grafting. They achieve that shape using increases from the cast-on at the toe.
3. Cuff-down socks are the traditional way of making socks.
If you chafe at doing things the same way everyone else does, you might find yourself getting annoyed with cuff-down socks. Everyone and their great-great-grandma seems to have learned to knit socks this way. If you're interested in showing off a new technique, cuff-down socks probably aren't going to be the style for you.