When I first started knitting, like most knitters, I learned to knit on a set of two straight needles. That was my comfort zone for a long time, but it was definitely limiting. I mostly worked on scarves for the first six months, though, so it wasn't too much of an issue. Once I wanted to branch out into hats and socks, though, I realized I was going to need to learn to use some different kinds of needles.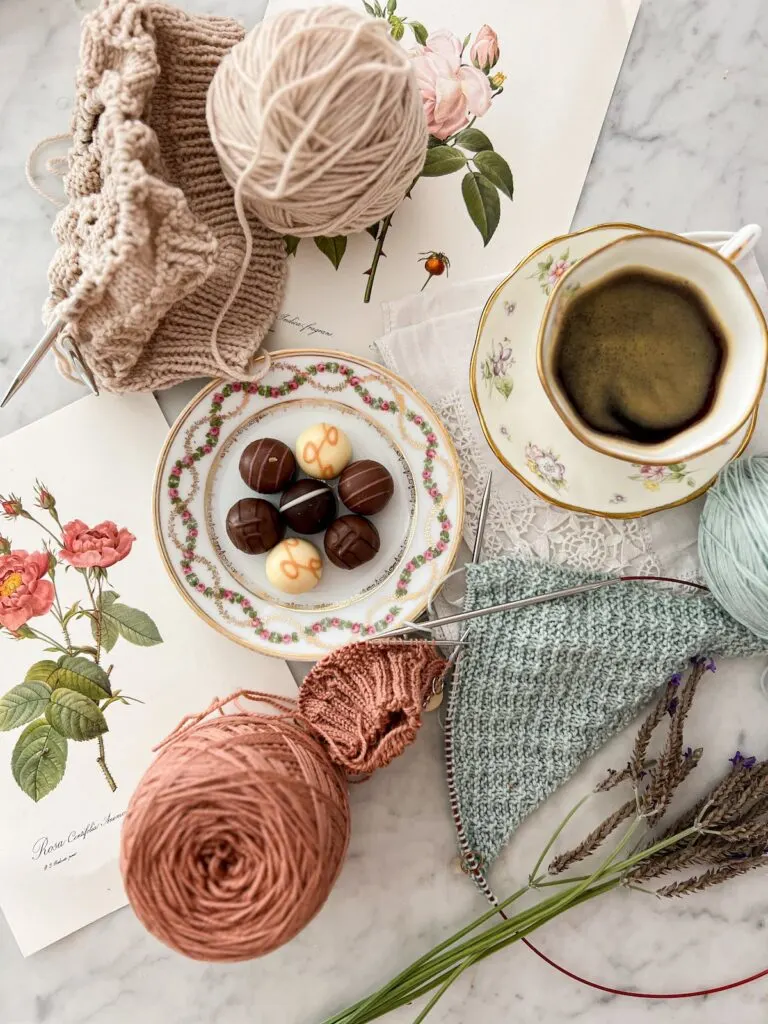 Enter the DPN. I learned to knit in the round on double pointed needles first. For some reason, they just made sense to me. They were shaped more or less like the needles I'd already been using, but instead of using two of them, I was using four or five of them. Okay. Manageable. I quickly found, though, that there were some challenges I hadn't expected.
Over the years, I've drifted to using circular needles almost exclusively for everything I knit. I use them for hats and socks and gloves and shawls and garments. Once I bought my trusty set of interchangeable needles as a gift to myself for passing the bar exam back in 2010, I never looked back. Nowadays, I only rarely use double pointed needles. I still prefer them for the heels and toes of my socks and for closing up hats, but that's about it.
So for today's blog post, I thought it would be helpful to explore the many reasons why I have shifted to using circular needles instead of double pointed needles in my work. I hope you find some of this helpful as you explore the best tools for your own knitting practice.
I Won't Drop and Lose One of Them
One of the worst things when I'm knitting is to be working on a project, fumble the needle, hear a clink as it hits the floor, and know that it has rolled away where I can't reach it.
This is especially annoying when I am knitting in transit, like on a plane or a subway car. That needle's gone. It may never come back.
And when that happens, unless I have thought ahead and packed extra needles in the right size, I'm stuck. No more knitting until I can get to a yarn shop and get more needles.
With circular needles, they're tethered to each other. Even if I lose my grip on one of them, the cable between them will mean that there's no way it can fall and roll away. If you're like me and tend to be a little bit clumsy, this is an important thing to consider.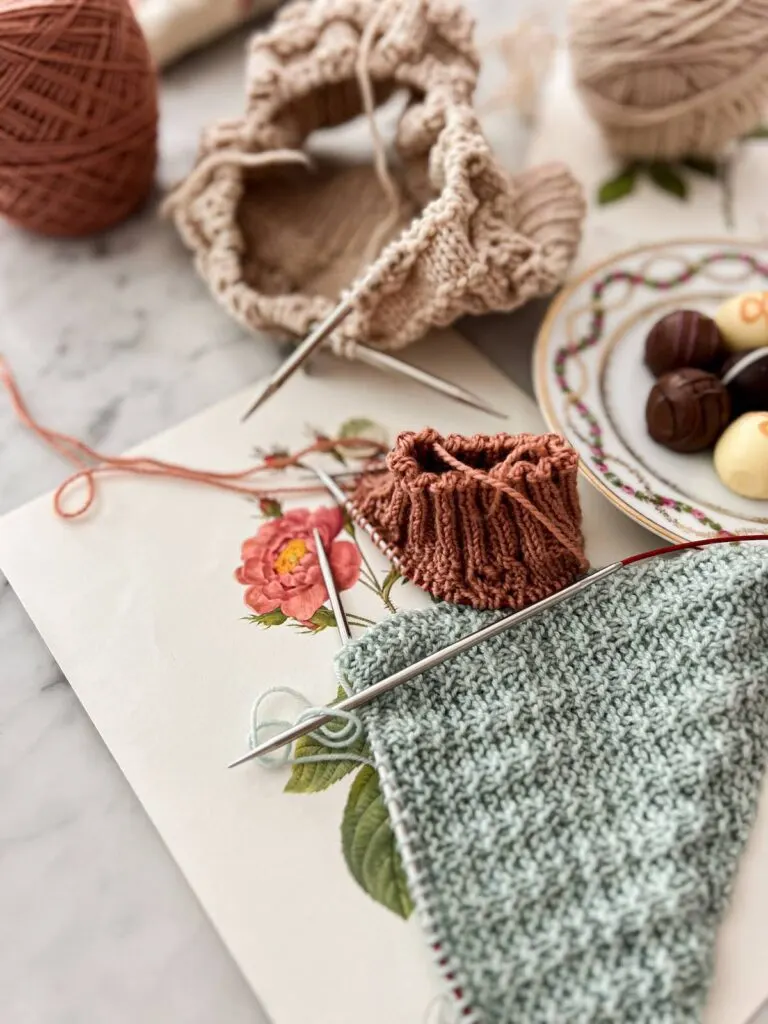 I Don't Have to Adjust My Stitches as Often
I find, when I'm working with double pointed needles, but I have to adjust them pretty regularly. The yarn bunches up across the needles as I work, and so I am often fidgeting and fiddling with them until I reach a point where the needles and yarn line up how I want them.
When I use a circular needle, the yarn automatically self distributes pretty evenly along the entire length of the cables. While I do still need to push and pull the yarn a little bit to get it up onto the left needle and off of the right needle, it's overall much less adjusting than when I am working with double pointed needles
I'm Less Likely to Poke Myself with Circular Needles
This might be just a me problem, but I find that the more needles I am working with, the more likely I am to poke myself with them.
Because I tend to make a lot of small things in fingering-weight yarn, I work almost exclusively with pretty small needles. That means poking myself with them isn't terribly fun. While I've only broken the skin once, it's not an experience I'm eager to repeat.
If you are also prone to poking yourself with the needles, first off, I'm so glad to have found a kindred spirit. Secondly, you might also appreciate the shift to double pointed needles.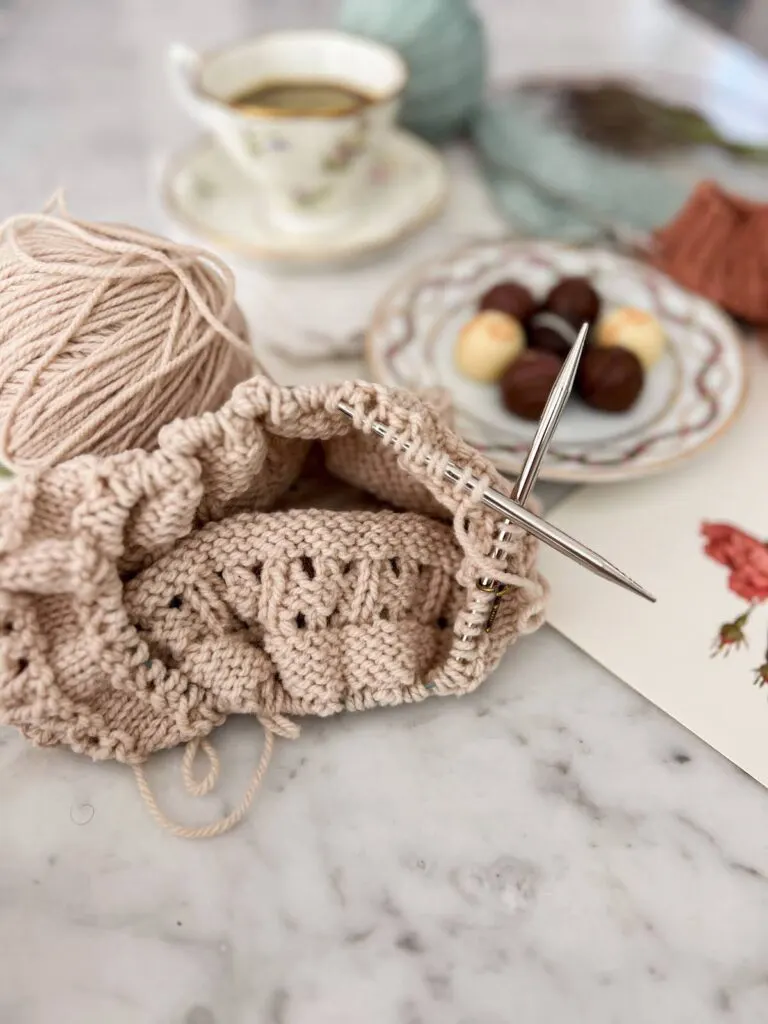 Circular Needles are Less Likely to Fall Out of my Project While I'm Not Using Them
I have a bad habit of shoving my knitting into my purse and walking out the door without taking protective measures. When you're using double pointed needles, this can be a real problem.
That's because each needle has two places where it can slide out of your work, and you have 3 to 4 needles that can slip out. That means you have at least six and up to eight points of potential failure.
With circular needles, you only have two. There are just the two tips to worry about. If you are organized enough to use needle stoppers, that's a quick way to prevent a problem when you're working on circular needles, but I also tend to just hold the tips of the needles in one hand and shove the yarn down onto the cable using the other hand.
That makes it pretty much guaranteed that the needles won't slide out of my work.
The Cable Helps Distribute the Weight of My Knitting More Comfortably
When I'm working on a larger project, like a blanket or a garment, it can get pretty heavy as time goes by. Working on straight needles puts the weight of all of those stitches onto the needle and out to the side as I work. That's a lot of weight for my wrists to carry.
This is because when you move a knitting needle, you make a very small motion at the tip of the needle, but it makes a much larger motion out along the other end of the needle. That is coincidentally the same spot that is holding all of the weight of your work.
It can get painful. I've had times in the early days where I was knitting heavier projects on straight needles and started to develop wrist and elbow pain because of it.
When you use circular needles, though, the weight of your work is held on the cable between the needles and you only have to move the shorter needle tip with a fewer amount of stitches on it. While the overall weight of your work doesn't change, the location of that weight does change, and that makes a real difference for knitting comfort.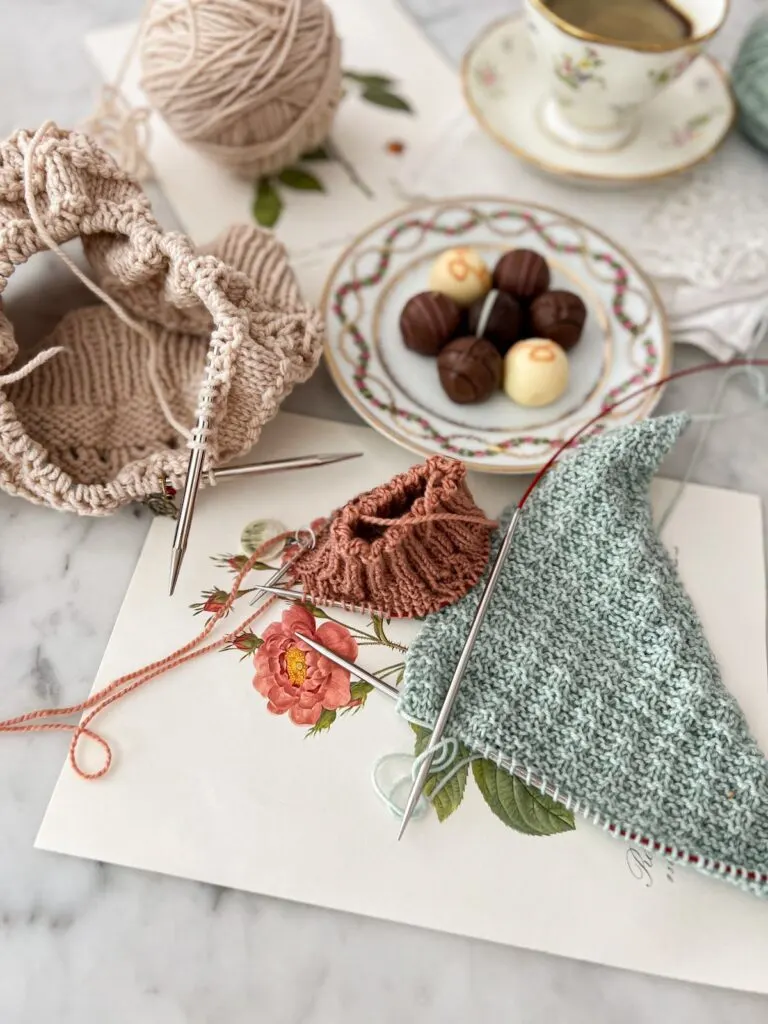 I'm Less Likely to Break Them
Again, this might just be a me problem, but hear me out. If you are also a tight knitter who likes to work on fiddly little projects with tiny little needles, you have probably encountered the pain of a broken DPN. This is especially the case if you prefer to work with wooden needles.
I have snapped so many needles over the years that I don't even know where to start counting them, but what's worse is that not only have I broken wooden needles, I've also bent my metal needles.
Yep. That's right. I have bent metal knitting needles because I'm such a tight knitter.
When I use tiny circulars for my socks, though, there's a much smaller needle tip and everything else is the cable. That gives me a much smaller surface to exert a ridiculously tight grip on. I can't bend a needle that only fits between my thumb and my first two fingers. So that's nice.
—
There are all sorts of knitters out there with all sorts of needs, so of course what works best for me may not work best for you. One of the things I love most about knitting is how it is infinitely adaptable for each individual knitter's needs and preferences.
However, if you find that straight needles or double pointed needles are not working well for you, it might be for some of these reasons. Circular needles might help solve that.
If you're curious about some of my favorite knitting needles, here's a round-up of the circular needles I use most! These are affiliate links, which means if you choose to buy something through those links, I'll receive a small commission at no extra cost to you. I will always identify affiliate links for you. Thanks for supporting my work!
The 9-inch circular needles I prefer for knitting socks (affiliate link)
The interchangeable needle set I've been using since 2011 (affiliate link)
Chiaogoo US Size 4 (3.5 mm) circular needles (affiliate link)