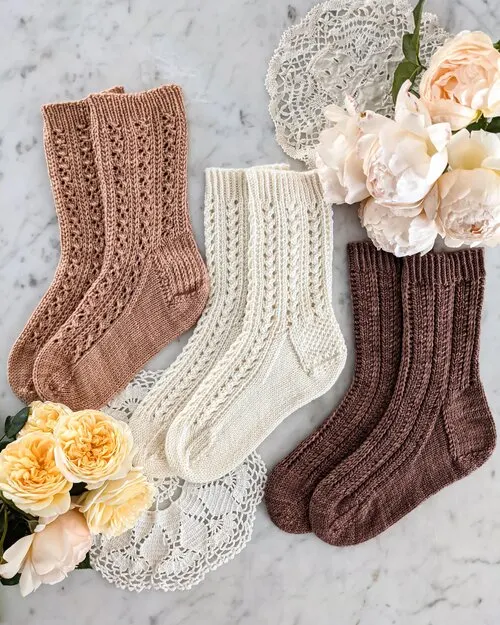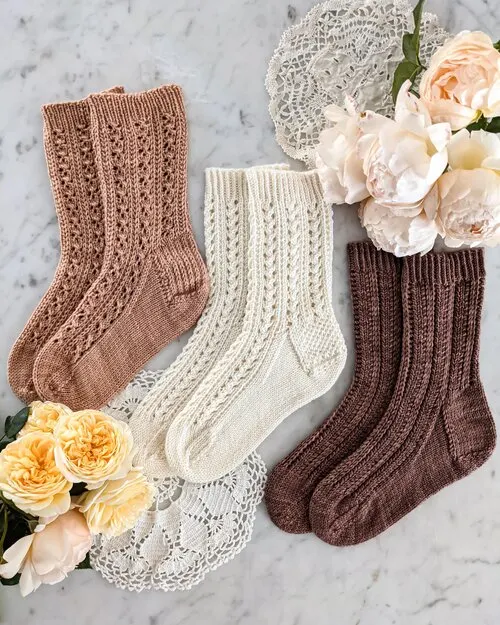 I've got a test knit opportunity for you! You see, I have three socks coming out this summer in collaboration with
Camellia Fiber Company, and I need some help test knitting them! Here's where you'll find information about the patterns and links to the tests.
Links to the Tests
Click here to apply to test the Bricolage Socks. Those are the pink socks on the left.
Click here to apply to test the Cromulent Socks. Those are the white socks in the middle.
Click here to apply to test the Parnassian Socks. Those are the brown socks on the right.
About These Socks and the Test Knits
Each of these socks is knit with sport-weight yarn on US size 4 (3.0 mm) needles. That means they're relatively speedy knits. In fact, I finished a pair in a weekend. That also means these socks are thicker and squishier than your average socks knit on fingering-weight yarn, so make sure to take that into account.
I've designed all three patterns for cuff-down knitting with a heel flap and gusset and a wedge toe. These features make them customizable and more comfortable.
This test knit ends on July 8, 2021. You just need to finish one sock for each pattern you test, and you can test one, two, or all three patterns.
How to Best Enjoy a Test Knitting Opportunity
If you've never joined one of my test knits before, you can click here to learn more about how they operate. I do my best to keep things mellow and fun, so everybody has a good time. There's no point in stressing out about something like a test knit when the world has so many other more serious problems! Whether this is your first time taking advantage of a test knit opportunity or your hundredth, I'm glad to have you.
Happy stitching, my friends, and thanks for your help getting these socks ready to share with the world!