Recently, I was cleaning out a corner of my closet when I found an unexpected treasure. Folded up among a bunch of junk mail from five years ago was a single sheet of yellow, lined notepad paper. On that piece of paper was my very first sketch for my very first knitting design.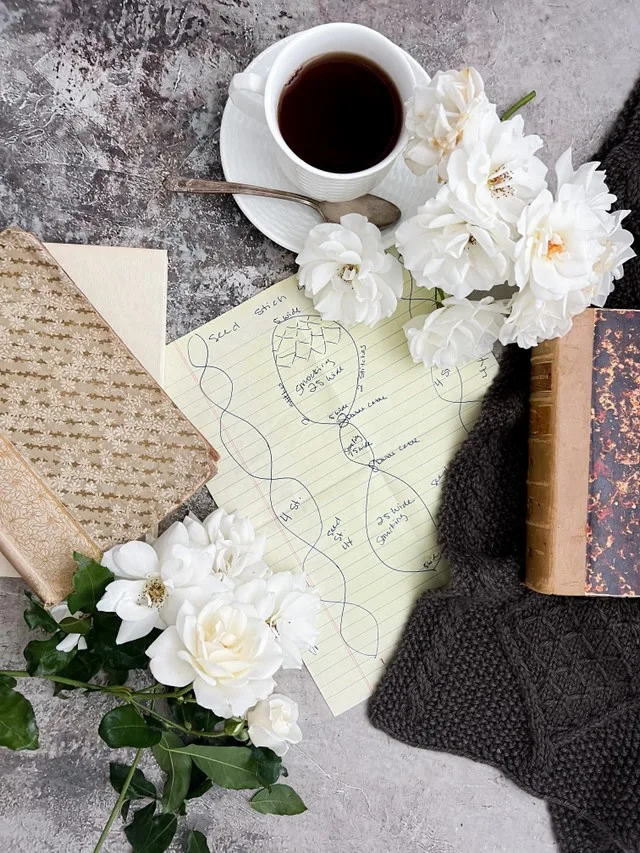 I have no idea how it wound up with all the junk mail, but I suspect I probably did a quick purse clean-out at some point when I was moving from one bag to another, shoved everything into a corner, and forgot about it. That happens a lot around here.
When I unfolded the paper, a whole rush of memories came over me. I thought it would be fun to revisit that early design, see what became of it, and explore how my design process has changed over the years.
When Knitting Design Inspiration Strikes, You Can't Fight It
The story of this design begins with a conference call.
I've been a lifelong fidgeter and doodler, so in addition to taking notes during that call, I also had a notepad out for little scribblings. It wasn't a client call, and I don't think I even really needed to be there, but it turned into something magical.
You see, partway through that call, my first real flash of knitting design inspiration struck. I felt an overwhelming urge to get this idea out of my head and onto paper before I forgot it.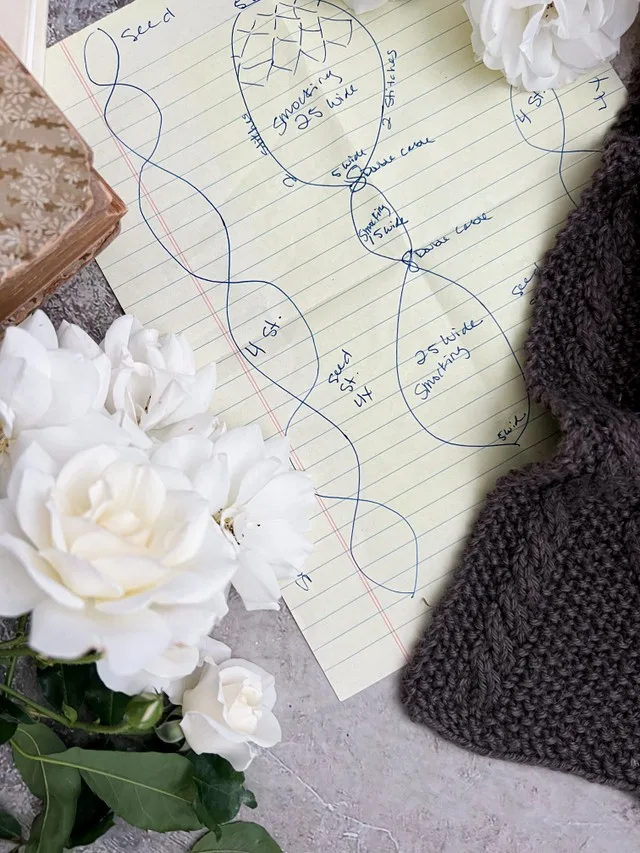 So I did. I put myself on mute, flipped over a page in my notepad, and started scribbling.
As you can see, it's not the most elegant drawing. It even took me a couple moments to decipher some of these scribbles and scratches. The overall idea, though, is there. It's got all of the basic component parts.
After I finished scribbling, I tore the paper from the notepad, folded it up, and tucked it into my purse. Inspiration wrangled, I was able to focus on the call once more. Then, I went home, bought some yarn, and got to work.
What I've Learned Since My First Knitting Design
Since then, my design process has changed a lot. I usually don't do such a thorough sketch anymore, unless I am submitting to a yarn company or magazine before I knit the sample.
For my own self-published patterns, instead, I tend to chart out a couple possible stitch patterns, and then I just start knitting. That gives me a chance to see whether I like how it looks in the yarn I'm using. You see, nowadays, the yarn tends to drive the design more than the other way around.
I have also learned to channel my design inspiration into more manageable work times. Now that I am no longer practicing law, I have periods in my day that aren't booked up. Those are my time to explore new design ideas and chart things out.
While occasionally inspiration will strike outside of those times, I find that having a designated design time tends to help me harness my creative energy more effectively. It also means that generally speaking, when I do get a design idea, it'll keep until I have a moment to write it down. That's also probably partly to do with the fact that my brain isn't quite so overloaded with other things.
Finally, I've learned so much about construction and pattern writing in the last five years that my design process is much more efficient. I'm not starting from zero every time. Instead, it's more like I'm starting from three and need to get to 10. Having a better idea of what I'm doing and where I'm going each time means that I can get a design out of my head and into a usable format much more quickly and easily. It doesn't feel nearly so overwhelming.
What This Early Design Eventually Became
It took me quite a while to knit the sample and write up that first pattern, in part because I was practicing law full-time and wrangling a toddler at the same time. When it was eventually ready for release, I named this one the Anacapa Scarf.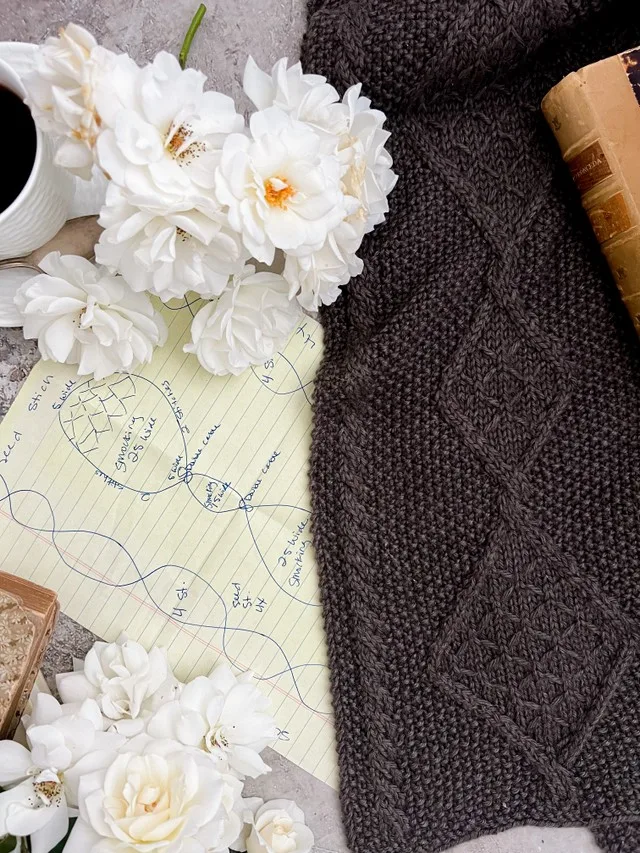 But of course, when I wrote that pattern five years ago, I only knew so much about how to write a good one. That's why I updated the pattern, put it into my current format, fixed some charting issues, and re-released it. You can find links to it on Etsy, Payhip, and Ravelry via this blog post here.
In the intervening years, I've learned so much as a designer. I've discovered what types of projects I love to work on and which ones I'd rather leave for others who enjoy them. I've explored how to write patterns more effectively and just how much information I should include in them.
Most importantly, I've found work that fills me with joy and purpose.
I love creating patterns for you to use during the still moments and the hectic ones when you want to feel still. There is joy in creating some thing that helps others find peace.
And I'm excited to keep doing it for years to come.