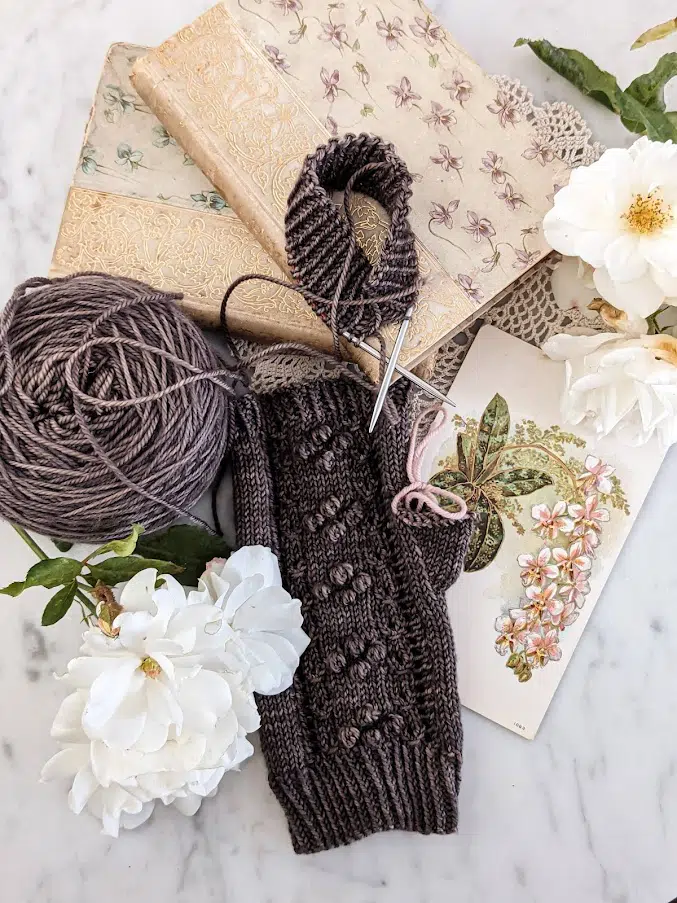 I'm a knitflixing fiend. In case you missed it, I wrote a bit about my history with knitflixing earlier this year and shared some knitflixing recommendations based on the shows I'd been watching recently.
But we're sliding into colder weather here in the Northern Hemisphere, and these short days with their dark nights make me long for comforting old favorites to rewatch.
I also find that, during this time of year, I'm stitching more and for longer periods of time. There are family gatherings where we all sit around and need something on in the background. Work slows down at the end of the year. Winter break is coming. That means a 2-hour movie just won't cut it. I need good chunks of viewing that don't require a ton of brain focus.
So I've been revisiting shows that have brought me joy over the years. Whether they make me laugh until it hurts or give me a happy ending that leaves me with a little glowy feeling afterward, they're the shows that I come back to when I need a little comfort.
I thought it might be fun to share some knitflixing recommendations based on old and new favorites here.
Derry Girls
Derry Girls is the rare comedy show that I can't get enough of. Several episodes made me laugh so hard that I had to pause it and compose myself before carrying on. It's the perfect blend of awkward comedy and earnest growth.
The series follows a group of five teenagers—Erin, Orla, Clare, Michelle, and James—as they navigate life growing up in Northern Ireland in the early 1990s. Sometimes the drama is entirely of their own making, and sometimes they get swept up in the geopolitical events happening around them. In every event, there's a little bit of chaos and a whole lot of heart.
Season three (the final season) started filming in October of this year, so hopefully we'll get new episodes in 2022.
North and South
Now, when I mention North and South, I'm talking about the four-part adaptation of the Elizabeth Gaskell novel here. It's not the 1980s US Civil War saga with Patrick Swayze. That's an important clarification.
Anyway, if you're like me and are therefore a total sucker for those lush BBC adaptations of 19th century novels, this one is a real treat. It's got regional and class conflict, labor unions, industrialization, and a slow-burn romance.
The adaptation is almost 20 years old now, but it's held up pretty well.
The Great British Bake Off
The latest season of GBBO just wrapped up on Friday night, and I am so sad knowing that my Friday nights won't include these warm, creative, funny people for a while. Listen, I am not big into reality shows, and especially not competition shows, and yet I've been hooked on this one for years. Literally years.
Thankfully, there are tons of old seasons on Netflix, so I can go back and rewatch old favorites any time. It has even inspired me to try my hand at a little baking here and there (with, erm, middling results—I can make a mean yogurt cake but totally botched a batch of milk bread buns last month when I accidentally tried to use yeast that expired in Dec 2019, whoops).
If you find yourself hooked on this one and run out of episodes, 2015 winner Nadiya Hussain has a few of her own shows on Netflix. They're utterly delightful, too.
Lucy Worsley's Documentaries
If you like history and haven't discovered Lucy Worsley yet, have I got a treat for you. She's Joint Chief Curator at Historic Royal Palaces, but her documentaries are not the staid, quiet things you might expect. Instead, you'll often find her trying on costumes, clambering up into rafters, and cracking sly jokes about revered historical figures. She covers a wide range of topics, from Jane Austen to literature to the Romanov family to historical houses.
I especially love her four-part series about the history of houses called "If Walls Could Talk: The History of the Home."
Salt Fat Acid Heat
Salt Fat Acid Heat was a big splash a few years back, but I like to come back to it whenever I need a dash of happiness. One of the things that makes this show so special is host Samin Nosrat's unabashed earnestness. I've grown tired of irony and antiheroes for a long time now, so when she showed up on my screen with genuine excitement for olives and citrus and rice, it was like a warm breeze blew threw the window on a summer afternoon. I've lost track of how many times I've watched this show.
It's also made me a better cook. Despite what you might assume from all the knitting going on around here, I'm not known for my patience. This show has helped me slow down, think about the flavors I'm pairing, and find balance in my ingredients.
---
I bet I'm not the only one knitflixing more as we head into chilly weather. What knitflixing recommendations do you have for me? I love quiet, warm shows with interesting scenery, but I'm a total chicken when it comes to scary shows.