I've been working on this mitered square blanket since last December–in fits and starts, of course. It hasn't been a constant project. Even so, I've now finished seven rows of it, and I thought I would check in and share some updates on how this project is going.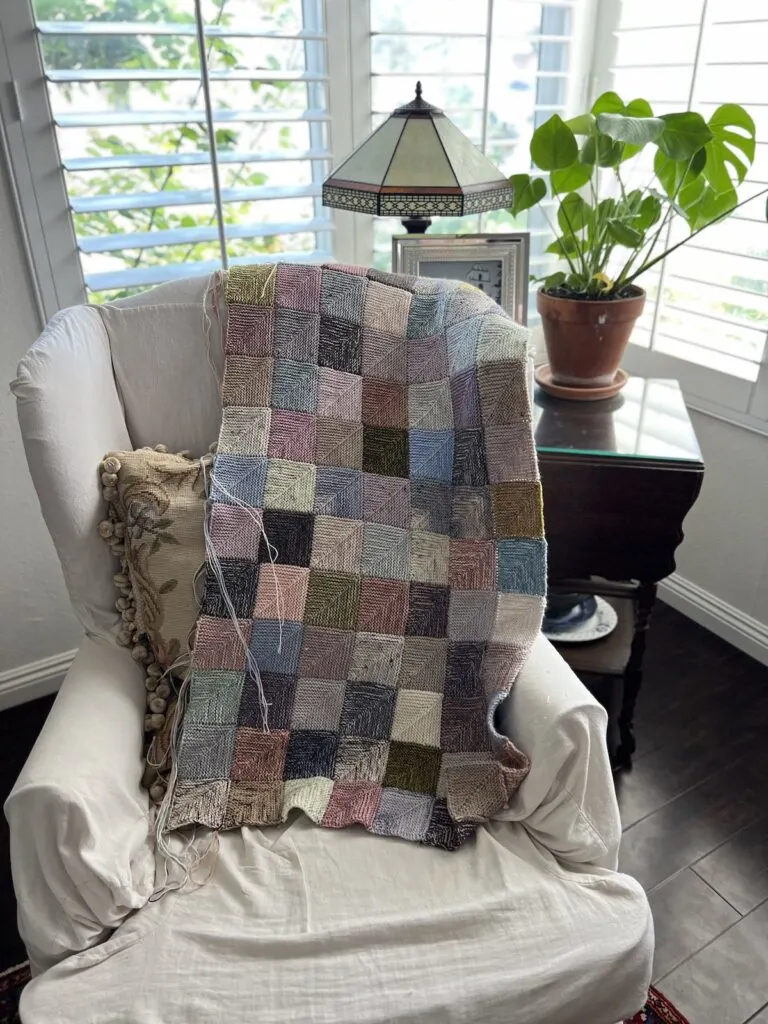 The Good: This Mitered Square Blanket is Great TV Knitting.
I started knitting this blanket the same day I started watching Black Sails, a ridiculously absorbing TV show about warring pirate crews. I powered through four seasons of it in about a month. That would be a lot anyway, but factor in that it was the holiday season and we were pretty busy, and that pace of TV watching is downright astonishing.
But thankfully, I had this fantastic mitered square blanket project. It was so absorbing that I could just keep clicking along without thinking much about what I was doing. Before I knew it, I had finished two rows of it along with the show.
Since then, it has come along with me through a lot of tv journeys. We've watched Sanditon, Miss Scarlet and the Duke, Severance, and more.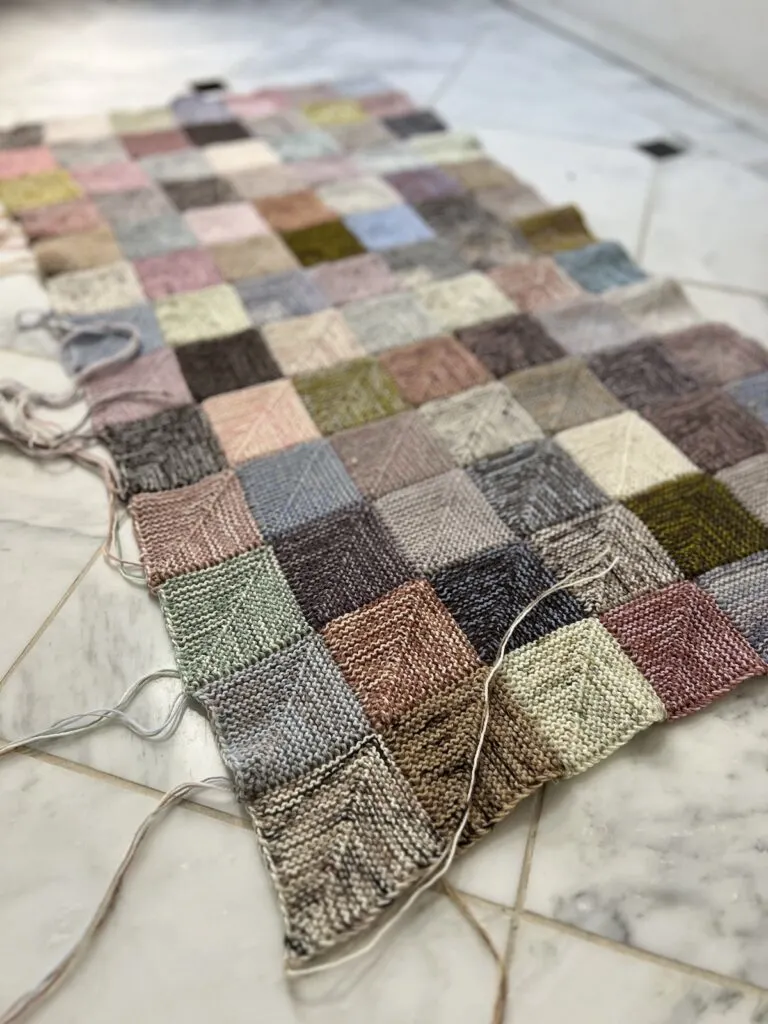 The Not So Good: Coming Up with New Color Combinations is Harder than I Thought it Would Be.
I thought I had a whole ton of sock leftovers when I started this project. I do, but it turns out that I like to knit with the same colors a lot. My leftovers basket is full of pinks and tans and grays. I thought I had a lot of blues, too, but it turns out those blue yarns were actually mostly gray.
What that means is that I have had to be really intentional about combining colors. This way, I don't end up with large patches of the blanket that all look more or less the same. I have very carefully saved my greens and have even parceled them out as needed.
I've even chosen yarn for new projects in the last six months based on what I think is kind of missing from this blanket. In other words, expect to see more green socks in the coming months.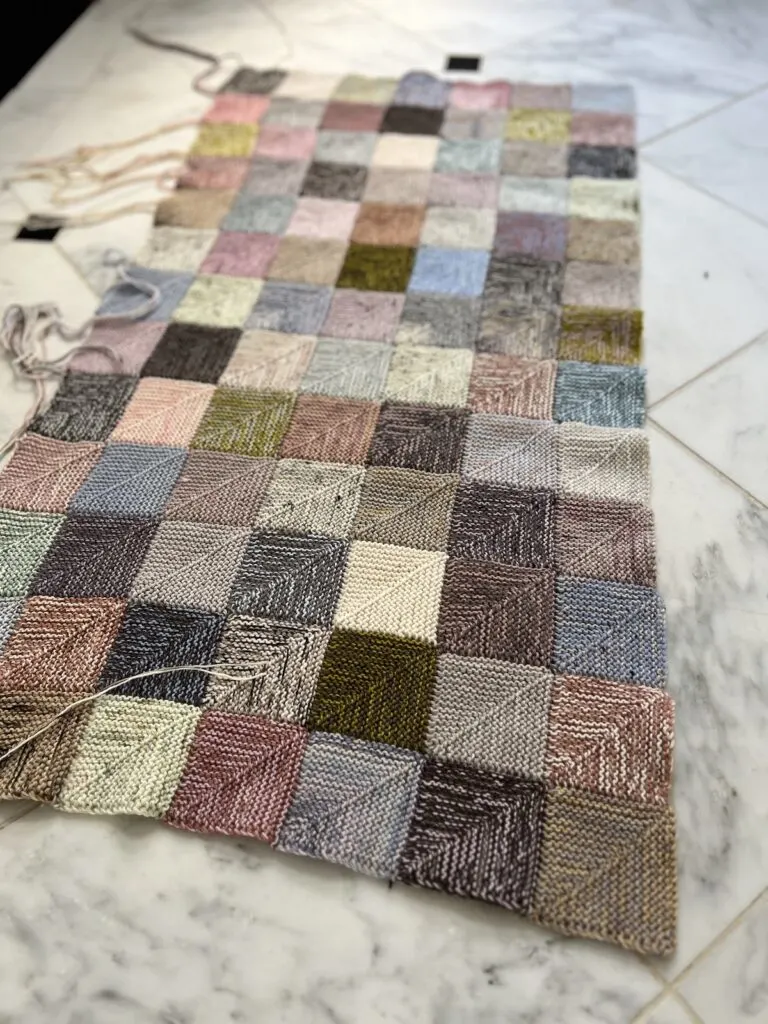 The Bad: It's Summer Now, and This Mitered Square Blanket is Pretty Warm.
And of course, it's July as I write this post. The weather is finally getting warm here in Ventura, and it's been warm everywhere else for a while.
This project used to come with me when we'd go visit family for an afternoon or to the playground when my kid had a playdate, but now it's mostly an evening project with the doors wide open. It may end up having to sit through the worst of August and September. Summertime here doesn't really start to cool down until mid to late October.
So progress might be stalled for a little while here. I'll share another update once I've gotten further along!
Bonus: Weaving In All These Ridiculous Ends
When I first started sharing updates about this blanket, I got a few comments from people wondering about how I handled all the ends I'd need to weave in.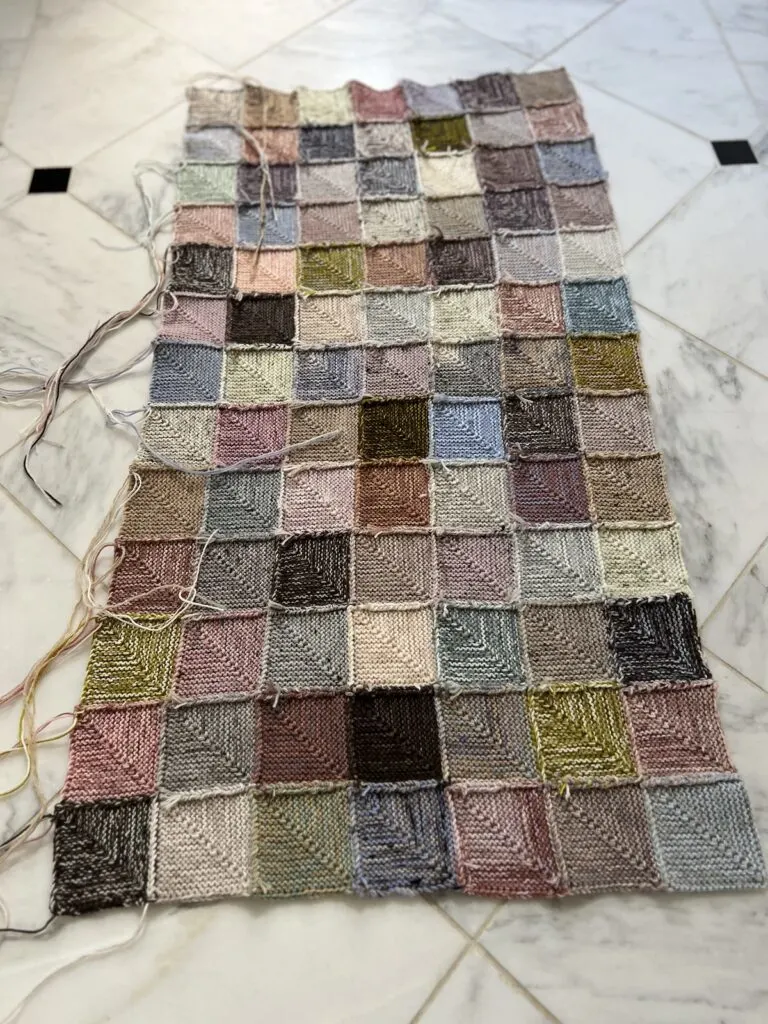 I've mostly taken a weave-as-I-go approach, stopping at the end of each row or two to weave them in, but sometimes I let it pile up. I'm also not weaving in these ends as carefully as I would on, say, a pair of socks. I've woven them in firmly, but I've just shoved them into the seams along the edge of each square where I picked up stitches to start a new square.
Those seams are a bit bulky as a result, but again, this is going to be a blanket that's going to get lots of use, so everything will get gently felted and smushed into place over time. In fact, I'm looking forward to seeing how it holds up under regular wear and tear.
---
Overall, I am really in love with this mitered square blanket and have enjoyed every bit of it. It's one of those projects you can put down for a few weeks and then pick back up without any trouble. It's simple and relaxing, but it's also fun. The decreases at the center of each square keep me from getting bored, while my brain loves puzzling over the ever-shifting color combinations.
If you're thinking of knitting your own mitered square scrap blanket, I'll have a tutorial up for you very soon.
And if you've knit one for yourself, I'd love to hear how it went for you! Drop a note in the comments and let's chat.