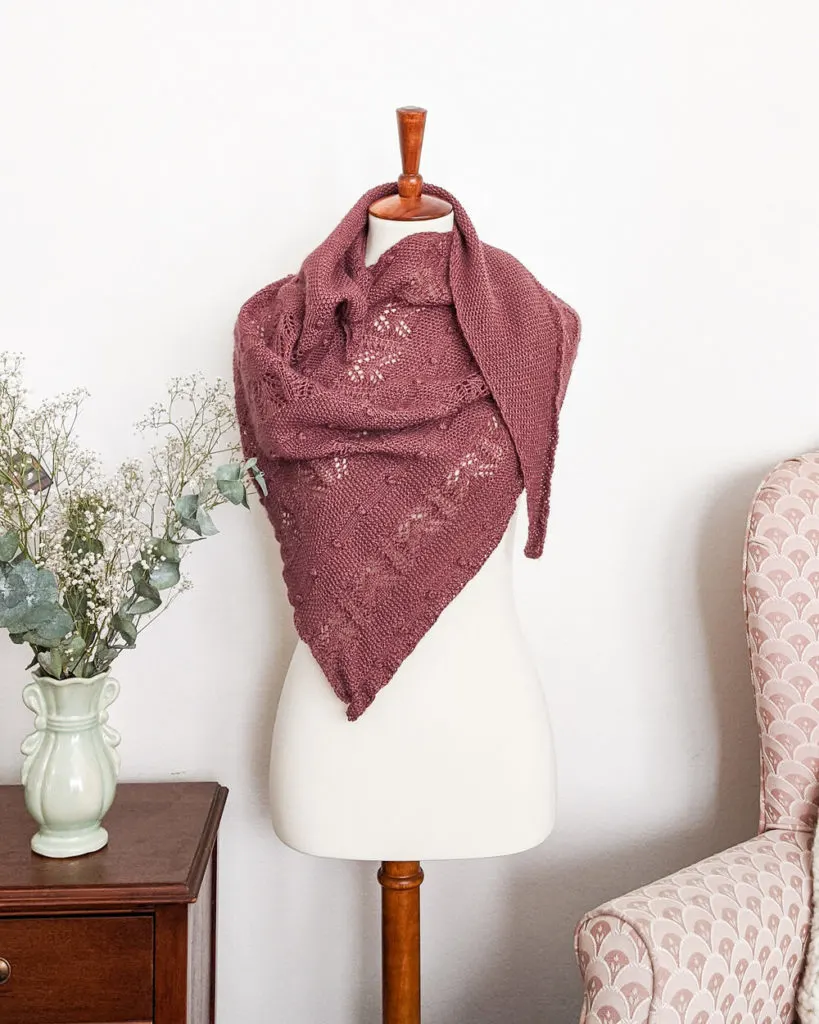 The Berry Scone Shawl is now available! Below, you'll find links to the shawl on all my favorite platforms and some information about the design.
And if you like this shawl, be sure to check out the Plenitude Shawl, which uses the same asymmetrical triangle shape, and the Shortbread Shawl, which also has lots of bobbles and lace.
PAYHIP:
Here's where you'll find the Berry Scone Shawl.
ETSY:
Here's where you'll find the Berry Scone Shawl.
RAVELRY:
Here's where you'll find the Berry Scone Shawl.
A Little Bit of Background
I'll be blunt with you: the Berry Scone Shawl was the bane of my existence for a while there. Don't worry, though, I promise this story has a very happy ending. There's nothing I love more than an enemies-become-BFFs adventure.
Let's back up a bit. About six months ago, Jesse Molzan over at Knit One, Crochet Too reached out to see if I'd be interested in designing something with a new yarn she was getting ready to launch. I moseyed on over to the site and my breath caught in wonder. Winter Blossom is a soft, fluffy blend of organic extra-fine merino wool, mohair, and silk. It has a delicate sheen and a slight halo, and I just knew I had to work with it.
I envisioned an asymmetric shawl with a lacy edge and lots of texture, but there was just one problem: I'd never designed a shawl in that shape. In fact, I'd never knit anything in that shape at all. I was starting from scratch.
And so began a several-months-long process of swatching, ripping back, swatching again, ripping back again, throwing the dang thing across the room in frustration, putting it in time out in a basket, and trying again. Things finally gelled around November, and then I went clacking along merrily until it felt like I could knit this shawl in my sleep.
I thought things were going great as I finally wrote up the pattern and sent it out to testers in early January. I really did.
But this dang shawl wasn't done with me yet.
The Berry Scone Shawl Plays Tricks on Me (Again)
It turned out that the reason the ends of my rows never quite lined up on my sample wasn't because I kept just making mistakes as I was working (confession: I totally fudge things in my samples all the time and just position them so you can't see the occasional wrong stitch or mis-crossed cable). No, the problem was that I had miscalculated the math for the seed stitch bands between the lace and bobble bands, and the whole pattern was a mess. An absolute mess.
Thanks to some very patient test knitters and several rounds of revisions, I managed to work out the problems, but it was touch and go for a while there. I seriously considered scrapping the whole thing when I couldn't figure out what I was doing wrong.
I'm glad I didn't, though, because this shawl is honestly a joy to wear. It is lightweight and warm, just big enough to keep me cozy without being so big that it gets in the way of things. I'm looking forward to many years together.
Berry Scone Shawl Specs and Details
Here are some details that might be useful to you as you decide whether this project would be a good fit for you:
SIZES
One Size
MATERIALS
Fingering weight yarn, 720 yds (659 m)
Recommended yarn: Knit One Crochet Too Winter Blossom (249 yds/227 ms, 50 Grams/ 1.7 oz skein)
GAUGE
4" (10 cm) square = 29 stitches x 38 rows in seed stitch after blocking
A note about gauge: gauge isn't terribly important for this project, but please note that changes in gauge may change (1) the size of your finished shawl, (2) the drape of the fabric, and (3) the amount of yarn you may need.
NEEDLES
One set of 24" (60 cm) circular needles in size needed to achieve gauge listed above
Suggested needle sizes: US 6 (4 mm)
TOOLS
One stitch marker
Size G (4 mm) crochet hook (optional)
Tapestry needle for weaving in ends
SKILL LEVEL
Adventurous beginner to intermediate
Techniques: increases, decreases, bobbles