To celebrate my friend Emily's big yarn sale last month, I designed a special tea cozy with her beautiful worsted-weight yarn. The Emily's Garden Tea Cozy, named for the garden where she grows her natural dye materials, is now available to everybody. In this post you'll find links to the pattern, an easy shopping list, pattern specs, and lots of photos.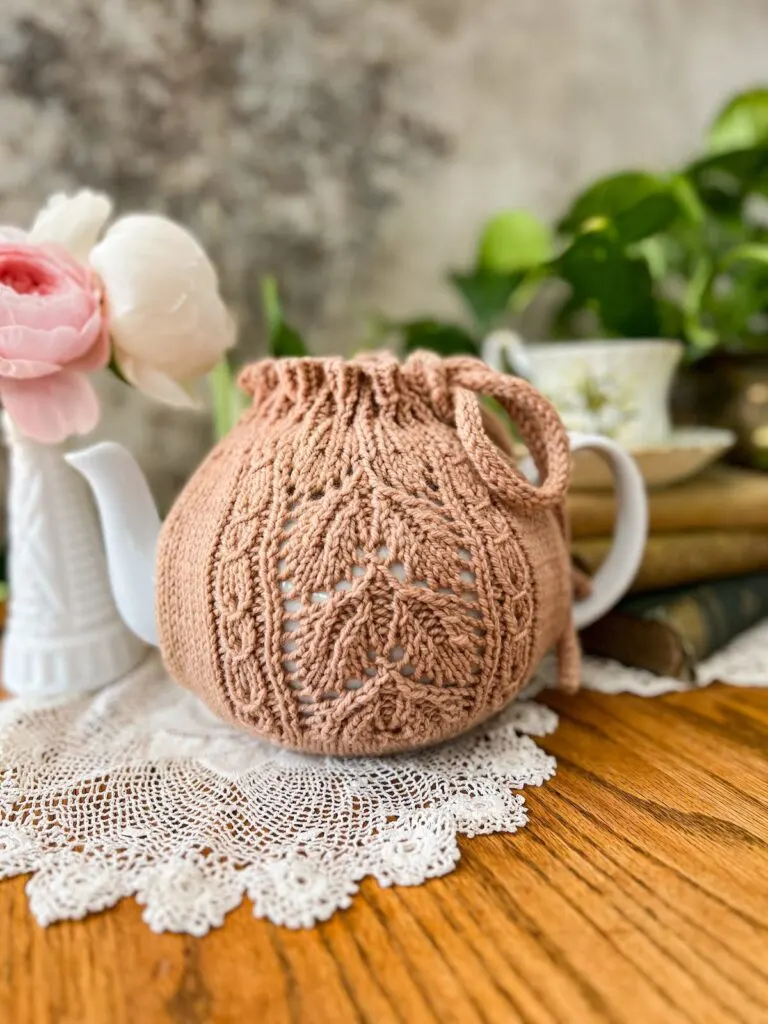 Etsy
Here's where you'll find the Emily's Garden Tea Cozy on Etsy.
Ravelry
Here's where you'll find the Emily's Garden Tea Cozy on Ravelry.
About the Emily's Garden Tea Cozy
I have this friend. Her name is Emily, and she's a ridiculously talented dyer. You might know her as the charming color whiz behind Wool and Palette, a collection of yarn made in small batches with botanical dyes. Emily uses wool sourced from sheep that have been treated responsibly and raised with a progressive approach to land management.
Last fall, Emily sent me a skein of that yarn. It was a plump, multi-plied, non-superwash wool in the prettiest shade of dusty rose (Emily is much better at describing colors than I am). I treasured it and gazed at it and spent way too much time trying to figure out what to make.
Until one day, when suddenly things clicked. We had been talking about storytelling in our marketing, and I realized I needed a tea cozy. Emily's yarn was perfect for my tea cozy. It was perfect for the story I wanted to tell about my tea cozy.
Emily's Garden Tea Cozy is named for the garden where Emily grows her flowers for dyeing. It features delicate lacy leaves climbing up each side of the cozy and some coin lace flanking the leafy panels. A snug drawstring finishes things off at the top.
I like to imagine this cozy belongs to a beloved schoolteacher who lives in a little blue-gray cottage. She reads poetry to her students and packs lunches with fresh bread for herself and snuggles up under a cozy, multi-colored quilt in the evenings. Nobody knows her backstory. When students ask, she gives them a mysterious smile and redirects the conversation.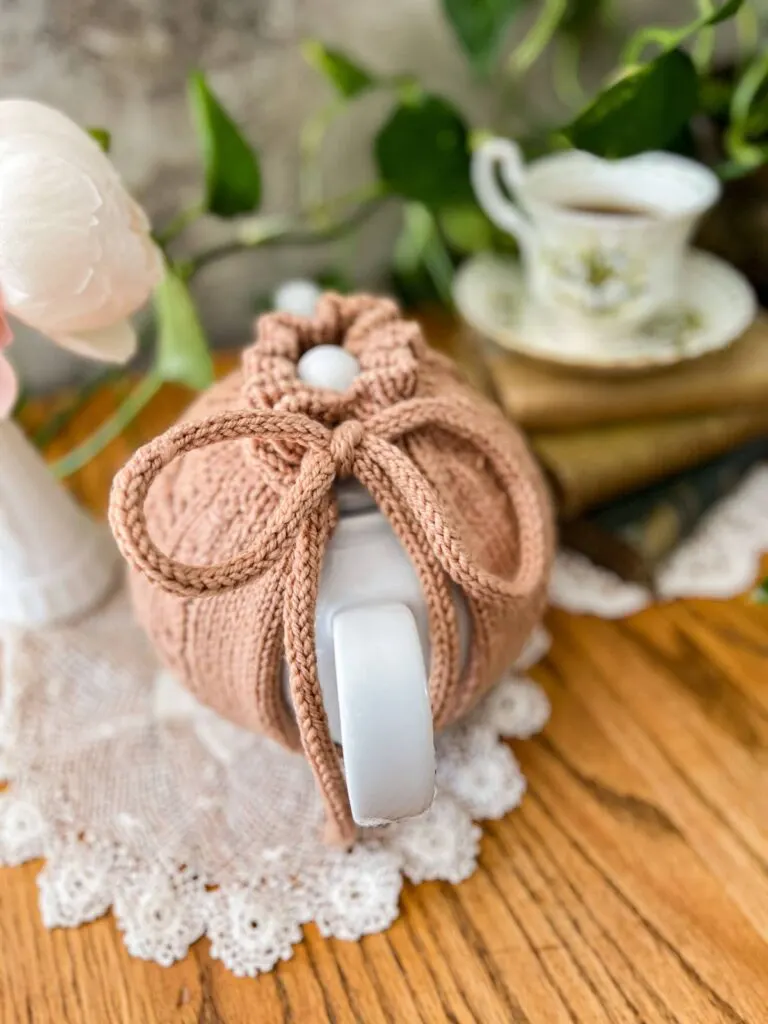 Easy Shopping List
In case you want to knit this tea cozy using the exact materials I did, here is a shopping list with easy links for you. Some of these are affiliate links, which means if you choose to buy something through those links, I'll receive a small commission at no extra cost to you. I will always identify affiliate links for you. Thanks for supporting my work!
Wool and Palette worsted weight yarn
Addi 16" (61 cm) circular knitting needle in US Size 6 (4.0 mm) (affiliate link)
Stitch markers (budget option) (affiliate link)
Stitch markers (fancy option) (affiliate link)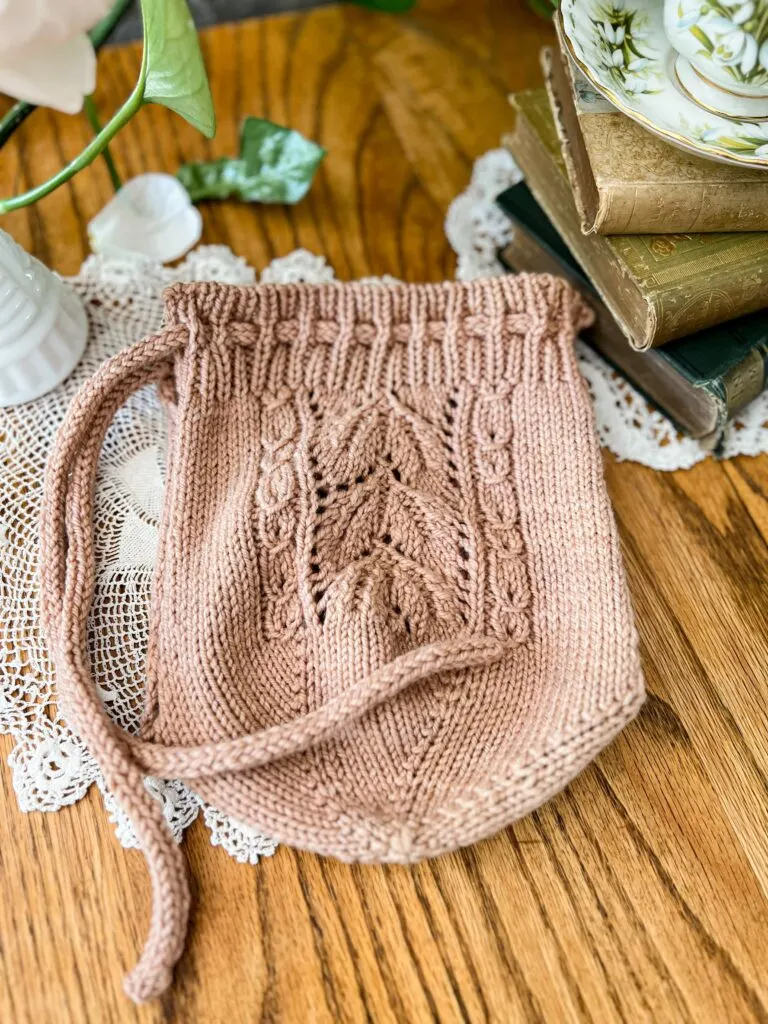 Emily's Garden Tea Cozy Details and Specs
Here are all the nitty gritty details about the Emily's Garden Tea Cozy, including the dimensions, materials, gauge, needles, and more.
SIZES
One size. Finished tea cozy dimensions: 6.5" (16.5 cm) tall by 14.5" (37 cm) in circumference (unstretched). Base has a 7" (18 cm) diameter.
A note about fit: this cozy is designed to fit snugly with at least some negative ease. It stretches quite comfortably around my pot with a 21" (53.5 cm) circumference.
MATERIALS
Worsted weight yarn, 170 yds (156 m)
Sample shown knit in Wool and Palette Worsted, 3-ply Merino/Rambouillet blend of nonsuperwash wool, colorway Rose Gold, 240 yds (220 m) per 3.5 oz (100 g)
GAUGE
4" (10 cm) square = 25 stitches and 31 rows in stockinette knit flat, after blocking
NEEDLES
One set of needles for your preferred style of small-circumference knitting in a size to match gauge listed above
Suggested needle size: US 6 (4.0 mm)
TOOLS
One stitch marker for beginning of round; optional additional markers between pattern repeats
Tapestry needle for weaving in ends
SKILL LEVEL
Intermediate
Techniques: circular cast-on, increases, decreases, knitting in the round, tubular bind-off. For help with the circular cast-on, visit this link: https://www.youtube.com/watch?v=bPtTiWL9AP4. For help with the tubular bind-off, visit this link: https://www.youtube.com/watch?v=2c94VA0oxdo&t=227s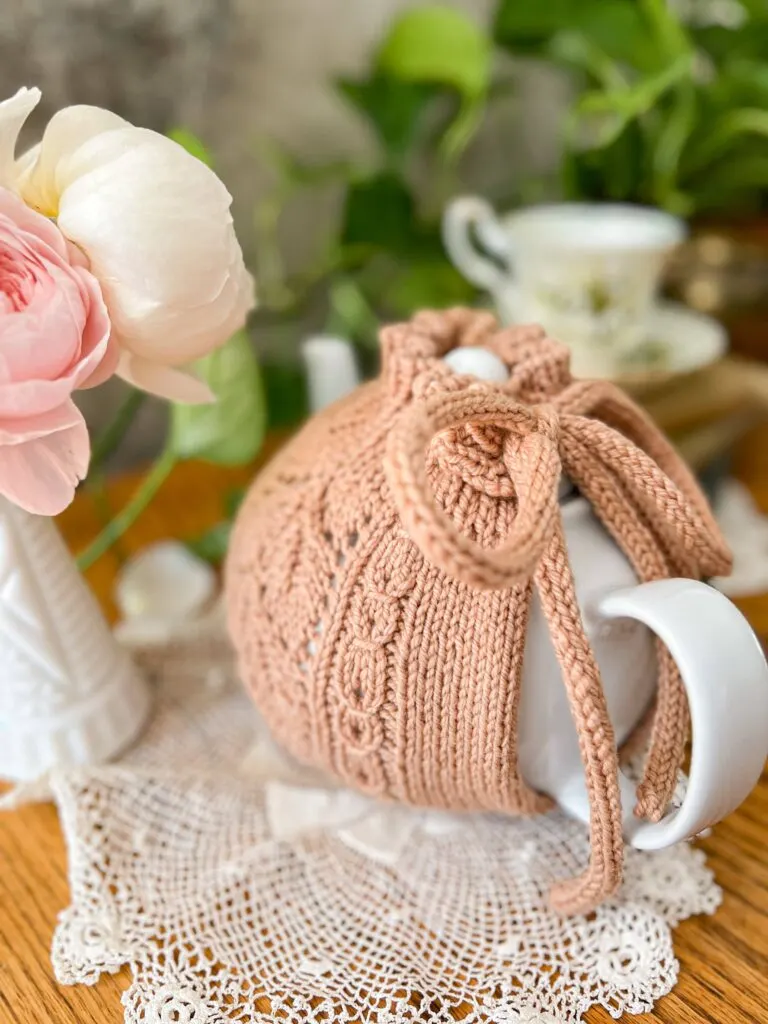 If You Like This Pattern, You'll Also Like…
If there's one thing I've discovered in my years as a knitter, it's that many of us have favorite motifs we like to revisit. In case you're the same, here are some suggestions based on this tea cozy.