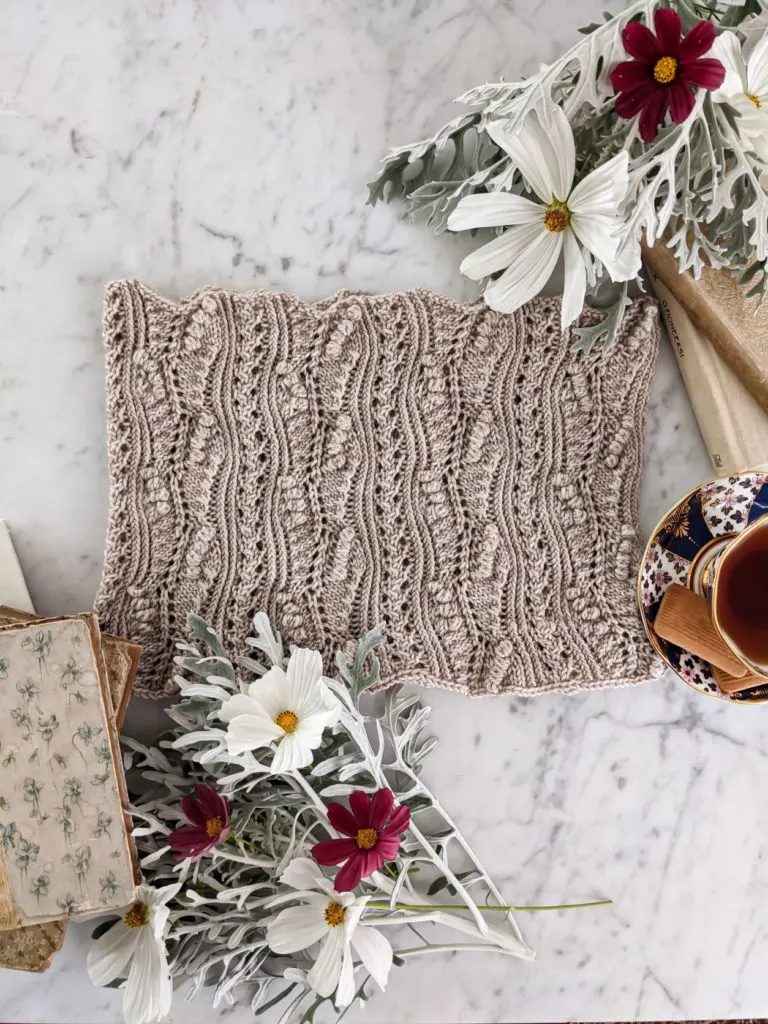 The Pandiculation Cowl is a highly textured cowl knit in DK-weight yarn. It features bobbles, twisted stitch, and dancing eyelets running all the way up and down the cowl. Read below for links to buy the Pandiculation Cowl and more information about the cowl.
PAYHIP:
Here's where you'll find the Pandiculation Cowl.
ETSY:
Here's where you'll find the Pandiculation Cowl.
RAVELRY:
Here's where you'll find the Pandiculation Cowl.
ABOUT THE PANDICULATION COWL
pandiculation (n) – the act of stretching oneself, especially on waking.
When the first brisk air of fall hits after a long, lazy summer, I often feel like I am waking up again. Contrary to all the old stories, for me, fall is a season of new ideas and creative exploration. Working on new knits in fall is a way to stretch my brain a little after its summer vacation.
This cowl is a nod to fall mornings at the Ventura river mouth where, at low tide, you can see rivulets of water streaming between thousands of mossy boulders. It features undulating columns of eyelets and bobbles broken up by 1×1 twisted rib. This texture looks complicated, but like many of my stitch patterns, it's really just a 10-round repeat that's been flipped on itself to create the full 20 rounds. Once you settle into the rhythm of it, this cowl will flow like water in a delta.
PANDICULATION COWL DETAILS AND SPECS
SIZES
One size; 13" (33 cm) wide by 9.5" (24 cm) tall, measured flat.
MATERIALS
DK-weight yarn, 375 yd (343 m)
Sample shown knit in Julie Asselin Leizu DK, 90% SW Merino, 10% Silk, 4oz (115g) / 260yds (238 m)
GAUGE
4" (10 cm) square = 30 stitches x 28 rows in pattern
NEEDLES
One 24" (61 cm) circular needle in a size to match gauge listed above
Suggested needle sizes: US 6 (4.0 mm)
TOOLS
One stitch marker; optional markers between pattern repeats
One crochet hook .75 mm smaller than the needle size used to achieve gauge; suggested hook size US D (3.25 mm)
Tapestry needle for weaving in ends
SKILL LEVEL
Intermediate
Requires decreases, bobbles, and knitting in the round
IF YOU LIKED THE PANDICULATION COWL, YOU'LL ALSO LIKE…
The Laurel Hat, which features lacy leaves and decorative bobbles in worsted-weight yarn. Perfect for keeping warm on fall days!
The Berry Scone Shawl, an asymmetrical shawl with lots of squishy seed stitch, bobbles, and lace.
The Gladdening Socks, another feast of texture for the knitter who loves intricate detail.