When I first started knitting socks, I knew I wanted to learn the structural essentials before I started diving into the more complex patterns. My first pair of socks was from a vanilla sock pattern​, and I focused on how heels work, the right stitch ratio for my toe, getting the fabric density right, and so on.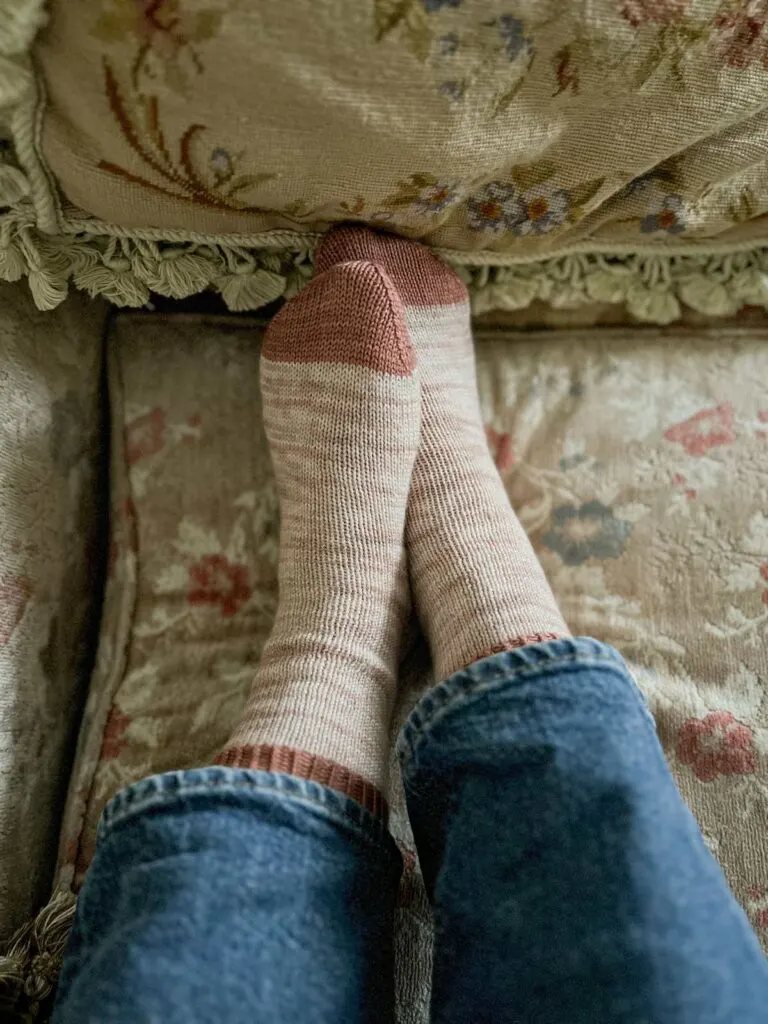 And even now, 15 years later, I still find I love a good vanilla sock now and then. I might jazz it up with some stripes or a contrasting heel and cuff, but that's about it.
If you're on the fence, here are some ideas for making your own vanilla sock. You might find you enjoy it just as much as I do.
I. What is a Vanilla Sock?
But first, if you're not a sock knitter, you might be wondering: what the heck is a vanilla sock?
Put simply, it's a plain sock, as in "plain vanilla." Now, if you're a food nerd or a student of history, you might know that vanilla wasn't so very plain until fairly recently, but we'll set that aside for another day. It's become a shorthand for simple and ordinary nowadays.
A vanilla sock, then, is a sock with no or very few textural details, knit simply, and easily constructed. In other words, this is a very basic sock pattern. There are different ways to work a vanilla sock, but they all generally end up looking about the same.
My preferred vanilla sock is a cuff-down sock with 60 stitches on US size 1.5 (2.5 mm) needles. This gives me about 1-2 inches of negative ease for a nice, snug fit. It uses stockinette stitch, a traditional heel flap with gusset, and a wedge toe. Classic.
If you want my basic vanilla sock recipe, you can find that on my blog, too.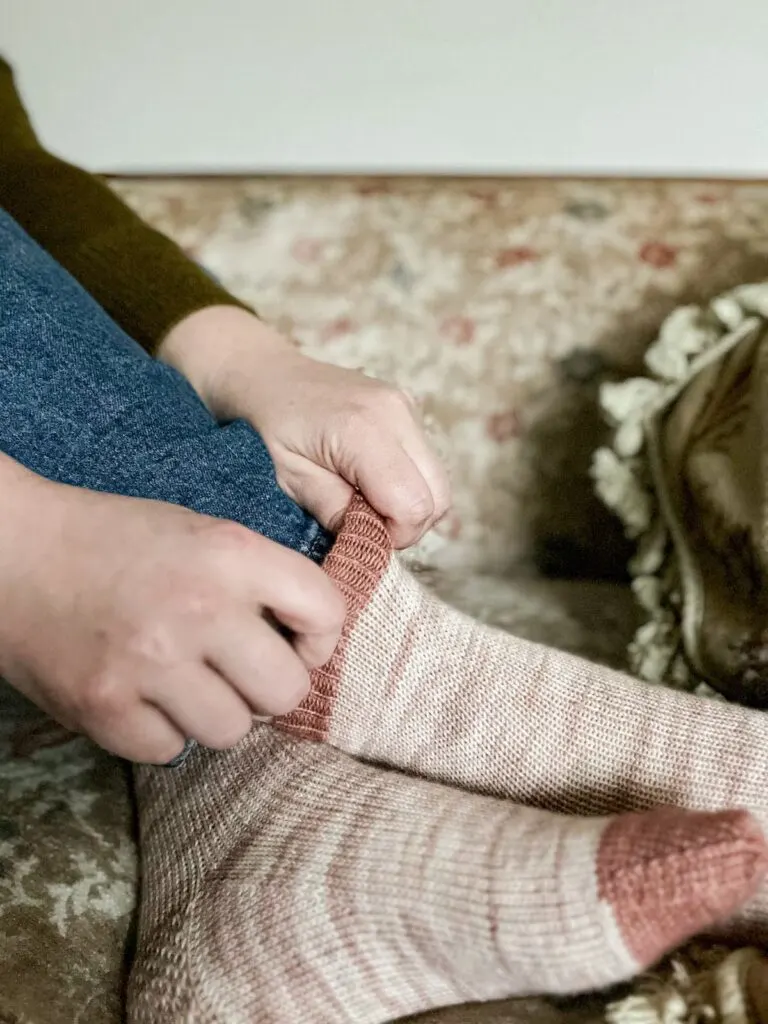 II. Why I Love the Vanilla Sock
As it turns out, vanilla socks serve several important purposes in the sock knitter's collection. Whether you're looking for a low-stakes knit or want something that will be easier to maintain, the vanilla sock has something to offer you.
a. It's low-stress
Sometimes, when life is full of chaos and worries, it's helpful to have something relaxing that places few demands on your mental bandwidth. Maybe you're like me and have gotten hooked on romance novels over the last several years. Maybe you're also like me and gravitate toward simple stitches when you're stressed.
And if that's the case, you might find the vanilla sock is the medicine you need. Because the stitches are just plain stockinette, you can go round and round the needles without having to pay much attention to it. If your brain is already tired and you can't bring yourself to count
more stitches, the vanilla sock will keep you knitting without taxing your already drained mental reserves.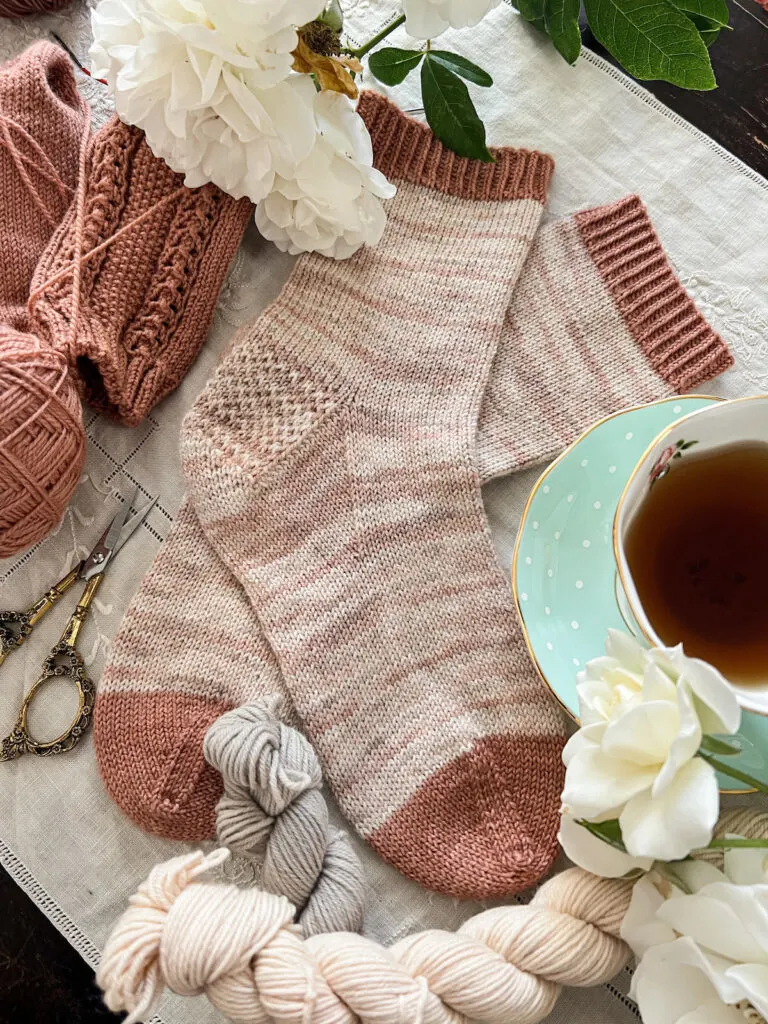 b. You can work on it in the dark
A lot of us knitters have trouble sitting still, even when we're doing something we like to do. It's why knitflixing is such a popular activity.
There's just one problem: what if the thing you want to do is in a place too dim to see your stitches?
You could be at the movie theater, a bowling alley, or a meeting in a dim auditorium. Maybe you're sitting around the campfire. Maybe you're enjoying a quiet evening at the beach.
In all of those scenarios, a vanilla sock is a great project to bring along, because you can keep working basic knit stitches just by feeling your way around. Depending on how quickly you knit, the leg or foot portion can give you several hours of happy stitching time before you ever need to actually look at your work or any pattern instructions.
A word to the wise, though: I'd recommend getting past the knit cuff before the lights go out. I learned this one the hard way.
c. It's portable
Unlike the majority of sock patterns where you have to look at a chart or stitch instructions regularly, the vanilla sock is easily portable. You can take it anywhere, and even if you've forgotten your written pattern at home, you're generally okay to keep working until you hit the heel or toe.
No pattern? No problem.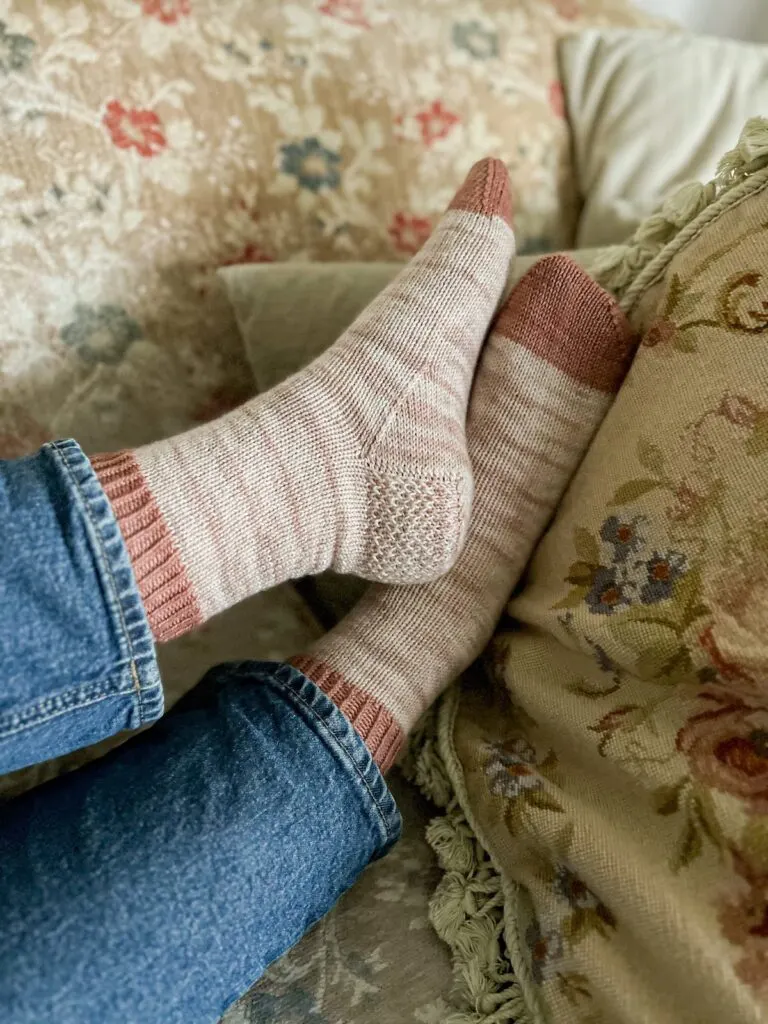 d. Mistakes are easier to fix
Every sock knitter knows the feeling of realizing you've made a mistake several rows back and, because the stitch pattern is so complicated, you're going to have to just rip back rather than dropping down to fix it. It's excruciating.
But with a vanilla sock, dropping down to fix a mistake is a lot easier. You're just working with stockinette stitches, so when you need to go back a few rows, it's really easy to get down to the stitch and then pull it back up using either your needles or a tiny crochet hook.
This is especially helpful for newer knitters who may be making their first sock. Mistakes happen, and they're a normal part of knitting. They're much less stressful, though, when you can fix them easily.
e. They're comfortable under snug shoes
Some of the more highly textured socks are beautiful but don't always feel so great when worn with shoes. That's because all of that texture can create pressure points between your foot and your shoe. Really large cables and bobbles are particularly common culprits.
Vanilla socks, though, have a smooth surface with no bumps or holes. They glide easily between your foot and the shoe with no spots where they'll catch or press. My favorite vanilla socks, which you see in this post, get a lot of wear in rain boots and clogs when the weather is crummy.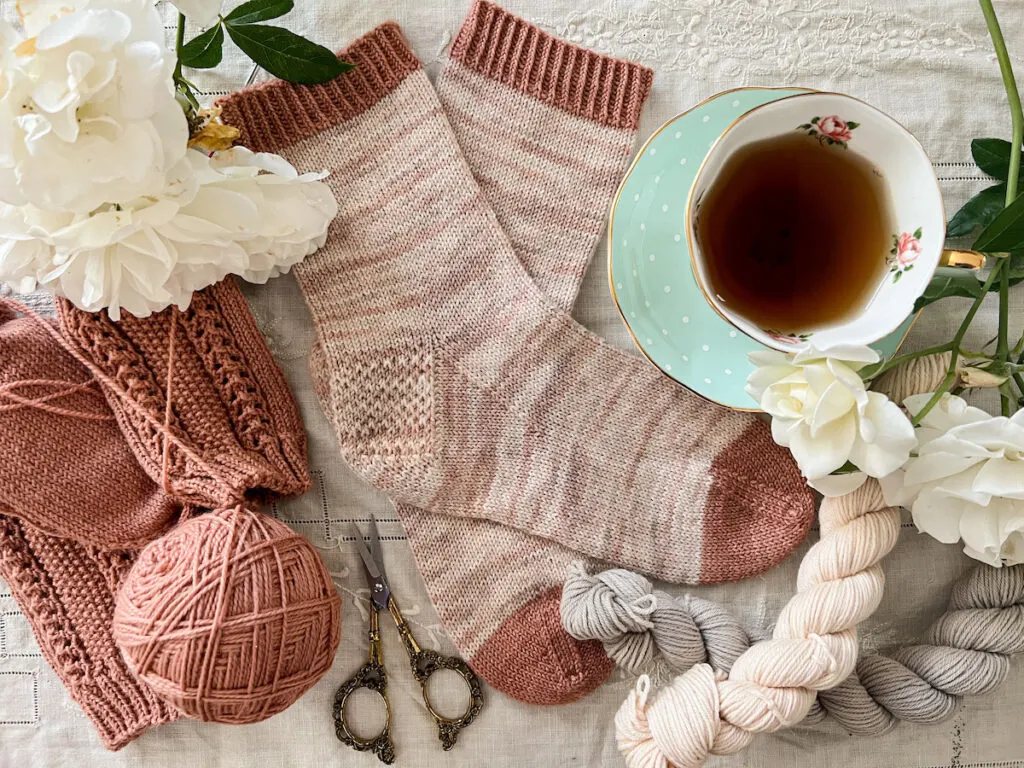 f. They're easier to mend
As with fixing mistakes while you work, vanilla socks are also easier to mend once they're worn, too. The most common spot to get holes on socks is the toe and heel, but they can happen anywhere. If you've worked this hard on your sock, it would make sense that you'd want to mend it rather than just tossing it out at the first sign of wear.
More textured socks require more complex mending techniques, but with plain socks, you have a host of simple techniques at your disposal. I'm a big fan of the knitted patch, but you can also use something like a speed weaver to mend. If it's worn but a hole hasn't sprouted yet, you can also use double stitching or Swiss darning to reinforce the sock easily.
g. They're great for any skill level
Basic vanilla socks are perfect for knitters of all experience levels. If this is your first time knitting socks, you can start with one of the many beginner friendly sock patterns​ that has been graded and written out for you step by step. That way, you don't have to worry about calculating the exact numbers of stitches to cast on based on your foot circumference or figuring out which sock toe to use. Someone has already done that work for you.
Once you have more experience, you can design the entire sock from scratch using the basic principles you've learned. This will help ensure you get the best fit for your unique foot. You can customize the foot length, knit it with DK weight yarn (once you know the circumference of your foot, the math for this is pretty straightforward), avoid the dreaded heel turn altogether by using different heel patterns, use a main color that contrasts with the cuff and toes, and more. The sky's the limit.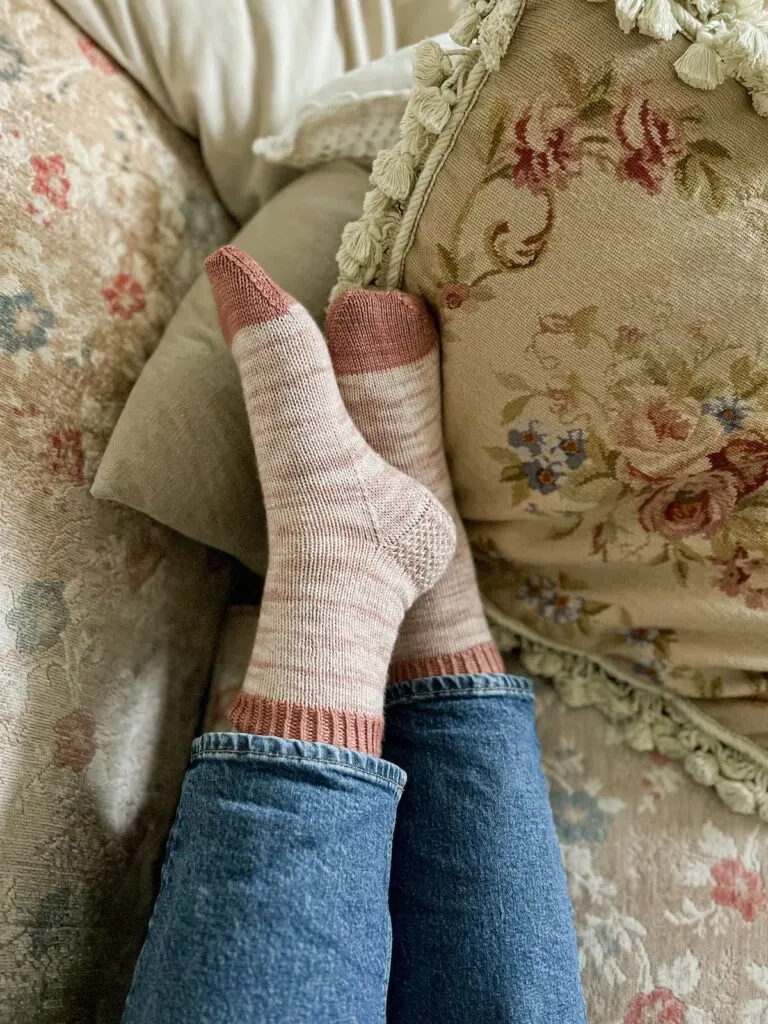 III. Tips for Knitting Your Best Vanilla Sock
If you're about to embark upon a vanilla sock adventure, be sure to choose a yarn that will suit your purposes. If you need help, here's an in-depth exploration of how to pick a good sock yarn.
You'll also want to have needles that will do the job well for you, and that means you'll need to do more than just choose the right needle size. If you're a tight knitter, try using metal needles. If you find needles slip out of your work, experiment with wooden needles. Be sure to visit this blog post for more on how to pick the right needles.
Worried you'll struggle with second sock syndrome? You can try knitting your socks two-at-a-time with the magic loop method. Some knitters also work this technique with two circular needles.
And finally, if you've never knit a vanilla sock before, you might want the help of a basic sock recipe. Here's a link to my own vanilla sock recipe, which I like to use for adapting socks to my own needs. Feel free to modify it for yours, too, so you'll end up with a great pattern that's just right for you.
Happy stitching, and let me know how your sock knitting goes!