One of my favorite people to follow on social media is Cora Harrington. Up until about a year ago, Cora ran The Lingerie Addict, a website dedicated to helping people understand and evaluate the materials and construction of various underpinnings. Cora is also a wealth of information surrounding clothing manufacturing and care generally.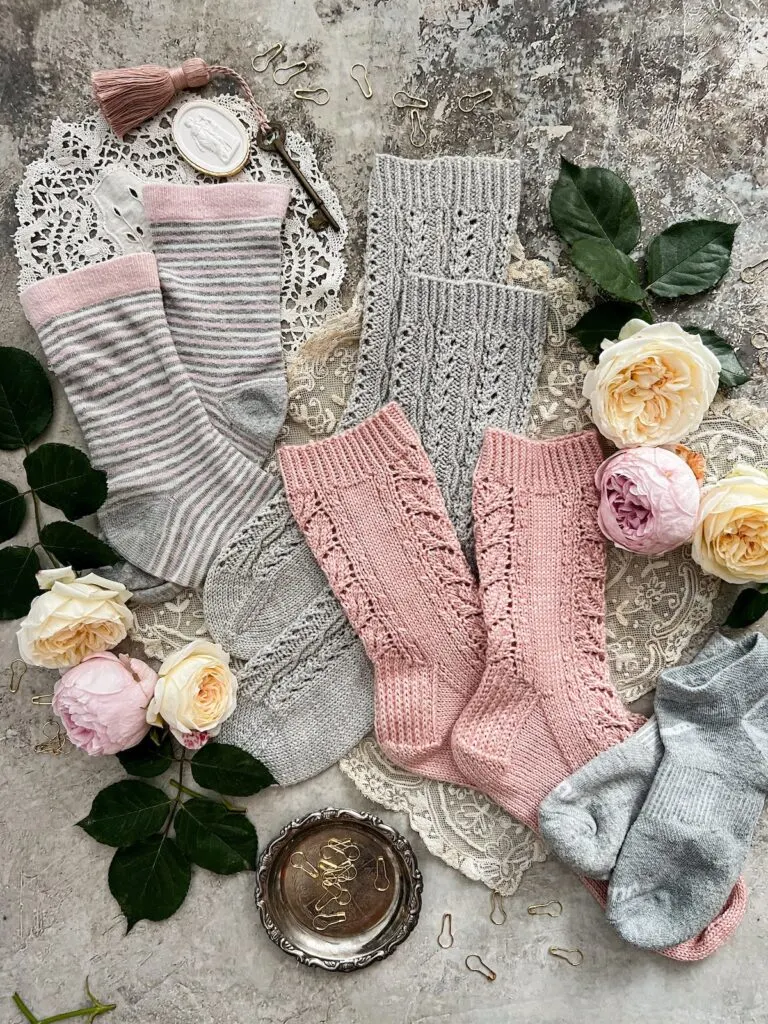 And one of her frequent refrains is even though something is machine made, there's still a person behind it. Sewing machines don't just assemble things on their own.
When I was younger, I kind of understood that as a general concept, but it wasn't until I started knitting that I really began to appreciate everything that goes into my machine-made clothes, too. There are people out there making these pieces, and the best ways I can think of to honor that work is to (1) pay them fairly and (2) thoughtfully use and consume the things they make.
With that in mind, I thought it might be fun to focus specifically on the machine-made socks that I buy from the store. Today's post delves into how I've come to appreciate them more as a result of my hand-knitting practice. In doing so, I often think about
the person who made those socks,
the many generations of people before me who labored over handmade socks, and
how many of those previous generations would have loved to be able to just go buy a pair instead.
How I learned to love knitting socks
Let's back up a bit first, because before I learned to love the store-bought socks, I learned to love the knit socks. That didn't happen all at once.
The sock knitting bug first bit me about six months after I learned how to knit. I learned from this Kate Atherley pattern, which walked me through all the main components of a basic stock. I knit them entirely with double pointed needles and was very proud of myself, even though I made them too short and knit them a little too loosely.
For the next decade or so, I would knit a pair of socks now and then when the mood struck me, but I often struggled with second sock syndrome.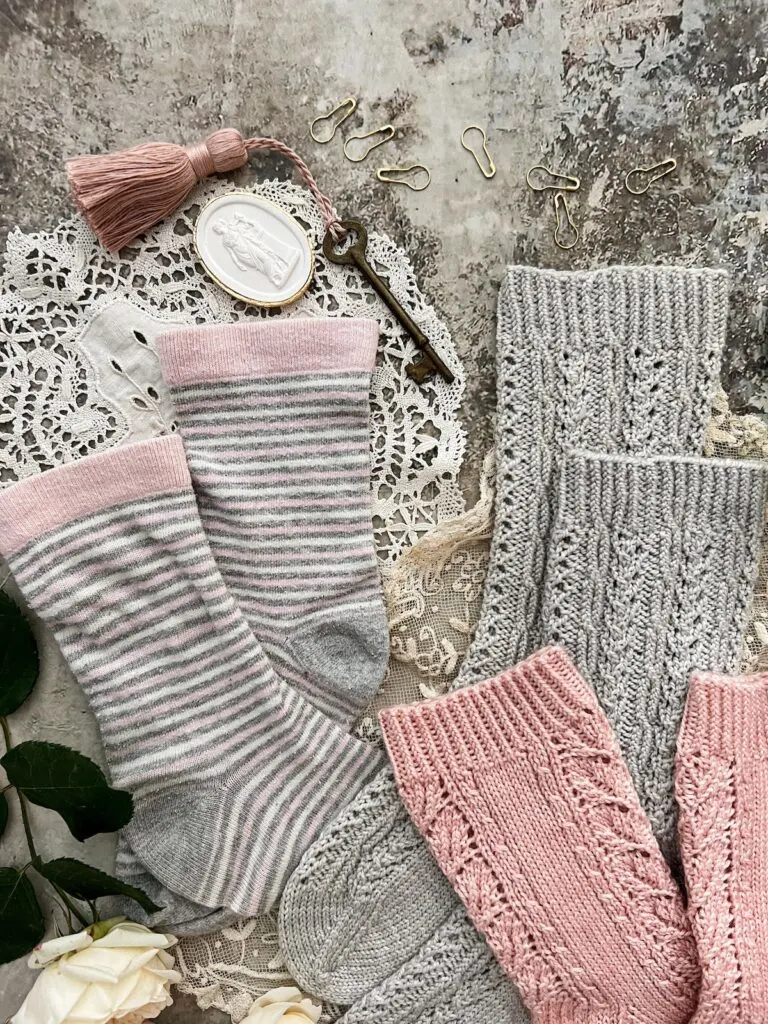 About five years ago, though, somebody on the Internet introduced me to tiny circular needles. That was all it took. Second sock syndrome was cured, I flew through my socks, and for whatever reason, I became slightly obsessed with knitting cozy footwear for myself.
If you've been following along here over the last couple years, you'll know that my love of socks has now exploded. There are a couple dozen sock patterns and a whole quarterly mystery sock club. I learned to love the ~20 hours of work that goes into each pair, the seaming at the toes, the carefully woven-in ends.
And in that process, I discovered that there are things to appreciate about my store-bought socks, too. Let's take a look at some of those things.
I learned to appreciate the fine gauge of my store-bought socks
Now, I mentioned above that hand-knit socks are usually (but not always) knit on pretty small needles with pretty fine yarn. That's true, but it's nowhere near how fine the gauge is on store-bought socks. When I need a really delicate sock to wear with dress shoes or a really sturdy, athletic sock, I don't try to make it myself. I just go to the store and buy it.
That's because the gauge of my store-bought socks is much finer than anything I could do with hand-knit socks. That had never really occurred to me in all my years of wearing socks until I started knitting my own.
I love my squishy, cozy, hand-knit socks, but there are times when they just don't suit the purpose I need them for. During those times, I'm really grateful that I can also buy extremely fine socks at the store.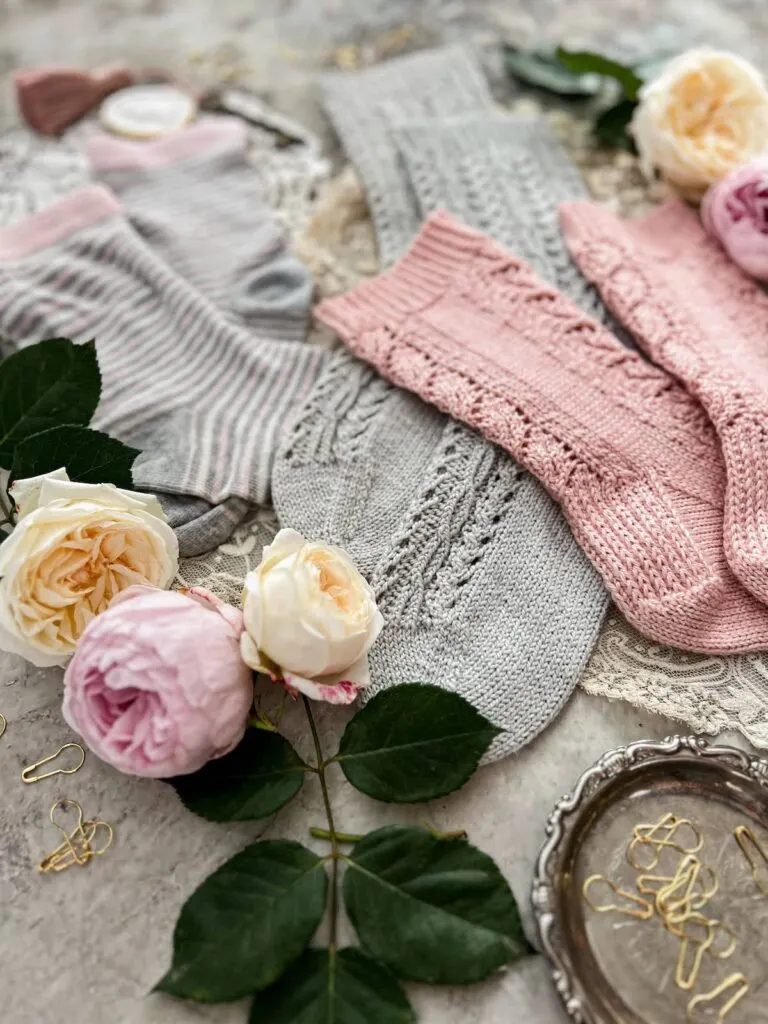 I learned to take better care of my store-bought socks
Now, let's not overstate my case here. I don't take care of my store-bought socks the same way I take care of my hand-knit socks. That is to say, I don't hand wash and drip dry them. That's a little excessive.
But I do try to take better care of them generally. Through the process of learning to care for my hand-knit socks, I've learned that everything lasts better when you take appropriate care of it.
I don't use fabric softener on my socks, and I try not to wash them at a temperature hotter than what they need to get clean. I also avoid using harsh chemicals on them like bleach, unless it's really necessary. I've even been working on moving away from dryer sheets, which deposit a waxy coating on the fabric in your laundry that isn't very good for it. (Thanks, Cora. That's another lesson you taught me.)
I learned to use my various socks only for what they're good at
When I first started knitting socks, I thought I would be able to replace my drawer of store-bought socks. What I found is that it didn't really work out that way.
In fact, when I tried to wear a pair of hand-knit socks for a 12-hour day of sightseeing, I was in a lot of pain by the end of the day because the purl bumps were rubbing my feet in really unpleasant ways.
Instead, as I've written about elsewhere, I use my hand-knit socks and my store-bought socks for different things. On rainy days, I love putting on some thick, hand-knit socks and sliding my feet into my Birkenstock clogs. That keeps me cozy, and I know I'm not going to be generating a ton of friction against my feet.
When I'm going on a long hike, I'll switch to store-bought socks. Snuggling at home on the couch? Hand-knit socks. Spending all day on my feet? Store-bought socks. Going to bed during the winter? Hand-knit socks.
And in learning to love both of these socks for what they can do well and not forcing them to do what they can't do well, I've learned to expand that practice of acceptance into other areas of my life.
No word yet on whether I've been able to apply it to myself with any consistency or success. Will report back later.
I give my store-bought socks a second life when they're done
Store-bought socks, like anything else, wear out after a while. They get holes or the elastic in the cuff wears out. Then they no longer serve their original purpose very well.
But that doesn't mean they serve no purpose.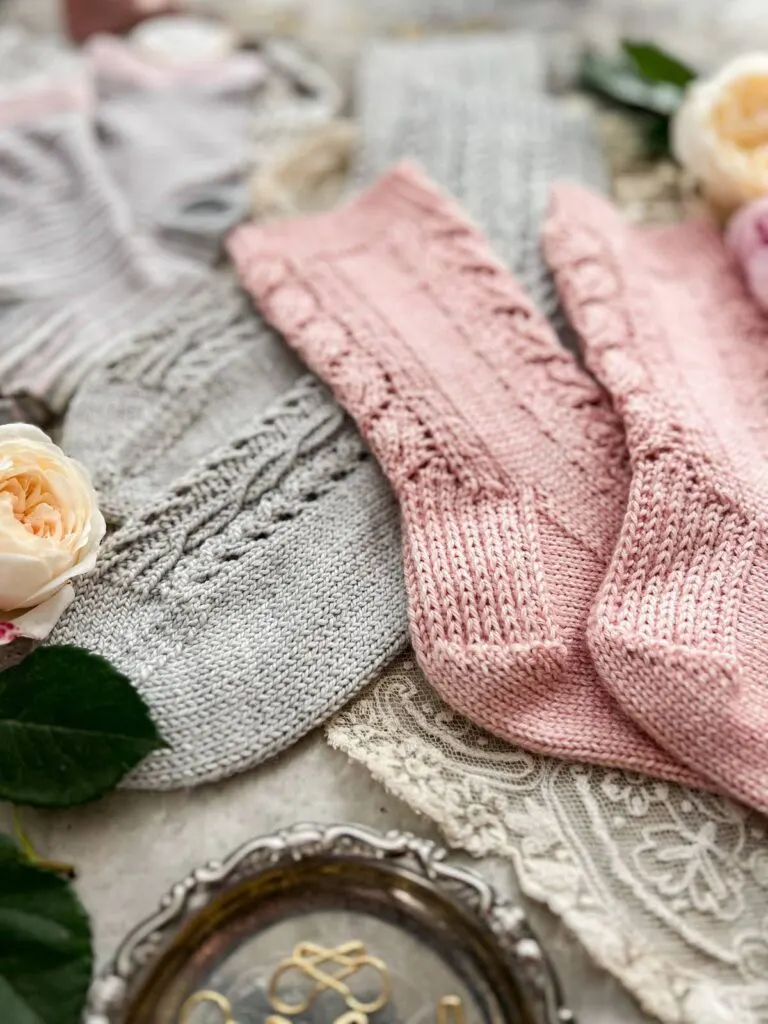 Through the process of mending and reusing my hand-knit socks, I've realized my store-bought socks deserve (and can fulfill) multiple purposes, too.
I like to use old socks as dust rags and things to wipe down surfaces. (Obviously, I wash them before using them for this purpose, but you get the idea.) I've also used them as stuffing for toys and for filling draft blockers that go at the bottom of doors.
Basically, if it's something that needs to be soft and squishy, old socks might fit the bill.
---
In the end, hand-knit socks and store-bought socks can coexist in the same drawer. I love them for different things, and loving one has helped me learn to love the other more.
Have you also found that your knitting practice has improved your relationship with your store-bought clothing? I'd love to hear about it in the comments.