Handmade blankets are a wonderful way to stay cozy during the winter and can be a lot of fun to make, too. Before you get started, though, you need to figure out what yarn you're going to use. Choosing the right yarn for blankets requires answering a few simple questions. At the end of this post, I'll have links to specific yarns for you.

This post contains affiliate links, which means if you choose to buy something through those links, I'll receive a small commission at no extra cost to you. I will always identify affiliate links for you. Thanks for supporting my work!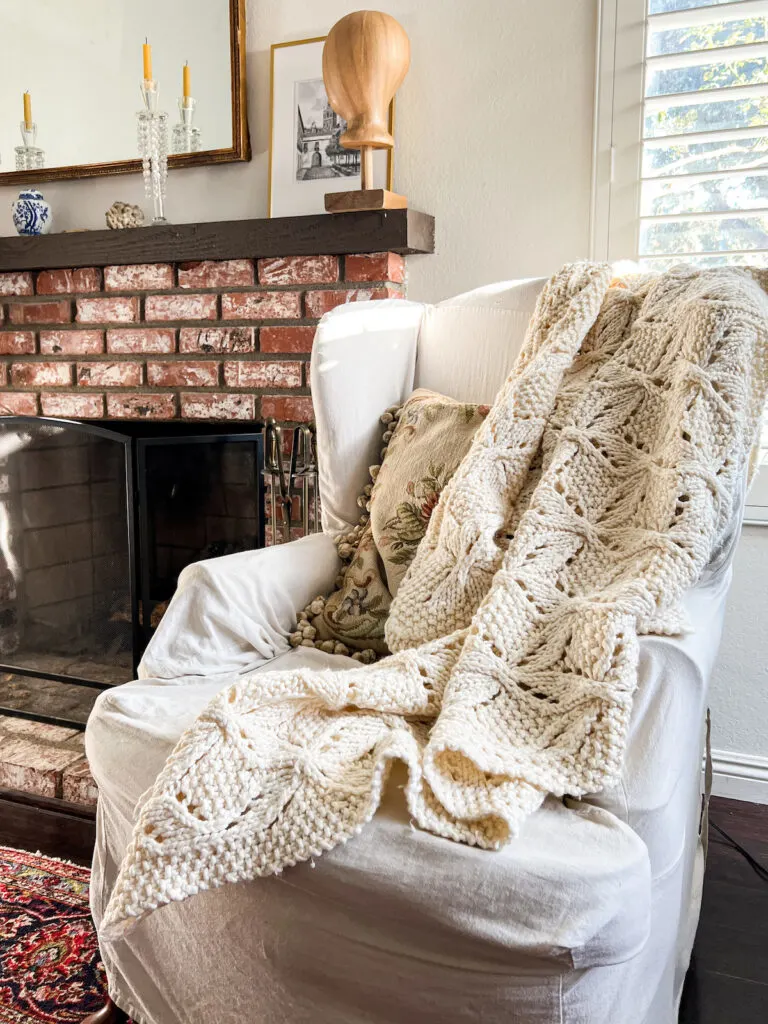 Once you've figured out the right type of yarn for your specific project, though, you'll be well on your way to your next cozy blanket. Let's take a look.
Question 1: What's the fiber content?
First, if you want to pick the best yarn for a blanket, you need to think about the fiber content of that yarn. Fiber content is generally broken down into two categories: natural fibers and synthetic fibers.

The most popular natural fibers for making blankets are cotton yarn and wool yarn. Wool yarn has better insulating properties than cotton yarn does, but cotton yarn is generally easier to care for. Most wool yarns require a little more care with laundering, while cotton yarn can be thrown in the washer and dryer just like any other piece of laundry.

The most popular synthetic material ssed in yarn for blankets is acrylic. Acrylic yarn is available in lots of different formats. You'll most commonly find it as either pure acrylic or as an acrylic blend mixed with wool. Either way, blankets made from yarn using acrylic are relatively easy to care for.
Acrylic fibers are not as breathable as wool or cotton, and they do have some environmental impacts to consider. Sometimes, though, they're the best choice for your project.

Ultimately, to choose the right fiber for your blanket yarn, think about who is going to be using the blanket and how they're going to be using it.
Is the blanket going to a house with pets or small children? Is the person receiving the blanket going to need to launder it a lot? Would the recipient prefer an easy care blanket? In those cases, you'll probably want to choose either a synthetic or a cotton.
On the other hand, if the blanket is for somebody who doesn't mind a little extra care process and the blanket isn't going to get terribly dirty, going with wool might be the right choice.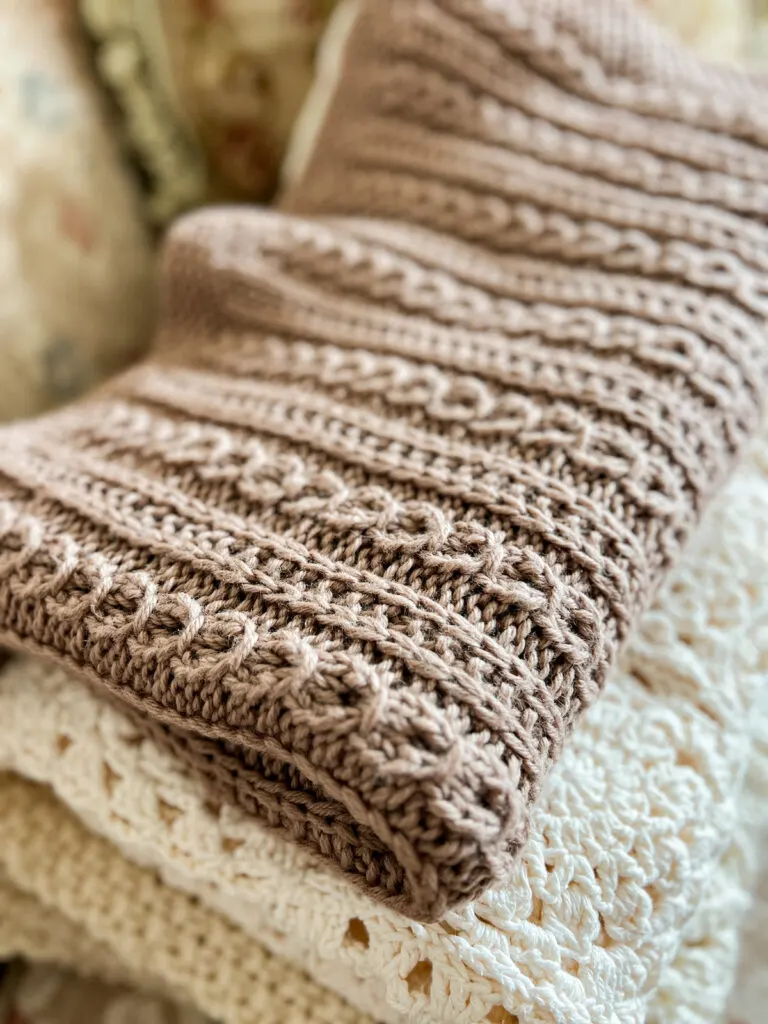 Question 2: How thick is the yarn?
Once you've chosen your fiber blend, the next thing to ask yourself when choosing yarn for a blanket is how thick of a yarn you'd like to use. A lot of knitters and crocheters love to use thicker yarns to make a chunky blanket. That isn't always the best call, though.

For example, when I knit baby blankets, I tend to use a finer yarn. Bulky weight yarn can result in a knit blanket that is rather stiff. It can also have gaps in the stitches that are too easy for little fingers to get into.

On the other hand, if you are making a blanket for king size bed, you probably want thicker yarn. Most makers don't want to do that in fingering weight yarn on US size 2 needles. You can, but it's going to take a very long time.
Finally, some people get overheated really easily. For those people, a blanket made with super-bulky yarn might be too warm. In that case, a lighter-weight yarn is the right call.

To choose what kind of what thickness of yarn you'll need for your blanket, ask yourself how much time you are willing and able to devote to the making process. Keep in mind who will be using it, too.
If you don't have a lot of time and the person using it doesn't overheat easily, a thick yarn in either a bulky or super bulky weight might be the right choice. If you are knitting for a child or for somebody who gets overheated easily, a thinner yarn might be a better option. I like worsted weight yarn or DK weight for baby blankets.

Of course, if you have a bunch of fingering weight yarn that you'd like to use up, you don't have to use that on a project that will take you 10 years to complete. I'm currently knitting a mitered square blanket using fingering weight leftovers, and I'm just holding those leftovers double. It works great.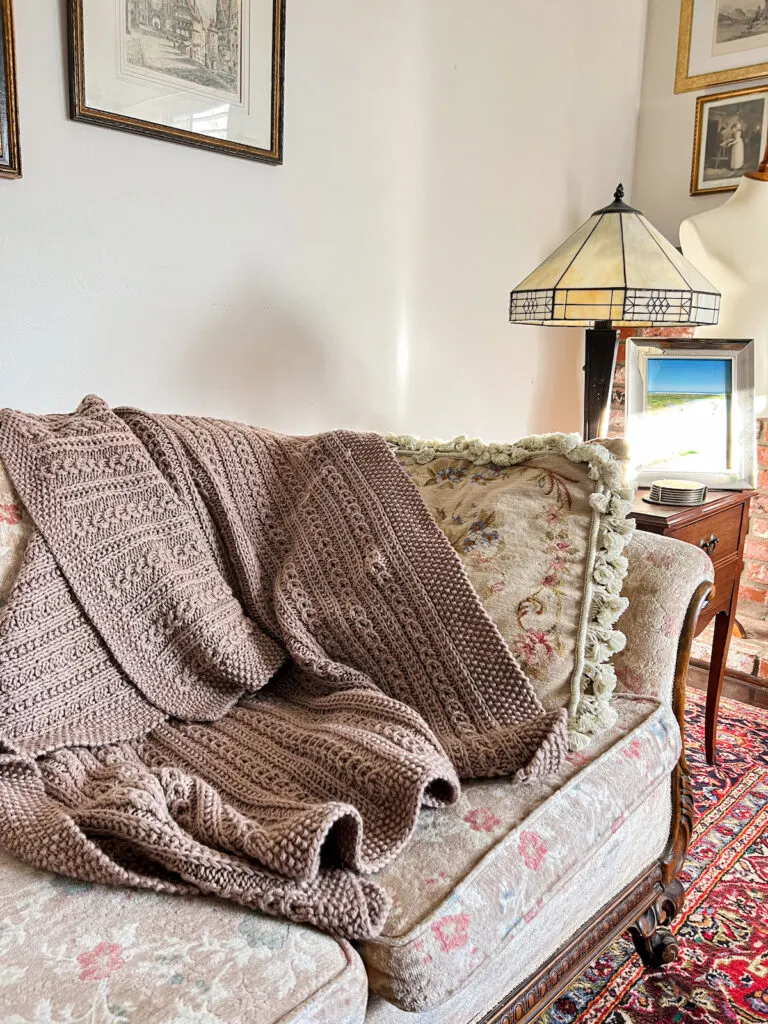 Question 3: How is the yarn constructed?
The final question you need to ask yourself is about the yarn construction. I know for a while there those ultra fluffy yarns were really popular for making blankets. A jumbo yarn that is loosely spun, though, is not going to be terribly durable. It will also not fare well in the washing machine. In short: just because it's one of the softest yarns you've ever felt doesn't mean it's the best yarn for a blanket.

Instead, look for a yarn where the strands have been spun together firmly. I am a big fan of worsted spun yarns for blankets, especially blankets that get a lot of use. Worsted yarn is more durable than single ply or woolen spun yarn because of its construction. Multiple plies spun tightly together are the most durable because each strand lends strength to the others.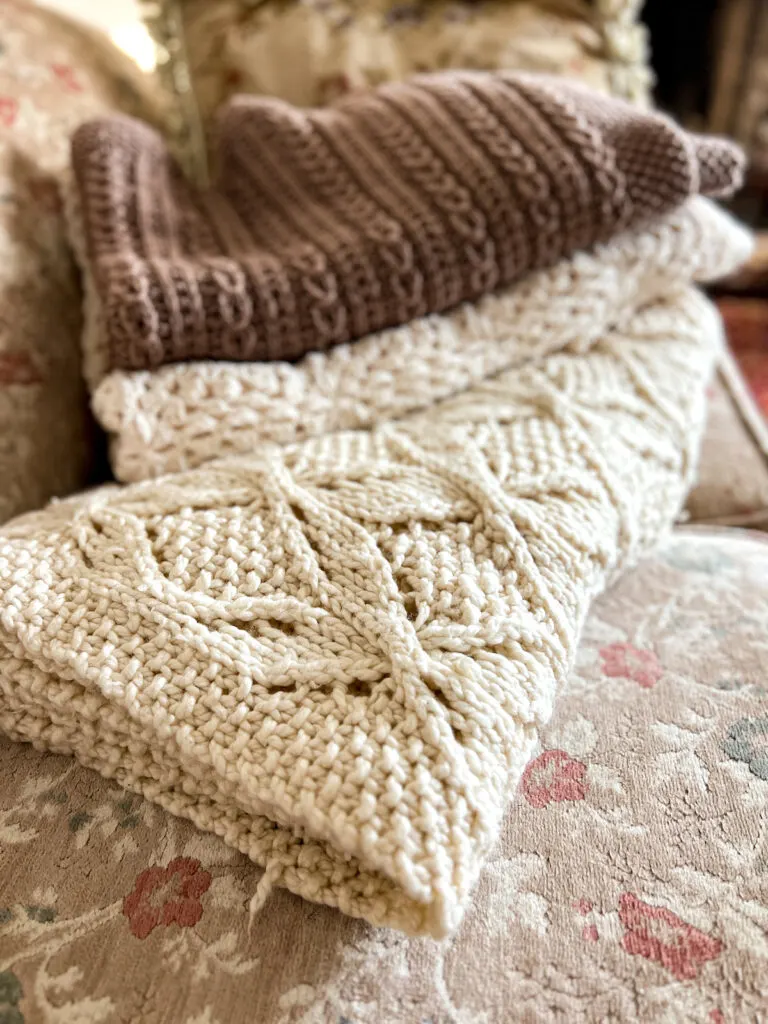 My Top Recommended Yarns for Knitting Blankets
I've knit and crocheted quite a few blankets over the last two decades. Here are some of my favorite yarns I've used and why I recommend them here.
Bulkier yarns
If you're planning to make an extra squishy blanket, these three options are my favorites.
Knit Picks Wool of the Andes Bulky
If you're looking to knit a blanket using 100% wool yarn, I think your best bet for a bulky weight yarn is Knit Picks Wool of the Andes Bulky (affiliate link). This is a lovely yarn for both knit and crochet blankets. Knit Picks has a good range of colors, from soft pastels to vibrant jewel tones. This yarn is 100% Peruvian highland wool, though, so it is not an easily washable yarn.
Lion Brand Wool-Ease Thick and Quick
For a good wool-blend yarn, I recommend Lion Brand Wool-Ease Thick and Quick (affiliate link). This is a real workhorse of a bulky yarn, and my blankets that I've made with it are super durable. I've had some of them for over a decade. The high acrylic content makes it washable, but the wool content makes it softer and more breathable. Because Lion Brand Yarn is carried at most of the big box craft stores, you're also likely to find it on sale for a great price.
Loops and Threads Charisma
If you're looking for a bulky weight yarn that is also 100% synthetic, I think Loops and Threads Charisma is one of the best out there. I've used this one on a couple of blankets, and the texture feels so wool-like that it's almost hard to tell there's no natural fiber in it. It is fluffy and soft, and it has held up well through over a decade of use, including in my household with a cat and a small child.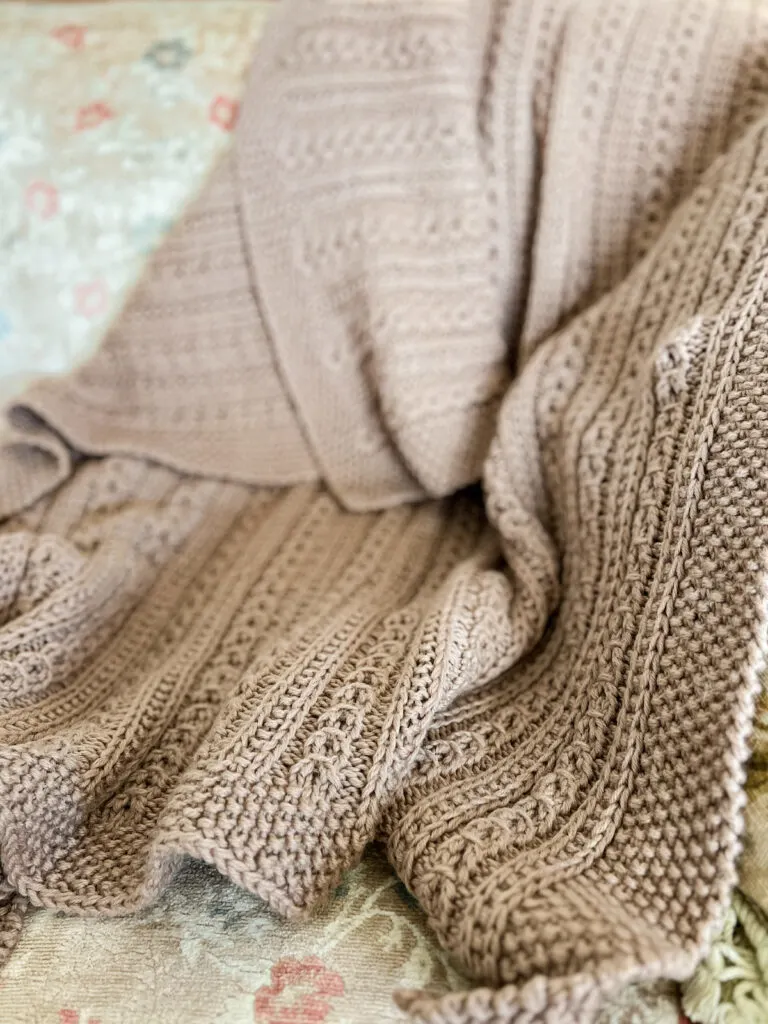 Thinner yarns
Sometimes, though, you need a lighter weight yarn for your blanket project. Whether you are making a blanket for a small child or a blanket for somebody who overheats easily, a lighter yarn weight can be a great choice for meeting their needs. Here are three of my favorites.
Patons Classic Wool
When it comes to worsted-weight wool yarns that are readily available and reasonably affordable, I really think you can't beat the Patons Classic Wool. This yarn has a beautiful texture and an extensive color palette, so you are sure to find one that will fit your needs. it also has great stitch definition, so if you are making a blanket with lots of cables, this one is a great choice.
Caron One Pound
For 100% synthetic yarns, I'm a fan of Caron One Pound. This yarn is machine washable and comes in lots of different colors (are you sensing a theme here yet?), so whether you want to make a colorful granny square blanket or knit some cheerful stripes, this yarn will have plenty of good options for you. You can find it at your local Michaels or Joann, and it's also easy to get online. Although it's not as soft as its brandmate, Caron Simply Soft, I think it holds up better under regular use and looks less obviously synthetic.
Lion Brand 24/7 Cotton
You'll notice I didn't have any cotton blends in the chunkier weight yarns. That's because cotton can get pretty heavy in large quantities, and so it tends to not be available above a worsted weight. However, for a good worsted weight cotton yarn, the Lion Brand 24/7 Cotton (affiliate link) is pretty much the perfect yarn. This is a 100% cotton yarn that can go right into the washing machine and dryer without you having to worry about it. The best thing about a blanket knit or crocheted from cotton yarn is that it will be comfortable during the summertime, too, when a wool blanket might be too toasty.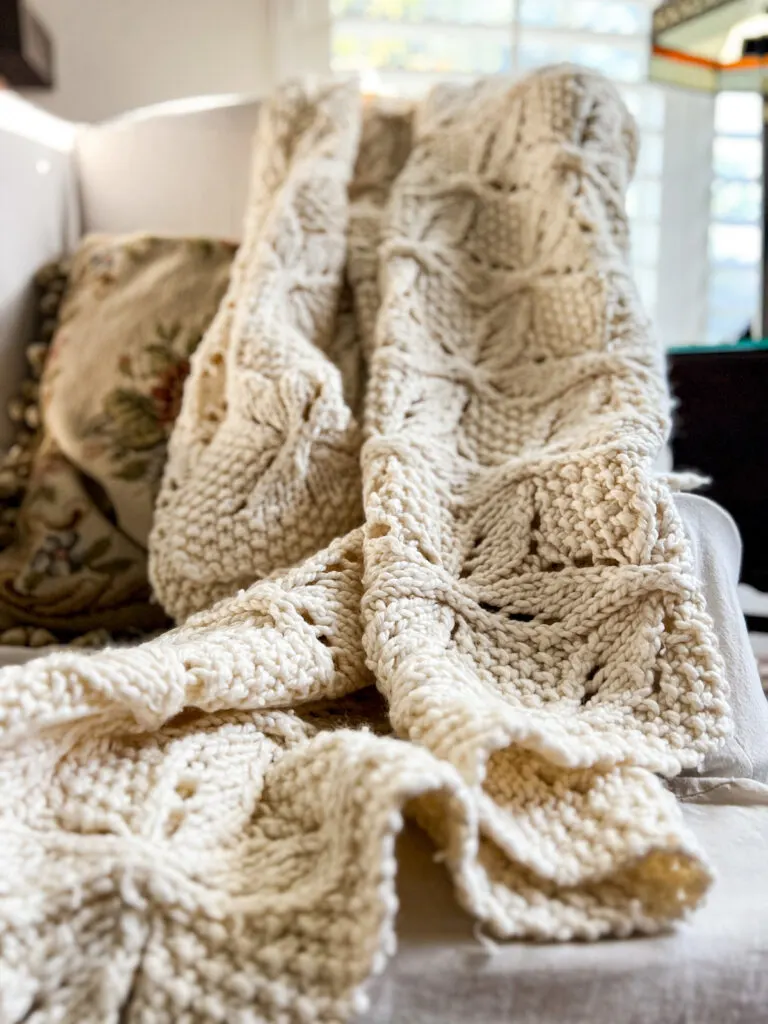 ---
Ultimately, no matter what yarn you choose, you should make sure it's a yarn you love in a color that makes your heart sing. You'll be working with this yarn for quite some time, because a handmade blanket is never a truly quick process. The yards of yarn passing through your hands might as well be pleasant.