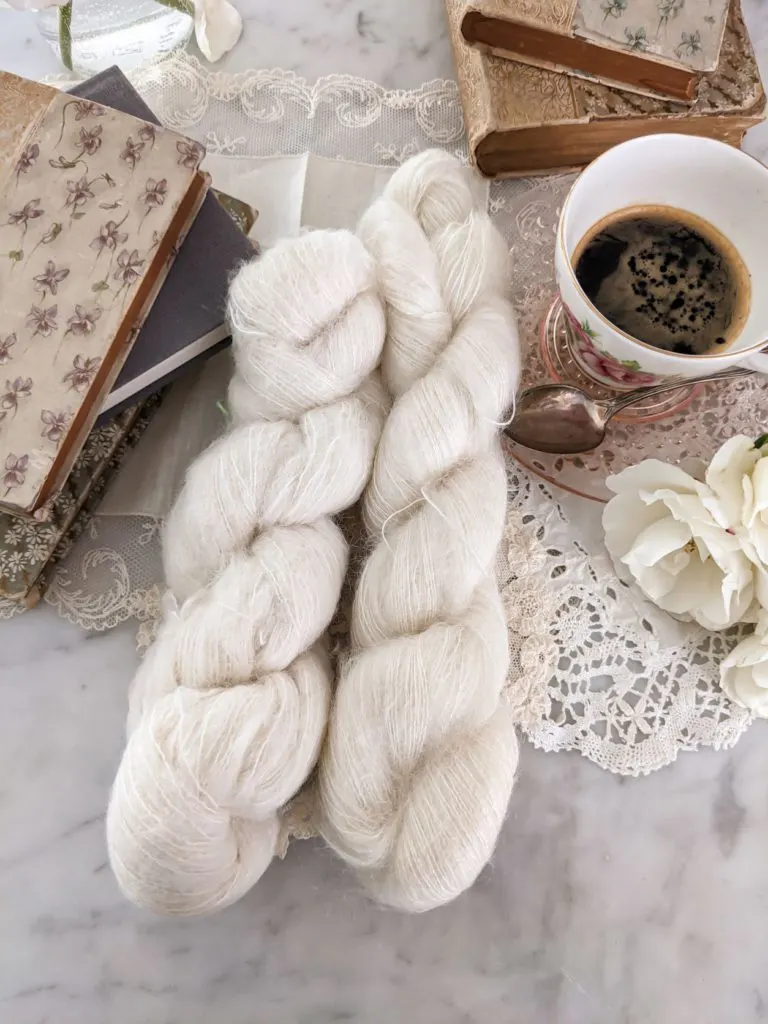 I've been on the hunt for a good mohair yarn substitute.
You see, I like to design and knit with a lightweight yarn held double with a strand of lace-weight silk mohair. The loose, fluffy fibers of the mohair catch on each other and create more stability. This allows me to knit at a looser gauge than would normally be ideal for the yarn I'm using. As a result, I can knit really light, fluffy garments that are warm but not bulky.
And I'm not the only one who loves it! But not everyone loves it, either.
I polled my Instagram crew a while ago and got a wide range of responses, from people who are huge mohair fans to people who can't stand it. Let's take a look at what's going on here in a little more detail.
Why Knitters Love Mohair Yarn
Knitters who love a good halo love mohair yarn. That was one of the most common responses I got. We're hooked on the soft fluffiness of it, the way it takes an ordinary yarn and makes that yarn look like a cloud, and the way its halo catches in the light.
There are also a lot of us who find mohair really soft, especially when it's mixed with a little silk. Laceweight silk mohair is a popular yarn to hold double with other yarns to create a softer texture than the yarn might otherwise have.
It's also a great way to soften up the color of a primary yarn that might be too strong. When held double with a strand of laceweight mohair in a similar but lighter shade, the primary yarn loses some of its color intensity.
Unfortunately, mohair isn't always a good fiber for all people.
Why Some Knitters Hate (or Can't Use) Mohair Yarn
The range of responses I got from people who don't like mohair was significantly more varied than the reasons people like it. Most commonly, people reported finding it scratchy or, worse, having an actual allergy to it. Animal fiber allergies are fairly common, which is why it's worth knowing as much as you can about how to substitute yarn in general.
Other knitters pointed out that they hate how hard it is to frog mohair if you make a mistake. It's true: the fibers in mohair yarn tend to catch on each other, which is great for adding stability (see above) but a bear when you need to rip it out.
Last but not least, a few knitters mentioned they don't like how much mohair yarn sheds. The fibers in mohair do have a tendency to come loose, and I've more than once found myself with some caught in my eyelashes.
So if a pattern calls for mohair, like my Grandmillennial Shawl with its delicate ruffle, but you can't or don't want to use mohair, what's the alternative?
Brushed Suri is a Decent Mohair Yarn Substitute
Brushed suri is a decent alternative if you can't use mohair for any reason. It has a similarly light and fluffy fiber, and a similar softness, but it doesn't irritate a lot of people who find mohair irritating.
Most importantly, the suri alpaca also comes in a lace weight, which means you can hold it double with other yarns and achieve the same gauge as or a very similar gauge to what you would achieve when holding the base yarn double with a lace-weight silk-mohair blend. This is because the fibers act in a similar way, spreading out and catching on each other to create greater stability.
An important caveat: the suri alpaca brushed fiber is not quite as stiff as the mohair. That means the fibers won't catch on each other quite as well, so the resulting fabric won't be quite as sturdy. It also tends to be a bit heavier than mohair, so you'll notice a little more heft to your project. Still, it will be good enough to do the job for most situations.
Comparing Suri Alpaca and Silk Mohair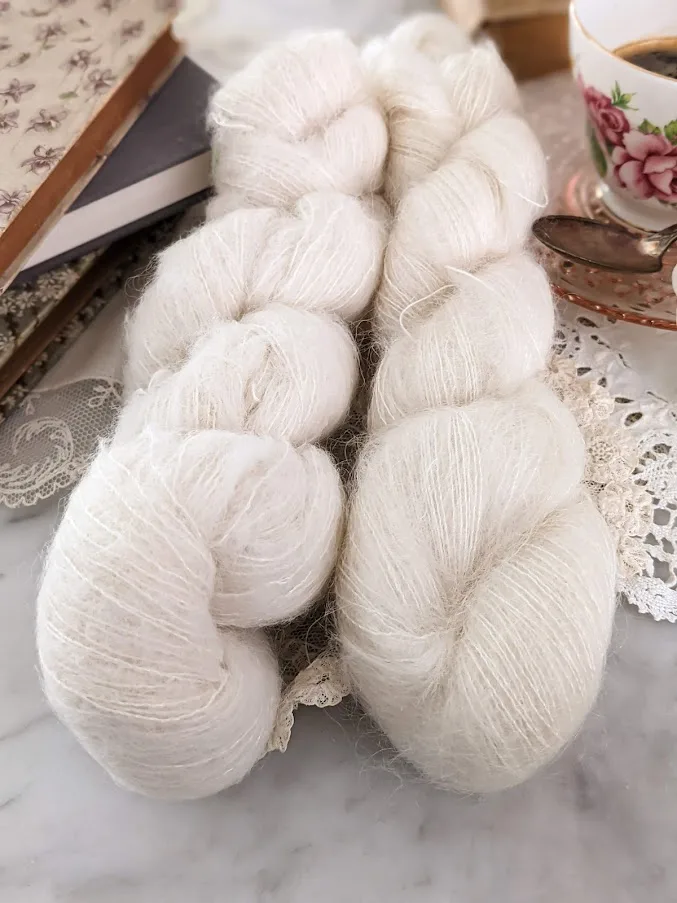 Take a look at the first photo in this section, with the close-up on the two skeins of yarn. That's undyed suri alpaca on the left and undyed silk-mohair on the right.
As you can see, the silk mohair is a little finer, and the fibers have a more wiry texture to them. Its undyed, natural color is a little on the yellower side. Because of the silk, it also has a slight sheen that catches the light.
The suri alpaca has a hazier look to it so it will soften out colors more, and its fibers are a little thicker. Its undyed, natural color is less yellow than the silk mohair yarn.
These little differences mean that, when you use suri alpaca as a mohair yarn substitute, you need to think critically about how you use it.
Now let's talk about what I mean when I say the fibers catch on each other and lend stability.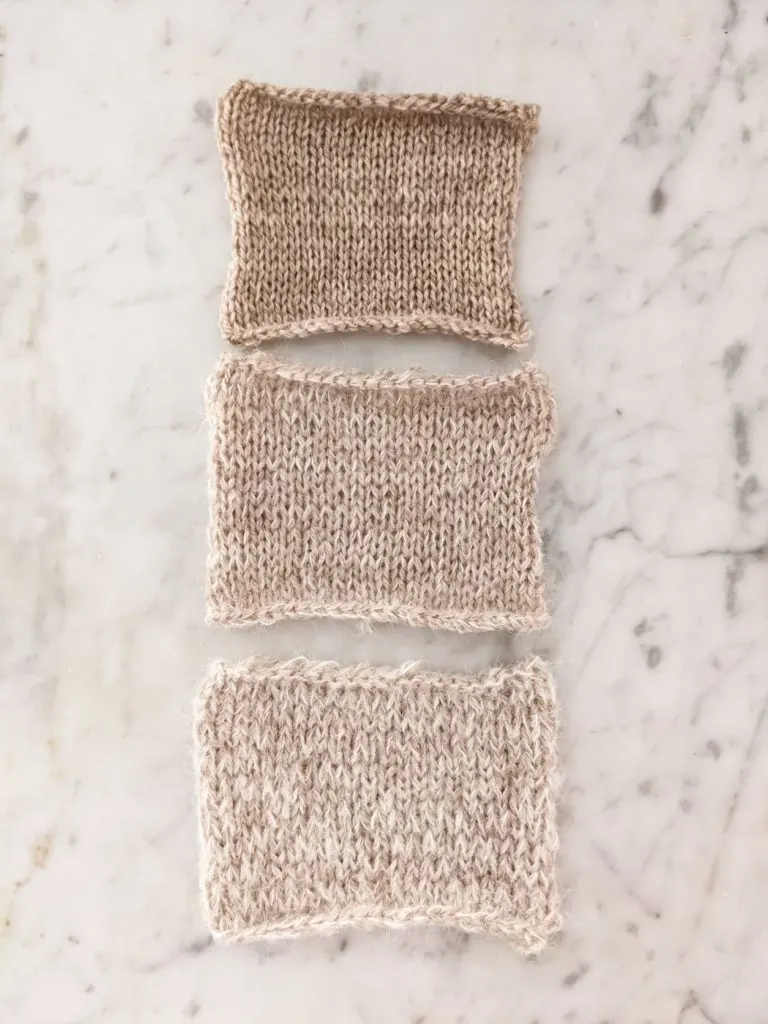 There are three swatches in the second photo in this section. On top is a two-ply, fingering-weight wool yarn all by itself. The middle swatch is the fingering-weight wool held double with a lace-weight silk mohair. The bottom swatch is the fingering-weight wool held double with a lace-weight suri alpaca.
I knit each swatch on US size 7 (4.5 mm) needles. Each swatch is 25 stitches wide.
As you can see, the swatches are all slightly different sizes. That's because the silk mohair in Swatch 2 and the suri alpaca in Swatch 3 both add a slight bit of bulk. More significantly, the fibers catch on each other and fill in the gaps between the stitches.
Yarn Sources and Projects to Practice With
I bought the undyed silk-mohair yarn and the undyed suri alpaca in this blog post from stickchick on Etsy. If you'd like to experiment with more colorful yarn, Camellia Fiber Company has a glorious suri silk lace-weight yarn, and Eden Cottage Yarns has some of my favorite silk-mohair yarn.
For more hat patterns using silk-mohair held double with fingering-weight yarn, check out my Victoria Sponge Hat and my Profiterole Hat (both designed with that Eden Cottage silk-mohair I mentioned above). For a mini collection of accessories patterns meant to walk you through experiments with silk-mohair yarn (or suri alpaca!), check out my Good Things Collection.