If you're an avid sock knitter like I am, you've probably faced the same conundrum I have: where can I get some shoes for showing off handknit socks?
Now, let's be both honest and practical. There are few ways to exhibit your work when your work is necessarily stuffed in your shoes and under your jeans. One partial solution to this would obviously be to wear a skirt, or short(er) pants than what you are used to. Take a peek at this photo below. Yep, those are cropped jeans I'm wearing for the sake of my socks.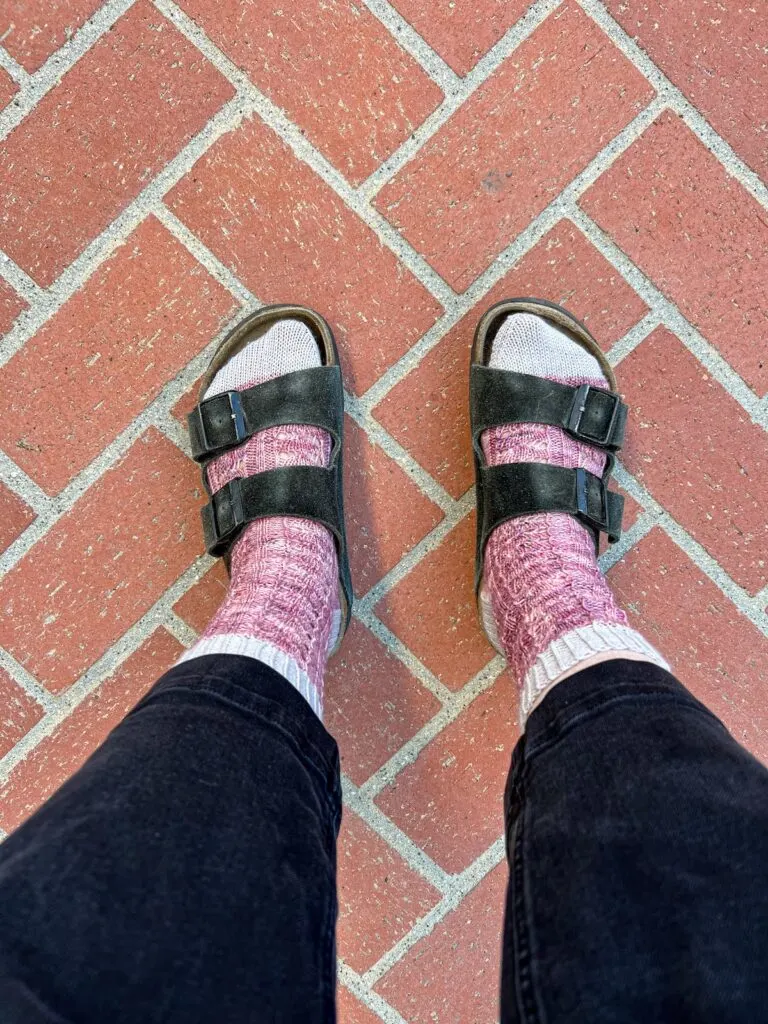 But what happens if you want to show your work in its entirety? Or, at the very least, wear something that accentuates all your hard work and artistry?
Well, then the shoes are the answer. The shoes you pick to wear over and around your socks will serve as the showcase for your hard work.
Think of it like a painter picking the perfect frame for the landscape or portrait they've just finished. Do you want something minimal in a warm wood? Something ornate and gilded?
Whatever you're looking for, I've got you covered. To help you out, here's a list of options for you to choose from.
A quick note before we start: This post contains affiliate links, which means if you choose to buy something through those links, I'll receive a small commission at no extra cost to you. I will always identify affiliate links for you by putting "(affiliate link)" next to them. Thanks for supporting my work!
Option 1: Birkenstock sandals
Nothing beats a classic, and as far as classics go, Birkenstocks are right there at the top. You can always rely on a pair of those comfortable, stylish open sandals. They perfectly show off your handknit socks with every step that you take.
As far as colors and styles go, there is a vast pool for you to choose from. They also have materials ranging from leather to EVA, so you will have no trouble finding what is right for you.
What's more, if you are knitting socks for your little ones, Birkenstocks have a large variety of children's sizes.
Go on. Embrace your inner hippie. Come join us in #Birkensocks (no, that's not a typo) land.
Option 2: Clear sneakers
Take a step back into the 90s – and do it in style in these iconic shoes and your own hand-made socks. Hide nothing, as the Adidas Superstar now comes transparent (affiliate link), revealing every stitch, every knit and every purl of your hard work and artistry. The clear surface makes these an excellent pair of shoes for showing off handknit socks.
Pick the right color of handknit socks to accompany your clothing and remember how the cool kids did it back in the day. Accessories mattered, so this is probably the perfect way to attract attention to your work.
What is great about these shoes is that, regardless of the clothes you choose to wear them with, your socks will always show and make a difference. Full-length pants are fine. So is a miniskirt. Nothing can come between your handknit socks and the world, sprinkled with some style and fashion.
Option 3: Clogs
Very few things can be compared to the comfort and simplicity of a nice pair of clogs. Especially when worn with a pair of beautiful knit socks, they make a traditional and yet also contemporary combination. If you want to introduce some whimsy, a touch of cottage-core, or a smidge of boho into your wardrobe, clogs and handknit socks will do the trick.
Clogs can be worn all year long. In other words, they're as much a summer shoe as they are a winter choice. This makes them the perfect vehicle for showcasing your own work.
Pair them with your light, summery socks, for a spring or summer stroll. Or pick your heartiest, warmest handknit pair and enjoy a hot cup of coffee or cocoa outside.
The open heel will ensure that the entire leg and heel, along with a portion of the foot of your sock, will be visible. Choose a color that contrasts with your socks to make them pop. You could also pair the color of the shoe and the sock for a more monochrome look. Most importantly, no matter what you choose, you win.
Option 4: Clear rain boots
I live in a pretty dry place where rain boots aren't a common necessity. That's my excuse for why I'd never thought of clear rain boots (affiliate link) until now, and I'm sticking to it.
Of course, now that I've found them, new realms of fun have opened up before my eyes. With this pair, you can really show off your entire sock. Wear socks in splashes of color (pun intended) or your monochromatic creations, or mix and match.
Whatever course you choose, you can use these clear rain boots to let the world know how much fun you've been having.
Option 5: Crocs
Everyone has their own opinion about Crocs, and that's fine. The truth about this shoe is that it's comfortable, affordable, and as easy to wear as few others.
Add to that the fact that it is open-heeled and you have the perfect combination for exhibiting your work to your friends.
Crocs come in a large selection of colors and styles. This means you'll have no problem finding the one that best suits your wardrobe palette and, of course, the socks you have created. Love them or hate them, Crocs are great shoes for showing off handknit socks.
Option 6: Slides
For a sporty, athleisure-style cousin to the classic Birkenstock sandals above, try a pair of slides (affiliate link). They're a great way to show off a pair of wonderfully made handknit socks you are proud of.
Slides have come and gone in fashion's cycles, but they're back in a big way lately, spurred in part by aspirational self-care TikTok videos focused on wellness and improving your living space. Scroll through the "cleaning reset" videos, and you'll pretty quickly find examples of tidy young folks vacuuming, wiping counters, and drinking fresh smoothies in their favorite slides.
Because of their simple shape, open construction, and variety of colors, slides are a great way to show off your handknit socks. They're comfy, easy, and available at all price points.