In case you missed it last month, I've started a new regular post here where I'm sharing my favorite projects you've knit with my patterns. This month, I decided to focus on cozy knits as we start easing into cooler weather. In today's post, you'll find some squishy hats, a drapey shawl, a cowl with perfect little bobbles, and some socks for chilly toes. There's something here for everyone!
A snuggery is a snug place or position, a comfortable or cozy room. This comfy hat was designed to act as a sort of on-the-go snuggery, creating a personal cozy space for you everywhere you take it. The eyelets give this pattern movement and also allow airflow to prevent your head from getting too warm.
When looking at Theresa's version of this pattern, you can just feel the coziness between the beautifully knit slipped-stitch panels. I absolutely love the playful yarn choice that she picked for this project. Her cheerful hat exudes joy and comfort.
The Snuggery Hat is a wonderful design for an adventurous beginner or intermediate knitter to tackle over the weekend to create a friendly and secure garment. Whether new to knitting or a seasoned pro, you can sink into this pattern and find your snuggery nestled between each stitch.
There's nothing quite as comforting as putting on a pair of warm and snuggly socks. The feeling is even better when they're handmade with a customizable fit. The Comity Socks have a simple all-over repeating pattern on the leg with a pop of personality on the foot. They'll keep you comfy on the cooler days, and the joy you felt while making them will radiate each time you put them on.
Salena's socks are beautiful in the colors she chose for this project. The rows of green and brown hues knit into a lovely picture that reminds me of the browning foliage of autumn mixed with the deep greens that begin to fade as the season changes.
These socks are named for "comity" which means civility. Consider this pattern a peace offering to yourself that you can call on to soothe you when you need it most. Sometimes quiet moments are necessary for us to find the calm state of mind necessary for civility. May knitting these lovely socks bring you to a place that encourages peace and room for growth.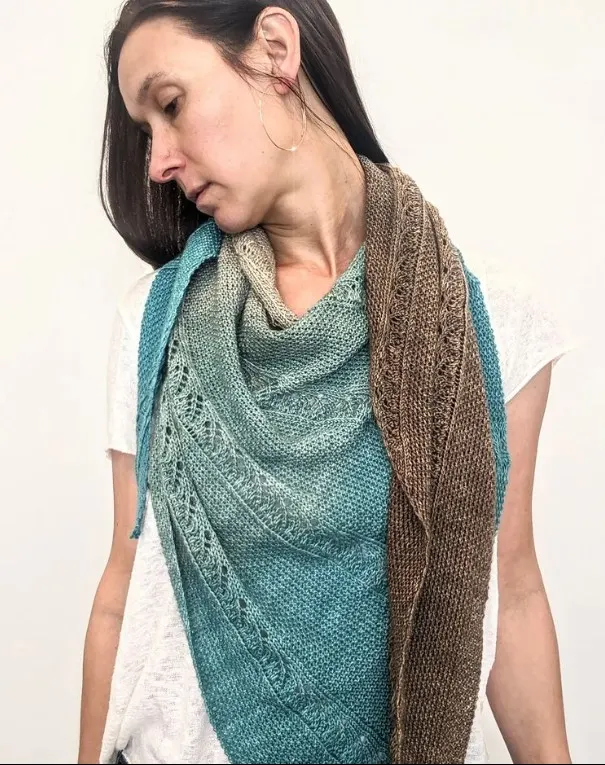 The softness of this shawl is meant to bring the knitter an abundance of comfort and serenity. This beautiful project will leave you smiling with all of its soft, intricate details. The Plenitude Shawl uses seed stitch and lace to create a subtly striped pattern. This shawl would be beautiful in an array of colors and can be coordinated for any occasion.
Beth was one of the first test knitters who ever helped me get a pattern ready for publication, and it's always a treat when she comes back for another. I adore Beth's take on this one. The range of blue hues meeting the brown is so calming, as a lovely look out over the ocean after a storm. The stripes naturally flow, creating texture and movement in this endearing piece.
If you've been on the hunt for a special knit to gift someone, look no further. This meaningful shawl allows you to put love in every stitch. You'll appreciate the mellow stitch repeat that allows your hands to glide through this soothing pattern.
Self-preservation is an essential part of life. In difficult times we can look inward to find ways to protect ourselves from danger. These socks are inspired by the deimatic behavior of some species of octopus. When faced with a threat, they make themselves look bigger or quickly change colors to confuse the predator. This practice buys enough time for the intended prey to escape.
While we can't change color, we certainly can be aware of stressors or threats to our peace. We can protect ourselves by knowing when to pull back and by engaging in activities that bring calm to our senses.
Teri really nailed this intermediate pattern. The yarn she chose reminds me of warm, sandy beaches and fits so well with the oceanic theme. The twisting cabled coin lace gives these socks so much character and looks fabulous in Teri's version.
These socks are perfect for those intermediate knitters who find purpose in the details. The classic heel flap and gusset also offer a custom fit to make these socks even comfier.
Sycamores are thought to symbolize protection and reliability. This cowl gently holds you in a warm and secure embrace, even on the chilliest days. This pattern was named after a scenic campground in the Santa Monica mountains. Lined with beautiful sycamore trees, the canyon is punctuated with a streambed that is dry much of the year. This cowl uses bobbles to represent the boulders in that streambed amidst the golden-turned sycamore trees—a reminder of the immense beauty in every season.
Ruth's cowl features the most deliciously plump bobbles I've seen in a long time, along with crisp, straight transitions between the different textural stripes. I love the deep, mossy green she chose for the color, too. It all flows together to form a serene and delicate knit that is thoughtfully made.
This intermediate-level cowl is ideal for those who love to accessorize with delicate touches of beauty. Whether you choose a bold or neutral tone for this project, the compelling textures will add life to any outfit.
When the days get shorter and the snow starts to fall, you know it's time to pull out The Recipe. You know the one: the comforting classic that jolts you back into character and out of the winter dreariness. The Ginger Snap Hat is just the same. When the time is right, you'll pull out this classic piece, and suddenly all will feel right again.
Sandra's yarn choice, a mixture of cotton and wool, creates the perfect balance of warmth and softness. The cotton also adds a nice drape to this hat, which can be knit with a slightly slouchy crown. The soft pink adds an extra touch of sweetness to this charming design.
This intermediate pattern is highly memorable and beautifully textured. It comes in four sizes and has a slouchier fit, giving it a relaxed feel. This pattern is an excellent knit if you have an appetite for a delightfully sweet design with just the right amount of spice.
I'd Love to Feature Your Projects, Too!
If you'd like to share your projects with the community and possibly wind up in a feature here on the blog, the process is quite simple. Just tag your public Instagram posts of projects using my patterns with the tag #ABITBknits. I will always ask for permission before featuring your project here on the blog, but using the hashtag will help me find your work.
Thanks so much for your support of my work. I'm excited about this new community spotlight and hope we can have a lot of fun with it going forward.